A LINGUISTIC POLITENESS: AN ANALYSIS OF GENDER DIFFERENCES IN SPEAKING CLASSROOM
Syafrizal Syafrizal

Universitas Sultan Ageng Tirtayasa

Fianika Sya'bana Putri
Abstract views:
1743
,
pdf downloads:
769
Keywords:
gender differences, linguistic politeness, pragmatic, communicative competence
Abstract
Communicative competence underlines that grammatical knowledge is not enough to interact adequately, and thus includes pragmatic skills. For example, several communication errors, for confusion, may take place without logical understanding. Furthermore, politeness is an essential component of pragmatic competence. Many work has been carried out in this area, but few have shown the differences between the linguistic politeness of the language of male and female in the speaking classroom, while its primary findings are statements. Such work is carried out in the speaking classroom of university students, in particular in the sense of global foreign affairs. The statement is based on the Bacha, Bahous & Diab (2012) translation from DCT. In addition, certain politeness hypotheses are used to interpret the results. The studies have shown that women are more respectful than male students in general. Finally, teachers will comprehend this reality since they do not require male students to be as respectful as girls, they are practically peculiar.
Downloads
Download data is not yet available.
References
Abertova, a. (2012). Aspects of politeness in a clasroom of english as a second language. Prague: charles university in prague.
Alavi, T., Moradi, S., & Taggaddomi, M. S. (2013). Difference(s) between Male and Female Speakers Turkish Regarding Politeness Norms. Journal of Language Teaching and Research, 1332-1337.
An, Q.(2009). An Empirical Study Based on College English Teaching with the Background of Networks. Computer-Assisted Foreign Language Education, 3,58-62.
Bacha, N. N., Bahous, R., & Diab, R. L. (2012). Gender and Politeness in a Foreign Academic Context. International Journal of English Linguistics, 79-96.
Brown. (1980). How and why are women more polite : some evidence from a mayan community. In B. McConnel-Ginnet, Women and language in literature and society (pp. 111-136). Oxford: Bleckwell.
Climate. (1997). Men and Women talking: the differential use of speech and language by gender. London: Routladge.
Coulmas, F. (2005). Sociolinguistics The Study of Speakers' Choice. New York: Cambridge University Press.
Fauziati, E. (2016). Applied Linguistics Principles of Foreign Language Teaching, Learning, and Researching. Surakarta: Era Pustaka Utama.
Fraser. (1983). The Domain of Pragmatics. In J. Richards, & Scmidt, Language and Communication (pp. 29-59). New York: Longman.
Garces-Conejos, P., & Sanchez-Macarro. (1998). Scientific Discourse as An Interaction: ScientificArticles vs Popularizations. Lingistics Choices Acroos Gender, 173-190.
Garces-Conejos, P., & Torbelanca-Lopez, M. (1997). Emphasis and mitigation strategies in the speech of non native English teacher. Grammar and Pragmatic, 113.
Keikhaie, Y., & Mozaffari, Z. (2013). A Socio-linguistic Survey on Females' Politeness Strategies in the Same Gender and in the Cross-Gender Relationship. Iranian Journal of Applied Language Studies, 51-82.
Lorenzo-Dus, & Bou-Franch. (2003). Gender and Politeness: Spanish and British Undergrauate Perception of Appropriate Request. In Santaemilia, Genero, lenguaje y traduccion (pp. 187-199). Valencia : Universitat de Valencia.
Mills, S. (2003). Gender and Politeness. Cambridge: Cambridge University Press.
Nemati, A., & Bayer, J. M. (2007). Gender Differences in the Use of Linguistic Forms in the Speech of Men and Women: A Comparative Study of Persian and English. International Journal of Appied Linguistic, 185-201.
Richards, S. (2013). Longman Dictionary of Language Teaching and Applied Linguistics. New York : Routladge.
Rosetti, P. (1998). Gender Differences in E-mail Communication. The TESL Journal, 4(7), 1-6.
Ryoo, Hye-Kyung. (2005). Achieving friendly interactions: A study of service encounters between Korean shopkeepers and African-American customers. Discourse and Society. V (16) : 79-105.
Syafrizal & Haerudin. (2018). THE IMPLEMENTATION OF VOCABULARY BUILDING STRATEGY IN TEACHING ENGLISH VOCABULARY TO YOUNG LEARNERS. Journal of English Language Teaching, 2 (1), 41-48.
Syafrizal, S. et al. (2019). INDONESIAN TEACHER'S CODE SWITCHING AND MIXING IN EFL CONTEXT. English Language Teaching and Linguistics Studies, 1 (1). http://dx.doi.org/10.22158/eltls.v1n1p1
Steele,S., Tanz, C. (2002). Language, Gender and Sex in Comparative Perspective. Cambridge: Cambridge University Press.
Tannen. (1990). You just don't understand: Women and men conversation. New York : William Marrow.
Thomas, J. (1995). Meaning in Interaction. London : Longman.
Yule, G. (2006). The Study of Language (3rd ed). Cambridge: Cambridge University Press.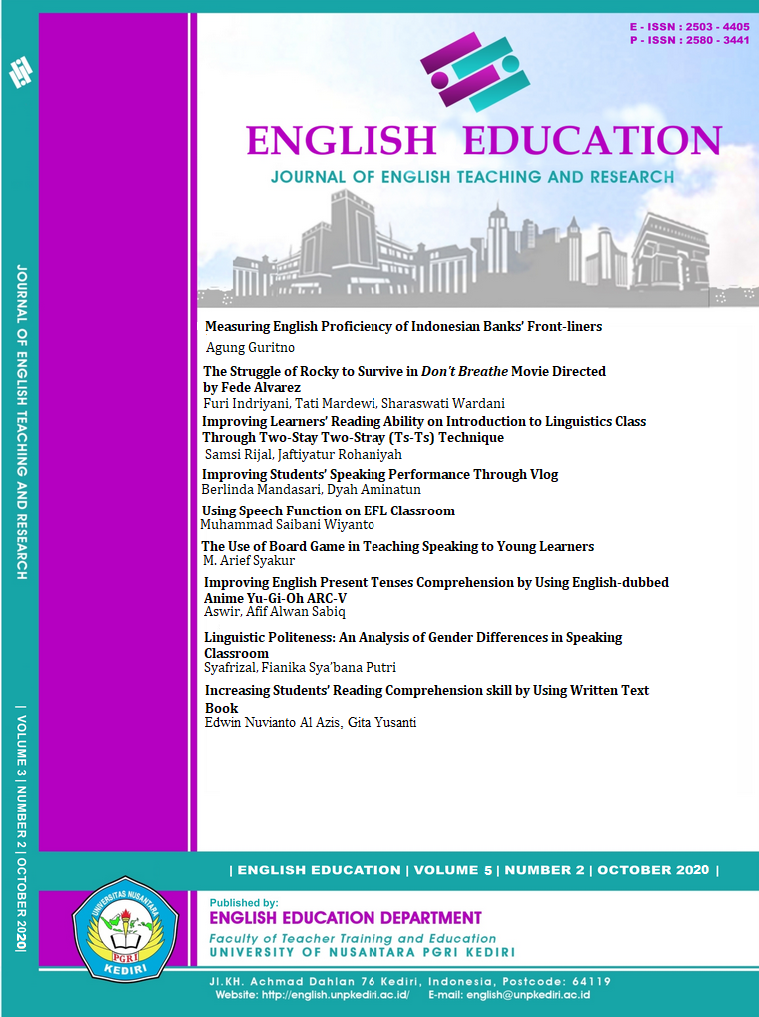 How to Cite
Syafrizal, S., & Putri, F. S. (2020). A LINGUISTIC POLITENESS: AN ANALYSIS OF GENDER DIFFERENCES IN SPEAKING CLASSROOM. English Education:Journal of English Teaching and Research, 5(2), 169-178. https://doi.org/10.29407/jetar.v5i2.14436
Authors who publish with this journal agree to the following terms:
1. Copyright on any article is retained by the author(s).
2. The author grants the journal, right of first publication with the work simultaneously licensed under a Creative Commons Attribution License that allows others to share the work with an acknowledgment of the work's authorship and initial publication in this journal.
3. Authors are able to enter into separate, additional contractual arrangements for the non-exclusive distribution of the journal's published version of the work (e.g., post it to an institutional repository or publish it in a book), with an acknowledgment of its initial publication in this journal.
4. Authors are permitted and encouraged to post their work online (e.g., in institutional repositories or on their website) prior to and during the submission process, as it can lead to productive exchanges, as well as earlier and greater citation of published work.
5. The article and any associated published material is distributed under the Creative Commons Attribution-ShareAlike 4.0 International License