Peningkatan Motorik Kasar Melalui Pembelajaran Daring Berbasis Whats App
Diah Puspita Andini

Universitas Panca Sakti Bekasi

Marlinah

Universitas Panca Sakti Bekasi

Nurchahyani

Universitas Panca Sakti Bekasi

Sesiyana Apriyanti

Universitas Panca Sakti Bekasi

Esnirani Silaban

Universitas Panca Sakti Bekasi

Irma Yuliantina

Universitas Panca Sakti Bekasi
Abstract views:
157
,
PDF (Bahasa Indonesia) downloads:
1086
Keywords:
covid-19 pandemic, whats app, online learning
Abstract
Improving learning through rough motoric activities using WhatsApp application at RA Al Muttaqin.  This research was implemented using offline (Visit School) and online (WhatsApp applications) methods as a problem solver for teaching and learning activities (KBM) at RA Al Muttaqin during the Covid-19 pandemic. Based on the results of motoric physical activity through WhatsApp learning was applied by making video of learning to know children's rough motoric development.  Generally, WhatsApp-based online learning challenges teacher's creativity, in planning fun and interesting learning programs by developing collaboration between teachers, parents and participants, that is become the best solution in the Covid-19 pandemic that demands to take care of the physical.
References
Fikriyati, Mirroh. 2013. Perkembangan Anak Usia Emas (Golden Age). Yogyakarta: Laras Media Prima.
Kusumaningtyas, Lydia Ersta. 2016. Bermain dalam rangka Mengembangkan Motorik pada Anak Usia Dini. Universitas Slamet Riyadi Surakarta, Indonesia. http://journal.umpo.ac.id/index.php/indria/article/view/227.
Kemdikbud, & Kemdikbud, pengelola web. (2020). Pedoman Penyelenggaraan Belajar dari Rumah. In Jakarta, 28 Mei 2020 (pp. 8–9). https://www.kemdikbud.go.id/main/blog/2020/05/kemendikbud-terbitkan-pedoman-penyelenggaraan-belajar-dari-rumah.
Lestariningrum, A. (2019). Pengaruh Senam Bebek Berenang Terhadap Kemampuan Motorik Kasar Anak Usia 3-4 Tahun. Efektor, 6(1), 1–6. http://ojs.unpkediri.ac.id/index.php/efektor-e/article/view/12606.
Solekah, M., Lestariningrum, A., Dwiyanti, L., & Un, P. (2021). Implementasi Pembelajaran Nilai Agama Dan Moral Pada Anak Usia 4-5 Tahun Selama Belajar Dari Rumah. 1(1), 67–79.
Sucipto Dwijo, A.-Q. N. E., Indarwati, S., Suwandini, C. A. S., & Mustainah, S. (2020). Penerapan Metode Pembelajaran Melalui Media WhatsApp Selama Pandemi COVID-19 di RA Al-Qodir. JECED : Journal of Early Childhood Education and Development, 2(2), 124–131. https://doi.org/10.15642/jeced.v2i2.840.
Syahputra, M. C. (2020). Pendidikan Orang Tua Terhadap Anak dalam Menyikapi Pandemi COVID-19. Equalita: Jurnal Studi Gender Dan Anak, 2(1), 58. https://doi.org/10.24235/equalita.v2i1.7056.
Malyana, Andasia. 2020.(Dinas Pendidikan dan Kebudayaan Kota Bandar Lampung)http://jurnal.stkippgribl.ac.id/index.php/pedagogia.
Muhammad, Hamid. (2020). Kemendikbud Sebut PJJ Tak Sama dengan Pembelajaran Daring dan Luring", Artikel PENDIDIKAN. Jawapos.com, 17 Juni 2020, https://www.jawapos.com/nasional/pendidikan/17/06/2020/, diunduh pada Juli 2020.
Sadjati, 2012. Hakikat Bahan Ajar. Universitas Terbuka. repository.ut.ac.id/4157/1/IDIK4009-M1.pdf bahan ajarpdf.
Subiyakto, B., Susanto, H., & Akmal, H. (2019). Media Pembelajaran Sejarah Era Teknologi Informasi. Banjarmasin: Program Studi Pendidikan Sejarah, ULM.
Sudjana, Nana. 2005. Penilaian Hasil Proses Belajar Mengajar. Bandung. PT. Remaja Rosdakarya.
Sunendar, Dadang, dkk. (Tim Penyusun KBBI Edisi Kelima). (2020). Kamus Besar Bahasa Indonesia. Jakarta: Badan Pengembangan dan Pembinaan Bahasa, Kementerian Pendidikan dan Kebudayaan Republik Indonesia.
Syaharuddin, S. (2020). Pembelajaran Masa Pandemi: Dari Konvensional Ke Daring.
SE Mendikbud: Pelaksanaan Kebijakan Pendidikan dalam Masa Darurat Penyebaran Covid-19 24 Maret 2020.
Yuliani Nurani Sujiono (2009). Konsep Dasar Pendidikan Dasar Anak Usia Dini. Jakarta: PT Indeks.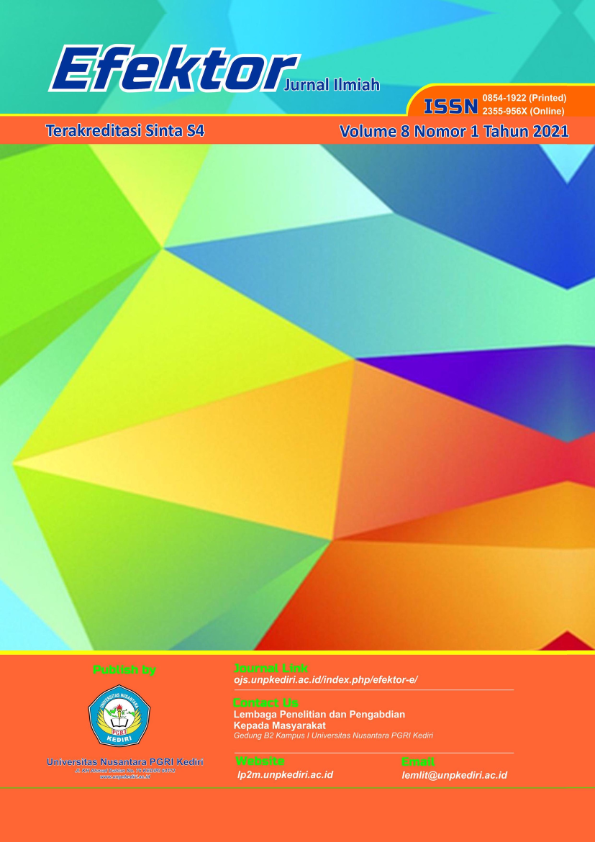 How to Cite
Andini, D. P., Marlinah, M., Nurchahyani, N., Apriyanti, S., Silaban, E., & Yuliantina, I. (2021). Peningkatan Motorik Kasar Melalui Pembelajaran Daring Berbasis Whats App. Efektor, 8(1), 89-97. https://doi.org/10.29407/e.v8i1.15880
Copyright (c) 2021 Diah Puspita Andini, Marlinah, Nurchahyani, Sesiyana Apriyanti, Esnirani Silaban, Irma Yuliantina
This work is licensed under a Creative Commons Attribution-ShareAlike 4.0 International License.
Authors retain copyright and grant the journal right of first publication with the work simultaneously licensed under a Creative Commons Attribution-ShareAlike 4.0 International License that allows others to share the work with an acknowledgment of the work's authorship and initial publication in this journal.