Pelatihan dan Lomba Membuat Jajanan Sehat Yang Memenuhi Kebutuhan Gizi Anak Sekolah
Praseptia Gardiarini

Politeknik Negeri Balikpapan

Chardina Dianovita

Politeknik Negeri Balikpapan

Farida Farida

Politeknik Negeri Balikpapan

Nawang Retno

Politeknik Negeri Balikpapan
Abstract views:
189
,
PDF (Bahasa Indonesia) downloads:
0
Keywords:
Adequacy Nutrition, School Age Children, Nutritious Snacks
Abstract
School age children need a balance nutritions to support their growth and development. The optimal growth and development can be reach only if the balances of nutritions consume well. Adequacy of good nutrition doesn't only come from the main food but also supported by snacks consumed by shool children, for that the production of healthy snacksalso needs attention. Rumah Kumbang is child care community focuses on character building activities and the development of children's potential. The aim of this community service aim is to train the member of Rumah Kumbang to be able to produce healthy snacks that consist balance nutrition for school age children. The methode in this community service is to provide material exposure, product manufacturing training and a healthy food creation competition. The result is the participants of this community service gain knowledge and motivation to produce healthy and nutritious snacks. In conclusion, after doing this community service, further assistance is needed in relation to healthy snack production process in Rumah Kumbang Community so it can be marketed  in  wider community
Downloads
Download data is not yet available.
References
Dian Indah Lestari, Yanti Ernalia, T. R. (2018). Gambaran Status Gizi Pada Siswa Sekolah Dasar Kecamatan Bangko Kabupaten Rokan Hilir. Jom FK, 3, 2.
Iklima, N. (2017). Gambaran Pemilihan Makanan Jajanan Pada Anak Usia Sekolah Dasar. Keperawatan BSI, 5(1), 8–17. Retrieved from http://ejournal.bsi.ac.id/ejurnal/index.php/jk
Kemenkes RI. (2018). Hasil Provinsi Utama Riskesdas 2018 kalimantan Barat. Hasil Provinsi Utama Riskesdas, 20–21. Retrieved from http://www.depkes.go.id/resources/download/info-terkini/materi_rakorpop_2018/Hasil Riskesdas 2018.pdf
Kementerian Kesehatan RI Badan Penelitian dan Pengembangan. (2018). Hasil Utama Riset Kesehatan Dasar. Kementrian Kesehatan Republik Indonesia, 1–100. https://doi.org/1 Desember 2013
Rahmawati, P. S., & Adi, A. C. (2017). Daya Terima Dan Zat Gizi Permen Jeli Dengan Penambahan Bubuk Daun Kelor (Moringa Oleifera). Media Gizi Indonesia, 11(1), 86. https://doi.org/10.20473/mgi.v11i1.86-93
Rati, R. L., Sulistyowati, E., & Soetrisno, E. (2013). KUALITAS DAN KESUKAAN KEJU LUNAK TERBUAT DARI SUSU SAPI FRIES HOLLAND DENGAN PENAMBAHAN PASTA BUAH STROBERI (Fragaria virginiana) SELAMA PENYIMPANAN 2 MINGGU. Jurnal AGROINDUSTRI, 2013(1), 27–36.
Realita, R. D. (2014). Penganekaragaman Olahan Kue Gorengan Berbasis Adonan Cireng. UNESA Tata Boga, 3(3), 68–75.
Santoso, A., Devi, M., & Kurniawan, A. (2018). Sehat Menggunakan Media Minicard. Preventia: The Indonesian Journal of Public Health, 3, 1–15.
Seprianty, V., Tjekyan, S., & Thaha, A. (2015). Status Gizi Anak Kelas III SDN 1 Sungaililin. Jurnal Kedokteran Dan Kesehatan, 2(1), 129–134.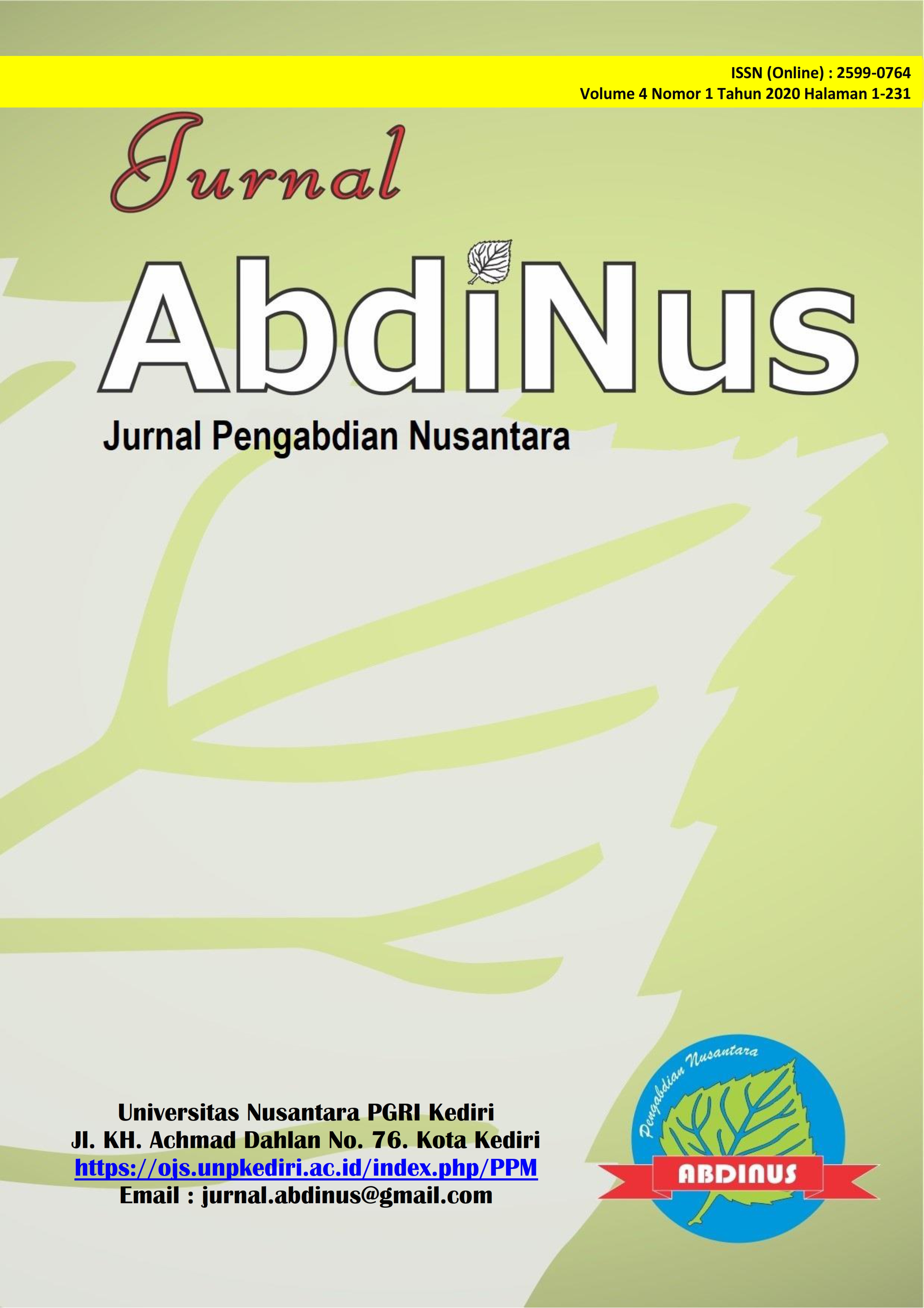 How to Cite
Gardiarini, P., Dianovita, C., Farida, F., & Retno, N. (2020). Pelatihan dan Lomba Membuat Jajanan Sehat Yang Memenuhi Kebutuhan Gizi Anak Sekolah. Jurnal ABDINUS : Jurnal Pengabdian Nusantara, 4(1), 145-153. https://doi.org/10.29407/ja.v4i1.14645
Copyright (c) 2020 Jurnal ABDINUS : Jurnal Pengabdian Nusantara
This work is licensed under a Creative Commons Attribution 4.0 International License.