Pelatihan Guru Matematika dalam Pembuatan Tes Formatif Berbasis Media E-Learning
Ayu Faradillah

UHAMKA

Windia Hadi

UHAMKA

Ayu Tsurayya

UHAMKA
Abstract views:
44
,
PDF (Bahasa Indonesia) downloads:
0
Keywords:
Edmodo, Formative Test, Math
Abstract
The use of e-learning in learning is growing. However, limiting the use of gadgets in learning activities is one of the reasons from mathematics teachers do not use e-learning in the classroom so learning is  beome less innovative and creative. There is even teacher who cannot use laptop because he/she have never known e-learning or provided used learning media. The method used in this service is the guided training method where all participants are guided from the beginning of the account creation to the introduction of tools, student's and parent's account which available at Edmodo. In this training activity, participants also had to produce output in the form of formative test questions in the form of shared quizzes at Edmodo. Before knowing Edmodo math teachers were doubtful about its use for formative tests. However, in the training process especially when knowing the unique way to write equations on Edmodo, the level of enthusiasm and the desire of teachers to apply in the classroom also increased. All participants felt that e-learning was able to help teachers create an innovative, creative classroom atmosphere and increase motivation to learn mathematics in class.
References
Fahmi, S., Priwantoro, S. W., & Nugroho, B. A. N. (2018). Pelatihan Kemampuan E-Learning Guru Matematika Dengan Menggunakan Moodle. J-ABDIPAMAS (Jurnal Pengabdian Kepada Masyarakat), 2(1), 71. https://doi.org/10.30734/j-abdipamas.v2i1.124.
Hatip, A., Sucipto, S., & Setiawan, W. (2019). Pelatihan Penggunaan E-learning Berbasis Media Sosial Edmodo bagi Guru SD Negeri Mulyorejo I Surabaya. JPP IPTEK (Jurnal Pengabdian Dan Penerapan IPTEK), 3(1), 61–68. https://doi.org/10.31284/j.jpp-iptek.2019.v3i1.428.
Parjanto, & Ferdiana, R. (2015). Analisis Minat Penggunaan E-learning Pada Guru dan Peserta Didik SMA Negeri 1 Depok Sleman. Prosiding SNATIF, 2, 365–370.
Putri, S. R., Wahyuni, S., & Suharso, P. (2018). Penggunaan Media Pembelajaran Edmodo Untuk Meningkatkan Aktivitas Dan Hasil Belajar Siswa Kelas X Pemasaran Di Smk Negeri 1 Jember Tahun Ajaran 2016/2017. JURNAL PENDIDIKAN EKONOMI: Jurnal Ilmiah Ilmu Pendidikan, Ilmu Ekonomi Dan Ilmu Sosial, 11(2), 108. https://doi.org/10.19184/jpe.v11i2.6455.
Sriyanti, I., Muslim, M., & Yusup, M. (2015). Pelatihan Pembuatan Media Pembelajaran Berbasis E-Learninng Bagi Guru SMA Srijaya Negara Palembang. Jurnal Inovasi Dan Pembelajaran Fisika, 2(1), 12–18.
Subiyanto, Supriyati, I., & Markamah, N. (2018). Pelatihan E-Learning Menggunakan Edmodo pada Para Guru SMK NU Ungaran. ABDIMAS, 22(2), 83–88.
Ummah, S. K. (2018). EVALUASI PEMBELAJARAN MATEMATIKA DI SMA MUHAMMADIYAH 1 JOMBANG. MARTABE: Jurnal Pengabdian Masyarakat, 1(3), 117–127.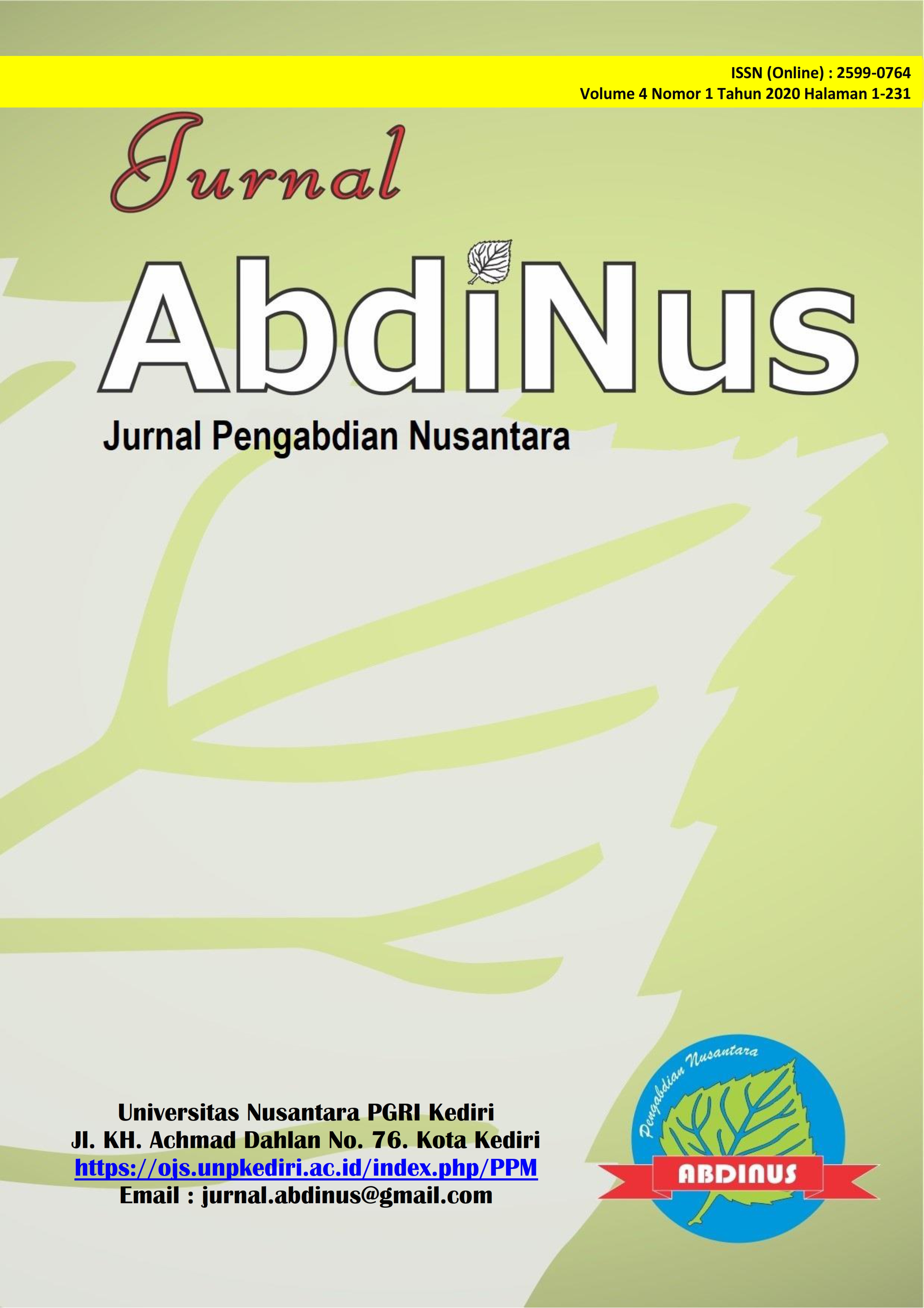 How to Cite
Faradillah, A., Hadi, W., & Tsurayya, A. (2020). Pelatihan Guru Matematika dalam Pembuatan Tes Formatif Berbasis Media E-Learning. Jurnal ABDINUS : Jurnal Pengabdian Nusantara, 4(1), 21-30. https://doi.org/10.29407/ja.v4i1.13947
Copyright (c) 2020 Jurnal ABDINUS : Jurnal Pengabdian Nusantara
This work is licensed under a Creative Commons Attribution 4.0 International License.