Pengaruh Panjang Serat Terhadap Sifat Bending Komposit Poliester Berpenguat Serat Agave Cantula
Kristomus Boimau

Universitas Nusa Cendana
Abstract views:
295
,
pdf downloads:
272
Keywords:
Alkali, Agave Cantula, Bending, Komposit Poliester, Panjang Serat
Abstract
Penggunaan serat alam sebagai bahan penguat dalam bidang rekayasa material komposit polimer semakin diminati oleh peneliti dan juga oleh praktisi dunia industri. Hal ini disebakan karena serat alam tidak mencemari lingkungan dan mudah didaur ulang, sedangkan limbah serat sintesis sebaliknya mencemari lingkungan. Penelitian ini bertujuan untuk mengetahui pengaruh panjang serat agave cantula terhadap sifat bending komposite polyester. Bahan yang digunakan dalam penelitian ini adalah serat agave cantula, matrik poliester dan NaOH. Serat diperoleh dari batang daun agave cantula yang diserut menggunakan pisau. Sebelum serat digunakan sebagai penguat pada penelitian ini, terlebih dahulu serat diberi perlakuan perendaman dalam larutan alkali dengan konsentrasi larutan sebesar 2% selama 4 jam. Setelah perendaman, serat dicuci dengan air bersih untuk menghilangkan NaOH dari serat. Panjang serat yang digunakan adalah 2cm, 4cm dan 6cm. Komposisi campuran serat dan matrik didasarkan pada aturan Rule of Mixture (RoM), dengan fraksi volume serat sebesar 30%. Komposit dicetak dengan metode  hand ly up diikuti penekanan selama 24 jam, sedangkan specimen uji bending dibuat sesuai standar ASTM D790 dan diuji dengan alat uji UTM.  Hasil pengujian bending menunjukan bahwa komposit yang diperkuat oleh serat yang diberi perlakuan alkali memiliki kekuatan bending yang lebih tinggi dibandingkan dengan komposit berpenguat serat tanpa perlakuan alkali. Komposit dengan panjang 6 cm memiliki nilai tegangan bending yang lebih tinggi dibandingkan dengan pajang 2 cm dan 4 cm. 
Downloads
Download data is not yet available.
References
Joshi, S.V., Drzal, L.T., Mohanty, A.K., dan Arora, S., "Are Natural Fiber Composites Environmentally Superior to Glass Fiber reinforced Composites", Composites: Part A, 35, 371-376, 2004.
Debora Puglia, Marco Monti, Carlo Santulli, "Effect of Alkali and Silane Treatments on Mechanical and Thermal Behavior of Phormium tenax Fibers", Fibers and Polymers, 2013, Vol.14, No.3, 423-427
S. I. Hossain, M. Hasan, Md. N. Hasan, and A. Hassan, "Effect of Chemical Treatment on Physical, Mechanical and Thermal Properties of Ladies Finger", Advances in Materials Science and Engineering, 2013.
Agnivesh Kumar Sinha, H.K.Narang, S. Bhattacharya, "Effect of Alkali Treatment on Surface Morphology of Abaca Fibre", Materials Today: Proceedings 4, 2017, 8993–8996
Chaudhary, R., "Effect of Fiber Content on Thermal Behavior and Viscoelastic Properties of PALF/Epoxy and COIR/Epoxy Composites", Material Research Express, 2018.
J. Nesimnasi, Kristomus Boimau, Yermias Pell, "Pengaruh perlakuan alkali pada serat agave cantula terhadap kekuatan tarik komposit polyester", Lontar Jurnal Teknik Mesin Undana, Vol 02, Nmr 1, hal 29 -37, 2015.
Kristomus Boimau dan Theo Da Cunha, "Pengaruh Panjang Serat Terhadap Sifat Bending Komposit Poliester Berpenguat Serat Daun Gewang", Proceeding Seminar Nasional Tahunan Teknik Mesin XIV (SNTTM XIV) Banjarmasin, 7-8 Oktober 2015
Donni Pa, Yermias Pell, Wenseslaus Bunganaen, "Pengaruh perendaman NaOH Lima Persen terhadap Kekuatan tarik serat widuri", Lontar Jurnal Teknik Mesin Undana, Vol 01, Nmr 02, hal 59-65, 2014.
Prasad, GL Easwara, BS KeerthiGowda, and R. Velmurugan. "Prediction of Properties of Coir Fiber Reinforced Composite by ANN." Experimental Mechanics of Composite, Hybrid, and Multifunctional Materials, Volume 6. Springer International Publishing, (2014): 1-7.
Agil Fitri Pamungkas, Dody Ariawan, Eko Surojo, and Joko Triyono. "Influence of Fiber Length on Flexural and Impact Properties of Zalacca Midrib fiber/HDPE by Compression Molding", Proceeding The 3rd International Conference on Industrial, Mechanical, Electrical, and Chemical Engineering, 2018.
N. Venkateshwaran, A. ElayaPerumal and M. S. Jagatheeshwaran, "Effect of fiber length and fiber content on mechanical properties of banana fiber/epoxy composite", Journal of Reinforced Plastics and Composites, 2011
Effect of fiber length on mechanical properties of short carbon fiber reinforced PTFE composites Li Zhenhua, Rong Ruiya, Li Yunxuan and Li Jian, Advanced Materials Research Vols. 311-313 (2011) pp 193-196,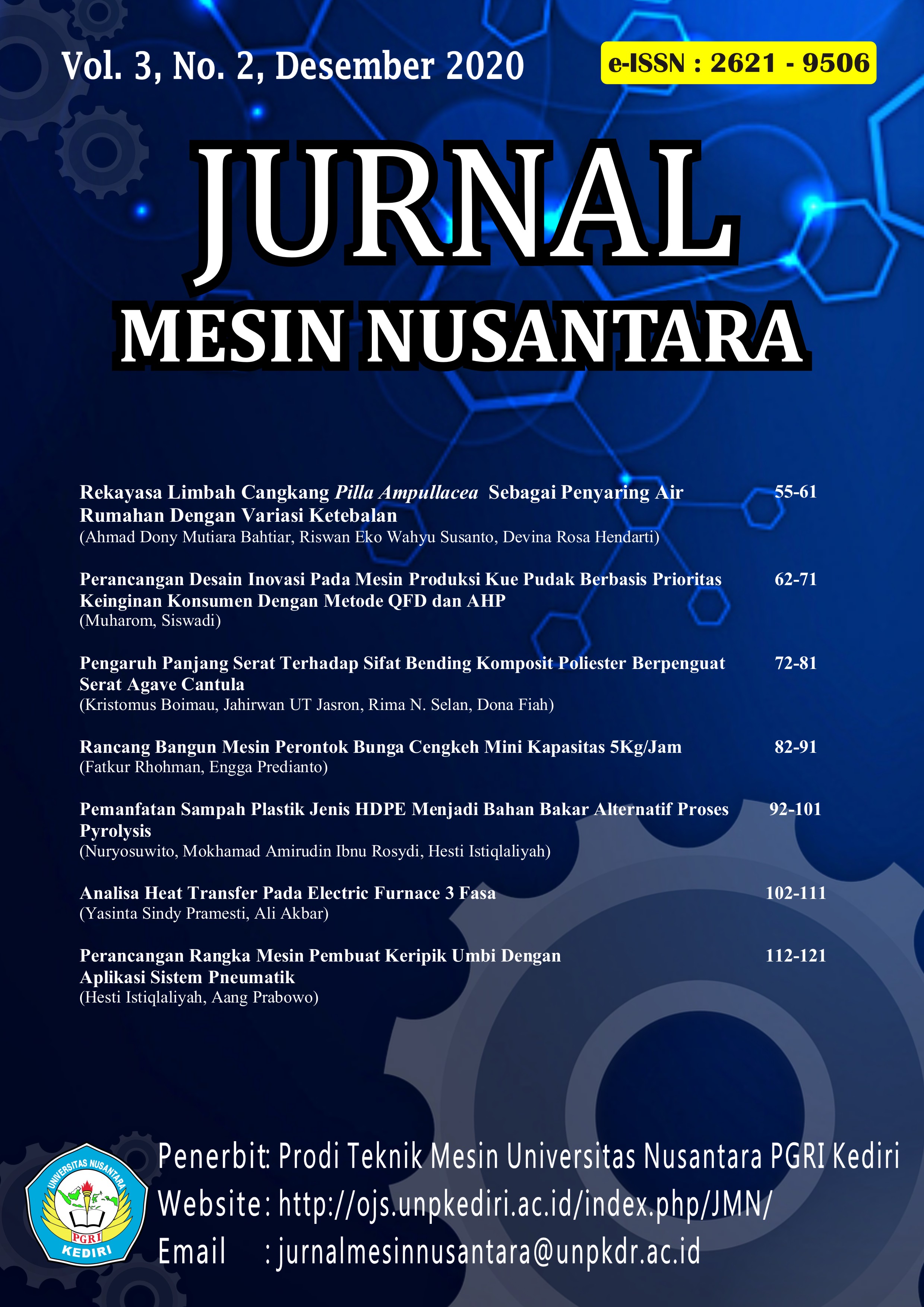 How to Cite
[1]
K. Boimau, "Pengaruh Panjang Serat Terhadap Sifat Bending Komposit Poliester Berpenguat Serat Agave Cantula", J, vol. 3, no. 2, pp. 72-81, Jan. 2021.
Authors who publish with this journal agree to the following terms:
Copyright on any article is retained by the author(s).
The author grants the journal, right of first publication with the work simultaneously licensed under a Creative Commons Attribution License that allows others to share the work with an acknowledgment of the work's authorship and initial publication in this journal.
Authors are able to enter into separate, additional contractual arrangements for the non-exclusive distribution of the journal's published version of the work (e.g., post it to an institutional repository or publish it in a book), with an acknowledgment of its initial publication in this journal.
Authors are permitted and encouraged to post their work online (e.g., in institutional repositories or on their website) prior to and during the submission process, as it can lead to productive exchanges, as well as earlier and greater citation of published work.
The article and any associated published material is distributed under the Creative Commons Attribution-ShareAlike 4.0 International License