Perancangan Proses Bisnis Menggunakan UML Berdasarkan Fit/Gap Analysis Pada Modul Inventory Odoo
Abstract

 
The company's information system that currently mainstay is Enterprise Resource Planning (ERP). The different data systems and real data at PT OTKA and Odoo make the company need to evaluate so that the gap does not continue. This study uses Fit/Gap Analysis which is used to compare whether the system is in line with company expectations, and then Failure Mode Effect Analysis (FMEA) to obtain the Risk Priority Number (RPN) level. The evaluation results of a system evaluation described by the Unified Modeling Language and mockup User Interface. The research data uses primary and secondary data. The data validity uses the triangulation method. The results of this study are PT OTKA has not implemented the Odoo maximally because the percentage of Gap is greater than the Fit. After risk analysis, two processes with the highest RPN, each of it is 448, which is updating the inventory of goods in and out automatically. So recommendations for companies are the result of special processes and actors who can monitor each goods transfer.

Keywords

Enterprise Resource Planning, Fit/Gap Analysis, Unified Modeling Languange, Business Process Evaluation, FMEA Analysis
Downloads
Download data is not yet available.
References
J. A. O'Brien and G. M. Marakas, "Enterprise Business Systems, p. 304," Manag. Inf. Syst. McGraw-Hill/Irwin, 2009.

P. Lech, "Implementation of an ERP system : A case study of a full-scope SAP project," Finans. J. Manag. Financ., vol. 14, no. 1, pp. 49–64, 2016.

L. S. Lipol and J. Haq, "Risk Analysis Method : FMEA / FMECA in the Organizations," Int. J. Basic Appl. Sci. IJBAS-IJENS, vol. 11, no. October, pp. 49–57, 2011.

A. Sachdeva, K. Dinesh, and P. Kumar, "Multi-Factor Failure Mode Critically Analysis Using TOPSIS," J. Ind. Eng. Int., vol. 5, no. 8, pp. 1–9, 2009.

M. A. Salam, M. M. Billal, M. M. Rahman, and M. A. Islam, "An evaluation of failure modes and effect analysis for a battery manufacturing industry," Int. Conf. Mech. Ind. Mater. Eng. 2015, no. 11–13 Dec 2015, pp. 0–6, 2015.

R. P. Perdana and E. Yuliawati, "Integrasi Metode FMEA Dan Topsis Untuk Menganalisis Risiko Kecelakaan Pada Proses Frame And Fork Welding," Spektrum Ind., vol. 12, pp. 43–52, 2014.

D. Pajk and A. Kovacic, "FIT GAP ANALYSIS - THE ROLE OF BUSINESS PROCESS REFERENCE MODELS," Econ. Bus. Rev. Cent. South - East. Eur., 2013.

M. I. Wibisono and M. Awaludin, "Evaluasi Integrasi Sistem Enterprise Dengan SAP ECC 6.0 Pada Perusahaan FMCG," Pros. SINTAK, pp. 237–243, 2017.

K. Riplová, "TOOL OF RISK MANAGEMENT: FAILURE MODE AND EFFECTS ANALYSIS AND FAILURE MODES, EFFECTS AND CRITICALITY ANALYSIS," Res. Gate, vol. 5, no. 1, pp. 111–120, Feb. 2007.

S. Uke, A. Mahajan, and R. C. Thool, "UML Modeling of Physical and Data Link Layer Security Attacks in WSN," Int. J. Comput. Appl., vol. 70, no. 11, pp. 25–28, 2013.

Haviluddin, "Memahami Penggunaan UML (Unified Modelling Language)," J. Inform. Mulawarman, vol. 6, no. 1, 2011.

Kenneth E. Kendall; Julie E. Kendall, System Analysis and Design, 8th ed. New Jersey: Pearson, 2006.

Sugiyono, "Teknik Pengumpulan Data," in Metode Penelitian Kuantitatif, Kualitatif dan R&D, 2014.

R. Rundupandang and Y. Priyadi, "Perancangan UML Sebagai Rekomendasi Proses Bisnis Berdasarkan BMC Di Geoff Max Bandung," J. Wacana Ekon., vol. 18, no. 1, pp. 13–21, 2018.

I. Zufria, "Pemodelan Berbasis UML ( Unified Modeling Language ) dengan Strategi Teknik Orientasi Objek User Centered Design ( UCD ...," Research Gate, 2013. nline]. Available: https://www.researchgate.net/publication/306037464_Pemodelan_Berbasis_UML_Unified_Modeling_Language_dengan_Strategi_Teknik_Orientasi_Objek_User_Centered_DesignUCD_dalam_Sistem_Administrasi_Pendidikan. ccessed: 20-Jan-2019].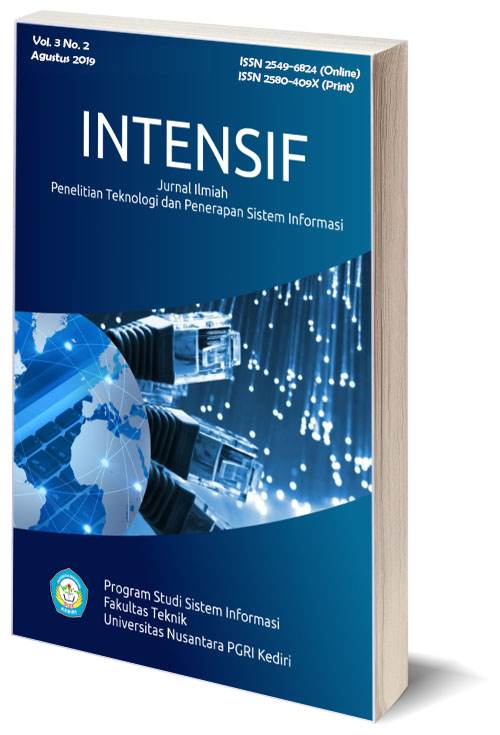 Authors who publish with this journal agree to the following terms:
1. Copyright on any article is retained by the author(s).
2. The author grants the journal, right of first publication with the work simultaneously licensed under a Creative Commons Attribution License that allows others to share the work with an acknowledgment of the work's authorship and initial publication in this journal.
3. Authors are able to enter into separate, additional contractual arrangements for the non-exclusive distribution of the journal's published version of the work (e.g., post it to an institutional repository or publish it in a book), with an acknowledgment of its initial publication in this journal.
4. Authors are permitted and encouraged to post their work online (e.g., in institutional repositories or on their website) prior to and during the submission process, as it can lead to productive exchanges, as well as earlier and greater citation of published work.
5. The article and any associated published material is distributed under the Creative Commons Attribution-ShareAlike 4.0 International License