Siremis: Sistem Informasi Rekam Medis Puskesmas Kecamatan Matraman Jakarta
Abstract views:
1442
,
PDF downloads:
2101
Keywords:
Puskesmas, Medical Records, Information Systems, Waterfall
Abstract
The Matraman Sub-district Health Center, which was established on July 3, 1977 in DKI Jakarta, is one of the puskesmas that always records and searches its patient data in Medical Records. This Puskesmas requires a Medical Record Information System so that the recording of the patient's medical history can be stored and arranged in a good mechanism. The development of the patient data collection system in Medical Records uses the Waterfall method in developing the software. While the process of collecting data by conducting interviews with the relevant parts. Depictions of the running system can be seen in the form of Activity Diagrams and proposed systems can be seen in the Use Case Diagram, ERD and LRS. Research produces a Medical Record Information System that helps related parts in recording and searching for patient data needed quickly and precisely so that medical action can be done immediately.
Downloads
Download data is not yet available.
References
Karman, A. Sakka, and S. Saptaputra, "Faktor-Faktor Yang Berhubungan Dengan Pemanfaatan Pelayanan Kesehatan Bagi Masyarakat Pesisir Di Desa Bungin Permai Kecamatan Tinanggea Kabupaten Konawe Selatan," J. Ilm. Mhs. Kesehat. Masy., vol. 1, no. 3, pp. 1–9, 2016.

B. Eninurkhayatun, A. Suryoputro, and E. Y. Fatmasari, "Analisis Tingkat Kepuasan Pasien Terhadap Kualitas Pelayanan Rawat Jalan di Puskesmas Duren dan Puskesmas Bergas Kabupaten Semarang Tahun 2017," J. Kesehat. Masy., vol. 5, pp. 33–42, 2017.

A. N. Renny and P. Beni, "Sistem Informasi Rekam Medis," J. Manaj. Sist. Inform., vol. 1, no. 2, pp. 147–158, 2016.

N. Hardinata, "Analisis Dan Perancangan Sistem Informasi Rekam Medis Pada Puskesmas Kecamatan X," Teknol. Inf., vol. 1, no. 1, pp. 6–8, 2015.

R. Nugraheni, "Analisis Pelayanan Rekam Medis Di Rumah Sakit X Kediri Jawa Timur Analysis Services Medical Record in Bhayangkara Hospitals Kediri-East Java," J. Wiyata, vol. 2, pp. 169–175, 2015.

D. H. Kusuma, M. N. Shodiq, D. Yusuf, and L. Saadah, "Si-Bidan: Sistem Informasi Kesehatan Ibu dan Anak," INTENSIF J. Ilm. Penelit. dan Penerapan Teknol. Sist. Inf., vol. 3, no. 1, p. 43, Feb. 2019.

F. Giyana, P. Administrasi, and K. Kesehatan, "Analisis Sistem Pengelolaan Rekam Medis Rawat Inap Rumah Sakit Umum Daerah Kota Semarang," JurnalKesehatan Masy., vol. 1, no. 2, pp. 48–61, 2012.

P. D. Abda'u, W. W. Winarno, and H. Henderi, "Evaluasi Penerapan SIMRS Menggunakan Metode HOT-Fit di RSUD dr. Soedirman Kebumen," INTENSIF J. Ilm. Penelit. dan Penerapan Teknol. Sist. Inf., vol. 2, no. 1, p. 46, Feb. 2018.

G. W. Sasmito, "Penerapan Metode Waterfall Pada Desain Sistem Informasi Geografis Industri Kabupaten Tegal," J. Pengemb. IT, vol. 2, no. 1, pp. 6–12, 2017.

A. S. T. Sofan Tohir, K. Kusrini, and S. Sudarmawan, "Implementasi Pengembangan Sistem Model Water Fall Untuk Data Warehouse Akademik," INTENSIF, vol. 1, no. 2, p. 108, Aug. 2017.

I. Nugroho, H. Listiyono, and S. N. Anwar, "Peramcangan Unified Modelling Language Aplikasi Sarana Prasarana Pendukung Pariwisata Kota Semarang," Proceeding SENDI, vol. 2, no. 1, pp. 90–95, 2017.

W. H. Utomo, Pemrograman Basis Data Berorientasi Objek, 1st ed. Yogyakarta: C.V ANDI OFFSET, 2010.

I. Akil, "Rekayasa Perangkat Lunak Dengan Model Unified Process Studi Kasus : Sistem Informasi Journal," J. Pilar Nusa Mandiri, vol. 7, no. Maret, p. 11, 2016.

M. D. Cahyono, K. I. Satoto, and R. Kridalukmana, "Sistem Informasi Manajemen Pemesanan Dan Penjualan Pada UNDIP Distro. Jurnal Teknologi dan Sistem Komputer, Vol.3, No.3, Agustus 2015 (e-ISSN: 2338-0403)," J. Teknol. dan Sist. Komput., vol. 3, no. 3, pp. 370–378, 2016.

A. Sukamaindrayana and Rahman Sidik, "Aplikasi grosis Toko RSIDIK BUNGUSARI Tasikmalaya," J. Manaj. Inform., vol. 4, no. 2, 2017.

I. Sumirat, "jumantaka - jurnal elektronik stmik dci.pdf," vol. 01, no. 01, pp. 1–6, 2017.

T. S. Jaya, "Pengujian Aplikasi dengan Metode Blackbox Testing Boundary Value Analysis (Studi Kasus: Kantor Digital Politeknik Negeri Lampung)," J. Inform. J. Pengemb. IT, vol. 03, no. 02, pp. 45–46, 2018.

S. N. Khasanah, "Keamanan Jaringan Dengan Packet Filtering Firewall (Studi Kasus: PT.Sukses Berkat Mandiri Jakarta)," J. Khatulistiwa Inform., vol. IV, no. 2, p. 2016, 2016.

P. Bergerak et al., "Summary for Policymakers," J. Media Infotama, vol. 9, no. 2, pp. 1–6, 2013.

A. Nugroho, Rekayasa Perangkat Lunak Berorientasi Objek dengan Metode USDP ( Unified Sostware Development Process ). Yogyakarta: Penerbit ANDI, 2010.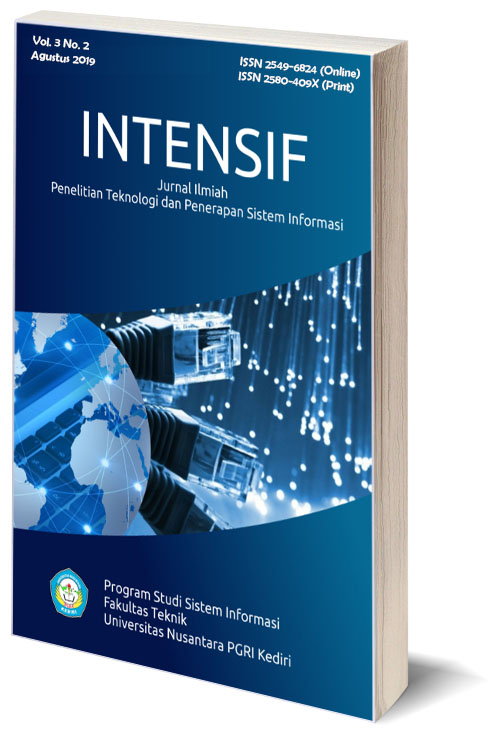 How to Cite
[1]
L. S. Helling, E. Wahyudi, and H. Hasanudin, "Siremis: Sistem Informasi Rekam Medis Puskesmas Kecamatan Matraman Jakarta", intensif, vol. 3, no. 2, pp. 116-129, Apr. 2019.
Copyright (c) 2019 INTENSIF: Jurnal Ilmiah Penelitian dan Penerapan Teknologi Sistem Informasi
This work is licensed under a Creative Commons Attribution-ShareAlike 4.0 International License.
Authors who publish with this journal agree to the following terms:
1. Copyright on any article is retained by the author(s).
2. The author grants the journal, right of first publication with the work simultaneously licensed under a Creative Commons Attribution License that allows others to share the work with an acknowledgment of the work's authorship and initial publication in this journal.
3. Authors are able to enter into separate, additional contractual arrangements for the non-exclusive distribution of the journal's published version of the work (e.g., post it to an institutional repository or publish it in a book), with an acknowledgment of its initial publication in this journal.
4. Authors are permitted and encouraged to post their work online (e.g., in institutional repositories or on their website) prior to and during the submission process, as it can lead to productive exchanges, as well as earlier and greater citation of published work.
5. The article and any associated published material is distributed under the Creative Commons Attribution-ShareAlike 4.0 International License