Application of Waterfall Model In Development of Work Training Acceptance System
Nur Hidayati

Universitas Bina Sarana Informatika

Sismadi

Universitas Bina Sarana Informatika
Abstract views:
249
,
PDF downloads:
168
Keywords:
Unemployment, Development, Waterfall, Web
Abstract
Unemployment became a social problem for the community, so they could not meet their life needs. One cause because they do not have special skills, so it is difficult to get a job. Therefore, in every local government through the UPTD Balai Tenaga Kerja, it often conducts work training for those who need it. However, the system applied in the UPTD Bogor area is still conventional. Causing problems such as data readings are less obvious; form storage and documents are not neatly arranged, so some documents are missing and lost. It resulted in a loss for the participants who would participate in job training. So it takes the development of the system to solve the problem. To improve the existing system, that is from conventional to computerized. For the development of this system, it is necessary to take steps such as those in the waterfall model. The result of the development of this system is the design of a web-based work training acceptance system that can facilitate participants to access online in the selection of the desired work exercises, and the storage of documents will be stored neatly in a database.
Downloads
Download data is not yet available.
References
B. P. Statistik, Keadaan Ketenagakerjaan Indonesia Februari 2018, vol. XXI, 07 Me, no. 42. Jakarta: BPS, 2018.
R. J. Nur, "PELAKSANAAN TUGAS DAN FUNGSI BALAI LATIHAN KERJA SAMARINDA DALAM MENINGKATKAN KETERAMPILAN TENAGA KERJA DI SAMARINDA," Adm. negara, vol. 4, pp. 4199–4211, 2016.
A. A. Sunyo, M. Al Musadieq, and M. Djudi, "PENGARUH PELATIHAN KERJA TERHADAP KINERJA KARYAWAN (Studi pada Karyawan PT. TASPEN (Persero) Cabang Malang) Arif," J. Adm. Bisnis, vol. 28, no. 1, pp. 93–99, 2015.
R. D. Sari, "Pengembangan Model Pelatihan Tenaga Kerja Sektor Informal Di Dinas Tenaga Kerja Transmigrasi Dan Kependudukan Provinsi Jawa Timur," Kebijak. dan Manaj. Publik, vol. 4, pp. 107–115, 2016.
Supriyono and M. Arifin, "PERANCANGAN APLIKASI PORTAL ALUMNI BALAI LATIHAN KERJA (BLK) KABUPATEN KUDUS BERBASIS WEB," J. Sist. Inf. dan Teknol., vol. 1, pp. 1–6, 2018.
T. K. Puteri and H. W. Tj, "Pengaruh Pendidikan dan Pelatihan kerja serta Lingkungan Kerja Terhadap Kinerja Karyawan PT. Inplasco Prima Surya," Ilm. Manaj. Bisnis, vol. 16, no. 1, 2016.
A. G. Sujono and H. A. Nugroho, "Sistem Informasi Administrasi Pelatihan dengan Manajemen Workflow Berbasis Web Information System of Training Administration using Web Based Workflow Management," Pekommas, vol. 18, no. 2, pp. 83–92, 2015.
Indriyanti and P. T. Rapiyanta, "Perancangan sistem informasi pendaftaran pelatihan pada balai latihan kerja bantul," in Konferensi Nasional Ilmu Sosial & Teknologi (KNiST), 2014, pp. 295–302.
R. Christopher, Hery, A. E. Widjaja, and Suryasari, "Pengembangan Aplikasi Manajemen Rekrutmen Karyawan Menggunakan Metode Profile Matching," Intensif, vol. 3, no. 1, pp. 81–92, 2019.
C. Tristianto, "Penggunaan Metode Waterfall Untuk Pengembangan Sistem Monitoring Dan Evaluasi Pembangunan Pedesaan," J. Teknol. Inf. ESIT, vol. XII, no. 01, pp. 8–22, 2018.
S. W. S. W. Khuswatul Nur Fadhilah, "Sistem Informasi Pelatihan Di Balai Latihan Kerja Kabupaten Magelang," J. Transform., vol. 13, no. 2, pp. 69–75, 2017.
I. G. S. Widharma, "Perancangan Simulasi Sistem Pendaftaran Kursus Berbasis Web Dengan Metode Sdlc," Matrix J. Manaj. Teknol. dan Inform., vol. 7, no. 2, p. 38, 2017.
D. A. Permana and R. Y. Dewantara, "ANALISIS DAN PERANCANGAN SISTEM INFORMASI PEREKRUTAN KARYAWAN BERBASIS WEB (Studi pada PT Sumber Abadi Bersama, Gondanglegi, Kabupaten Malang)," vol. 56, no. 1, pp. 20–28, 2018.
D. S. R. M. Mulyadi, Hoiriah, "Sistem Informasi Pendaftaran Kursus Berbasis Web Pada Yayasan Musik Jakarta," Ijcit, vol. 3, no. 2, 2018.
R. Gerhaantara and F. Samopa, "Pembuatan Sistem Informasi Pendidikan dan Pelatihan dalam Jabatan Berbasis Web pada Bagian Pengembangan Pegawai Direktorat Jenderal Perbendaharaan," J. Tek. Pomits, vol. 2, no. 2, p. A-376-A-380, 2013.
V. Feladi and C. Lesmana, "Aplikasi Pengolah Data Pada LPK (Lembaga Pelatihan Kursus) Sheza Komputer Pontianak," J. Edukasi dan Penelit. Inform., vol. 4, no. 1, p. 60, 2018.
E. N. A. Romadhoni, T. Widiyaningtyas, and U. Pujianto, "Implementasi Model Waterfall Pada Pengembangan Sistem Informasi Alumni SMKN 1 Jenangan Ponorogo," Semin. Nas. Sist. Inf. Indones., no. November, pp. 445–452, 2015.
F. Sibuea, I. Darmawan, and W. Puspitasari, "MEMBANGUN SISTEM INFORMASI PELATIHAN MAHASISWA BERBASIS WEB MENGGUNAKAN FRAMEWORK CODEIGNITER PADA CAREER DEVELOPMENT CENTRE (CDC) UNIVERSITAS TELKOM," in e-Proceeding of Engineering, 2016, vol. 3, pp. 3118–3127.
S. T. Safitri and D. Supriyadi, "Rancang Bangun Sistem Informasi Praktek Kerja Lapangan Berbasis Web dengan Metode Waterfall," J. INFOTEL - Inform. Telekomun. Elektron., vol. 7, no. 1, p. 69, 2015.
M. Nazir, Metode Penelitian. Bogor: Ghalia Indonesia, 2014.
H. Tohari, Analisis serta Perancangan Sistem Informasi melalui Pendekatan UML. Yogyakarta: CV. Andi offset, 2014.
A. R. Sukamto and M. Shalahuddin, Rekayasa Perangkat Lunak Terstruktur dan Berorientasi Objek. Bandung: Informatika, 2018.
A. Nugroho, Pemrograman Berorientasi Objek Menggunakan C++. Yogyakarta: Andi Offset, 2017.
N. Hidayati, "Implementasi Metode Rapid Application Development Dalam Pembangunan Sistem Penerimaan Kas Atas Penjualan," Paradigma, vol. XX, no. 1, pp. 39–47, 2018.
S. Sucipto, "Perancangan Active Database System pada Sistem Informasi Pelayanan Harga Pasar," Intensif, vol. 1, no. 1, pp. 35–43, 2017.
Y. Sugiarti, Dasar-dasar Pemrograman Java Netbeans, database, UML dan Interface. Bandung: PT. Remaja Roskadarya, 2018.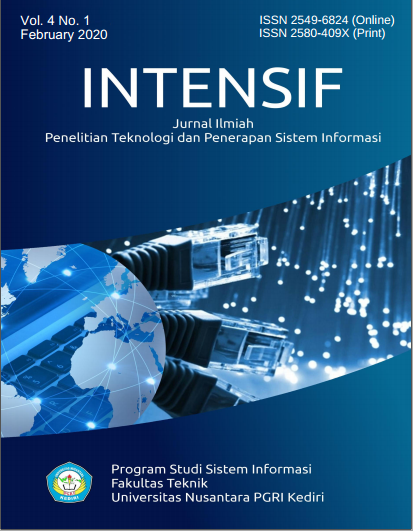 How to Cite
[1]
N. Hidayati and S. Sismadi, "Application of Waterfall Model In Development of Work Training Acceptance System", intensif, vol. 4, no. 1, pp. 75-89, Feb. 2020.
Copyright (c) 2020 INTENSIF: Jurnal Ilmiah Penelitian dan Penerapan Teknologi Sistem Informasi
This work is licensed under a Creative Commons Attribution-ShareAlike 4.0 International License.
Authors who publish with this journal agree to the following terms:
1. Copyright on any article is retained by the author(s).
2. The author grants the journal, right of first publication with the work simultaneously licensed under a Creative Commons Attribution License that allows others to share the work with an acknowledgment of the work's authorship and initial publication in this journal.
3. Authors are able to enter into separate, additional contractual arrangements for the non-exclusive distribution of the journal's published version of the work (e.g., post it to an institutional repository or publish it in a book), with an acknowledgment of its initial publication in this journal.
4. Authors are permitted and encouraged to post their work online (e.g., in institutional repositories or on their website) prior to and during the submission process, as it can lead to productive exchanges, as well as earlier and greater citation of published work.
5. The article and any associated published material is distributed under the Creative Commons Attribution-ShareAlike 4.0 International License