Pengaruh Dimensi Budaya Terhadap Perilaku Penggunaan E-commerce: Daerah Istimewa Yogyakarta
Danar Retno Sari

Universitas Islam Indonesia

Teduh Dirgahayu

Universitas Islam Indonesia
Abstract
 
The use of e-commerce influenced by culture, which consist of five dimensions, such as power distance, individualism, masculinity, uncertainty avoidance, and long-term orientation (Hofsterde, 1984). This paper aim to investigate and explored the effect of culture dimenssion on behavior to use e-commerce in Daerah Istimewa Yogyakarta. Theory Planned Behavior as a model to investigate behavior to use e-commerce. Culture dimensiona as indicator used to support variable in TPB. Our result showed that power distance and masculinity had significant effect on behavior to use e-comerce in Daerah Istimewa Yogyakarta. This factors can be used to create a new marketing strategy for business people. In an academic area, this model can be used as alternative model to predict intentions and individual behavior using information technology, especially e-commerce.
References
Kabanda, S., & Brown, I. 2017. A Structuration Analysis of Small and Medium Enterprise (SME) Adoption of E-commerce : The Case of Tanzania. Telematics and Informatics, 34(4): 118-132.

Hofstede, G., & Bond, M. H. 1984. Hofstede's Culture Dimensions: An Independent Validation using Rokeach's Value Survey. Journal of Cross, 15(4): 417–433.

Liu, S., & Tang, M. 2007. Culture's Role in E-Commerce Success: A Conceptual Model. The First International Symposium on Data, Privacy, and E-Commerce (ISDPE 2007), 429–433.

Leidner and Kayworth. 2006. A Review of Culture in Information Systems Research: Toward a Theory Of Information Technology Culture Conflict, MIS Quarterly, 30(2): 357-399.

Ajzen, I. 1991. The Theory of Planned Behavior. Orgnizational Behavior and Human Decision Processes, 50: 179–211

Al-Lozi, E., & Papazafeiropoulou, A. 2012. Intention-Based Models: The Theory of Planned Behavior Within the Context of IS. In Springer, 2: 323–347.

Vatanasakdakul, S., Tidbben, W., dan Cooper, J. 2004. What prevent B2B e-Commerce adoption in developing countries? A socio-cultural perspective. 17th Bled e-Commerce Conference on e-Global, 1-15.

Chatterjee, S. 2015. E-Commerce in India: A review on Culture and Challenges. 2015 International Conference on Soft Computing Techniques and Implementations (ICSCTI). 105-109.

Yoon, C. 2009. The Effects of National Culture Values on Consumer Acceptance of e-commerce: Online Shoppers in China. Information and Management, 46(5):294–301.

Hofstede, G. 2015, 12 8. Indonesia - Geert Hofstede. Dipetik April 25, 2017, dari Geert Hofstede: https://geert-hofstede.com/indonesia.html

Sari, D. R., & Dirgahayu, T. 2017. Adopsi Theory of Planned Behavior Untuk Pengembangan Model Pengaruh Budaya Terhadap Penggunaan E-Commerce. Jurnal Buana Informatika, 8(2).

Crespo, H. Á., & Del Bosque, R. I. 2008. The Effect of Innovativeness on The Adoption of B2C e-commerce: A Model Based on The Theory of Planned Behaviour. Computers in Human Behavior, 24(6): 2830–2847.

Kominfo. 2017. Data & Statistik Persentase penggunaan internet untuk e-commerce berdasarkan umur pada tahun 2016. Diambil kembali dari Data & Statistik Kementerian Komunikasi dan Komunikasi Informatika RI: http://statistik.kominfo.go.id/site/data?idtree=430&iddoc=1525

Haryono, S. 2017. Metode SEM untuk Penelitian Manajemen dengan AMOS LISREL PLS. Jakarta: Luxima Metro Media.

Hair, J.F., Anderson, R.E., Tatham, R.L., dan Black, W.C. (1998), Multivariate Data Analysis, New Jersey: Prentice-Hall.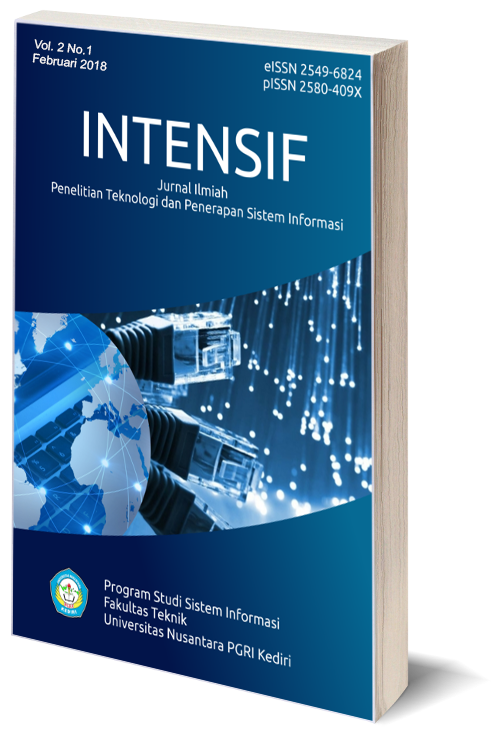 This work is licensed under a Creative Commons Attribution-ShareAlike 4.0 International License.
The Authors submitting a manuscript do so on the understanding that if accepted for publication, copyright of the article shall be assigned to INTENSIF and University of Nusantara PGRI Kediri as publisher of the journal.

Copyright encompasses exclusive rights to reproduce and deliver the article in all form and media, including reprints, photographs, microfilms and any other similar reproductions, as well as translations. The reproduction of any part of this journal, its storage in databases and its transmission by any form or media, such as electronic, electrostatic and mechanical copies, photocopies, recordings, magnetic media, etc., will be allowed only with a written permission from INTENSIF and University of Nusantara PGRI Kediri.

INTENSIF and University of Nusantara PGRI Kediri, the Editors and the reviewer make every effort to ensure that no wrong or misleading data, opinions or statements be published in the journal. In any way, the contents of the articles and advertisements published in the INTENSIF are sole and exclusive responsibility of their respective authors and advertisers.

USER RIGHTS

All articles published Open Access will be immediately and permanently free for everyone to read and download. We are continuously working with our author communities to select the best choice of license options, currently being defined for this journal as follows: Creative Commons Attribution-Share alike (CC BY-SA)