Pemberdayaan Kelompok Pelaku Usaha Handycraft di Desa Bibis Kasihan Melalui Pelatihan Digital Marketing
Palupi Sri Wijayanti

Universitas PGRI Yogyakarta

Kristina Warniasih

Universitas PGRI Yogyakarta

Ahmad Agung Yuwono

Universitas PGRI Yogyakarta

Tri Ratna Herawati

Universitas PGRI Yogyakarta
Abstract views:
85
,
PDF (Bahasa Indonesia) downloads:
0
Keywords:
Knitted doll, Mompreneur, Empowering, Affiliate
Abstract
This community service aims to provide assistance for handicraft business actors in Bibis Kasihan Bantul Village regarding the concept of digital marketing and empower these business actors to have various promotional videos. The community service activities are carried out through seven stages: site analysis, problem identification, determination of work goals, problem-solving design, social approach, implementation of service activities, evaluation of activities, and results of service. In the last stage, the closing is done by providing an evaluation of the video marketing that has been owned by business actors by looking at the digital footprint of followers and viewers. The results of the service showed an increase in posting business products through social media. In addition, this service is expected to have an impact on the community to optimize sales through digital marketing.
Downloads
Download data is not yet available.
References
Arumsari, N. R., Lailyah, N., & Rahayu, T. (2022). Peran Digital Marketing dalam Upaya Pengembangan UMKM Berbasis Teknologi di Kelurahan Plamongansari Semarang. SEMAR (Jurnal Ilmu Pengetahuan, Teknologi, Dan Seni Bagi Masyarakat), 11(1), 92. https://doi.org/10.20961/semar.v11i1.57610
Farida, U., Rapini, T., Putro, R. L., Ekonomi, F., & Ponorogo, U. M. (2022). Pelatihan Digital Marketing pada UMKM Binaan Aisyiyah Kabupaten Ponorogo. Jurnal Pengabdian Masyarakat Manage, 3(2), 55–64. http://jurnal.unmuhjember.ac.id/index.php/manage/article/view/8292
Fauza, N., Erningsih, E., Carolina, M., Wira Abhyasa Oeli, D., Martha Murni, E., Saragih, G., Harianja, K. M., Adam Sulistiowati, N., Wati, S. W., Prawira, N. N., & Sandra, C. U. (2022). Pemberdayaan Usaha Mikro Kecil Menengah (UMKM) Melalui Digital Marketing di Masa New Normal. Journal of Community Engagement Research for Sustainability, 2(3), 115–122. https://doi.org/10.31258/cers.2.3.115-122
Hendriadi, A. A., Sari, B. nurina, & Padilah, T. N. (2019). Pelatihan Digital Marketing Usaha Mikro, Kecil dan Menengah (UMKM) di Kabupaten Karawang. J-Dinamika : Jurnal Pengabdian Masyarakat, 4(2), 120–125. https://doi.org/10.25047/j-dinamika.v4i2.1133
Indriya Himawan, A. F. (2019). Digital Marketing: Peningkatan Kapasitas Dan Brand Awareness Usaha Kecil Menengah. Jurnal Análisis Bisnis Ekonomi, 17(2), 85–103. https://doaj.org/article/0187d92bae1a43f3a2d2fe013f25d3da
Pujiantoro, N., & Mohammad Rofiuddin, M. (2022). Strategi Digital Marketing Dalam Pengembangan Usaha Mikro Kecil Menengah (UMKM) di Desa Bringin Kecamatan Montong Kabupaten Tuban. Widya Cipta: Jurnal Sekretari Dan Manajemen, 6(2), 168–175. https://doi.org/10.31294/widyacipta.v6i2.12754
Purwana, D., Rahmi, R., & Aditya, S. (2017). Pemanfaatan Digital Marketing Bagi Usaha Mikro, Kecil, Dan Menengah (UMKM) Di Kelurahan Malaka Sari, Duren Sawit. Jurnal Pemberdayaan Masyarakat Madani (JPMM), 1(1), 1–17. https://doi.org/10.21009/jpmm.001.1.01
Raharja, S. J., & Natari, S. U. (2021). Pengembangan Usaha Umkm Di Masa Pandemi Melalui Optimalisasi Penggunaan Dan Pengelolaan Media Digital. Kumawula: Jurnal Pengabdian Kepada Masyarakat, 4(1), 108. https://doi.org/10.24198/kumawula.v4i1.32361
Rizal, M., Laila, A. N., Ali, N., Rohmah, N., Maula, M. H. N., & Waasiah, R. (2021). Sosialisasi Digital Marketing bagi Pelaku UMKM di Desa. Jurnal Pembelajaran Pemberdayaan Masyarakat (JP2M), 2(4), 287. https://doi.org/10.33474/jp2m.v2i4.13569
Sholikhah, L. M. (2021). Analisis Strategi Komunikasi Pemasaran Berbasis Media Sosial Lini Bisnis Ternak Mart Pada Startup Ternaknesia Di Masa Pandemi Covid-19. Commercium, 4, 132–145.
Sundari, S., & Sulistyowarni, I. (2021). Pemberdayaan Umkm Melalui Digital Marketing Guna Meningkatkan Ketahanan Ekonomi Di Masa Pandemi. E-Prosiding …. http://eprosiding.stiesemarang.ac.id/index.php/SNMAS/article/download/18/18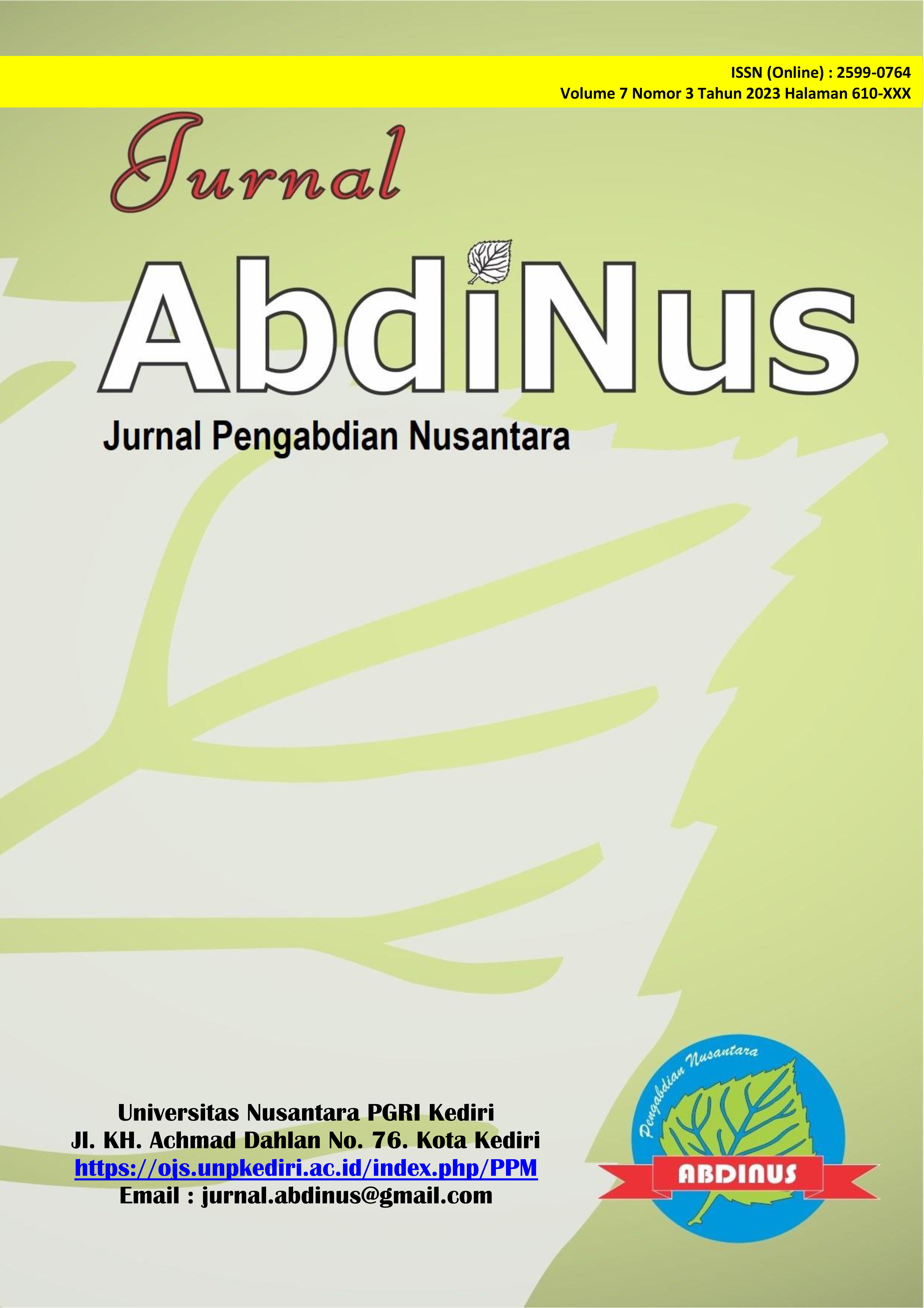 How to Cite
Wijayanti, P. S., Warniasih, K., Yuwono, A. A., & Herawati, T. R. (2023). Pemberdayaan Kelompok Pelaku Usaha Handycraft di Desa Bibis Kasihan Melalui Pelatihan Digital Marketing. Jurnal ABDINUS : Jurnal Pengabdian Nusantara, 7(3), 719-727. https://doi.org/10.29407/ja.v7i3.20126
Copyright (c) 2023 Jurnal ABDINUS : Jurnal Pengabdian Nusantara
This work is licensed under a Creative Commons Attribution 4.0 International License.