Pendampingan Peningkatan Usaha Seblak Guna Meningkatkan Penjualan
Kharens Emerentia

Universitas Kristen Maranatha

Christian Vallentino Wadu

Universitas Kristen Maranatha

Ivonne Averina Setiawan

Universitas Kristen Maranatha

Eimel Narwasti

Universitas Kristen Maranatha

Elty Sarvia

Universitas Kristen Maranatha

https://orcid.org/0000-0003-3708-8723

Elizabeth Wianto

Universitas Kristen Maranatha

Christina Christina

Universitas Kristen Maranatha

Florence Leony

Universitas Kristen Maranatha

Vivi Arisandhy

Universitas Kristen Maranatha
Abstract views:
194
,
PDF (Bahasa Indonesia) downloads:
0
Keywords:
UMKM, Seblak Basreng, Promotion, Digital media
Abstract
UMKM (micro, small and medium enterprises) in Indonesia are growing in a better direction. The government also supports the development of UMKM to recover Indonesia's economy since the Covid-19 Pandemic. Community Service activities are carried out to provide direction and suggestions for problems experienced by Seblak Basreng business actors. The method used is descriptive research with a qualitative approach. Data collection was carried out by conducting semi-structured interviews, observation, and social media analysis used by Seblak Basreng Teh Dini. The findings from the activities that have been carried out are that the people of Bandung do not know about Seblak Basreng Teh Early, locations that are difficult for new customers to find, product photos on pages on Grab Food and Gofood are less attractive, and do not yet have a cashless payment method. The proposal that has been implemented is to expand customers for Seblak Basreng Teh Early, it is necessary to carry out promotions to promote their wares using Instagram, Facebook, and Tiktok; make banners and road signs; improvement of product photos on Grab Food and Gofood pages; and making QRis. The recommendation that can be conveyed is the continuation of the mentoring program for other business actors so that they can implement and manage digital media optimally.
Downloads
Download data is not yet available.
References
Alford, P., & Page, S. J. (2015). Marketing technology for adoption by small business. The Service Industries Journal, 35(11–12), 655–669.
Andaru, R. K., Arifin, Z., & Wilopo. (2015). Pengembangan Value Proposition Dalam Penetapan Strategi Pemasaran (Studi Kasus terhadap Mobil Toyota Agya di Kota Malang). Jurnal Administrasi Bisnis (JAB)|Vol, 23(1), 1–10.
Cucus, A., Dunan, H., & Lestira Putri Warganegara, T. (2022). Pelatihan Dan Pendampingan Digital Marketing Umkm Penghasil Keripik KSU Gapoktan Rukun Santoso Desa Bumi Sari Kecamatan Natar Daftar Rujukan. Jurnal Pengabdian UMKM, 1(1). https://jpu.ubl.ac.id/index.php/jpu
databoks. (2022, November 14). Banyak UMKM Belum Bisa Bisnis Online, Ini Kendala Utamanya. Https://Databoks.Katadata.Co.Id/Datapublish/2022/11/14/Banyak-Umkm-Belum-Bisa-Bisnis-Online-Ini-Kendala-Utamanya.
Eriyani, R. N., Murtadho, F., Anwar, M., Utami, S. R., Haikal, M. S., Azmuna, N. F., & Ayu, D. P. (2023). Pemberdayaan Advertensi Digital Produk UMKM Berbasis Media Sosial Di Kelurahan Bahagia, Babelan, Bekasi. Jurnal ABDINUS: Jurnal Pengabdian Nusantara, 7(1), 271–280.
Handy Permana, S. D., & Cendana, M. (2019). Pemanfaatan Media Sosial sebagai Strategi Promosi bagi Kelangsungan UMKM. Journal Community Development and Society, 1(1), 1–10.
Hanim, L., Soponyono, E., & Maryanto. (2021). Pengembangan UMKM Digital di Masa Pandemi Covid-19. Seminar Nasional Penelitian Dan Pengabdian Kepada Masyarakat, 30–39.
KemenkopUKM. (2023, March 2). KemenkopUKM Fokus Empat Hal Penting Untuk Tingkatkan Mutu Dan Digitalisasi UMKM. KemenkopUKM .
Kotler, P., & Amstrong, G. (2007). Dasar-Dasar Pemasaran Jilid 1 Edisi Indonesia. Jakarta: Prehalindo.
Kotler, P., & Armstrong, G. (2003). Dasar-dasar Pemasaran. In Indeks Gramedia, Jakarta (Kesembilan). PT. Indeks Gramedia.
Kotler, P., & Keller, K. L. (2012). Manajemen Pemasaran. In Jakarta: Erlangga (JIlid 1 Edisi 12). Erlangga.
Li, Y., Hughes, A. L., & Howe, P. D. (2018). Communicating Crisis with Persuasion: Examining Official Twitter Messages on Heat Hazards. ISCRAM.
Mashadi, M. (2021). Peningkatan Strategi Marketing Bagi Pelaku UMKM Kota Bogor. Jurnal Abdimas Dedikasi Kesatuan, 1(2), 191–200. https://doi.org/10.37641/jadkes.v1i2.523
Nadya. (2016). Peran Digital Marketing Dalam Eksistensi Bisnis Kuliner Seblak Jeletet Murni. In Jurnal Riset Manajemen dan Bisnis (Vol. 1, Issue 2). www.borukaro.com
Nafisah, S., Dewi Anggraeni, A., & Pentury, H. J. (2022). PKM Pemberdayaan Perempuan Melalui Peningkatan Keterampilan Literasi Digital dan Entreprenurship. Jurnal Pengabdian Kepada Masyarakat, 13(3), 408–415. http://journal.upgris.ac.id/index.php/e-dimas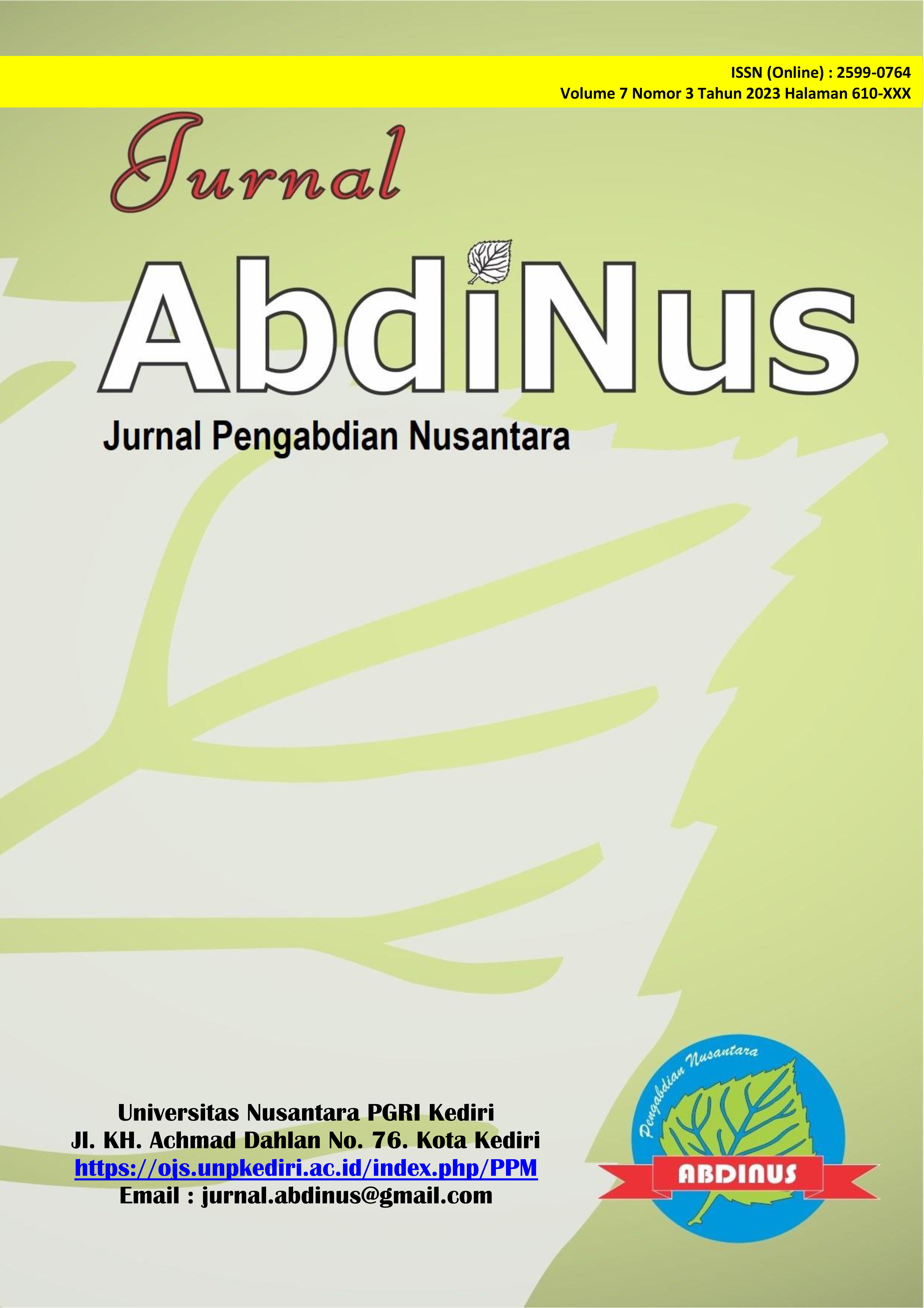 How to Cite
Emerentia, K., Wadu, C. V., Setiawan, I. A., Narwasti, E., Sarvia, E., Wianto, E., Christina, C., Leony, F., & Arisandhy, V. (2023). Pendampingan Peningkatan Usaha Seblak Guna Meningkatkan Penjualan. Jurnal ABDINUS : Jurnal Pengabdian Nusantara, 7(3), 672-682. https://doi.org/10.29407/ja.v7i3.19963
Copyright (c) 2023 Jurnal ABDINUS : Jurnal Pengabdian Nusantara
This work is licensed under a Creative Commons Attribution 4.0 International License.