Peningkatan Personality Development dan Keterampilan Komunikasi Bagi Mahasiswa Baru Di Perguruan Tinggi Swasta
Mulyadi Mulyadi

Universitas Ibnu Sina

Sudianto Sudianto

Universitas Ibnu Sina

Andi Hidayatul Fadlilah

Universitas Ibnu Sina
Abstract views:
156
,
PDF (Bahasa Indonesia) downloads:
0
Keywords:
Personality development, Communication skills
Abstract
Most successful people, they already know their potential. Currently students who continue to enter public and private universities are Generation Z who are open to advanced technological developments. But apart from that, a term emerged that is currently going viral among Genarasi Z itself, namely the Remaining People. Many of them are comfortable and lazy to do self-development. The method used in this service is Small Group Discussion, which is giving a case to be discussed at the small group level. Problem Based Learning is a model that trains and develops the ability to solve problems oriented to authentic problems from actual life, to stimulate higher order thinking skills. Discovery Learning is a method of giving study or research assignments to students with the aim of being able to find the answers to the expected targets themselves. Students can take lessons from the stories and stories told, so that it is easier to recognize their potential. It is very important for students to see and hear firsthand the stories and experiences of successful people, so that they can motivate themselves, of course, in a style that keeps up with developments.
Downloads
Download data is not yet available.
References
Caniëls, M. C. J., Semeijn, J. H., & Renders, I. H. M. (2018). Mind the mindset! The interaction of proactive personality, transformational leadership and growth mindset for engagement at work. Career Development International, 23(1), 48–66. https://doi.org/10.1108/CDI-11-2016-0194
Garanina, O., Al Said, N., Stepenko, V., & Troyanskaya, M. (2021). Information society and its impact on personality development. Education and Information Technologies, 26(5), 5457–5475. https://doi.org/10.1007/s10639-021-10549-5
Kartini, K., Wahid, S. M. Al, Andari, K. D. W., Pratiwi, E., Noer, R. Z., Agustina, D. A., & Ramdhan, D. (2022). Pelatihan dan Pendampingan Model SCL (Student Center Learning) Berbasis Lesson Study Content Learning Loss di SDN 005 Tarakan. Jurnal ABDINUS : Jurnal Pengabdian Nusantara, 6(3), 733–740. https://doi.org/10.29407/ja.v6i3.16969
Lita Kurnia Ahmad Edwar. (2021). Pengaruh Negatif Di Era Teknologi Informasi Dan Komunikasi Pada Remaja. KORDINAT, XX(2), 58–66. https://doi.org/10.35905/alishlah.v14i1.384
Manalu, N. C., & Mulyadi, M. (2021, January). Effectiveness Of Work From Home (Wfh) On Teacher Performance In Batam. In IAIC International Conference Series (Vol. 3, No. 2, pp. 90-99). https://doi.org/10.18502/kss.v7i10.11248
Mulyadi, M. (2019). PENGARUH KETEPATAN WAKTU, KEPERCAYAAN, KETELITIAN DAN ASURANSI TERHADAP KEPUTUSAN PENGGUNA JASA PPJK PADA PT. VTRANS INTERNATIONAL BATAM. BENING, 6(2), 345-349. https://doi.org/10.33373/bening.v6i2.3504
Nugraha, A. P. (2023). Upaya Peningkatan Kualitas SDM Melalui Program PEKA (Produktif, Edukatif, Kooperatif dan Aksi). I-Com: Indonesian Community Journal, 3(1), 308-315. https://doi.org/10.33379/icom.v3i1.2306
Sudianto, S., Mulyadi, M., Sabri, S., Fadlilah, A. H., Sumardin, S., & Herman, H. (2022). Training Tips For Successful Human Resources Management And Characteristics For Postgraduate Students Of Ibnu Sina University. International Journal of Engagement and Empowerment, 2(3), 227-232. https://doi.org/10.53067/ije2.v2i3.74
Sudianto, & Mulyadi. (2019). Manajemen Sumber Daya Manusia. In A. A. Ramadhany, A. H. Fadhilah, Y. Elvira, Syaiful, L. Marlina, S. Widodo, & M. Satrianaldo (Eds.), Trussmedia Grafika (Cetakan Pe). Trussmedia Grafika.
Tanjung, R., Mulyadi, M., Romi, H. A., Hadi, M. A., & Jazuli, J. (2022). The Effect Of Work Motivation, Human Relation, Work Discipline, And Work Ethos On The Performance Of Polri. Asian Journal of Management, Entrepreneurship and Social Science, 2(04), 352-363. http://www.ajmesc.com/index.php/ajmesc/article/view/196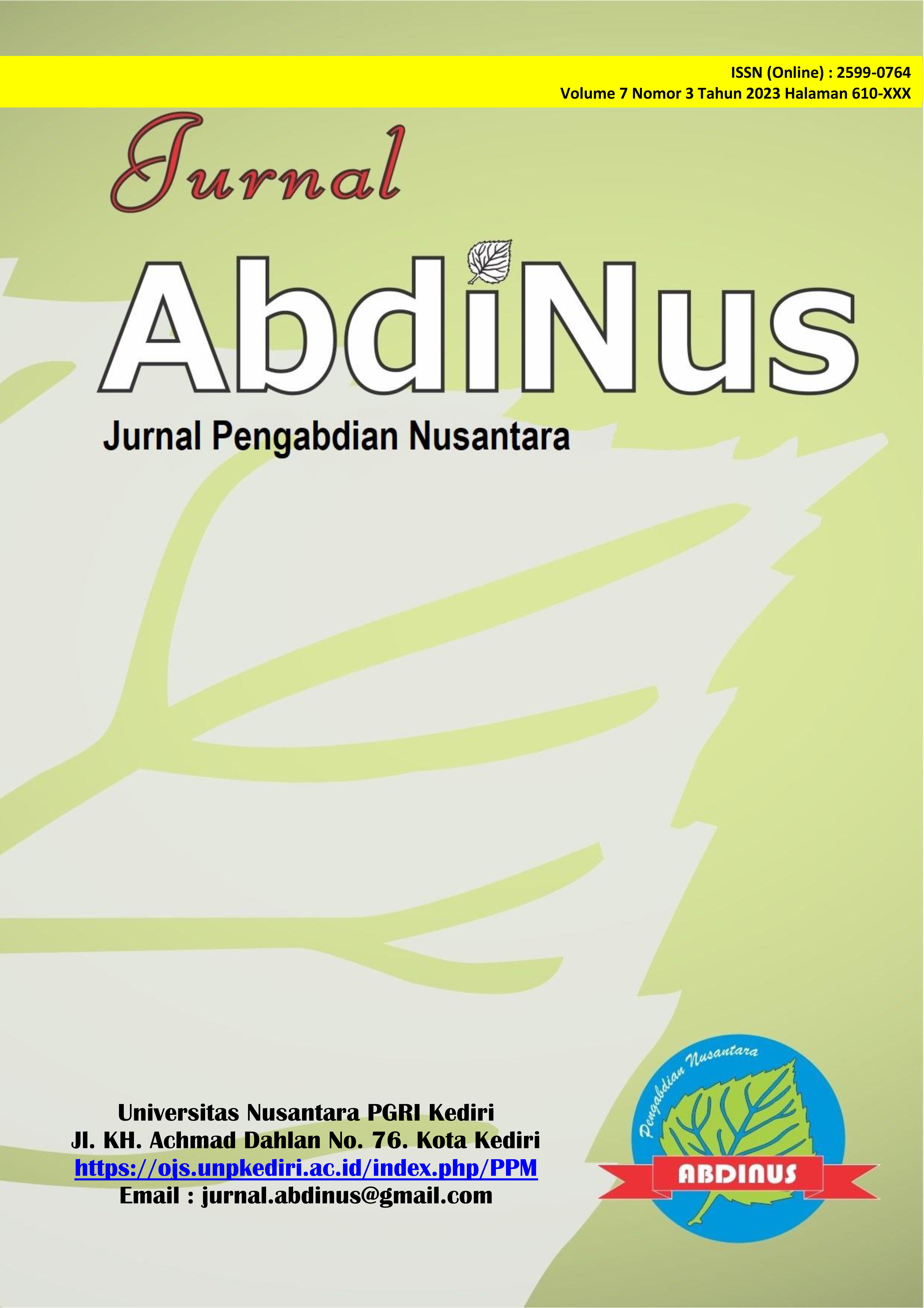 How to Cite
Mulyadi, M., Sudianto, S., & Fadlilah, A. H. (2023). Peningkatan Personality Development dan Keterampilan Komunikasi Bagi Mahasiswa Baru Di Perguruan Tinggi Swasta. Jurnal ABDINUS : Jurnal Pengabdian Nusantara, 7(3), 806-811. https://doi.org/10.29407/ja.v7i3.18805
Copyright (c) 2023 Jurnal ABDINUS : Jurnal Pengabdian Nusantara
This work is licensed under a Creative Commons Attribution 4.0 International License.