Implementasi Teknologi Digital pada Pengelolaan UMKM Cahaya Kemilau (Pengrajin Tenun Songket Melayu Riau)
Astri Ayu Purwati

Institut Bisnis dan Teknologi Pelita Indonesia

Muhammad Luthfi Hamzah

Universitas Islam Negeri Sultan Syarif Kasim

Mimelientesa Irman

Institut Bisnis dan Teknologi Pelita Indonesia

Sarli Rahman

Institut Bisnis dan Teknologi Pelita Indonesia
Abstract views:
75
,
PDF (Bahasa Indonesia) downloads:
0
Keywords:
Songket weaving, Digital Marketing, Production, Sales System
Abstract
Cahaya Kemilau is one of the UMKM craftsmen of Riau Malay songket weaving in Pekanbaru. Some of the partner problems in this activity consist of: 1) production equipment that is still inadequate to increase production output, 2) traditional recording system that allows human error and is difficult to control, 3) traditional marketing system so that it has not touched potential customers from out of town to abroad. Some of the solutions offered to partners to solve existing problems include: 1) Adding weaving equipment 2) Designing an Android-based sales system 9) Making digital marketing (websites, social media and e-commerce of light sheen). Through this activity, several problems that became a priority for Cahaya Kemilau in producing Riau Malay songket weaving and also expanding its market distribution have been resolved with the presence of weaving equipment assistance that has been provided to seek to increase weaving production. For digital-based sales, currently Tenun Cahaya Kemilau is able to do marketing throughout the archipelago and even from outside Indonesia through online sales of websites, shopee and Instagram. Management management has become even better with the existence of an Android-based sales system. Traditional financial records, which were originally very vulnerable to missing records and human errors, are now easier to manage and monitor properly by the management.
Downloads
Download data is not yet available.
References
Bariqi, M. D. (2018). Pelatihan dan pengembangan sumber daya manusia. Jurnal studi manajemen dan bisnis, 5(2), 64-69. https://doi.org/10.21107/jsmb.v5i2.6654
Egim, A. S., & Putri, H. C. S. (2022). Peranan Market Orientation, Inovasi Produk dan Competitive Advantage Terhadap Kinerja Pemasaran Usaha Songket di Kota Sawahlunto. Jurnal Ecogen, 5(2), 203-213. http://dx.doi.org/10.24036/jmpe.v5i2.12713
Guslinda, G., & Kurniaman, O. (2020). Perubahan Bentuk, Fungsi Dan Makna Tenun Songket Siakpada Masyarakat Melayu Riau. Primary: Jurnal Pendidikan Guru Sekolah Dasar, 5(1). http://dx.doi.org/10.33578/jpfkip.v5i1.3676
Kusumanto, R. D. (2017). Faktor-Faktor Pemanfaatan Teknologi Informasi UKM Kain Tenun Songket Palembang. Jurnal RESTI (Rekayasa Sistem dan Teknologi Informasi), 1(3), 177-182. https://doi.org/10.29207/resti.v1i3.71
Kamisah, K. (2020). Analisis Strategi Bauran Pemasaran (Marketing Mix) Pada Usaha Tenun Songket Melayu Winda Di Pekanbaru (Doctoral dissertation, Universitas Islam Riau). https://repository.uir.ac.id/12565/
Mumtahana, H. A., Nita, S., & Tito, A. W. (2017). Pemanfaatan Web E-Commerce untuk meningkatkan strategi pemasaran. Khazanah Informatika: Jurnal Ilmu Komputer dan Informatika, 3(1), 6-15. https://doi.org/10.23917/khif.v3i1.3309
Purwati, A. A., Hamzah, M. L., Irman, M., Rahman, S., Desnelita, Y., Sitompul, S. S., & Yusrizal, Y. (2021). Manajemen Pengembangan Produk Unggulan Tenun Songket Melayu Riau pada UKM Cahaya Kemilau. Community Engagement and Emergence Journal (CEEJ), 2(3), 68-79. https://doi.org/10.37385/ceej.v2i3.321
Purwati, A. A., Irman, M., Rahman, S., Hamzah, M. L., Desnelita, Y., & Hamzah, H. (2021). Pelatihan Digital Marketing bagi UMKM Tenun Songket Melayu Cahaya Kemilau. ARSY: Jurnal Aplikasi Riset Kepada Masyarakat, 2(1), 52-56. https://doi.org/10.55583/arsy.v2i1.164
Rahmi, L., & Ciptandi, F. (2021). Pengembangan Desain Dan Motif Kain Tenun Songket Melayu Siak Khas Riau Di Umkm Bu Atun Pada Produk Fashion. eProceedings of Art & Design, 8(6). https://repository.telkomuniversity.ac.id/pustaka/175483/pengembangan-desain-dan-motif-kain-tenun-songket-melayu-siak-khas-riau-di-umkm-bu-atun-pada-produk-fashion.html
Sholihindra, S., Cherish, R., & Repi, R. (2018). Sentra Kerajinan Tenun Riau. Jurnal Teknik, 12(1), 52-58. https://doi.org/10.31849/teknik.v12i1.1796
Sawita, K., & Ginting, S. S. B. (2022). Identifikasi Etnomatematika: Motif dalam Kain Songket Tenun Melayu Langkat Sumatera Utara. Jurnal Cendekia: Jurnal Pendidikan Matematika, 6(2), 2064-2074. https://doi.org/10.31004/cendekia.v6i2.1491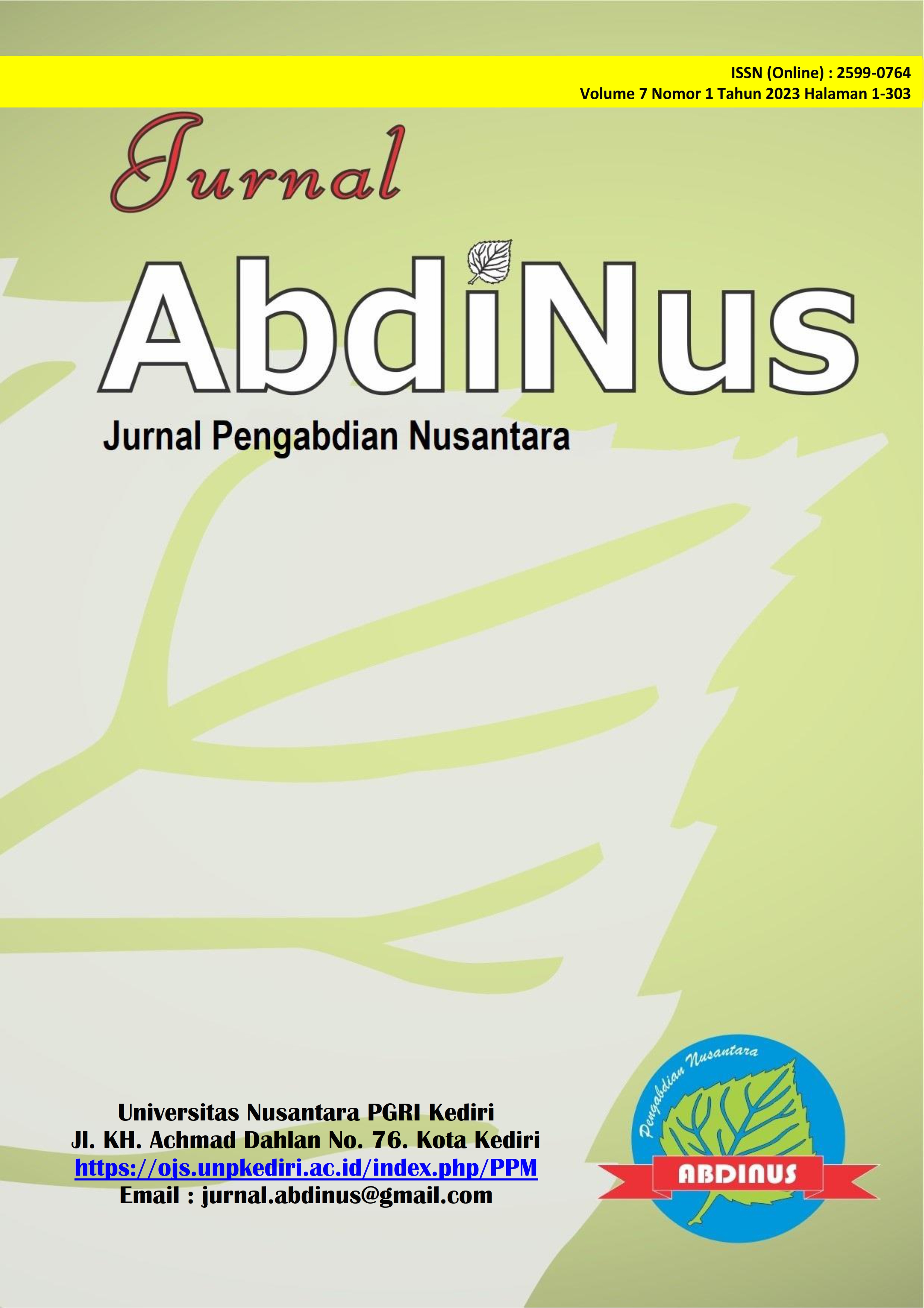 How to Cite
Purwati, A. A., Hamzah, M. L., Irman, M., & Rahman, S. (2023). Implementasi Teknologi Digital pada Pengelolaan UMKM Cahaya Kemilau (Pengrajin Tenun Songket Melayu Riau). Jurnal ABDINUS : Jurnal Pengabdian Nusantara, 7(1), 108-118. https://doi.org/10.29407/ja.v7i1.18749
Copyright (c) 2023 Jurnal ABDINUS : Jurnal Pengabdian Nusantara
This work is licensed under a Creative Commons Attribution 4.0 International License.