PKK Exchange: Pelatihan Urban Farming pada Masyarakat Remote Area Kota Palembang dalam Mendorong Pertumbuhan Ekonomi Inklusif dan Berkelanjutan Berbasis SDG'S
Adita Utami

Universitas Pertamina

M. Agung Pradana

Universitas Pertamina Jakarta

Ismail Marosy

Universitas Pertamina Jakarta

Irdyna Syachira

Universitas Pertamina Jakarta

Putri Monika

Universitas Pertamina Jakarta

Ahmad Hardiyansyah

Universitas Pertamina Jakarta
Abstract views:
71
,
PDF (Bahasa Indonesia) downloads:
0
Keywords:
Hydroponic, Training, Agricultural products
Abstract
The area where community service is carried out is a strategic remote area, but the lack of government coverage and far from the Palembang Special Economic Zone (KEK) area makes it not ogled. The impact of the lack of government action on the outskirts of the area has led to the decline in Corporate Social Responsibility of PT Kilang Pertamina Internasional Refinery Unit III Plaju to develop villages by providing infrastructure in the form of a greenhouse. However, the ignorance of the community in terms of intellectual use of the land has left the land neglected and has no social or economic impact on the local residents. This is what prompted the spark to restructure abandoned land into a center for hydroponic activities based on SDGs and of course it is hoped that it can have an influence on the community by providing intellectual supplies of hydroponic systems from areas that have successfully implemented it first. The project carried out is socio-prenuer by empowering the community, especially mothers to take advantage of the surrounding location to be able to generate additional family income with the type of project, namely economic-oriented which is expected to provide welfare for the community from the marketed crops. The types of activities carried out are: urban farming (Hydroponics) counseling with practitioners in the kelurahan, Gotong royong for land preparation and construction of hydroponic system installations, Implementation of seeding activities and Hydroponic area maintenance, Hydroponic training, and Harvest and product marketing. The results of this community service activity are: partners can independently carry out hydroponic planting and sell agricultural products with a higher profit than the initial capital.
Downloads
Download data is not yet available.
References
Badan Pusat Statistik Kabupaten Palembang. (2021). Palembang dalam Angka.
Ende, K., Wali, M., Pali, A., Conradus, B., & Huar, K. (2021). Pertanian Modern dengan Sistem Hidroponik di Kelurahan. 5, 388–394. https://doi.org/10.23887/ijcsl.v5i4.39872
Kurniasih, E. P. (2020). Dampak Pandemi Covid 19 Terhadap Penurunan Kesejahteraan Masyarakat Kota Pontianak. Prosiding Seminar Akademik Tahunan Ilmu Ekonomi Dan Studi Pembangunan 2020, 277–289. https://feb.untan.ac.id/wp-content/uploads/2020/12/Erni-1.pdf
Primasari, D. (2021). Sistem Informasi Hidroponik Berbasis Website (Hydroponic Awakening Revolution [Har]). INFOTECH Journal, 7, 69–75. https://doi.org/10.31949/infotech.v7i1.1093
Sukaesih, S., Ipah Ismayati, Meilinda Lestari, Gheby Ameli Widiyah, & Zamzami, I. R. (2019). PENINGKATAN KREATIFITAS SANTRI MELALUI PROGRAM PENGOLAHAN TANAMAN HIDROPONIK (Studi pada Santri di Madrasah Aliyah At-Tauhidiyah, Kota Serang- Banten). Lembaran Masyarakat Jurnal Pengembangan Masyarakat Islam, 5(1), 15–34. https://jurnal.uinbanten.ac.id/index.php/lbrmasy/article/view/2155. https://doi.org/10.32678/lbrmasy.v5i01.2155
Sulik Ratnawati. (2021). HIDROFILTER TENAGA SURYA IMPLEMETASI PENDEKATAN STEM PADA MATERI TEKNOLOGI RAMAH LINGKUNGAN MATA PELAJARAN IPA KELAS 9 MTsN 1 LUMAJANG. JURNAL IKA : IKATAN ALUMNI PGSD UNARS, 9(1), 176–188. https://doi.org/10.36841/pgsdunars.v9i1.1028
Sulistiyowati, T. I., Utami, B., & Mahardika, M. S. (2022). Pelatihan Pengaplikasian POC Limbah Nanas bagi Paguyuban PK-5 Sukowono untuk Mendukung Pertumbuhan Vegetatif Tanaman Pakan Kupu di Irenggolo Kediri. Jurnal ABDINUS : Jurnal Pengabdian Nusantara. 6(3), 594–603. https://doi.org/10.29407/ja.v6i3.17016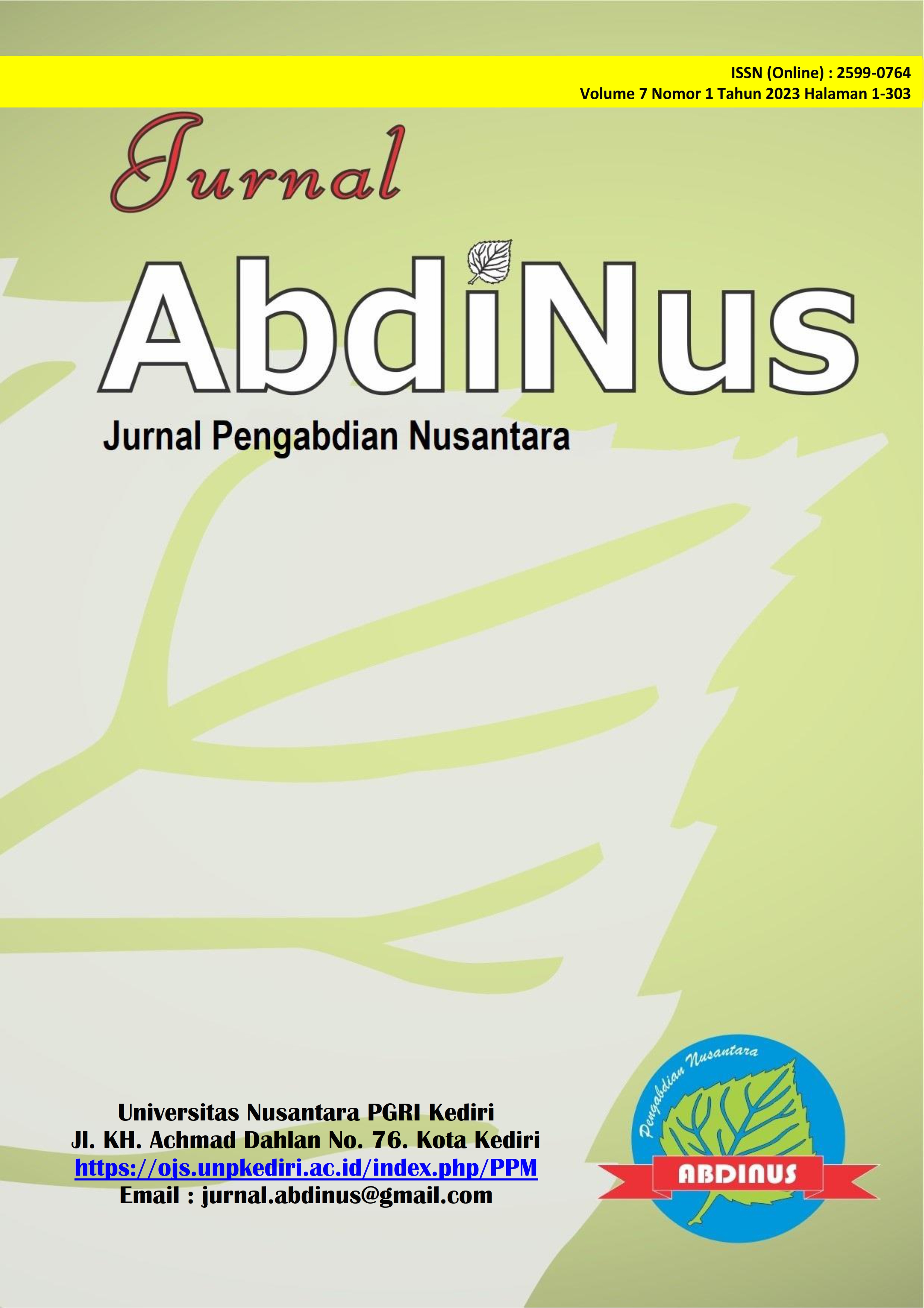 How to Cite
Utami, A., Pradana, M. A., Marosy, I., Syachira, I., Monika, P., & Hardiyansyah, A. (2023). PKK Exchange: Pelatihan Urban Farming pada Masyarakat Remote Area Kota Palembang dalam Mendorong Pertumbuhan Ekonomi Inklusif dan Berkelanjutan Berbasis SDG'S . Jurnal ABDINUS : Jurnal Pengabdian Nusantara, 7(1), 127-135. https://doi.org/10.29407/ja.v7i1.18491
Copyright (c) 2023 Jurnal ABDINUS : Jurnal Pengabdian Nusantara
This work is licensed under a Creative Commons Attribution 4.0 International License.