PKM Peningkatkan Keterampilan Mengajar Bertanya Berbasis HOTS Pada Guru TK Yayasan Pendidikan Kristen
Yakob Metboki

Universitas Kristen Artha Wacana

Erny Selfina Nggala Hambandima

Universitas Kristen Artha Wacana

Ifoni Ludji

Universitas Kristen Artha Wacana

Sisca M. Sula

Universitas Kristen Artha Wacana
Abstract views:
215
,
PDF (Bahasa Indonesia) downloads:
0
Keywords:
Questioning skills, HOTS, Kindergarten teachers, Community service
Abstract
The community service program aims to increase religion school kindergarten teachers' understanding and skills regarding HOTS-based teaching application. The applied method for implementing the program activities comprises counseling, mentoring, practice and evaluation. The results of the implementation of the innovative program with series of activity stages has resulted kindergarten teachers' behavior change to implement HOTS-based instruction by utilizing children's storybooks with local content. The results of program account much for further underlying reference of related program and/or research. The community service program is benefited for teachers in conditioning HOTS-based learning. It brings about the implication to Yapenkris Meusine through the partnership program for teachers' capacity building on pedagogical competence in creating student-centered learning. Another implication goes to teachers' comprehensive knowledge HOTS-based teaching and learning application to raise students critical and creative thinking. The program is limited on the training regarding HOTS-based questioning skills. Further program may focus on HOTS-based assessment.
Downloads
Download data is not yet available.
References
Brookhart, S. M. (2010). How to assess higher-order thinking skills in your classroom. Alexandria, VA: ASCD.
Cahyaningtyas, A. P., Sari, Y., Yustiana, S., & Jupriyanto, J. (2020). Pelatihan Penyusunan Soal-Soal Berbasis HOTS dan Aplikasinya dalam Pembelajaran Daring di Sekolah Dasar. Indonesian Journal of Community Services, 2(2), 162-171.http://jurnal.unissula.ac.id/index.php/ijocs/article/view/11352.
Chasanah, N., & Supriani, A. (2016. Penerapan Metode Praktik Untuk Meningkatkan Kemampuan Melaksanakan Promosi Kesehatan. Jurnal Ilimah Keperawatan. Vol. 2 No. 1 (2016): JIKep. Maret 2016. https://journal.stikespemkabjombang.ac.id/index.php/jikep/issue/view/3.
Djidu, H., & Jailani. (2016). Fostering Student's Higher - order Thinking Skill Through Problem-based Learning in Calculus. Proceeding of conference 3rd International Conference on Research Implementation and Education of Mathematics and Science, Yogyakarta 16-17 May 2016.https://www.researchgate.net/publication/337811774_Fostering_Student%27s_Higher-order_Thinking_Skill_Through_Problem-based_Learning_in_Calculus.
Hasnah, Y., Ginting, P., & Hasibuan, S. H. (2021). Implementing AMETTA (Active, Joyful, and Unstressed) in Increasing Learning Activity and Outcomes. AL-ISHLAH: Jurnal Pendidikan, 13(1), 144-155.http://journal.staihubbulwathan.id/index.php/alishlah/article/view/300/279.
Lizawati., E. Kartika., M. D. Duaja., H. Setyaji., Gusniwati. (2021). Pemberdayaan kelompok tani kedelai melalui penerapan teknologi pengolahan kedelai untuk meningkatkan pendapatan petani di Desa Marga Mulya Kecamatan Rantau Rasau. Riau Journal of Empowerment, 4(2), 59-68. https://doi.org/10.31258/raje.4.2.59-68.
Mahabbati, A., Purwanta, E., Rudiyati, S., &Purwandari . (2016). Pendampingan Guru dalam Peningkatan Kemampuan Penyusunan Program Pendidikan Karakter bagi Siswa Sekolah Luar Biasa. Jurnal Pendidikan Khusus.Vol 12, No 2 (2016). Hal. 67-76. https://journal.uny.ac.id/index.php/jpk/issue/view/1455.
Marniwati (2019). Peningkatan Higher Order Thinking Skills (HOTS) melalui strategi pembelajaran peningkatan kemampuan berpikir (SPPKB) pada Pembelajaran Ekonomi. Jurnal Pendidikan Tambusai, Volume 3 Nomor 5 Tahun 2019, hal 968-975. https://jptam.org/index.php/jptam/article/view/311.
Rajendran, N., & Idris, P. U. P. S. (2008). Teaching & Acquiring Higher-Order Thinking Skills: Theory & Practice: Penerbit Universiti Pendidikan Sultan Idris.
Retnawati, H., Hasan, D., Kartianom, Apino, E., &Anazifa, R. D. (2018). Teachers' Knowledge About Higher-Order Thinking Skills and Its Learning Strategy. Problems of Education in the 21st Century, 76, No. 2 (2018): 215–230. https://scholar.google.co.id/citations?view_op=view_citation&hl=id&user=I3CpvlQAAAAJ&citation_for_view=I3CpvlQAAAAJ:LkGwnXOMwfcC.
Selamat, I. N., & Priyanka, L. M. (2020). Pelatihan pembuatan soal HOTS bagi guru-guru SD Negeri No. 1 dan 2 Dausa Kecamatan Kintamani.Proceeding Senadimas Undiksha, 1, 626-634.
Sumaryati, S. (2013). Peningkatan Kompetensi Profesional Guru Melalui Pelatihan Model-Model Pembelajaran Inovatif. INOTEKS. Volume 17, Nomor 2, Agustus 2013. https://journal.uny.ac.id/index.php/inotek/article/view/3355.
Thomas, A., & Thorne, G. (2009). How to increase higher order thinking. http://www.readingrockets.org/article/how-increase-higher-order-thinking.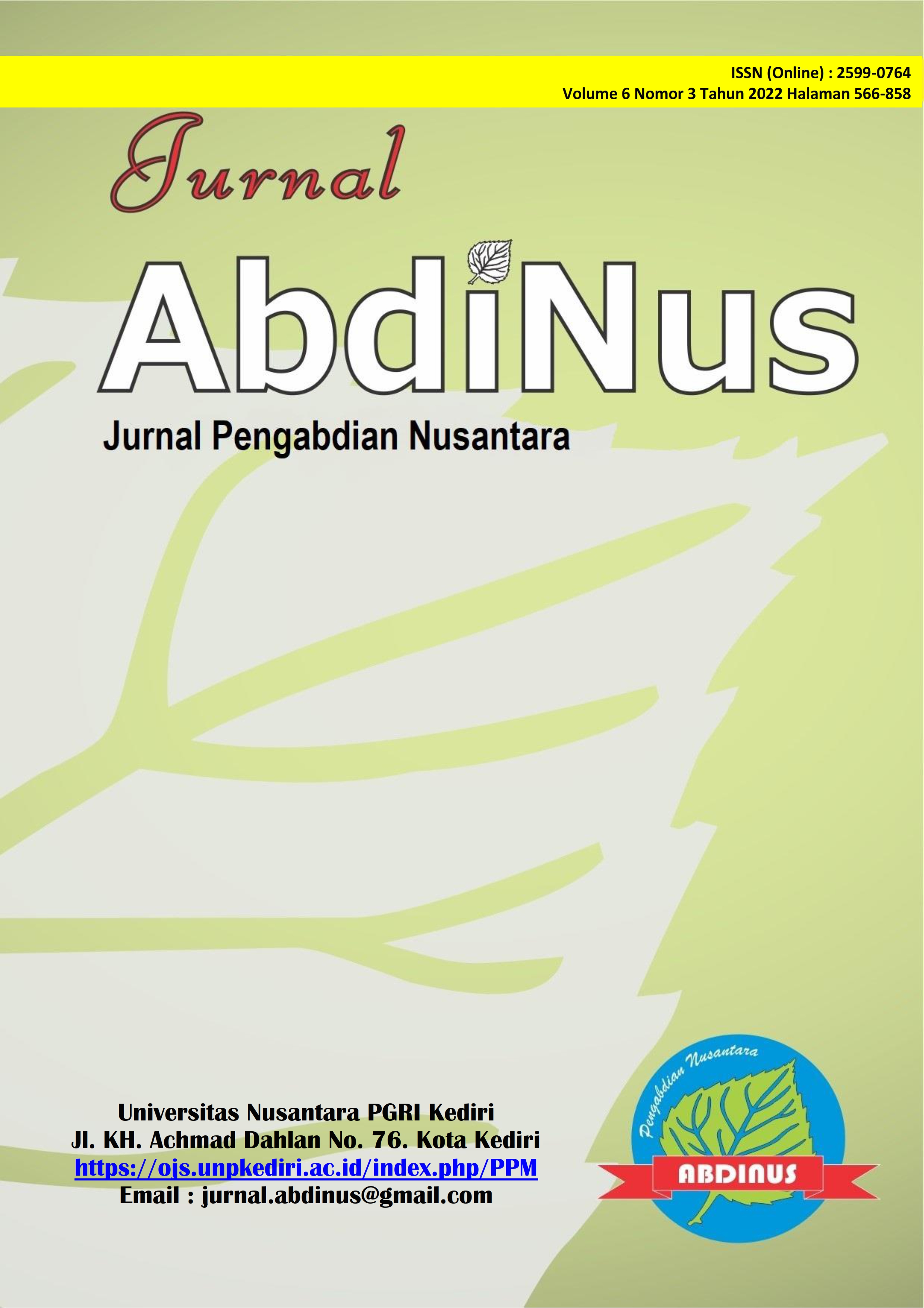 How to Cite
Metboki, Y., Hambandima, E. S. N., Ludji, I., & Sula, S. M. (2022). PKM Peningkatkan Keterampilan Mengajar Bertanya Berbasis HOTS Pada Guru TK Yayasan Pendidikan Kristen . Jurnal ABDINUS : Jurnal Pengabdian Nusantara, 6(3), 773-785. https://doi.org/10.29407/ja.v6i3.17844
Copyright (c) 2022 Jurnal ABDINUS : Jurnal Pengabdian Nusantara
This work is licensed under a Creative Commons Attribution 4.0 International License.