Edukasi dan Pendampingan Edukasi Tanaman Bernilai Ekonomi Tinggi Pada Masyarakat di Madyapuro Melalui Budidaya Bonsai
Setyo Wahyu Sulistyono

Universitas Muhammadiyah Malang

Firdha Aksari Anindyntha

Universitas Muhammadiyah Malang
Abstract views:
96
,
PDF (Bahasa Indonesia) downloads:
0
Keywords:
Economic value, Cultivate, Bonsai plant
Abstract
The economic sector is faced with many problems due to Covid-19. One of that is declining in economic activity which has a direct impact on the household economy, thus leading to efforts to create new economic activities in society. Dongkel is a depletion activity that aside the ecosystem to obtain economic benefits. This must be reduced through the conversion of activities in the community through an economic value approach and business management. This community service program seeks to provide public awareness of dongkel cultural activities which tend to be passive in terms of social and environmental economic values. The first step in implementing this program is giving education about the dangers of depletion for socio-economic life and the environment. Second, by encouraging the community in the RW 004 area of Madyapuro District to initiate the conversion of dongkel activities into cultivating plants with high economic value, namely bonsai. Third, by holding bonsai training as an activity to support household economic activities in the community. Fourth, by providing digital marketing training to sell the bonsai plant products. Hopefully, the result of this program is the establishment of public awareness in the cultivation of bonsai plants as a momentum to increase nature conservation and also the community's economy in era pandemic.
Downloads
Download data is not yet available.
References
Amin, M. I. (2020). Budidaya Tanaman Hias Bonsai untuk Meningkatkan Kreativitas di Era Pandemi. Kompasiana.com. https://www.kompasiana.com/muhammadikhsan26/602e118cd541df0e35572f62/budidaya-tanaman-hias-bonsai-untuk-meningkatkan-kreatifitas-di-era-pandemi?page=1
Dwilestari, S., & Nurmiati, S. (2018). Sistem Pakar Penentuan Style Pada Tanaman Bonsai Menggunakan Metode Certainty Factor. Sainstech: Jurnal Penelitian Dan Pengkajian Sains Dan Teknologi, 28(2), 49–56. https://doi.org/10.37277/stch.v28i2.242
Narastri, M., & Hidayati, C. (2022). PENINGKATAN DAN PEMBERDAYAAN NILAI EKONOMIS UMKM MELALUI PENGEMBANGAN PEMBIBITAN BONSAI DESA BANYUURIP KECAMATAN KEDAMAEAN KABUPATEN GRESIK. SWARNA: Jurnal Pengabdian Kepada Masyarakat, 1(2), 137-142. https://doi.org/10.55681/swarna.v1i2.85
Prastika, D. (2020). Bantu Perekonomian Masyarakat di Masa Pandemi, Mahasiswi KKN Asal Pacitan Ajak Masyarakat Budidaya Bonsai. Kompasiana.Com. https://www.kompasiana.com/dianprastika/5f9a6cddc26b770ec1370722/bantu-perekonomian-masyarakat-di-masa-pandemi-mahasiswi-kkn-asal-pacitan-ajak-masyarakat-budidaya-bonsai
Purwana, D., Rahmi, R., & Aditya, S. (2017). Pemanfaatan Digital Marketing Bagi Usaha Mikro, Kecil, Dan Menengah (UMKM) Di Kelurahan Malaka Sari, Duren Sawit. Jurnal Pemberdayaan Masyarakat Madani (JPMM), 1(1), 1–17. https://doi.org/10.21009/jpmm.001.1.01
Riskina, E., Riskina, E., Saputra, D. D., Saputra, F. A., & Widyaningsih, A. (2017). Pelatihan Pembuatan Bonsai " Bokabu " dari Oleana Syzygium Khas Borobudur untuk Peningkatan Nilai Ekonomi Tanaman. 119–124. https://journal.unimma.ac.id/index.php/urecol/article/view/736
Sabardi, L. (2014). Peran serta masyarakat dalam pengelolaan lingkungan hidup menurut Undang-undang Nomor 32 Tahun 2009 tentang Perlindungan dan pengelolaan lingkungan hidup. Yustisia, FH UNS edisi, 88, 169-173. https://doi.org/10.20961/yustisia.v3i1.10120
Setiawan, E. (2020). Budidaya Bonsai dan Jualan Online, Untungnya Enggak Ngebohongin. Okefinance. https://economy.okezone.com/read/2020/10/23/455/2298283/budidaya-bonsai-dan-jualan-online-untungnya-enggak-ngebohongin
Sunarti, S., Puspita, R. H., & Ernawati, R. (2018). Pengembangan Pemasaran Usaha Kecil Kue Tradisional Rumahan Melalui Media E-Commerce. Jurnal Abdimas Mahakam, 2(2), 85–95. https://doi.org/10.24903/jam.v2i2.377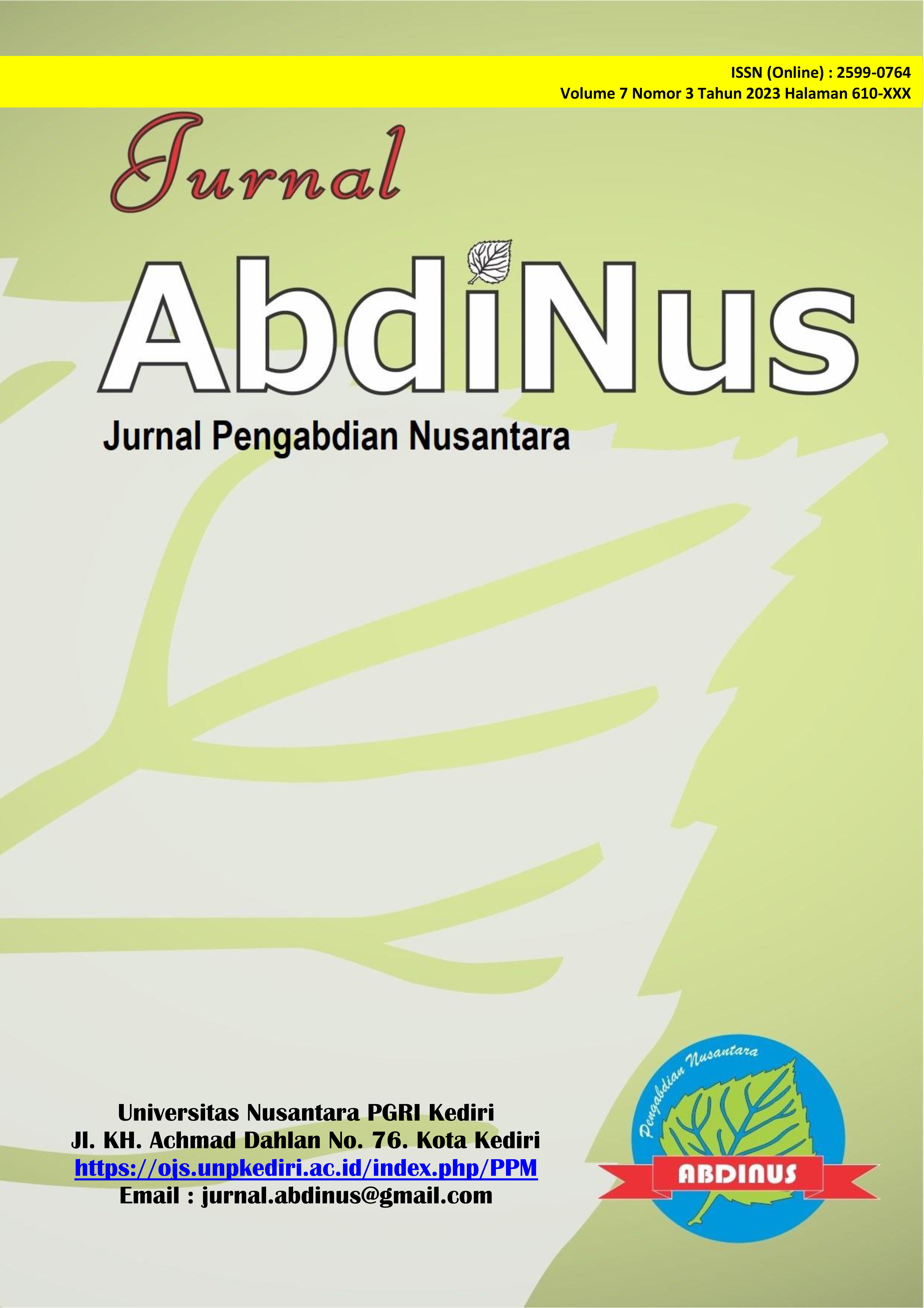 How to Cite
Sulistyono, S. W., & Anindyntha, F. A. (2023). Edukasi dan Pendampingan Edukasi Tanaman Bernilai Ekonomi Tinggi Pada Masyarakat di Madyapuro Melalui Budidaya Bonsai. Jurnal ABDINUS : Jurnal Pengabdian Nusantara, 7(3), 634-645. https://doi.org/10.29407/ja.v7i3.17683
Copyright (c) 2023 Jurnal ABDINUS : Jurnal Pengabdian Nusantara
This work is licensed under a Creative Commons Attribution 4.0 International License.