Peningkatan Literasi PKK Argosari, Sedayu, Bantul melalui Membacakan Nyaring
Nunik Hariyanti

Universitas Ahmad Dahlan

Wahidah Mahanani

Universitas Ahmad Dahlan

Rifdah Zulfah Ghina Nabilah

Universitas Ahmad Dahlan

Mufid Salim

Universitas Ahmad Dahlan

Fitrinanda An Nur

Universitas Ahmad Dahlan
Abstract views:
83
,
PDF (Bahasa Indonesia) downloads:
0
Keywords:
readaloud, litteracy, empowerment
Abstract
Kalurahan Argosari, Sedayu, Bantul is strategically located because it connects three regencies, namely, Bantul, Kulon Progo, and Sleman. This strategic location needs to be balanced with sufficient knowledge and literacy for the community. This literacy ability is how an individual can process information and knowledge for life skills. Currently, the people in Argosari Village, Sedayu, Bantul are still faced with literacy and low interest in reading. Therefore, this community service program aims to improve the community's ability in the field of literacy and help reduce household waste through processing and reading aloud. The method used in training to read aloud is the stages of preparation, implementation, and after reading. The partners involved in this activity are the PKK group from Kalurahan Argosari, Sedayu, Bantul, DIY. The result of the activity is that increasing literacy can be started from the family consistently at home for 15 minutes every day by reading aloud. The impact of this activity is that the people who previously already had the provision of information became increasingly knowledgeable so that they had great potential to be applied in their respective homes.
Downloads
Download data is not yet available.
References
Imanugroho, S., & PG Isyawati, R. (2019). PROGRAM GERAKAN LITERASI SEKOLAH DALAM MENUMBUHKAN MINAT BACA PESERTA DIDIK SDN KURIPAN LOR 01 KOTA PEKALONGAN. Jurnal Ilmu Perpustakaan, 1–11.
Kemdikbud. (2016). Literasi. Balai Pengembangan Dan Pembinaan Bahasa.
Rahesi, I. D., Abidin, Y., & Mulyati, Y. (2020). INTERAKSI MODEL MEMBACA NYARING BERMUATAN BUKU CERITA ANAK DALAM MENUMBUHKAN LITERASI KELUARGA. Prosiding Seminar Internasional Riksa Bahasa XIII.
Riyanto, P. (2020). Literasi sebagai Upaya Penanaman Karakter Peduli Lingkungan melalui Kegiatan Taman Bacaan Masyarakat. Diklus: Jurnal Pendidikan Luar Sekolah, 4(1), 45–54. https://doi.org/10.21831/diklus.v4i1.27889
Setyalaksana, D. V. M. Y. W. (2021). Pengaruh Penerapan Computional Thinking Terhadap Kemampuan Guru Melatih Critical Thinking dan Problem Solving Siswa. In Seminar Nasional Hasil Penelitian 2021.
Siswati, T., Widyawati, H. E., Khoirunissa, S., & Kasjono, H. S. (2021). Literasi Stunting pada Masa Pandemi Covid-19 untuk Ibu Balita dan Kader Posyandu Desa Umbulrejo Kapanewon Ponjong Kabupaten Gunung Kidul. Jurnal ABDINUS : Jurnal Pengabdian Nusantara, 4(2), 407–416. https://doi.org/10.29407/ja.v4i2.15414
Sutrisna, N. (2021). ANALISIS KEMAMPUAN LITERASI SAINS PESERTA DIDIK SMA DI KOTA SUNGAI PENUH. Jurnal Inovasi Penelitian, 1(12), 2683–2694. https://doi.org/https://doi.org/10.47492/jip.v1i12.530
Trelease, J. (1989). The new read-aloud handbook.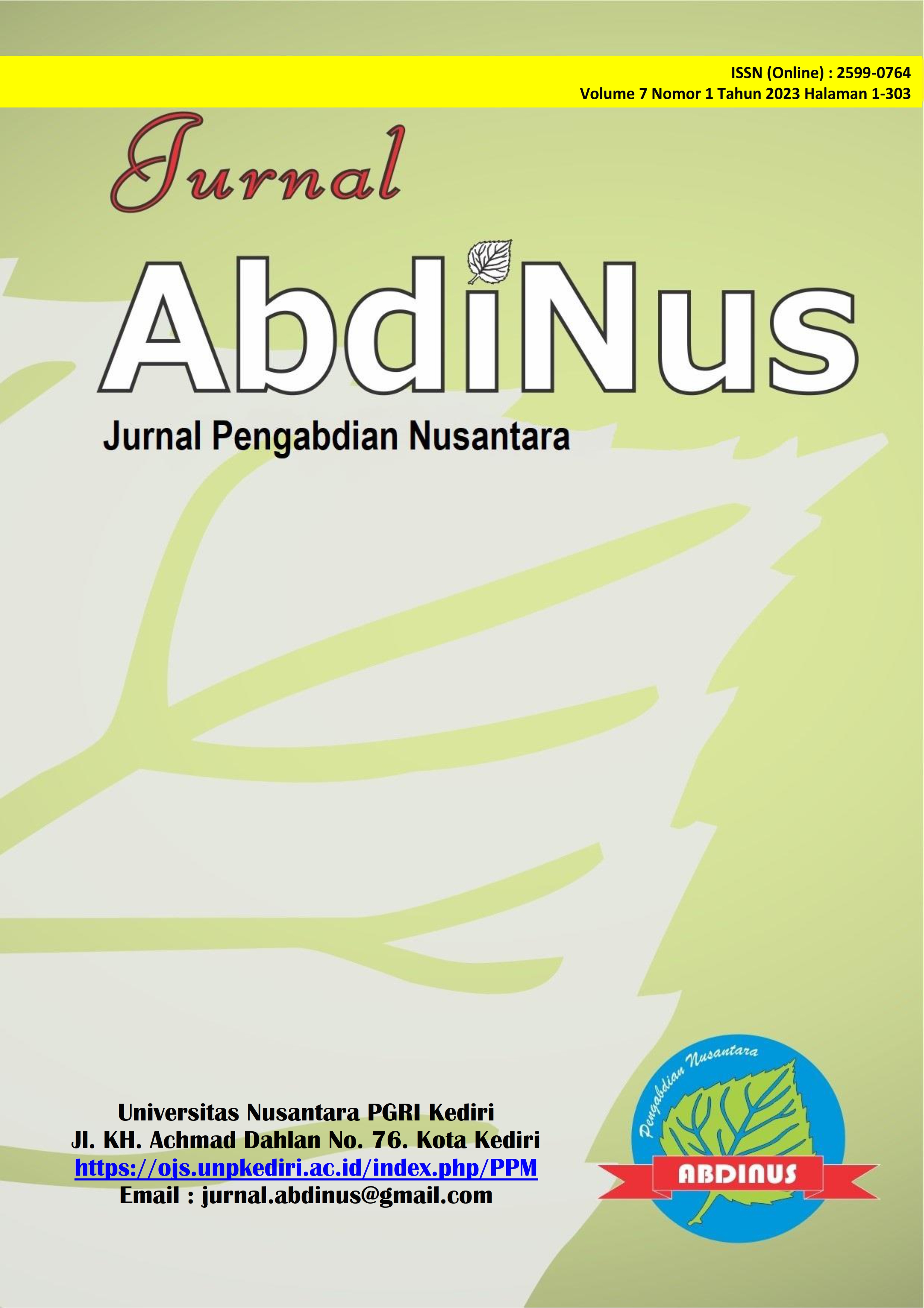 How to Cite
Hariyanti, N., Mahanani, W., Nabilah, R. Z. G., Salim, M., & Nur, F. A. (2023). Peningkatan Literasi PKK Argosari, Sedayu, Bantul melalui Membacakan Nyaring. Jurnal ABDINUS : Jurnal Pengabdian Nusantara, 7(1), 15-21. https://doi.org/10.29407/ja.v7i1.17648
Copyright (c) 2023 Jurnal ABDINUS : Jurnal Pengabdian Nusantara
This work is licensed under a Creative Commons Attribution 4.0 International License.