Peningkatan Ketahanan Ekonomi Keluarga Melalui Pemberdayaan Ibu Rumah Tangga dalam Pemasaran dan Olahan Kerupuk Kulit Ikan di Kampung Bugis
Wafid Azizah

Universitas Pendidikan Nasional

Kadek Devi Kalfika Anggria Wardani

Universitas Pendidikan Nasional

Dewa Ayu Putu Adhiya Garini Putri

Universitas Pendidikan Nasional
Abstract views:
115
,
PDF (Bahasa Indonesia) downloads:
0
Keywords:
Economic resilience, Empowerment, Fish skin crackers
Abstract
The problem that occurred in Serangan Village, precisely in Bugis Village, was the decline in family economic income caused by the Covid-19 Pandemic and this was a challenge for researchers to overcome the low family economic income and increase the entrepreneurial spirit of housewives in the area. Seeing from the potential of the surrounding environment that is dominant in marine products, therefore researchers have a program in the form of empowering housewives in processing and marketing a processed product in the form of fish skin crackers by utilizing digital marketing in situations like this. With this empowerment, it is hoped that it will be able to encourage housewives to help the family economy. The purpose of this empowerment is so that later researchers can provide new ideas about processing fish skin crackers and in marketing them. Where the target to be achieved is that housewives can help the family's economic resilience during the current pandemic. The results and outputs obtained by the researchers are that housewives are able to make innovations in terms of taste as well as packaging and marketing of fish skin crackers.
Downloads
Download data is not yet available.
References
Adithia, D., Ernawati, E., Ananda, A., & Sihotang, E. T. (2022). Pemberdayaan Ibu-Ibu Rumah Tangga Melalui Pelatihan Keterampilan Menjahit Guna Membangun Ekonomi Kreatif. Jurnal KeDayMas: Kemitraan dan Pemberdayaan Masyarakat, 2(1), 35-43. https://journal.perbanas.ac.id/index.php/kedaymas/article/view/2832.
Adry, M. R., Riani, N. Z., Akbar, U. U., & Sari, Y. P. (2020). Peningkatan Kesejahteraan Keluarga Melalui Pelatihan Pengolahan Pangan Bagi Ibu Rumah Tangga. Journal of Community Service, 2(2), 177-184. https://idm.or.id/JCS/index.php/JCS/article/view/48.
Jimad, H., Yuningsih, Y., Bursan, R., & Mardiana, N. (2020). Pemberdayaan ibu rumah tangga melalui pelatihan ekonomi kreatif: Produksi dan pemasaran produk rajutan. SAKAI SAMBAYAN—Jurnal Pengabdian kepada Masyarakat, 4(1), 11-13. http://dx.doi.org/10.23960/jss.v4i1.171
Nurita, R. F. (2016). Upaya pemberdayaan ibu rumah tangga di Desa Kalirejo Lawang dengan tujuan memotivasi kewirausahaan mandiri. Abdimas: Jurnal Pengabdian Masyarakat Universitas Merdeka Malang, 1(1). https://doi.org/10.26905/abdimas.v1i1.1175
Prasetyo, I., & Saddewisasi, W. (2020). Pemberdayaan Ibu-ibu Rumah Tangga untuk Berwirausaha Membuat Kue Sus guna Meningkatkan Pendapatan Ekonomi Keluarga di Kelurahan Mangunharjo kecamatan Tembalang Kota Semarang. Jurnal Riptek, 14(1), 60-64. https://riptek.semarangkota.go.id/index.php/riptek/article/view/71
Putri, C. A., & Nugrahini, D. S. (2021). Pemberdayaan Ibu-Ibu Rumah Tangga Melalui Penyuluhan Inovasi Produk Dan Pemasaran Online Kerupuk Lontong Di Dusun Blandongan Desa Ngawi Kecamatan Ngawi Kabupaten Ngawi. LOYALITAS, Jurnal Pengabdian Kepada Masyarakat, 4(2), 204-226. https://doi.org/10.30739/loyalitas.v4i2.1132
Setiawati, E., & Rozinah, S. (2020). Pemberdayaan Ibu-Ibu Rumah Tangga Dalam Upaya Meningkatkan Ekonomi Keluarga Melalui Pengelolaan Usaha Rumahan di Tangerang Selatan. Aksiologiya: Jurnal Pengabdian Kepada Masyarakat, 4(2), 231-240. http://dx.doi.org/10.30651/aks.v4i2.2611
Sidiq, A. W., Niati, A., Rizkiana, C., & Soedarmadi, S. (2020). Pemberdayaan Ibu Rumah Tangga Dalam Upaya Peningkatan Kesejahteraan Keluarga Dengan Memanfaatkan Limbah Pohon Pisang. Jurnal Surya Masyarakat, 2(2), 110-114. https://doi.org/10.26714/jsm.2.2.2020.110-114
Wardiani, S. R., Intan, T., & Subekti, M. (2018). Pemberdayaan Ibu Rumah Tangga dalam Upaya Peningkatan Ekonomi Keluarga di Desa Rancamulya dan Tambak Jati Kecamatan Patok Beusi-Subang. Dharmakarya, 7(4), 221-227. https://doi.org/10.24198/dharmakarya.v7i4.11922
Werdani, R. E., Kurniawati, N. I., Sukoco, J. B., Windriya, A., & Iskandar, D. (2020). Pelatihan pemasaran produk homemade melalui sosial media. JPPM (Jurnal Pengabdian dan Pemberdayaan Masyarakat), 4(1), 1-5. https://doi.org/10.30595/jppm.v4i1.4655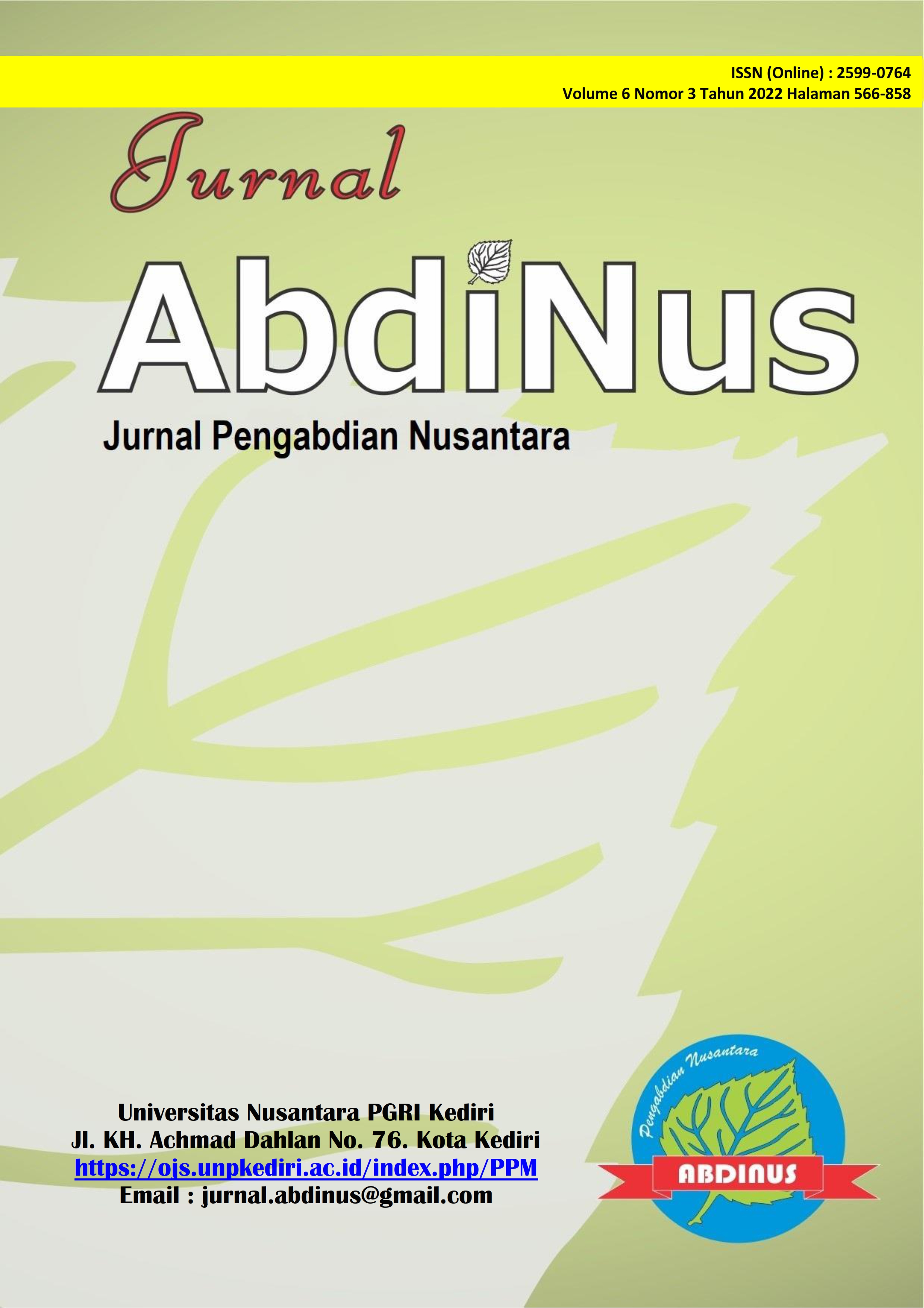 How to Cite
Azizah, W., Wardani, K. D. K. A., & Putri, D. A. P. A. G. (2022). Peningkatan Ketahanan Ekonomi Keluarga Melalui Pemberdayaan Ibu Rumah Tangga dalam Pemasaran dan Olahan Kerupuk Kulit Ikan di Kampung Bugis. Jurnal ABDINUS : Jurnal Pengabdian Nusantara, 6(3), 806-816. https://doi.org/10.29407/ja.v6i3.17606
Copyright (c) 2022 Jurnal ABDINUS : Jurnal Pengabdian Nusantara
This work is licensed under a Creative Commons Attribution 4.0 International License.