Pelatihan Platform Pembelajaran Edmodo pada Guru-guru SMK PGRI 3 Kediri
Diani Nurhajati

Universitas Nusantara PGRI Kediri

Dewi Kencanawati

Universitas Nusantara PGRI Kediri

Agung Wicaksono

Universitas Nusantara PGRI Kediri

Khoiriyah Khoiriyah

Universitas Nusantara PGRI Kediri

Luhung Badarudin

Universitas Nusantara PGRI Kediri

Maria Gabriela Nawang Putri

Universitas Nusantara PGRI Kediri
Abstract views:
158
,
PDF (Bahasa Indonesia) downloads:
0
Keywords:
Edmodo, Interactive Media, Training
Abstract
Due to the Covid-19 Pandemic, teachers are required to carry out online learning. They may utilize technology in implementing the learning. They can choose one of interesting and interactive learning media in order to motivate their students and to promote learning. Based on the preliminary study in SMK PGRI 3 Kediri, it was found out that many teachers had not utilized the available learning platform. They only applied the application they were familiar to support their online learning, such as WhatsApp, Google Class, and Google Meet. Realizing the facts, the community service team carried out a training for the teachers to use interactive platform as media for learning, called Edmodo. The objectives the program were to train the teachers to use Edmodo platform for interactive learning, that included how to make new Edmodo accounts, how to make use the available facilities in Edmodo, and to train the school administrator to manage the program. The training was carried out in one month using in-and-on basis. The results of the training were that all teachers have already had Edmodo accounts and their account are connected with Edmodo group, which could be monitored by the school administrator. 
Downloads
Download data is not yet available.
References
Aji, M. P. (2017). Edmodo in the Class: The use of Online Learning in the Class Seen from Students'' voice. Yogyakarta: The 4th UAD TEFL International Conference.
Anggraini, L. H. (2020). PELATIHAN APLIKASI EDMODO SEBAGAI METODE E-LEARNING PADA GURU SMK ARUNG SAMUDERA BANJARMASIN UNTUK MENINGKATKAN KWALITAS PEMBELAJARAN. . Prosiding Pengabdian Kepada Masyarakat Dosen UNISKA MAB.
Fitriani, Y. (2020). Analisa pemanfaatan learning management system (LMS) sebagai media pembelajaran online selama pandemi covid-19. Journal of Information System, Informatics and Computing, 1-8.
Fitriasari, P. (2017). Aplikasi Edmodo Sebagai Media Pembelajaran E-Learning. Palembang: Jurnal Dosen Universitas PGRI Palembang.
Kemendikbud. (2020). Surat Edaran Nomor 15 Tahun 2020 tentang Pedoman Penyelenggaraan Belajar Dari Rumah dlam Masa Darurat Penyebaran Covid-19. Jakarta: Kemendikbud.
Nurdani, A. R. (2016). Penggunaan media Edmodo untuk meningkatkan hasil belajar siswa pada mata pelajaran dasar-dasar perhitungan survei pemetaan kelas X Geomatika SMK N 3 Salatiga dan SMK N 1 Kedungwuni Pekalongan. Semarang: Skripsi, Unnes.
Rahmawati, E. J. (2018). Pengaruh Media Edmodo Terhadap Hasil Belajar Peserta Didik pada Mata Pelajaran Ekonomi di SMA Negeri 1 Indralaya Utara. Ekonomi dan Ilmu Ekonomi, 2(2), 186-193. Palembang: Jurnal PROFIT: Kajian Pendidikan Ekonomi dan Ilmu Ekonomi.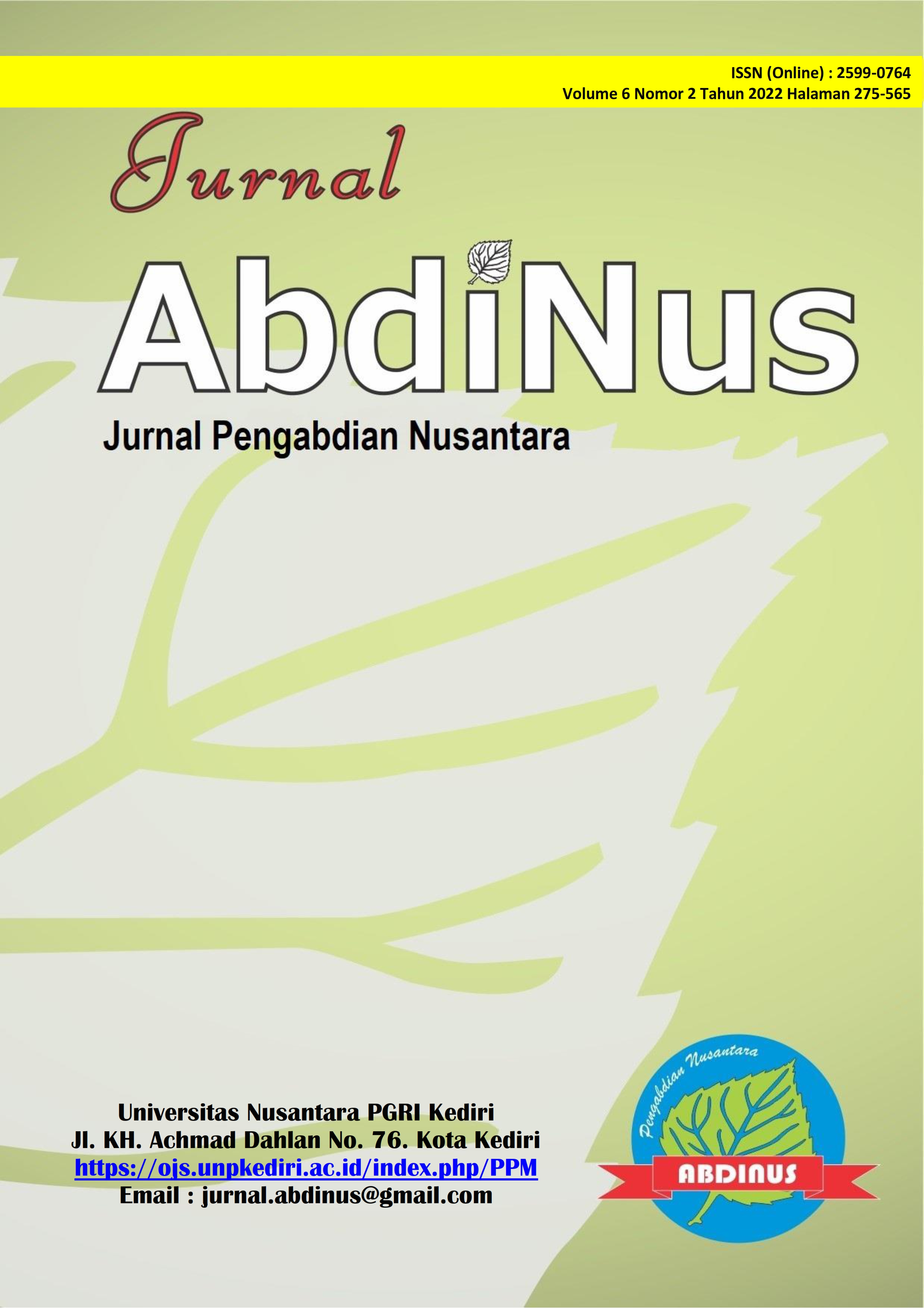 How to Cite
Nurhajati, D., Kencanawati, D., Wicaksono, A., Khoiriyah, K., Badarudin, L., & Putri, M. G. N. (2022). Pelatihan Platform Pembelajaran Edmodo pada Guru-guru SMK PGRI 3 Kediri . Jurnal ABDINUS : Jurnal Pengabdian Nusantara, 6(2), 460-467. https://doi.org/10.29407/ja.v6i2.17106
Copyright (c) 2022 Jurnal ABDINUS : Jurnal Pengabdian Nusantara
This work is licensed under a Creative Commons Attribution 4.0 International License.