Pelatihan Satu Guru Satu Aplikasi Pembelajaran bagi Guru SD Lhoksmawe
Halimatus Sakdiah

Universitas Malikussaleh

Muliani Muliani

Universitas Malikussaleh

Isna Rezkia Lukman

Universitas Malikussaleh
Abstract views:
107
,
PDF (Bahasa Indonesia) downloads:
0
Keywords:
Training, Apps, Learning
Abstract
The 21st century requires teachers to have skills in utilizing information and communication technology (ICT) in learning. Currently, Android is one of the right media choices in learning in this digital era. This activity aims to train elementary school teachers in improving their ability to use ICT and guide elementary school teachers to create android-based media in learning. Implementation of activities using the method of Direct Instruction, Workshop and Field Guidance. After the activity ended, a closed questionnaire was distributed to find out the results of the activity. The results obtained were an increase in the understanding of ICT for elementary school teachers after this activity was carried out, besides that the teacher was also able to create an Android-based learning application. During the implementation of the activity, the teacher looks enthusiastic and enthusiastic in making applications.
Downloads
Download data is not yet available.
References
Anshori, S. (2018). Pemanfaatan Tik Sebagai Sumber Dan Media Pembelajaran di Sekolah. Jurnal Ilmu Pendidikan PKn dan Sosial Budaya , 10-20.
Cahyanti, A. D. (2019). Pengembangan Alat Evaluasi Berupa Tes Online/Offline Matematika dengan ISpring Suite 8. Indonesian Journal of Science and Mathematics Education , 363-371.
Dewi, S. Z., & Hilman, I. (2018). Penggunaan TIK Sebagai Sumber dan Media Pembelajaran Inofatif Di Sekolah Dasar. Indonesian Journal Of Prymary Education , 48-53.
Ependi. (2015). Pemanfaatan Teknologi Berbasis Android sebagai Media Belajar Matematika Anak Sekolah Dasar. Jurnal Ilmiah Matrik , 109-122.
Mellyzar, M., Syafrizal, S., & Ginting, F. W. (2021). Penguatan Konsep Kompetisi Sains Nasional Bagi Guru dan Siswa Unggulan di SMAN 7 Kota Lhokseumawe dan SMAN 2 Dewantara Aceh Utara: Bidang Kimia, Fisika dan Kebumian. SELAPARANG Jurnal Pengabdian Masyarakat Berkemajuan , 228-235.
Mukaromah, E. (2020). Pemanfaatan Teknologi Informasi dan Komunikasi dalam Meningkatkan Gairah Belajar Siswa. Indonesian Journal of Education Management and Administration Review , 179-186.
Muliani, Ginting, F. W., & Sakdiah, H. (2022). Pelatihan Asesmen Hasil Belajar Digital Terintegrasi Quizizz dan Google Form Sebagai Solusi Pembelajaran Di Masa New Normal. Jurnal Pengabdian Magister Pendidikan IPA , 316–322.
Muliani, M., Novita, N., Marhami, M., & Sakdiah, H. (2021). Pengembangan Kompetensi Literasi Digital Pada Guru Untuk Optimalisasi Pembelajaran Jarak Jauh (PJJ). Matappa: Jurnal Pengabdian Kepada Masyarakat , 51-58.
Novita, N., Muliani, & Mellyzar. (2022). Pelatihan Pengembangan Soal Matematika Dan Sains Berbasis Numerasi Pada Guru Untuk Menunjang Asesmen Nasional. SELAPARANG. Jurnal Pengabdian Masyarakat Berkemajuan , 486–493.
Putra, A. A., Wahyuni, I. W., Alucyana, A., & Ajriyah, A. (2021). Pengaruh Penggunaan Handphone Pada Siswa Sekolah Dasar. Al- Hikmah: Jurnal Agama dan Ilmu Pengetahuan , 79-89.
Ridwan, M. (2021). Dampak Penggunaan Handphone Terhadap Hasil Belajar Siswa di Madrasah Aliyah Sungai Jepun Kecamatan Tembilahan. STAI Auliaurrasyididn Tembilahan: Doctoral dissertation.
Sakdiah, H. (2021). Analisis Minat Guru IPA Tingkat SMP Dalam Penelitian Tindakan Kelas (PTK). JURNAL EDUSCIENCE , 70-78.
Sutejo, S., & Fadrial, Y. E. (2021). Pelatihan Pembuatan Media Peembelajaran Menggunakan Aplikasi Smart Apps Creator di SMK 2Pinggir. J-COSCIS: Journal Of Computer Science Community Service , 45-52.
Trilling, B. a. (2019). 21st Century Skills: Learning for Lifein Our Times. San Fransisco: Jossey-Bass.
Trisnowati, E., & Nurhikmahyanti, D. (2018). PENINGKATAN KETERAMPILAN GURU SAINS SMP DALAM PENYUSUNAN PENELITIAN TINDAKAN KELAS MELALUI MODEL DIRECT INSTRUCTION. Spektra , 154-161.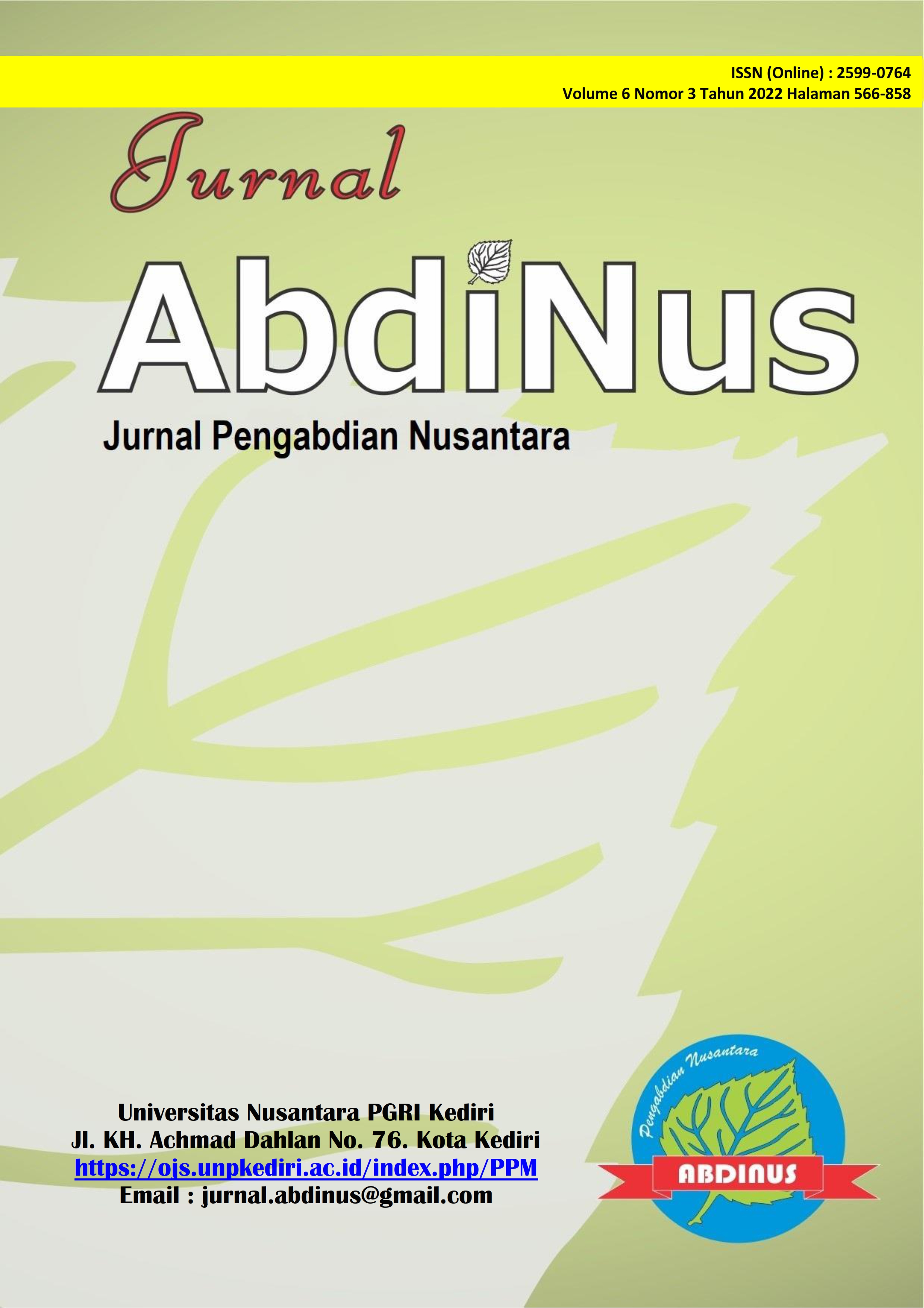 How to Cite
Sakdiah, H., Muliani, M., & Lukman, I. R. (2022). Pelatihan Satu Guru Satu Aplikasi Pembelajaran bagi Guru SD Lhoksmawe. Jurnal ABDINUS : Jurnal Pengabdian Nusantara, 6(3), 648-655. https://doi.org/10.29407/ja.v6i3.16975
Copyright (c) 2022 Jurnal ABDINUS : Jurnal Pengabdian Nusantara
This work is licensed under a Creative Commons Attribution 4.0 International License.