Pengembangan dan Pemberdayaan UMKM Kota Depok Di Masa Pandemi COVID-19
Tri Widyastuti

Universitas Bhayangkara

Raden Parianom

Universitas Pembangunan Nasional Veteran Jakarta
Abstract views:
241
,
PDF (Bahasa Indonesia) downloads:
0
Keywords:
SMSE, Digital Marketting, Digital Financial
Abstract
Micro, Small and Medium Enterprises (MSMEs) in Indonesia have a very large contribution to the nation's economic condition. The current economic situation affected by the Covid-19 pandemic has almost affected all business sectors, especially the MSME sector. The problems faced by business actors are mainly in terms of marketing or marketing which usually relies on direct sales. Utilization of information technology is expected to be a solution in solving sales, marketing and financial transaction problems of MSME actors. Information technology turned out to be a new thing and very difficult for market traders or business actors. IT-based behavior change for both buyers and sellers requires training and assistance in the areas of sales, marketing and financial transactions. The problem faced by partners today is that partners do not master digital marketing, digital sales and digital financial transactions. The solutions offered are training and assistance in digital marketing, sales and financial transactions. 
Downloads
Download data is not yet available.
References
Arianto, B. (2020). Pengembangan UMKM Digital di Masa Pandemi Covid-19. ATRABIS: Jurnal Administrasi Bisnis, 6(2).
Azhar Ramadhanty, C., Raefanty Nadya, D., Mustaqimah, Z., Yosintha, R., & Tidar, U. (2021). STRATEGI DIGITAL MARKETING UKM TERDAMPAK COVID-19 DI KELURAHAN SIDOREJO TEMANGGUNG. ABDIPRAJA, 2(1).
Hadi, D. F., Zakiah, K., & Bandung, I. (2021). STRATEGI DIGITAL MARKETING BAGI UMKM (USAHA MIKRO KECIL DAN MENENGAH) UNTUK BERSAING DI ERA PANDEMI.COMPETITIVE,16(1). http://ejurnal.poltekpos.ac.id/index.php/competitive%7C32
Haryanti&Hidayah. (2019). Potret UMKM Indonesia : Si Kecil yang Berperan Besar. (online) (https://www.ukmindonesia.id/baca-artikel/62)
Masduki, T. (2021). Akselerasi Digitalisasi UMKM Untuk Pemulihan Ekonomi dari Dampak Pandemi Covid-19.
Mulyana, A. E., Hidayat, R., Andayani, N. R., Zuliarni, S., & Pratama, A. W. (2021). Pengembangan UMKM Melalui Sosialisasi dan Penyuluhan Secara Digital untuk Menunjang Keberlangsungan Usaha di Masa Pandemi Covid-19. Abdimas-Polibatam, 3(1).
Nurlida, & Sinuraya, J. (2020). Potensi UMKM Dalam Menyangga Perekonomian Kerakyatan di Masa Pandemi Covid-19: Sebuah Kajian Literatur. Seminar Akademik Tahunan Ilmu Ekonomi Dan Studi Pembangunan 2020, 73. www.lokadata.beritagar.id
Octavina, L. A., & Rita, M. R. (2021). Digitalisasi umkm, literasi keuangan, dan kinerja keuangan: Studi pada masa pandemi Covid-19. Journal of Business and Banking.
OPTIMALISASI PERAN E-COMMERCE BAGI PENINGKATAN MUTU UMKM DI MASA PANDEMI COVID-19. (n.d.). https://biztech.proxsisgroup.com/optimalisasi-peran-e-commerce-bagi-umkm/
Rosita, R. (2020). PENGARUH PANDEMI COVID-19 TERHADAP UMKM DI INDONESIA. JURNAL LENTERA BISNIS, 9(2), 109. https://doi.org/10.34127/jrlab.v9i2.380
Soetjipto, N. H. (2020). Ketahanan UMKM Jawa Timur Melintasi Pandemi COVID-19. K-Media.
Sunardi, N., Nurzaman, E. A., Lesmana, R., & Hasbiayah, W. (2021). Peran Digital Marketing Dan Manajemen Keuangan dalam Upaya Peningkatan Pendapatan UMKM yang Berdampak Pada Kesejahteraan Masyarakat di Tengah Pandemi Covid 19 Application of Digital Marketing and Financial Management in Efforts to Increase SME Income Impa. Jurnal Abdi Masyarakat Humanis, 2(2), 96–104. http://www.openjournal.unpam.ac.id/index.php/JAMH
Syafnidawaty. (2020). E-Commerce (Perdagangan Elektronik). (Online) (https://raharja.ac.id/2020/04/28/e-commerce-perdagangan-elektronik/#:~:text=Perdagangan%20elektronik%2Felectronic%2Dcommerce%2F,televisi%2C%20atau%20jaringan%20komputer%20lainnya.&text=Istilah%20e%2Dcommerce%20digunakan%20untuk,transaksi%20yang%20memakai%20media%20elektronik.)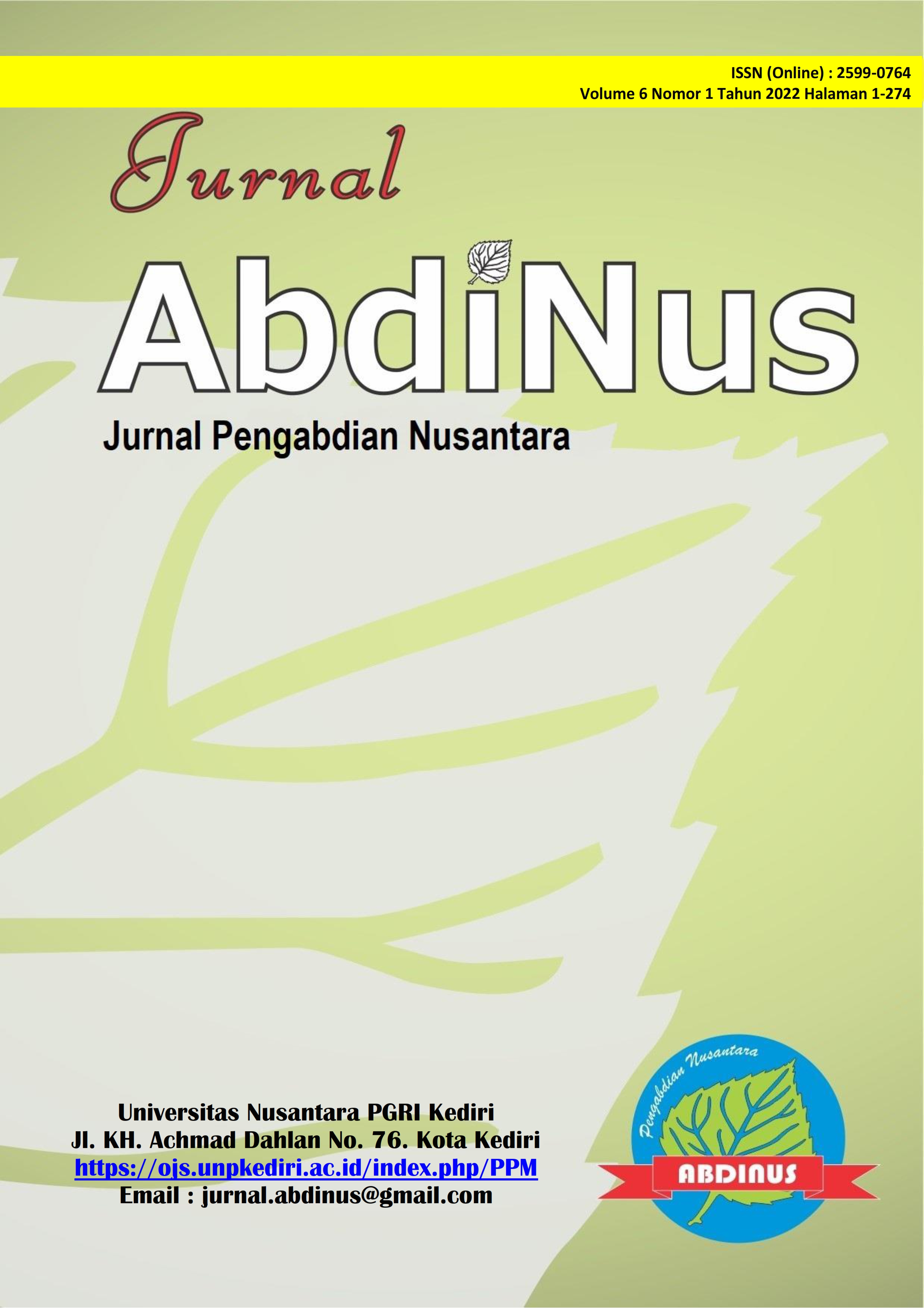 How to Cite
Widyastuti, T., & Parianom, R. (2022). Pengembangan dan Pemberdayaan UMKM Kota Depok Di Masa Pandemi COVID-19. Jurnal ABDINUS : Jurnal Pengabdian Nusantara, 6(1), 203-212. https://doi.org/10.29407/ja.v6i1.16718
Copyright (c) 2022 Jurnal ABDINUS : Jurnal Pengabdian Nusantara
This work is licensed under a Creative Commons Attribution 4.0 International License.