Media Sosial Sebagai Pemasaran Digital untuk Perajin Kain Songket di Desa Penyandingan
Anita Desiani

universitas Sriwijaya

Nuni Gofar

Universitas Sriwijaya

Yuli Andriani

Universitas Sriwijaya

Irmeilyana Irmeilyana

Universitas Sriwijaya

Annisa Nabila

Universitas Sriwijaya

Fathona Nur Muzayyadah

Universitas Sriwijaya

Fauzi Yusuf Syarifuddin

Universitas Sriwijaya

M Kahfi Aldi Kurnia

Universitas Sriwijaya
Abstract views:
196
,
PDF (Bahasa Indonesia) downloads:
0
Keywords:
Social Media, Marketing, Songket
Abstract
Penyandingan Village is part of the Ogan Ilir District, Indralaya District. Songket craftsmen are the main source of income besides farmers and traders in the Penyandingan village. Nearly 90% of the women in the Penyandingan village are songket craftsmen. The difficulty of songket craftsmen is in terms of marketing their handicrafts. Craftsmen need breakthroughs so that their products are widely distributed, one of which is utilizing information technology such as social media. Many economic actors, both individuals and groups, use social media to market their products. Unfortunately, the knowledge of pairing village songket craftsmen is still lacking in utilizing social media in marketing songket fabrics such as promotions on Instagram, business WhatsApp, and business Facebook. By implementing the use of social media in the marketing of songket cloths from Penyandingan village, it can help increase village income and promoting the songket cloth of Penyandingan village.
Downloads
Download data is not yet available.
References
As'ad, A., Syahnur, H., & Arumbarkah, M. (2019). Pelatihan motivasi dan kewirausahaan bagi warga Desa Sanrobone Kabupaten Takalar. Jurnal Pengabdian Bina Ukhuwah, 1(2), 8–15.
Handika, M. R., Maradona, A. F., & Dharma, G. S. (2018). Strategi Pemasaran bisnis kuliner menggunakan influencer melalui media sosial instagram. Jurnal Manajemen Dan Bisnis Undiknas, 15(2), 192–203. https://doi.org/10.38043/jmb.v15i2.601
Hendriyani, C., Dwianti, S. P., Herawaty, T., Ruslan, B., Bisnis, A., Padjadjaran, U., & Bagasasi, S. (2020). Analysis of whatsapp business usage in encouraging sales and. Jurnal Pemikiran Dan Penelitian Administrasi Bisnis Dan Kewirausahaan, 5(2), 193–200.
Kartikasari, M. D., & Hartati, M. D. (2018). Strategi komunikasi pemasaran melalui facebook (studi kasus pada pengusaha kue kering alissa cookies). Jurnal Bisnis Dan Manajemen (JBIMA), 6(0289), 72–77.
Kinanti, S. P., & Putri, B. P. S. (2017). Pengaruh media sosial instagram @zapcoid terhadap brand equity zap clinic. Jurnal Komunikasi, 9(1), 53–64.
Kusnaeni, A. (2020). Pelatihan bisnis fashion melalui whatsapp dalam meningkatkan pemberdayaan bagi umkm cimahi. JURNAL COMM-EDU, 3, 42–49.
Riyanto, J., & Supriyanto. (2020). Analisa sistem aplikasi marketplace facebook dalam pengembangan dunia bisnis. Jurnal Media Informatika Budidarma, 4, 940–946.
Romdonny, J., & Rosmadi, M. L. N. (2018). Peran media sosial dalam mendukung pemasaran produk organisasi bisnis. Ikra-Ith Ekonomika, 1(2), 25–30.
Sakhena, P., Sriwahyuni, T., & Adri, M. (2019). Perancangan e-commerce pemasaran kain songket Silungkang berbasis web. Voteteknika (Vocational Teknik Elektronika Dan Informatika), 7(1), 156.
Setiadi, A. (2014). Pemanfaatan media sosial untuk efektifitas komunikasi. Jurnal Ilmiah Matrik, 16(1).
Yuniar, M. D. (2020). Aplikasi instagram sebagai sarana promosi bisnis online : Sebuah studi pada akun warung mamak. Jurnal Ekonomi, Sosial & Humaniora Aplikasi, 02(03), 1–9.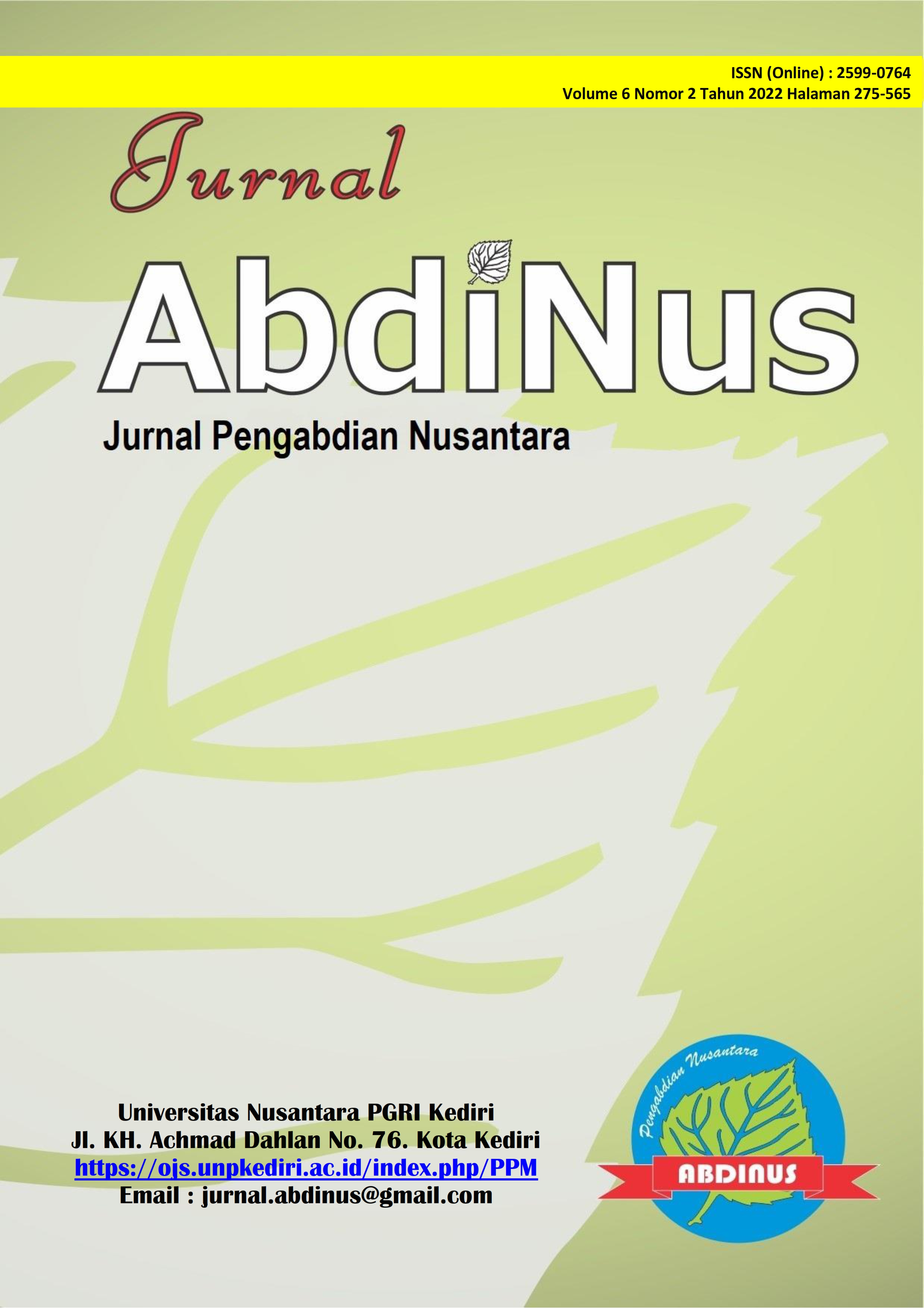 How to Cite
Desiani, A., Gofar, N., Andriani, Y., Irmeilyana, I., Nabila, A., Muzayyadah, F. N., Syarifuddin, F. Y., & Kurnia, M. K. A. (2022). Media Sosial Sebagai Pemasaran Digital untuk Perajin Kain Songket di Desa Penyandingan. Jurnal ABDINUS : Jurnal Pengabdian Nusantara, 6(2), 555-565. https://doi.org/10.29407/ja.v6i2.16682
Copyright (c) 2022 Jurnal ABDINUS : Jurnal Pengabdian Nusantara
This work is licensed under a Creative Commons Attribution 4.0 International License.