Pelatihan Penyusunan Alat Evaluasi Non Tes bagi Guru Madrasah di Mataram
Edy Herianto

Universitas Mataram

Mohammad Ismail

Universitas Mataram

Dahlan Dahlan

Universitas Mataram

Basariah Basariah

Universitas Mataram

I Nengah Agus Tripayana

Universitas Mataram
Abstract views:
471
,
PDF (Bahasa Indonesia) downloads:
0
Keywords:
Non-Test Evaluation, Madrasah Teachers
Abstract
Evaluation of the learning process (through non-test) is often ignored by madrasah teachers in Mataram, at least getting less attention than learning outcomes (tests) as it is known that education is oriented to results and the process. Evaluation of learning outcomes and learning processes must be carried out in a balanced and simultaneous manner. Non-test evaluation tools are an essential part that must be considered by teachers, in addition, to test evaluation tools. If the teacher does not develop a non-test evaluation, it will impact the acquisition of student learning outcomes that do not describe the actual ability of a subject. Based on this consideration, training in the preparation of non-test evaluation tools is urgently needed so that teachers can carry out comprehensive evaluations using test and non-test tools. This service activity is in the form of training in preparing non-test evaluation tools in the madrasa environment. The method of implementing this activity follows the stages of preparation, observation of partner madrasas, training in the preparation of non-test evaluation tools, and follow-up. The activity results indicate that all stages of the activity went well and produced the product as determined. In addition, there has been an increase in participants' understanding and skills in preparing non-test evaluation instruments. It is evidenced by the average posttest score (75.00) is better than the pretest (32.12). This positive change is the answer to teacher problems in developing learning evaluations in madrasas.
Downloads
Download data is not yet available.
References
Adella, Maryanti, D. S., & Rifai, R. F. (2020). Analisis Evaluasi Formatif dalam Pembelajaran IPA di Kelas 4 SDN 07 Pagi Tegal Alur. Fondatia: Jurnal Pendidikan Dasar, 4(1), 141–149. https://doi.org/10.36088/fondatia.v4i1.457
Aji, M. P. P., Sulistyani, Suhartono, Susanti, Y., Khoiriyah, & Riwayatiningsih, R. (2018). Pelatihan Pengembangan Modul dan Media Ajar Berbasis Interactive Media untuk Tenaga Pengajar di Sekolah Perhotelan Neptune, Kediri. Jurnal ABDINUS, 1(2), 107–113. https://doi.org/10.29407/ja.v1i2.11739
Asri, W. K., Dalle, A., & Achmad, A. K. (2019). Pelatihan pembuatan Tes DaF dalam Keterampilan Membaca (lesen) dan Menulis (schreiben) Bahasa Jerman bagi Guru Anggota IGBJI Cabang Makassar. Prosiding Seminar Nasional, 2019(8), 498–501. https://scholar.google.com/citations?view_op=view_citation&hl=en&user=IA_a2ZMAAAAJ&pagesize=100&citation_for_view=IA_a2ZMAAAAJ:roLk4NBRz8UC
Bisri, H., & Ichsan, M. (2015). Penilaian Otentik dengan Teknik Nontes di Sekolah Dasar. Jurnal Sosial Humaniora, 6(2), 81–93. https://doi.org/10.30997/jsh.v6i2.503
Cahyanti, A. D., Farida, & M, R. R. (2019). Pengembangan Alat Evaluasi Berupa Tes Online/Offline Matematika Dengan Ispring Suite 8. INdonesian Journal of Science and Mathematics Education, 02(3), 363–371. https://doi.org/10.24042/IJSME.V2I3.4362
Dewi, M. S., & Ibrahim, I. (2014). Pendapat Siswa tentang Pelaksanaan Instrumen Non-Tes. Jurnal Konseling Dan Pendidikan, 2(1), 30–35. https://doi.org/10.29210/111700
Didayat, T., & Asyafah, A. (2019). Konsep Dasar Evaluasi dan Implikasinya dalam Evaluasi Pembelajaran Pendidikan Agama Islam di Sekolah. Al-Tadzkiyyah: Jurnal Pendidikan Islam, 10(1), 159–181. https://doi.org/10.24042/atjpi.v10i1.3729
Disman, Kurniawati, S., & Sukamto, R. A. (2020). Peningkatan Berpikir Kritis Mahasiswa melalui Metode Pembelajaran Berbasis Masalah dengan Bantuan Animasi Analisis Grafis. 1(2), 41–48. https://ejournal.upi.edu/index.php/JPEI/article/view/28345
Hamid, A. (2016). Implementasi Kompetensi Guru dalam Evaluasi Pembelajaran pada Madrasah Aliyah Al-Balad Kamande. J-ALIF Jurnal Penelitian Hukum Ekonomi Syariah Dan Sosial Budaya Islam, 1(1), 28–42. https://journal.lppm-unasman.ac.id/index.php/jalif/article/viewFile/433/347
Harsono, A. (2021). Peningkatan Motivasi dan Prestasi Hasil Belajar IPA pada Materi Energi Dengan Metode Problem Based Learning (PBL) bagi Siswa Kelas IV Semester 2 SDN Cilibang 02 Kecamatan Jeruklegi Kabupaten Cilacap Tahun 2018 / 2019. Educatif: Journal of Education Research, 3(4), 22–29. https://doi.org/10.36653/educatif.v3i4.78
Herianto, E. (2013). E-Learning, Implementasi Teknologi di Era Belajar: Kajian Pada Mata Kuliah Kurikulum PKN Di Jurusan PIPS FKIP Universitas Mataram. Jurnal Pendidikan Dan Pembelajaran Universitas Negeri Malang, 20(1), 1–8.
Herianto, E. (2021). How to Apply HOTS-based E-learning in Higher Education ? Randwick International of Education and Linguistics Science (RIELS) Journal, 2(2), 158–170. https://doi.org/10.47175/rielsj.v2i2.256
Hidayat, W. N., Sutikno, T. A., Patmanthara, Kartikasari, C. D. I., & Firdaus, A. F. (2019). Peningkatan keterampilan Pembuatan Media Pembelajaran berbasis Augmented Reality untuk Guru SMK. Jurnal Graha Pengabdian, 1(2), 93–103.
Hufri, Dwiridal, L., & Amir, H. (2021). Peningkatan Kompetensi Guru-Guru SMP 33 Solok Selatan Melalui Pelatihan Pengembangan Bahan Ajar Kontekstual Berdasarkan Pendekatan Saintifik. Jurnal ABDINUS : Jurnal Pengabdian Nusantara, 4(2), 439–446. https://doi.org/10.29407/ja.v4i2.14316
Hutapea, R. H. (2019). Instrumen Evaluasi Non-Tes dalam Penilaian Hasil Belajar Ranah Afektif dan Psikomotorik. BIA': Jurnal Teologi Dan Pendidikan Kristen Kontekstual, 2(2), 151–165. https://doi.org/10.34307/b.v2i2.94
Insani, S. U., Astuti, & Zulfa. (2020). Pelatihan Pengembangan Instrumen Penilaian Teknik Non Tes Bagi Guru MAN 4 Kampar. Communnity Development Journal: Jurnal Pengabdian Masyaraakat, 1(1), 1–3. https://doi.org/10.31004/cdj.v1i1.516
Kete, S. (2017). Implementasi Evaluasi Program Model Formatif Mata Pelajaran Bahasa Indonesia pada SMP Negeri 4 Kendari Kota Kendari. Journal Al-Ta'dib, 10(1), 109–126. https://doi.org/10.31332/atdb.v10i1.555
Martin, T. I. H. (2020). Pengembangan Instrumen Soal HOTS (High Order Thinking Skill) Pada Mata Kuliah Fisika Dasar 1. Jurnal Pendidikan Fisika, 8(1), 18–21. http://journal.uin-alauddin.ac.id/indeks.php/PendidikanFisika
Mustaqim, M. (2017). Model Evaluasi Pembelajaran Stain Kudus (Studi Kasus Sistem Evaluasi Pembelajaran Dosen Prodi Manajemen Bisnis Syari'Ah Stain Kudus). Quality, 5(1), 155–169. https://doi.org/10.21043/quality.v5i1.3173
Pantiwati, Y. (2016). Pengembangan Modul Evaluasi Pembelajaran dengan Model Pembelajaran 7E Berbasis Kreatifitas. Proceeding Biology Education Conference, 13(1), 461–467.
Rusdiana, H., Sumardi, K., & Arifiyanto, E. S. (2014). Evaluasi Hasil Belajar Menggunakan Penilaian Autentik Pada Mata Pelajaran Kelistrikan Sistem Refrigerasi. Journal of Mechanical Engineering Education, 1(2), 274–283. https://doi.org/10.17509/jmee.v1i2.3814
Shobariyah, E. (2018). Teknik Evaluasi Non Tes. Adz-Dzikr: Jurnal Pendidikan Agama Islam, 3(2), 1–13. http://ejournal.stitalkhairiyah.ac.id/index.php/adzzikr/article/view/1
Sugito, Harmono, S., Bekti, R. A., Muharram, N. A., Puspodari, Lusianti, S., & Husein, M. A. (2018). Pelatihan Penyusunan Model Pembelajaran Renang Berbasis Nilai-Nilai Moral Religius dan Model Pembelajaran Teaching Games For Understanding bagi Mahasiswa Prodi Penjaskesrek UN PGRI Kediri. Jurnal ABDINUS, 1(2), 114–117. https://doi.org/10.29407/ja.v1i2.11740
Supriadi, N. (2017). Upaya Meningkatkan Hasil Belajar Kimia melalui Metode Praktikum Sederhana Berbantukan Media Flash pada Materi Senyawa Elektrolit dan Non Elektrolit Siswa Kelas X SMK Negeri 3 Muara Teweh Tahuan Ajaran 2016/2017. Jurnal Ilmiah Kanderang Tingang, 8(1), 60–64. https://chem-upr.education/ojs/index.php/JIKT/article/view/55
Supriyati, Y., & Muqorobin. (2021). Mixed Model CIPP dan Kickpatrick sebagai Pendekatan Evaluasi Program Pengembangan Kompetensi Guru Berbasis Kebutuhan Peningkatan Kemampuan Asessement Literasi-Numerasi: CILAPP Model dalam Evaluasi Peogram. Jurnal Ilmiah Mandala Education, 7(1), 203–223. http://ejournal.mandalanursa.org/index.php/JIME/article/view/1733
Syamsudin, A. (2014). Pengembangan Insstrumen Evaluasi Non Tes (Informal) untuk Menjaring Data Kualitatif Perkembangan Anak Usia Dini. Jurnal Pendidikan Anak, III(1), 403–413. https://doi.org/10.21831/jpa.v3i1.2882
Zahara, N. (2015). Evaluasi Pembelajaran Online Berbasis Web sebagai Alat Ukur Hasil Belajar Siswa pada Materi Dunia Tumbuhan Kelas X Man Model Banda Aceh. Prosiding Seminar Nasional Biotik, 480–484. https://jurnal.ar-raniry.ac.id/index.php/PBiotik/article/view/2731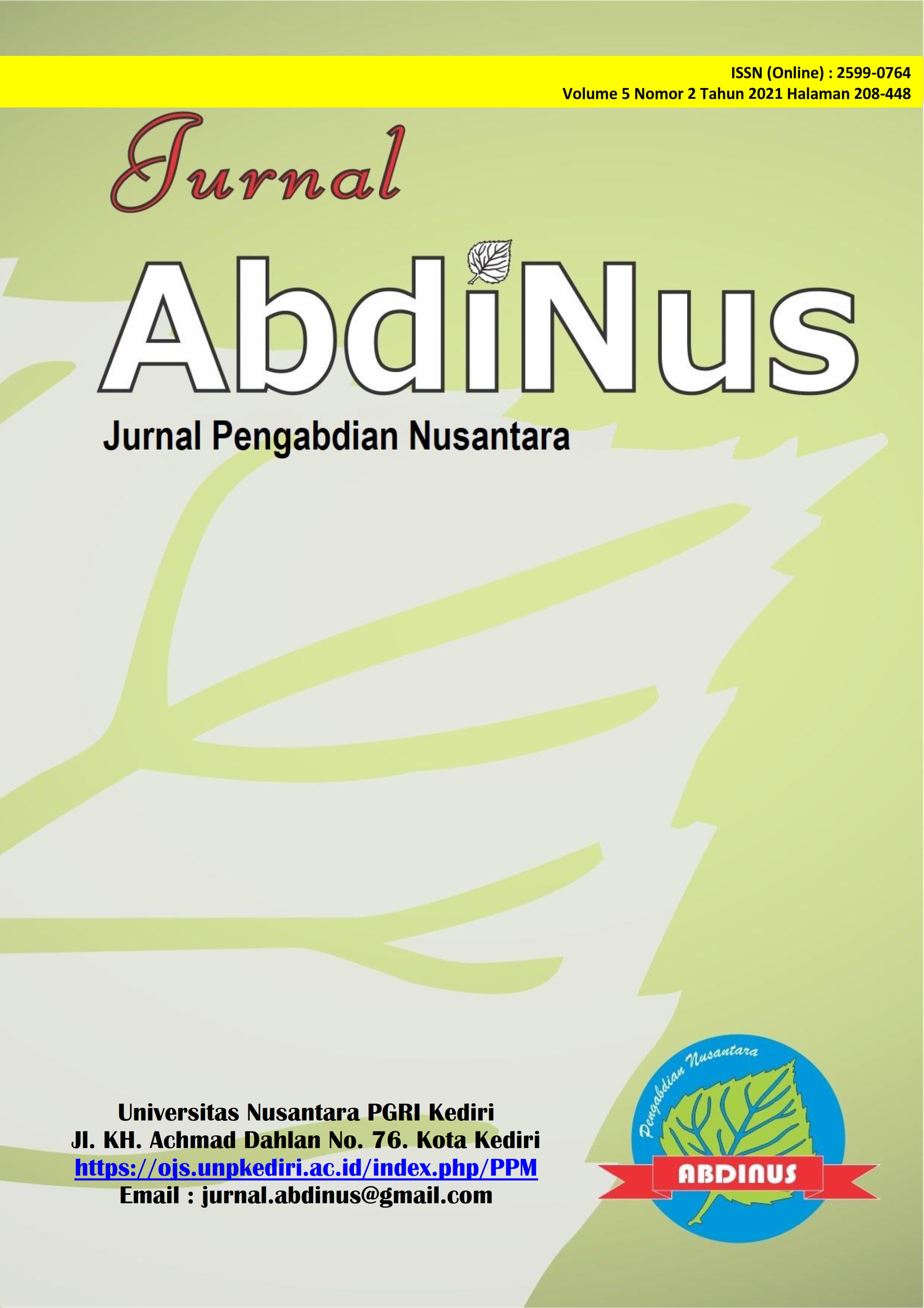 How to Cite
Herianto, E., Ismail, M., Dahlan, D., Basariah, B., & Tripayana, I. N. A. (2021). Pelatihan Penyusunan Alat Evaluasi Non Tes bagi Guru Madrasah di Mataram. Jurnal ABDINUS : Jurnal Pengabdian Nusantara, 5(2), 428-440. https://doi.org/10.29407/ja.v5i2.16330
Copyright (c) 2021 Jurnal ABDINUS : Jurnal Pengabdian Nusantara
This work is licensed under a Creative Commons Attribution 4.0 International License.