Pemberdayaan Perempuan Pedesaan Melalui Optimalisasi Kreativitas Berbasis Produk Unggulan Bambu Sebagai Upaya Peningkatan Perekonomian Keluarga
Vadilla Mutia Zahara

Universitas Sultan Ageng Tirtayasa

Rah Adi Fahmi Ginanjar

Universitas Sultan Ageng Tirtayasa

Stannia Cahaya Suci

Universitas Sultan Ageng Tirtayasa

Cep Jandi Anwar

Universitas Sultan Ageng Tirtayasa

Deswita Herlina

Universitas Sultan Ageng Tirtayasa
Abstract views:
290
,
PDF (Bahasa Indonesia) downloads:
0
Keywords:
Women empowerment, Creativity optimization, Superior bamboo product, Family economic improvement
Abstract
According to the BKKBN, family welfare indicators can meet basic needs such as food, clothing, and housing. Currently, it is not only men who play a role in the family economy, but women also have a role in helping to improve the family's economy. Especially during Covid-19 where the average family income has decreased. The purpose of this service is to optimize the creation of village women through the use and innovation of superior bamboo products as a way to take part in improving the family economy. This service is carried out in the target village located in Pasuluhan Village, Walantaka District, Serang Banten. The method of implementing this service is carried out by conducting counseling with community development in a persuasive and educative manner and mapping participants regarding the business interests of village women, including women and youth groups. The results of the implementation of this service include the innovation of bamboo products in Pasuluhan village, the positive response, and motivation of village women to become entrepreneurs according to their interests and expertise.
Downloads
Download data is not yet available.
References
Aswiyati, I. (2016). Peran wanita dalam menunjang perekonomian rumah tangga keluarga petani tradisional untuk penanggulangan kemiskinan di Desa Kuwil Kecamatan Kalawat. Jurnal Holistik.
BKKBN. (2015). Rencana Strategis Badan Kependudukan Dan Keluarga Berencana Nasional Tahun 2015-2019. Badan Kependudukan Dan Keluarga Berencana Nasional.
Duwi, I., Sari, M., Septiani, P. E., Suri, U. A., & Salamah, H. (2019). Pemberdayaan perempuan pesisir dalam mewujudkan kampung krumi untuk meningkatkan perekonomian desa bendar. DINAMISIA, Jurnal Pengabdian Kepada Masyarakat.
Kumalasari, L. (2011). Keharmonisan Keluarga Tkw Dalam Perspektif Gender (Studi Di Donomulyo Malang). Jurnal Humanity, 6(2), 11544.
Kurniawanto, H., & Anggraini, Y. (2019). Pemberdayaan Perempuan Dalam Pengembangan Badan Usaha Milik Desa (Bumdes) Melalui Pemanfaatan Potensi Sektor Pertanian (Studi Kasus Di Desa Kadu Ela Kecamatan Cadasari Kabupaten Pandeglang). Jurnal Kebijakan Pembangunan Daerah, 3(2), 127–137. https://doi.org/10.37950/jkpd.v3i2.71
Peraturan Daerah Provinsi Banten Tentang Rencana Pembangunan Jangka Menengah Daerah Provinsi Banten Tahun 2017-2022 Pemerintah Provinsi Banten Tahun 2017, (2017).
Ramdansyah, A.D, Zahara, V.M, Suci, S. . (2020). International Journal of Research in Commerce, It & Management. International Journal of Research in Commerce and Management Studies, 2(5). http://ijrcm.org.in/
Rizkia, N, R. (2017). PERAN PEREMPUAN DALAM MENINGKATKAN PEREKONOMIAN KELUARGA MELALUI PROGRAM P2WKSS DI SUMBER GAMOL, BALECATUR, GAMPING, SLEMAN. Progress in Physical Geography.
Tindangen, M., Engka, D. S. M., Wauran, P. C., Pembangunan, J. E., & Ekonomi, F. (2020). Peran Perempuan Dalam Meningkatkan Ekonomi Keluarga (Studi Kasus : Perempuan Pekerja Sawah Di Desa Lemoh Barat Kecamatan Tombariri Timur Kabupaten Minahasa). Jurnal Berkala Ilmiah Efisiensi, 20(03), 79–87.
Zahara, V. M., Sanusi, F., & Suci, S. C. (2020). PENGEMBANGAN JEJARING BISNIS BERBASIS PRODUK LOKAL KOTA CILEGON. Janayu, 1(2), 168–177. https://doi.org/10.22219/janayu.v1i2.12385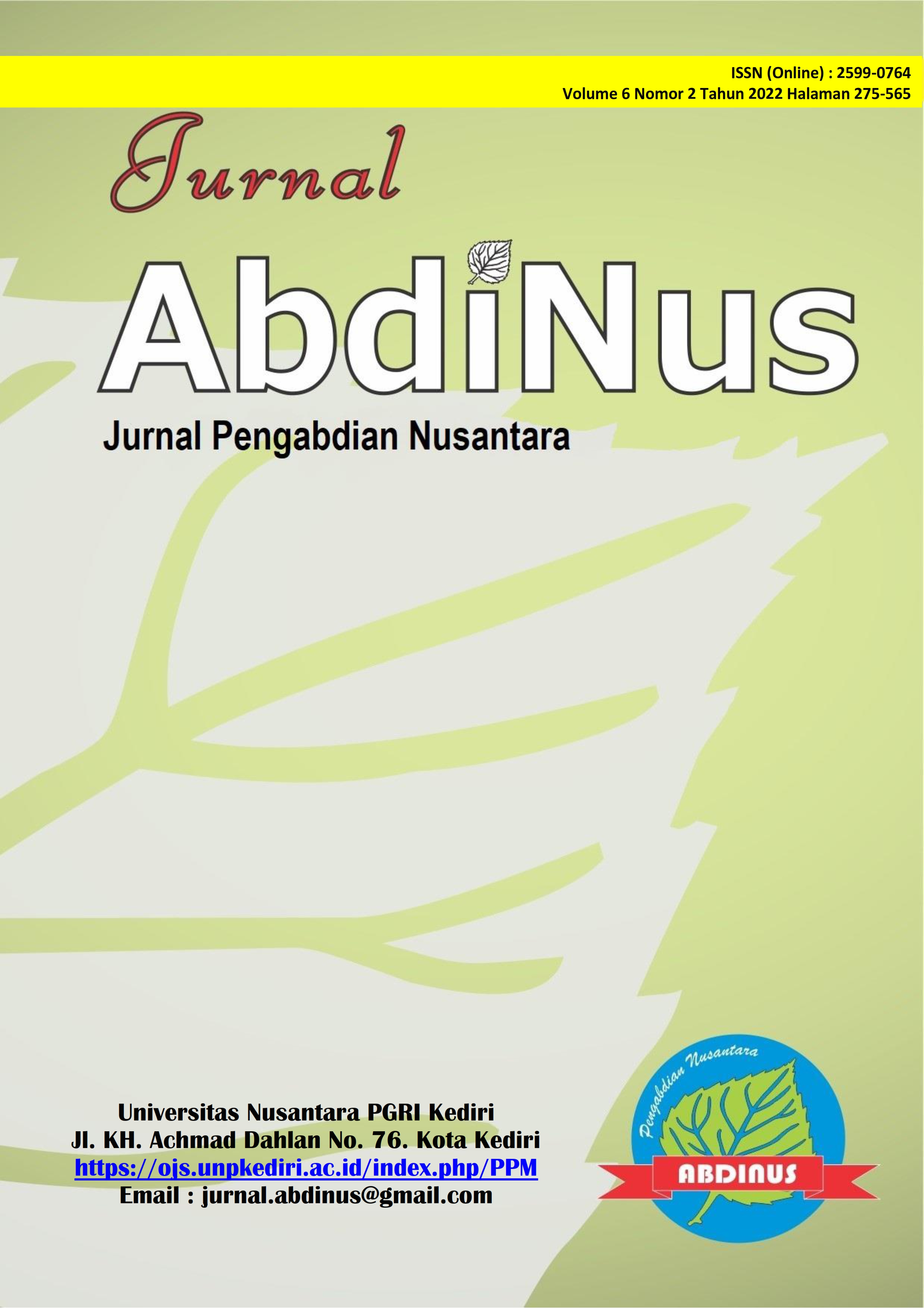 How to Cite
Zahara, V. M., Ginanjar, R. A. F., Suci, S. C., Anwar, C. J., & Herlina, D. (2022). Pemberdayaan Perempuan Pedesaan Melalui Optimalisasi Kreativitas Berbasis Produk Unggulan Bambu Sebagai Upaya Peningkatan Perekonomian Keluarga . Jurnal ABDINUS : Jurnal Pengabdian Nusantara, 6(2), 312-321. https://doi.org/10.29407/ja.v6i2.16189
Copyright (c) 2022 Jurnal ABDINUS : Jurnal Pengabdian Nusantara
This work is licensed under a Creative Commons Attribution 4.0 International License.