PKM Peningkatan Wawasan Industri Mahasiswa Melalui Kemahiran Bahasa Jerman
Merry Lapasau

Universitas Indraprasta PGRI

P Yudi Dwi Arliyanto

Politeknik Meta Industri Cikarang

Fransisca Debora

Politeknik Meta Industri Cikarang

Marta Hayu Raras

Politeknik Meta Industri Cikarang
Abstract views:
99
,
PDF (Bahasa Indonesia) downloads:
0
Keywords:
industry insight, German industry, German language, online seminar
Abstract
This community service (hereinafter, PkM) is the result of a collaboration between University Indraprasta PGRI Jakarta and Politeknik Meta Industri Cikarang which aims to increase the industrial insight of students and general participants through proficiency in German. This activity was held on December 17, 2020 through a media zoom meeting with a power point and smartboard interactive whiteboard (hereinafter, IWB) presentation for two hours, which was attended by around 100 participants. The material is divided into three parts, namely 1) Introduction to the industrial world in Germany, 2) German Industry in Indonesia, and 3) Introduction to German language and culture. At the end of the activity, participants write down suggestions and comments. In general, it can be concluded that this PkM activity increases the participants' insight and understanding of industry in Germany and German language which is useful for industrial engineering students and society in general.
Downloads
Download data is not yet available.
References
Hamidaturrohmah dan Mulyani, T. (2020) "Strategi Pembelajaran Jarak Jauh Siswa Berkebutuhan Khusus Di Sd Inklusi Era Pandemi Covid-19," ELEMENTARY: Islamic Teacher Journal, 8(2), hlm. 247–278. doi: 10.21043/elementary.v8i2.7907.
Iswary Lawanda, I. (2020) "Pembelajaran jarak jauh during covid 19 pandemic in Indonesia and development sustainable," E3S Web of Conferences, 211, hlm. 1–11. doi: 10.1051/e3sconf/202021104009.
Kasyadi, S., Lapasau, M. dan Virgana, V. (2020) "Enhancing learning outcome in integral through Online teaching based during COVID-19 pandemic," Journal of Physics: Conference Series, 1663(1), hlm. 0–6. doi: 10.1088/1742-6596/1663/1/012059.
M. Erawati; Yulianti, N. R. (2016) "I b M APLIKASI ' INTERACTIVE SMART BOARD ' UNTUK PENDIDIKAN KESEHATAN SISWA TAMAN KANAK-KANAK DI WILAYAH," hlm. 45–52.
Prasetyo, et al. (2015) "Pengembangan Multimedia Pembelajaran Berbasis Interactive Whiteboard Mata Pelajaran Transmisi Manual Motor," Jurnal Inovasi dan Teknologi Pembelajaran, 2(1), hlm. 205–213.
Purwanto, P. (2013) "Penggunaan Papan Tulis Interaktif Di Kelas the Use of Interactive Whiteboard in Classroom," Jurnal Teknodik, hal. 104–116. doi: 10.32550/teknodik.v17i3.565.
Rozenberg, M. (2018) "Zeitschrift für Interkulturellen Fremdsprachenunterricht Zwei Akzente im Classroom Management : Professionalität und," 23(2), hlm. 37–55.
Sri Harini Ekowati et al. (2020) "Implementasi Kahoot dalam Pembelajaran Bahasa Prancis pada Masa Pandemi Covid-19 di SMK DKI Jakarta," Dinamisia : Jurnal Pengabdian Kepada Masyarakat, 4(4), hal. 723–729. doi: 10.31849/dinamisia.v4i4.4621.
Subekti, A. S. dan Kurniawati, L. A. (2020) "Pelatihan Mendesain Pembelajaran Daring Menarik Selama Pandemi Covid-19 dengan Teknologi Pembelajaran Sederhana," Dinamisia : Jurnal Pengabdian Kepada Masyarakat, 4(4), hlm. 588–595. doi: 10.31849/dinamisia.v4i4.4679.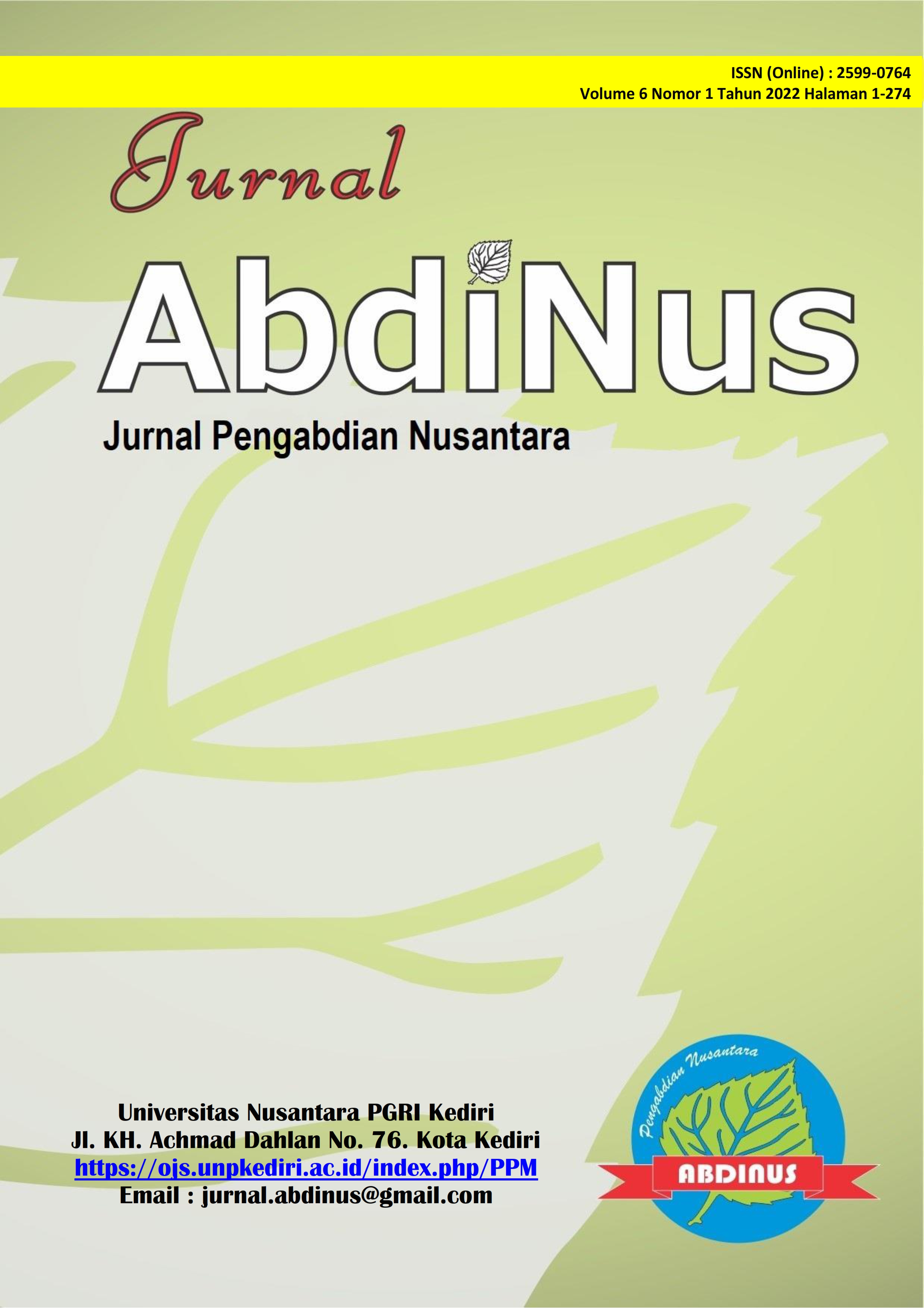 How to Cite
Lapasau, M., Arliyanto, P. Y. D., Debora, F., & Raras, M. H. (2022). PKM Peningkatan Wawasan Industri Mahasiswa Melalui Kemahiran Bahasa Jerman. Jurnal ABDINUS : Jurnal Pengabdian Nusantara, 6(1), 170-177. https://doi.org/10.29407/ja.v6i1.15705
Copyright (c) 2022 Jurnal ABDINUS : Jurnal Pengabdian Nusantara
This work is licensed under a Creative Commons Attribution 4.0 International License.