Edukasi Kemandirian Pangan Masa Pandemi Covid-19 di Desa Kertasari Pebayuran
Azafilmi Hakiim

Universitas Singaperbangsa Karawang

Cintiya Septa Hasannah

Universitas Singaperbangsa Karawang

Nurcahyo Widyodaru Saputro

Universitas Singaperbangsa Karawang

Iman Dirja

Universitas Singaperbangsa Karawang

Al Ghifary Mahendra F

Universitas Singaperbangsa Karawang

Cautsar Julian S

Universitas Singaperbangsa Karawang

Bujaeromy Bujaeromy

Universitas Singaperbangsa Karawang
Abstract views:
151
,
PDF (Bahasa Indonesia) downloads:
0
Keywords:
Covid-19, Independency, Kertasari, Food
Abstract
Indonesia is a country that also felt the impact of the crisis due to the Covid-19. One of the impact is the scarcity and spike of food prices in the market. The government seeks to deal with this problem by providing a stimulus to achieve food security which is manifested through food self-sufficiency in various regions. This Independency is manifested by holding an education movement on various village and Kertasari is one of them. Village with the farm availability of 80 % that has a potential to be developed in order to achieve food Independence by creating the availability of various forms of food and crops from the harvest of the local pond business to meet household needs and can be commercialized on market by utilizing the surrounding community. The implementation method used went through several stages from identification preparation for potential problem to completion of the activities carried out for 1 month and implemented on the 4th week  with the presence of 35 of neighborhood representative on Kertasari Village. Responses obtained from these activities resulted a large percentage of interest supported by data obtained that shows the following processed data valid with  R Counted is bigger than The R Table with the reliability coefficient of 0,645.
Downloads
Download data is not yet available.
References
Anggita, E., Karina, K., Suriyatni, N., & Alfarizi, W. A. (2020). Analisis Pandemic Covid-19 Terhadap Harga Sembako. Al-Sharf: Jurnal Ekonomi Islam, 1(1). http://dx.doi.org/10.30596%2Fal-sharf.v1i1.34
Daud, D. (2020). Social Distancing dan Budaya Kita. In T. Limbong (Ed.), Pandemik COVID-19 Persoalan dan Refleksi (pp. 39–47). Yayasan Kita Menulis.
Harahap, A. S., & Lubis, N. (2020). Pemanfaatan Pekarangan Rumah Dengan Metode Vertikultur Untuk Mendukung Ketahanan Pangan Di Desa Wonorejo Kecamatan Pematang Bandar Kabupaten Simalungun. JURNAL PRODIKMAS Hasil Pengabdian Kepada Masyarakat, 5(1), 36-40. https://doi.org/10.30596/jp.v5i1.5748
Lakshmi Priyadarsini, S., & Suresh, M. (2020). Factors influencing the epidemiological characteristics of pandemic COVID 19: A TISM approach. International Journal of Healthcare Management, 13(2), 89–98. https://doi.org/10.1080/20479700.2020.1755804
Nurhayati, Tambunan, M., & Emalisa. (2018). Vertiminaponik sebagai solusi pemenuhan kebutuhan ikan dan sayur pada lahan kritis. Abdimas Talenta, 3(2), 207 – 210.https://doi.org/10.32734/abdimastalenta.v3i2.4116
Prianto, C. (2020). Pembelajaran Bermakna Ditengah Wabah Covid-19. In T. Limbong (Ed.), Pandemik COVID-19 Persoalan dan Refleksi (pp. 55–60). Yayasan Kita Menulis.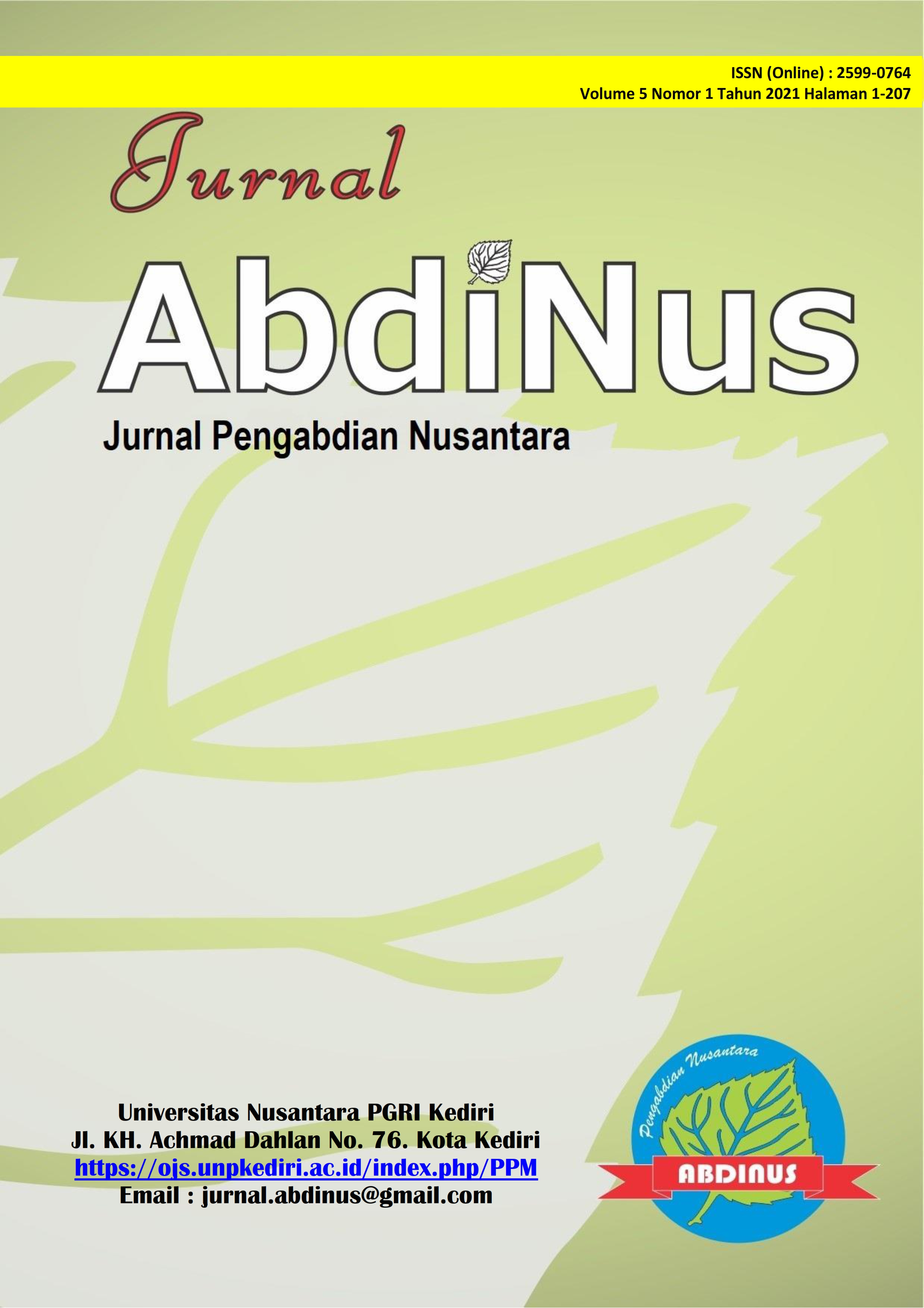 How to Cite
Hakiim, A., Hasannah, C. S., Saputro, N. W., Dirja, I., F, A. G. M., S, C. J., & Bujaeromy, B. (2021). Edukasi Kemandirian Pangan Masa Pandemi Covid-19 di Desa Kertasari Pebayuran . Jurnal ABDINUS : Jurnal Pengabdian Nusantara, 5(1), 29-37. https://doi.org/10.29407/ja.v5i1.15639
Copyright (c) 2021 Jurnal ABDINUS : Jurnal Pengabdian Nusantara
This work is licensed under a Creative Commons Attribution 4.0 International License.