Pemberdayaan Kelompok UMKM Terdampak Covid Melalui Pendampingan Ekonomi Kreatif Berbasis Teknologi
Nuril Lutvi Azizah

Universitas Muhammadiyah Sidoarjo

Uce Indahyanti

Universitas Muhammadiyah Sidoarjo

Fitri Nur Latifah

Universitas Muhammadiyah Sidoarjo

Sasmito Bagus Sumadyo

Universitas Muhammadiyah Sidoarjo
Abstract views:
55
,
PDF (Bahasa Indonesia) downloads:
0
Keywords:
Innovation, Creative economy, Painting masks
Abstract
Community dedication is carried out with the aim of increasing the sales turn over of cloth mask at the UMKM Tanjung which is related in the sales of goods or shops. The method used in this services activity is through partial assistance and training. Partial assistance is carried out by providing guidence and training to improve skills in making mask innovations into painting maks. Creative economy assistance is carried out by making technology-based painting masks. Masks are designed using the basic graphic design sketch application on masks, so mask sketches can be custom ordered according to the wishes of potential buyers. Painting mask can also be a differentiator from other masks that are sold in the market, thus masks have different characteristics from other masks sold in the market. The result obtained are an incrase in the selling value of painting mask and and an increase in skills in the group of UMKM Tanjung. It can be concluded that the mentoring and training activities receive positive responses from the group based on the result.
Downloads
Download data is not yet available.
References
Aji Supriyanto, B. J. (2017). Klasterisasi UMKM dan Potensi Wilayah Berbasis Peta Sebagai Strategi. Jurnal Pekommas, 143-150.
Azizah, N. L. (2018). PPM UMKM Mengenai Desain Komersialisai dan Promosi Produk makanan Inovasi. LPPM UNESA.
Daulay, Z. A. (2018). Strategi pengembangan Ekonomi Kreatif Dengan Metode Triple Helix. Medan: Pascasarjana Universitas Islam Negeri Sumatera Utara.
Hariansyah. (2015). IbM Pengembangan Teknologi Tepat Guna Dalam Pengelolaan Sampah Plastik. Universitas IBN Khaldun.
IAI Sultan M. Syarifuddin, A. Y. (2017). Pengembangan Ekonomi Kreatif Berbasis Wisata Budaya : Studi Kasus Pengrajin Tenun Kabupaten Sambas. Jurnal Ekonomi Bisnis dan Kewirausahaan, VI(1), 1-17.
Khoirun Nisa, A. L. (2018). STRATEGI PEMASARAN ONLINE DAN OFFLINE. Jurnal Abdikarya : Jurnal Karya Pengabdian Dosen dan Mahasiswa, 55-60.
Mira Meilia, N. A. (2018). PENGEMBANGAN UMKM MADUMONGSO MELALUI MANAJEMEN USAHA DAN LEGALITAS USAHA. Jurnal Abdimas UNNES.
Nuraini, D. (2019). ANALISIS PERBEDAAN KEPUASAN KONSUMEN TERHADAP. Equilibrium: Jurnal Ekonomi-Manajemen-Akuntansi, 231-239.
Nuril Lutvi Azizah, C. C. (2020). Peningkatan Produktivitas Dan Kreatifitas Kelompok Pengelola Bank Sampah. LOYALITAS, Jurnal Pengabdian Kepada Masyarakat, 94-101.
Rizki Tri Prasetyo, A. M. (2018). Upaya Peningkatan Produktivitas UMKM Melalui Implementasi ICT. Jurnal Abdimas BSI, 104-111.
Sumar'in, A. Y. (2017). Pengembangan Ekonomi Kreatif Berbasis Wisata Budaya: Studi Kasus Pada Pengrajin Tenun di KAbupaten Sambas. Jurnal Ekonomi Bisnis dan Kewirausahaan, 6, 1-17.
University, B. (2012). Kewirausahaan dan Ekonomi Kreatif. Rangkaian Kolom Kluster 1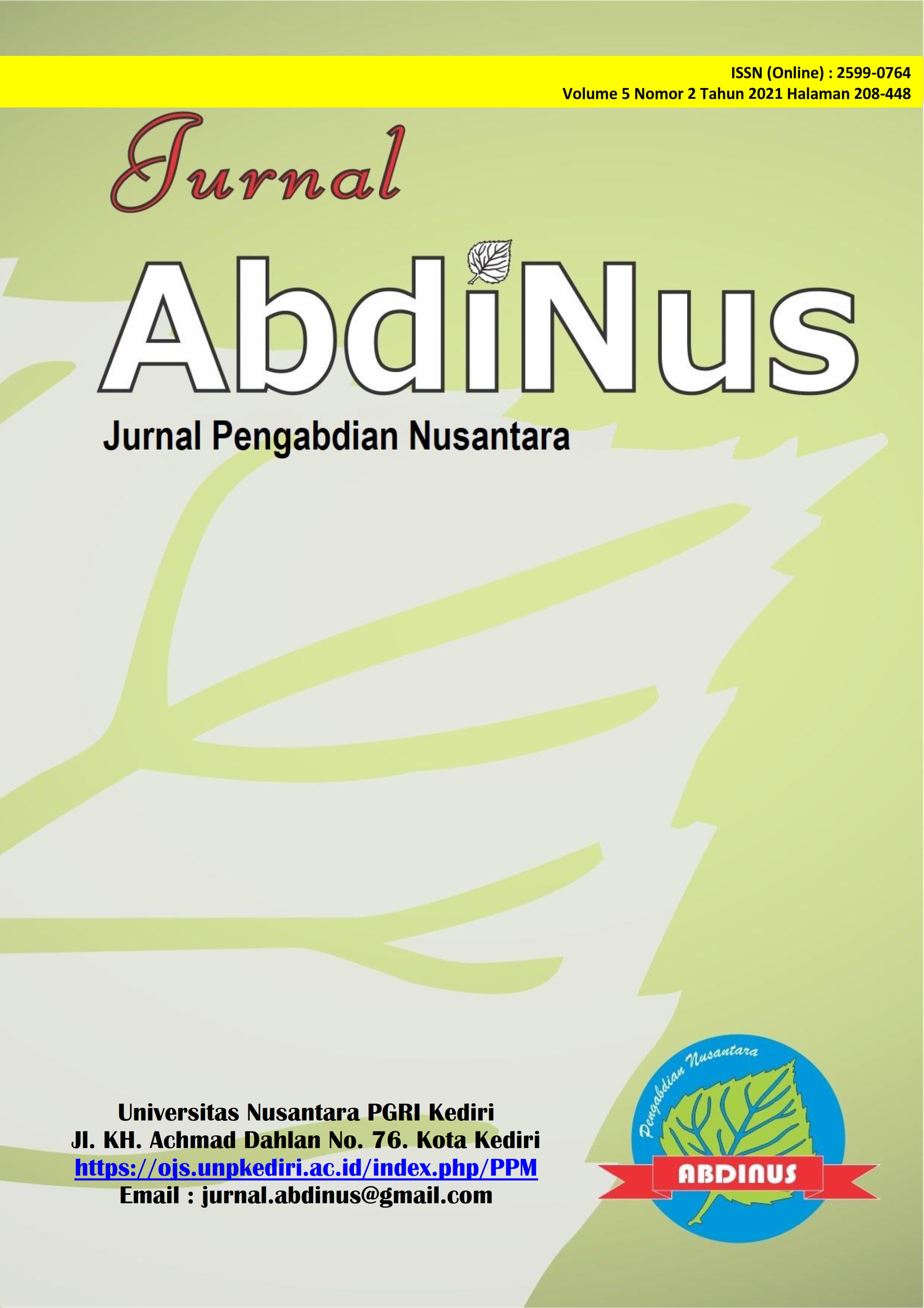 How to Cite
Azizah, N. L., Indahyanti, U., Latifah, F. N., & Sumadyo, S. B. (2021). Pemberdayaan Kelompok UMKM Terdampak Covid Melalui Pendampingan Ekonomi Kreatif Berbasis Teknologi. Jurnal ABDINUS : Jurnal Pengabdian Nusantara, 5(2), 295-304. https://doi.org/10.29407/ja.v5i2.15374
Copyright (c) 2021 Jurnal ABDINUS : Jurnal Pengabdian Nusantara
This work is licensed under a Creative Commons Attribution 4.0 International License.