Pelatihan Activité Ludique untuk Guru Bahasa Prancis SMA Di DKI Jakarta
Sri Harini Ekowati

Universitas Negeri Jakarta

Asti Purbarini

Universitas Negeri Jakarta

Wahyu Tri Widyastuti

Universitas Negeri Jakarta

Ria Ismayani

IFI Jakarta
Abstract views:
206
,
PDF (Bahasa Indonesia) downloads:
0
Keywords:
French language, Activité Ludique, High School Teacher
Abstract
The Law of the Republic of Indonesia No. 14 of 2005 concerning Teachers and Lecturers states that one of the duties of teachers and lecturers as professional education personnel is to plan, carry out a quality learning process, assess and evaluate learning outcomes. The expected learning outcomes are able to deliver students to have communication skills, collaboration skills, critical thinking skills and problem solving skills, creativity and innovation skills. . In response to this, teachers and lecturers must improve and develop academic qualifications and competencies on an ongoing basis according to the times. To realize this, teachers and lecturers can take part in training. The P2M team of UNJ's French Language Education Study Program has organized Activités Ludiques (language games) training, namely training to teach French through innovative language games, which can deliver students to communicate, think critically, innovatively, creatively in accordance with the demands of this century. The training lasted for 20 hours, the participants consisted of French teachers at SMK and SMA in Jakarta. During the training they received material in the form of various language game platforms namely Kahoot, Quizizz, Learning Apps, Quizlet, Educative Logiciel, Jeu de l'oie, Qu'est-ce qu'il manque. With this training, the P2M Team of the French Language Education Study Program, UNJ hopes that the training participants, consisting of French vocational high school and high school teachers in Jakarta, can improve their competence and professionalism.
Downloads
Download data is not yet available.
References
Ali, D.W. 2019. Penggunaan Quizlet dalam Pembelajaran Keterampilan Membaca Bahasa Prancis. www.repository.upi.edu/49248 diakses pada 14 November 2020.
Aribowo, E.K. 2015. Quizlet: Penggunaan Aplikasi Smartphone untuk Siswa dalam Mendukung Mobile Learning. Prosiding Seminar Nasional Pendidikan Bahasa Indonesia UMS.
Fauzan, Rikza. 2019. Pemanfaatan Gamification Kahoot.it Sebagai Enrichment Kemampuan Berfikir Historis Mahasiswa Pada Mata Kuliah Sejarah Kolonialisme Indonesia. Prosiding Seminar Nasional Pendidikan FKIP Universitas Sultan Ageng Tirtayasa. Vol 2 (1), p. 254-262.
Hosnan, M. 2014. Pendekatan Saintifik dan Kontekstual dalam Pembelajaran Abad 21. Bogor: Ghalia Indonesia
Irwan, Z.F.L & Ari W. 2019. Efektivitas Penggunaan Kahoot! Untuk Meningkatkan Hasil Belajar Siswa. Pedagogia: Jurnal Pendidikan. Vol 8 (1).
Kementerian Pendidikan dan Kebudayaan RI. 2013. Modul Pendidikan dan Latihan Profesi Guru Bahasa Prancis. Pusat Pengembangan Profesi Pendidik BPSDMK.
Noor, Sugian. 2020. Penggunaan Quizizz dalam Penilaian Pembelajaran pada Materi Ruang Lingkup Biologi untuk Meningkatkan Hasil Belajar Siswa Kelas X6 SMA 7 Banjarmasin. Jurnal Pendidikan Hayati. Vol 6 (1), p.1-7.
Purba, L.S.L. 2019. Peningkatan Konsentrasi Belajar Mahasiswa Melalui Pemanfaatan Evaluasi Pembelajaran Quizizz pada Mata Kuliah Kimia Fisika I. Jurnal Dinamika Pendidikan. http://ejournal.uki.ac.id/index.php/jdp/article/view/1028/851
Rofiyarti, F. & Anisa Y.S. 2017. TIK Untuk AUD: Penggunaan Platform Kahoot! Dalam Menumbuhkan Jiwa Kompetitif dan Kolaboratif Anak. Pedagogi: Jurnal Anak Usia Dini dan Pendidikan Anak Usia Dini. Vol 3 (3b).
Sari, D.E. 2019. Quizlet: Aplikasi Pembelajaran Berbasis Smartphone Era Generasi Milenial. Jurnal Pendidikan Ilmu Sosial. Vol 29 (1).
Setiawan, A., Sri W. & Dwi S.. 2019. Implementasi Media Game Edukasi Quizizz untuk Meningkatkan Hasil Belajar Matematika Materi Sistem Persamaan Linear Tiga Variabel Kelas X IPA 7 SMA Negeri 15 Semarang Tahun Pelajaran 2019/2020. Seminar Nasional Edusaintek FMIPA Unimus, p. 167-173.
Undang-Undang Republik Indonesia Nomor 14 tahun 2005 tentang Guru dan Dosen.
Undang-Undang Republik Indonesia No 22 tahun 2003 tentang Sistem Pendidikan Nasional.
Wihartanti, L.V., Ramadhan P.W., Rohana I.A. & Bayu A.P 2019. Penggunaan Aplikasi Quizizz Berbasis Smartphone Dalam Membangun Kemampuan Berpikir Kritis Mahasiswa. Prosiding Seminar Nasional Pendidikan dan Pembelajaran 2019 Revitaslisasi Profesionalisme Pendidik dalam Menghadapi Tantangan Revolusi Industri 4.0.
https://www.linternaute.fr/dictionnaire/fr/definition/ludique/ diakses pada 12 Maret 2020.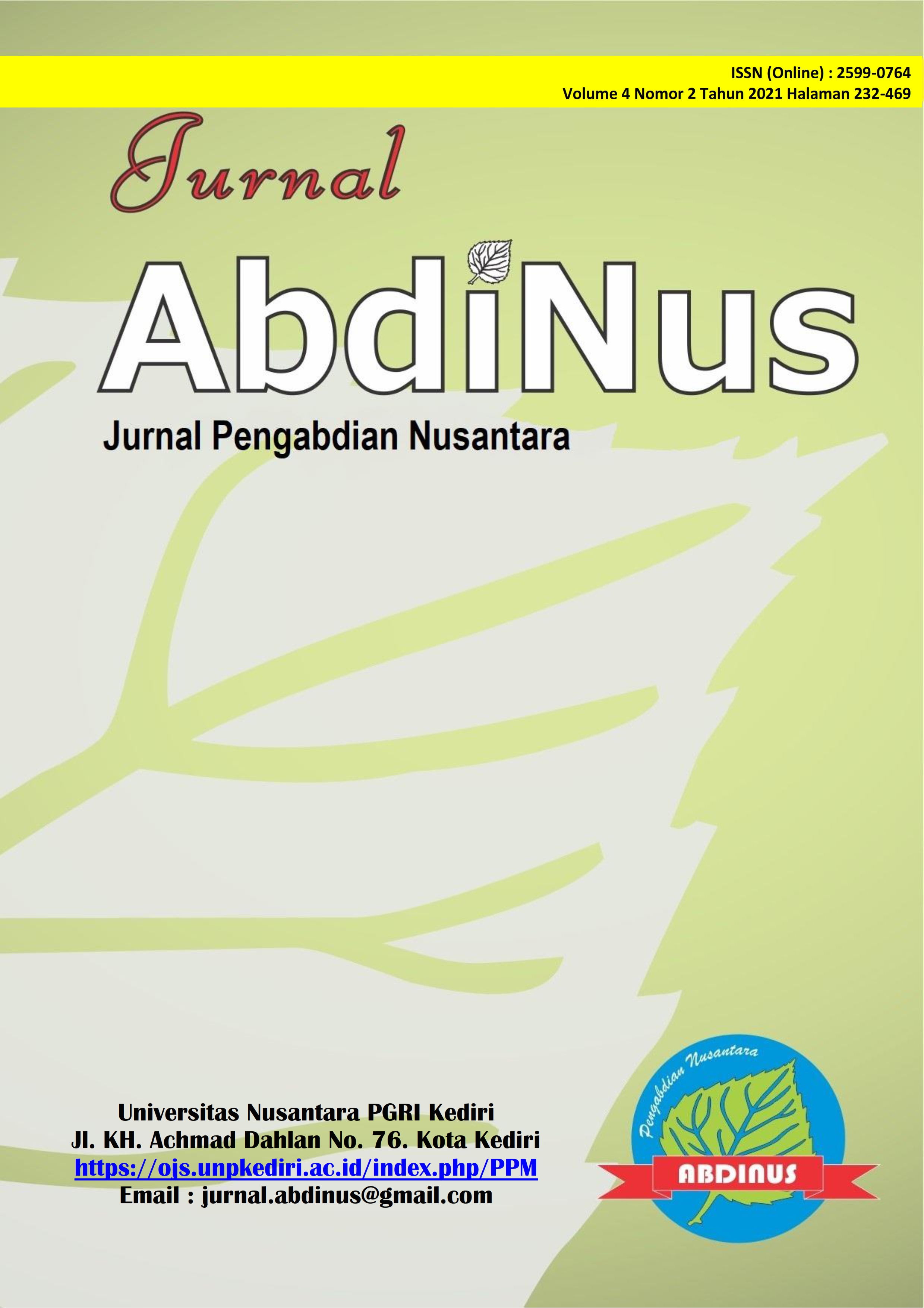 How to Cite
Ekowati, S. H., Purbarini, A., Wahyu Tri Widyastuti, & Ismayani, R. (2021). Pelatihan Activité Ludique untuk Guru Bahasa Prancis SMA Di DKI Jakarta. Jurnal ABDINUS : Jurnal Pengabdian Nusantara, 4(2), 354-364. https://doi.org/10.29407/ja.v4i2.15301
Copyright (c) 2021 Jurnal ABDINUS : Jurnal Pengabdian Nusantara
This work is licensed under a Creative Commons Attribution 4.0 International License.