Spamming Forensic Analysis Using Network Forensics Development Life Cycle Method
Imam Riadi

Universitas Ahmad Dahlan

Sunardi Sunardi

Universitas Ahmad Dahlan

Fitriyani Tella Fitri

Universitas Ahmad Dahlan
Abstract views:
307
,
PDF downloads:
331
Keywords:
Network Forensics Development Life Cycle (NFDLC), Spamming Email, Easy Email Spammer, Wireshark
Abstract
E-mail is electronic mail used to send files, pictures, and others easily and quickly. However, as time goes by, there is a lot of misuse of e-mail, causing inconvenience to the recipient. One of them is spam e-mail sent to many people without prior permission from the intended owner. Hackers can forge e-mail headers anonymously for malicious purposes. The research object is to simulate sending spamming e-mails to 1 victim with a total of 40 spamming e-mails. The research follows the flow of the Network Forensics Development Life Cycle (NFDLC) method with the stages of initiation, acquisition, implementation, operation, and disposition. Simulation of sending e-mail using easy e-mail spammer tools and testing of e-mail using Wireshark tools. The test results show that 40 e-mails were successfully received or entered into the victim's inbox, and the test was successfully carried out by getting results based on predetermined parameters. The parameter is the IP address of the sender or spammer found is 72.125.68.109, the victim's IP address is 192.168.1.12.
Downloads
Download data is not yet available.
References
N. A. Q. Muslimin, Sutardi, and L. Tajidun, "Aplikasi Keamanan E-Mail Menggunakan Algoritma AES (Advanced Encryption Standard) Berbasis Android," semanTIK, vol. 2, no. 1, pp. 321–330, 2016, doi: 10.1016/j.nut.2008.10.021.
M. A. Sutisna and I. Riadi, "Analisa Forensik Pada Email Spoofing," J. Teknol. Terpadu, vol. 4, no. 1, pp. 38–43, 2018.
N. Nugroho, Z. Azmi, and S. N. Arif, "Aplikasi Keamanan Email Menggunakan Algoritma Rc4," J. SAINTIKOM, vol. 15, no. ISSN : 1978-6603, pp. 81–88, 2016, [Online]. Available: https://lppm.trigunadharma.ac.id/public/fileJurnal/hpO91 Jurnal Nurcahyo.pdf.
T. Hadianto, W. Prasetyo, and R. B. Bahaweres, "Studi Banding Email Forensic Tools," Stud. Inform. J. Sist. Inf., vol. 10, no. 1, pp. 53–61, 2017, [Online]. Available: http://journal.uinjkt.ac.id/index.php/sisteminformasi/article/view/7751/4303.
S. Akashi and Y. Tong, "The E-mail Spoofing on the Network Layer Protocols and Countermeasures Besides the Sender Domain Authentication," Int. J. Inf. Electron. Eng., vol. 10, no. 1, pp. 22–27, 2020, doi: 10.18178/ijiee.2020.10.1.715.
A. Karim, S. Azam, B. Shanmugam, K. Kannoorpatti, and M. Alazab, "A comprehensive survey for intelligent spam e-mail detection," IEEE Access, vol. 7, pp. 168261–168295, 2019, doi: 10.1109/ACCESS.2019.2954791.
Hoiriyah, B. Sugiantoro, and Y. Prayudi, "Investigasi Forensik Pada Email Spoofing Menggunakan Metode Header Analysis," J. DASI, vol. 17, no. 4, pp. 20–25, 2016, [Online]. Available: http://ojs.amikom.ac.id/index.php/dasi/article/view/1553/1431.
A. Ginanjar, N. Widiyasono, and R. Gunawan, "Analisis Serangan Web Pishing Pada Layanan E-commerce dengan Metode Network Forensic Process," J. Terap. Teknol. Inf., vol. 2, no. 2, pp. 47–58, 2018, doi: 10.21460/jutei.2018.22.103.
M. N. Faiz, R. Umar, and A. Yudhana, "Implementasi Live Forensics untuk Perbandingan Browser pada Keamanan Email," JISKA (Jurnal Inform. Sunan Kalijaga), vol. 1, no. 3, p. 108, 2017, doi: 10.14421/jiska.2017.13-02.
A. L. Suryana, R. El Akbar, and N. Widiyasono, "Investigasi Email Spoofing dengan Metode Digital Forensics Research Workshop (DFRWS)," J. Edukasi dan Penelit. Inform., vol. 2, no. 2, pp. 111–117, 2016, doi: 10.26418/jp.v2i2.16821.
I. Riadi, R. Umar, and Mustafa, "Review Article : Investigasi Forensik Email dengan Berbagai Pendekatan dan Tools," J. Inform. J. Pengemb. IT, vol. 04, no. 02, pp. 120–122, 2019, doi: 10.30591/jpit.v4i2.1134.
I. Zuhriyanto, A. Yudhana, and I. Riadi, "PERANCANGAN DIGITAL FORENSIK PADA APLIKASI TWITTER MENGGUNAKAN METODE LIVE FORENSICS," Semin. Nas. Inform., pp. 86–91, 2018.
Sunardi, I. Riadi, and A. Sugandi, "Forensic analysis of Docker Swarm cluster using GRR Rapid Response framework," Int. J. Adv. Comput. Sci. Appl., vol. 10, no. 2, pp. 459–466, 2019, doi: 10.14569/ijacsa.2019.0100260.
S. Sunardi, I. Riadi, and I. M. Nasrulloh, "Analisis Forensik Solid State Drive (SSD) Menggunakan Framework Rapid Response," J. Teknol. Inf. dan Ilmu Komput., vol. 6, no. 5, p. 509, 2019, doi: 10.25126/jtiik.2019651516.
F. Ridho, A. Yudhana, and I. Riadi, "Analisis Forensik Router Untuk Mendeteksi Serangan Distributed Danial of Service (DDoS) Secara Real Time," vol. 2, no. 1, pp. 111–116, 2016, [Online]. Available: http://ars.ilkom.unsri.ac.id.
R. Ruuhwan, I. Riadi, and Y. Prayudi, "Penerapan Integrated Digital Forensic Investigation Framework v2 (IDFIF) pada Proses Investigasi Smartphone," J. Edukasi dan Penelit. Inform., vol. 2, no. 1, 2016, doi: 10.26418/jp.v2i1.14369.
I. W. Ardiyasa, "Aplikasi Analisis Network Forensic Untuk Analisis Serangan Pada Syslog Server," Res. Comput. Inf. Syst. Technol. Manag., vol. 2, no. 02, p. 59, 2019, doi: 10.25273/research.v2i02.5220.
R. Setiawan, NETWORK FORENSICS UNTUK MENDETEKSI SERANGAN FLOODING PADA PERANGKAT INTERNET OF THINGS ( IoT ) PROGRAM PASCASARJANA FAKULTAS TEKNOLOGI INDUSTRI. 2019.
L. O. M. Saidi, Pengembangan Framework untuk Investigasi Email Forensics Menggunakan Metode Systems Development Life Cycle (SDLC), vol. 117. 2017.
F. Tella et al., "Perbandingan Hasil Forensics Jaringan Terhadap Serangan E-mail Spamming dan Spoofing," vol. XII, no. 2, pp. 121–127, 2020.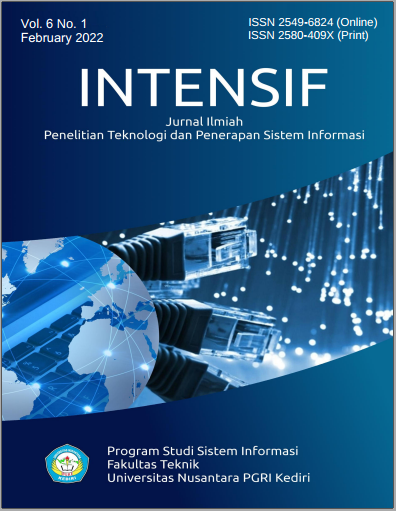 How to Cite
[1]
I. Riadi, S. Sunardi, and F. T. Fitri, "Spamming Forensic Analysis Using Network Forensics Development Life Cycle Method", intensif, vol. 6, no. 1, pp. 108-117, Feb. 2022.
Copyright (c) 2022 Imam Riadi, Sunardi Sunardi, Fitriyani Tella Fitri
This work is licensed under a Creative Commons Attribution-ShareAlike 4.0 International License.
Authors who publish with this journal agree to the following terms:
1. Copyright on any article is retained by the author(s).
2. The author grants the journal, right of first publication with the work simultaneously licensed under a Creative Commons Attribution License that allows others to share the work with an acknowledgment of the work's authorship and initial publication in this journal.
3. Authors are able to enter into separate, additional contractual arrangements for the non-exclusive distribution of the journal's published version of the work (e.g., post it to an institutional repository or publish it in a book), with an acknowledgment of its initial publication in this journal.
4. Authors are permitted and encouraged to post their work online (e.g., in institutional repositories or on their website) prior to and during the submission process, as it can lead to productive exchanges, as well as earlier and greater citation of published work.
5. The article and any associated published material is distributed under the Creative Commons Attribution-ShareAlike 4.0 International License