Implementation of Dijkstra's Algorithm to Find a School Shortest Distance Based on The Zoning System in South Tangerang
Maulana Muhamad Sulaiman

Universitas Pamulang

Sahlan Sahlan

Universitas Pamulang
Abstract views:
414
,
PDF downloads:
485
Keywords:
Dijkstra's Algorithm, Zoning System, School, Shortest Distance, South Tangerang
Abstract
School is an essential thing for education quality. This time, the South Tangerang government is implementing a new student admission process using a zoning system; all prospective students must choose a school that has the shortest distance from their residence. However, many parents and prospective students do not understand this zoning system. The limited access to information is a problem for them, so they do not know where the schools are included in their zoning area. For this reason, the need to efforts the problem-solve to use Dijkstra's algorithm as a consideration to find the results more accurate for the shortest distance. So the exact solution that should implement the information technology this time is "Implementation of Dijkstra's Algorithm to Find a School Shortest Distance Based on The Zoning System In South Tangerang." It is a solution for parents and prospective students to get information about school choices included in their zoning.
Downloads
Download data is not yet available.
References
Perdana, N. S., "Implementasi PPDB Zonasi dalam Upaya Pemerataan Akses dan Mutu Pendidikan," Jurnal Pendidikan Glasser,3(1), 78-92. doi.org/10.32529/glasser.v3i1.186 2019.
Peraturan Menteri Pendidikan dan Kebudayaan Nomor 14 Tahun 2018 tentang Penerimaan Peserta Didik Baru Pada Taman Kanak- Kanak, Sekolah Dasar, Sekolah Menengah Pertama, Sekolah Menengah Atas, Sekolah Menengah Kejuruan, Atau Bentuk Lain Yang Sederajat
Adiputra, A. R., Karsidi, R., & Haryono, B. (2019). Cultural lag dalam program Penerimaan Peserta Didik Baru (PPDB) online dengan sistem zonasi tahun 2018 di Sekolah Menengah Atas Negeri 2 Sukoharjo. Habitus : Jurnal Pendidikan, Sosiologi, dan Antropologi, 3(1), 1–13. doi.org/10.20961/habitus.v3i1.30906. 2019.
Candra Galih, E., & Andriyat Krisdiawan, R. " Implementasi Algoritma Dijkstra Pada Aplikasi Wisata Kuningan Berbasis Android", Jurnal Nuansa Informatika 53(95), doi.org/10.1017/CBO9781107415324.004.2018
Kabar Tangsel. "Peta Kota Tangsel". https://kabartangsel.com/direktori-tangsel/peta-kota-tangerang-selatan/ (diakses Maret 1, 2021)
Alfeno , Sandro, et al.," Implementatsi Global Positioning System (GPS) dan Location -Based Service (LSB) Pada Sistem Informasi Kereta Api Untuk Wilayah Jabodetabek", Jurnal Sisfotek Global Vol 7. No 2, doi.org/10.38101/sisfotek.v7i2.146.2017
Dewi, Ra'idah Naufaliana, W.P., Dwi Atmodjo, dan Purwaningsih, Mardiana," AplikasiPenentuan Rute dan Waktu Tempuh ke Halte Transjakarta Terdekat dengan Algoritma Dijkstra Berbasis Location Base System", Jurnal Teknologi Informasi dan Ilmu Komputer , Perbanas Institute, Vol 7.No 4. DOI:10.25126/jtiik.202071680,2019.
Aprilianingsih, E. P., Primananda, R., and Suharsono, A." Analysis Fail Path Pada Arsitektur Software Defined Network Menggunakan Dijkstra Algorithm". Jurnal Pengembangan Teknologi Informasi dan Ilmu Komputer J-PTIIK Universitas Brawijaya 1(3), 174–183,2017.
Ginting, J. V., Barus, E. S., "Aplikasi Penentu Rumah Sakit Terdekat Menggunakan Algoritma Dijksra". Jurnal Mantik Penusa Vol 2, No 2. 2019.
Hairah, Ummul, Budiman, Edy, "Pemanfaatan Google Maps API Dalam Pengembangan Media Informasi Pasar Malam di Kota Samarinda". Jurnal Ilkom, Vol 9. No 1.2017
Andiany , Fairuz Eka,et al," Implementasi Algoritma Dijkstra Untuk Mencari Rute Terpendek Anara Kantor dan Estimasi Penggunaan Bahan Bakar Kendaraan(Studi Kasus PT. TELKOM INDONESIA Region IV Central Jateng-DIY)", Prosiding SENDI_U 4. 2018, Unisbank.2018
Cantona,Aldy, fauziah, winarsih, "Implementasi Algoritma Dijkstra Untuk Mencari Rute Terpendek ke Museum Jakarta", Jurnal Manajemen Informatika dan Teknologi, Vol 6. No 1. https://doi.org/10.26905/jtmi.v6i1.3837. 2020
Kumalasari, D. "Analysis of Comparative to Complexity of Bubble Sort Algorithm, Cocktail Sort and Comb Sort with C ++ Programming". Journal Speed, 9(2), 1–7.2017
Agung, Halim,"Sistem Penentuan Jarak Terpendek Berdasarkan Data Coordinate Menggunakan Algoritma Djikstra Dalam Kasus Pengantaran Barang se-Jabodetabek" Jurnal SISFOKOM,, Universitas Bunda Mulia, Vol 8, No.1. doi.org/10.32736/sisfokom.v8i1.587. 2019
Ojekudo, Nathaniel Akpofure dan Nsikan Paul Akpan."An Application of Dijkstra's Algorithm To Shortest Route Problem". IOSR Journal of Mathematics (IOSR-JM) Vol 13, Issue 3 Ver. 1, DOI : 10.9770/5728 1303012032, 2017.
Risald, Suyoto, dan Antonio E. Mirino. "Best Routes Selection Using Dijkstra and Floyd-Warshall Algorithm." DOI : 10.1109/ICTS.2017.8265662,2017
Saputra, Kurnia, dkk, "Google Maps and MAPBOX API Performance Analysis on Android Base Lecture Attendance Application", Jurnal Natural.Vol.19.No.3. 2019
Setiawan, Kiki, dkk."Menghitung Rute Terpendek Menggunakan Algoritma A* Dengan Fungsi Euclidean Distance". Seminar Nasional Teknologi Informasi dan Komunikasi 2018 (SENTIKA 2018), Yogyakarta. ISSN : 2089-9815.2018.
Somya, Ramos, 2018, "Monitoring System of Real Time Vehicle using CouchDB Technology Based on Android at PT. Pura Barutama",Technology and Information System National journal, Kristen Satya Wacana University,2018
Wu, Yu, et al., ," Path Planning for Carrier Aircraft Based On Geometry and Dijkstra's Algorithm.",DOI : 10.1109/CCSSE.2017.8087906, 2017.
Baharudin, I., Purwanto, A. J. ., Budiman, T. R. ., & Fauzi, M. "Implementasi Algoritma Djikstra Untuk Menentukan Jalur Terpendek Dalam Distribusi Barang. Jurnal Lebesgue : Jurnal Ilmiah Pendidikan Matematika, Matematika Dan Statistika, 2(2), 194-203. https://doi.org/10.46306/lb.v2i2.74. 2021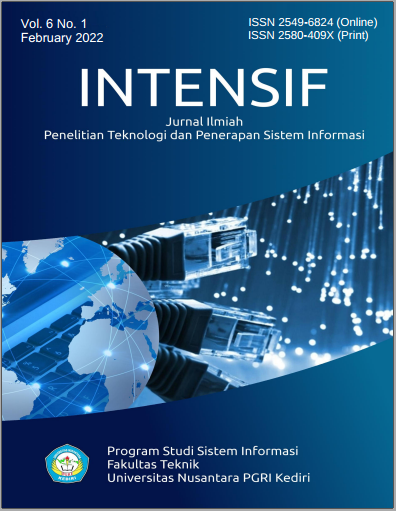 How to Cite
[1]
M. M. Sulaiman and S. Sahlan, "Implementation of Dijkstra's Algorithm to Find a School Shortest Distance Based on The Zoning System in South Tangerang", intensif, vol. 6, no. 1, pp. 1-10, Feb. 2022.
Copyright (c) 2022 Maulana Muhamad Sulaiman, Sahlan Sahlan
This work is licensed under a Creative Commons Attribution-ShareAlike 4.0 International License.
Authors who publish with this journal agree to the following terms:
1. Copyright on any article is retained by the author(s).
2. The author grants the journal, right of first publication with the work simultaneously licensed under a Creative Commons Attribution License that allows others to share the work with an acknowledgment of the work's authorship and initial publication in this journal.
3. Authors are able to enter into separate, additional contractual arrangements for the non-exclusive distribution of the journal's published version of the work (e.g., post it to an institutional repository or publish it in a book), with an acknowledgment of its initial publication in this journal.
4. Authors are permitted and encouraged to post their work online (e.g., in institutional repositories or on their website) prior to and during the submission process, as it can lead to productive exchanges, as well as earlier and greater citation of published work.
5. The article and any associated published material is distributed under the Creative Commons Attribution-ShareAlike 4.0 International License