Learning at Home During the Covid-19 Pandemic by Optimizing Video Based Tutorials
Muhammad Sholeh

Institut Sains & Teknologi AKPRIND Yogyakarta

Suraya Suraya

Institut Sains & Teknologi AKPRIND Yogyakarta

Dina Andayani

Institut Sains & Teknologi AKPRIND Yogyakarta
Abstract views:
234
,
PDF downloads:
233
Keywords:
Pandemic, Covid-19, Video Tutorial, Structured Programming
Abstract
The learning process carried out at home during the COVID-19 pandemic demands the creativity of educators so that the material provided can be understood by students. The problems that arise during online lectures are changing the habits of students who always get detailed explanations from lecturers, while in online lectures the interaction between students and lecturers is limited and there are student guidelines for independent study. The research was conducted with the aim of evaluating the learning process at home using video-based tutorials. The methodology is carried out using the ADIIE model. The process of making tutorials is done by making a video story board that will be made and implementing the story board using Camtasia Studio. The results of the study resulted in Structured Programming course material in the form of video tutorials from meetings 1 to 10. The evaluation results showed that 39.1% of students answered very well to the question of whether videos can be used for self-study at home and 60.8% answered quite well.
Downloads
Download data is not yet available.
References
T. Limbong and J. Simarmata, Media dan Multimedia Pembelajaran, Teori & Praktik. Jakarta: Yayasan Kita Menulis, 2020.
Arista Prasetyo Adi, Bikin Video Apapun tanpa Ribet. Jakarta: PT Elex Media Komputindo, 2017.
Jubilee, Membuat Video Tutorial Menggunakan Camtasia. Jakarta: PT Elex Media Komputindo, 2016.
M. A. Fauzan and D. Rahdiyanta, "Pengembangan Media Pembelajaran Berbasis Video pada Teori Pemesinan Frais," Jurnal Dinamika Vokasional Teknik Mesin, vol. 2, no. 2, p. 82, 2017, doi: 10.21831/dinamika.v2i2.15994.
B. A. I. W. Yana, Y. N. Kholisho, and A. Fathoni, "PENGEMBANGAN MEDIA PEMBELAJARAN BERBASIS VIDEO TUTORIAL INTERAKTIF PADA MATA PELAJARAN TEKNIK ANIMASI 2 DIMENSI," EDUMATIC: Jurnal Pendidikan Informatika, vol. 2, no. 2, pp. 52–58, 2018.
K. A. H. Pujawan, "Pengembangan Multimedia Interaktif Berbasis Video Tutorial Pada Mata Kuliah Multimedia I (Design Grafis) Di Politeknik Ganesha Guru," Journal of Education Technology, vol. 2, no. 1, p. 61, 2019, doi: 10.23887/jet.v2i1.13810.
N. Hidayah, S. Karimah, and R. Utami, "Analisis Respon Mahasiswa Terhadap Media Prmbelajaran Berbasis Edmodo pada Mata Kuliah Pemrograman Komputer," Jurnal ilmiah Pendidikan Matematika, vol. 6, no. 1, pp. 17–20, 2018.
S. Mulyono et al., "Perancangan Video Tutorial Audio Dalam Mata Kuliah Audio Visual Simpulan," Jurnal Desain Komunikasi Visual Adiwarna, p. 6, 2017.
A. Y. Utomo and D. Ratnawati, "Pengembangan Video Tutorial Dalam Pembelajaran Sistem Pengapian Di Smk," Taman Vokasi, vol. 6, no. 1, p. 68, 2018, doi: 10.30738/jtvok.v6i1.2839.
A. Efendi, S. Sumarni, and A. Efendi, "PENGEMBANGAN MEDIA PEMBELAJARAN BERBASIS VIDEO TUTORIAL PADA MATA KULIAH MEKANIKA TANAH," Indonesian Journal of Civil Engineering Education, vol. 1, no. 1, pp. 1–12, 2015.
A. Agustiningsih, "Video Sebagai Alternatif Media Pembelajaran Dalam Rangka Mendukung Keberhasilan Penerapan Kurikulum 2013 di Sekolah Dasar," PEDAGOGIA: Jurnal Pendidikan, vol. 4, no. 1, p. 50, 2015, doi: 10.21070/pedagogia.v4i1.72.
S. Bakhri, "Animasi Interaktif Pembelajaran Huruf dan Angka Menggunakan Model ADDIE," INTENSIF: Jurnal Ilmiah Penelitian dan Penerapan Teknologi Sistem Informasi, vol. 3, no. 2, p. 130, 2019, doi: 10.29407/intensif.v3i2.12666.
P. Riegler et al., "Using Tutorials in Introductory Physics on circuits in a German university course: Observations and experiences," Physics Education, vol. 51, no. 6, 2016, DOI: 10.1088/0031-9120/51/6/065014.
R. Rahmad, E. Yuniastuti, and M. A. Wirda, "PENGEMBANGAN MEDIA PEMBELAJARAN VIDEO TUTORIAL MENGGUNAKAN CAMTASIA STUDIO 8 . 5 PADA MATAKULIAH SISTEM INFORMASI GEOGRAFI (SIG)," Jurnal Ilmiah Pendidikan dan Pembelajaran PPs Universitas Pendidikan Ganesha, vol. 2, no. April 2018, pp. 97–110, 2018.
P. Fitriasari, "Penggunaan Media Handout Berbantuan Camtasia Studio Terhadap Hasil Belajar Mahasiswa pada Mata Kuliah Metode Numerik," Jurnal Pendidikan Matematika RAFA, vol. 4, no. 2, pp. 92–104, 2020, doi: 10.19109/jpmrafa.v4i2.2896.
R. Ariaji, Nasirsah, and S. A. Siregar1, "Pengembangan Video Pembelajaran Kimia SMA/MA Menggunakan Camtasia Studio 8," EKSAKTA :JurnalPenelitian dan Pembelajaran MIPA, vol. 5, no. 1, pp. 55–64, 2020.
D. A. Harahap et al., "PELATIHAN PENINGKATAN KEMAMPUAN GURU DENGAN BERBASIS TIK ( E-MODUL SERTA CAMTASIA VIDEO ) DI SMAN 2," Jurnal Anadara Pengabdian Kepada Masyarakat, vol. 1, no. 2, 2019.
S. Alang Ciputra, "PENGEMBANGAN MEDIA PEMBELAJARAN CAMTASIA STUDIO TERHADAP HASIL PENGEMBANGAN MEDIA PEMBELAJARAN CAMTASIA STUDIO TERHADAP HASIL BELAJAR MATA KULIAH CAD MAHASISWA PENDIDIKAN TEKNIK OTOMOTIF UNIVERSITAS MUHAMMADIYAH PURWOREJO," Jurnal Pendidikan Teknik Otomotif_Universitas Muhammadiyah Purworejo, vol. 10, no. 01, pp. 37–42, 2017.
M. I. Putra, K. U. Ariawan, and I. W. Sutaya, "PENGEMBANGAN MEDIA PEMBELAJARAN BERBASIS CAMTASIA STUDIO VIDEO CD INTERAKTIF MULTIMEDIA UNTUK MATA PELAJARAN PEMROGRAMAN WEB DI JURUSAN MULTIMEDIA SMK NEGERI 3 SINGARAJA," Jurnal Pendidikan Teknik Elektro Undiksha, vol. 6, no. 1, pp. 1–8, 2017.
Rizmada Azzahra, "Analisis Pembuatan Video Media Pembelajaran dalam Mata Kuliah Pembelajaran Menyimak 0leh Mahasiswa Kelas A Semester V Prodi Pendidikan Bahasa Indonesia Universitas Khairun Ternate," Widyabastra, vol. 05, no. 1, pp. 8–14, 2017.
S. Sukmawati, T. F. Saumi, and A. Nasrullah, "Camtasia-assisted computer statistics application practicum learning video in online classes to improve students' mathematical understanding," Journal of Physics: Conference Series, vol. 1657, no. 1, 2020, DOI: 10.1088/1742-6596/1657/1/012016.
A. A. Agama and M. Solikin, "Development of tutorial video learning media on engine management system diagnosis," Journal of Physics: Conference Series, vol. 1700, no. 1, 2020, DOI: 10.1088/1742-6596/1700/1/012057.
Zainuddin, A. R. Hasanah, M. A. Salam, Misbah, and S. Mahtari, "Developing the interactive multimedia in physics learning," in Journal of Physics: Conference Series, 2019, vol. 1171, no. 1, DOI: 10.1088/1742-6596/1171/1/012019.
Y. H. Rayanto and Sugianti, PENELITIAN PENGEMBANGAN MODEL ADDIE DAN R2D2. Pasuruan: Lembaga Academic & Research Institute, 2020.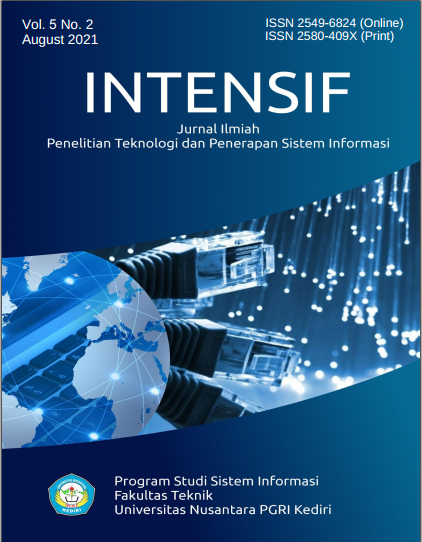 How to Cite
[1]
M. Sholeh, S. Suraya, and D. Andayani, "Learning at Home During the Covid-19 Pandemic by Optimizing Video Based Tutorials", intensif, vol. 5, no. 2, pp. 206-217, Aug. 2021.
Authors who publish with this journal agree to the following terms:
1. Copyright on any article is retained by the author(s).
2. The author grants the journal, right of first publication with the work simultaneously licensed under a Creative Commons Attribution License that allows others to share the work with an acknowledgment of the work's authorship and initial publication in this journal.
3. Authors are able to enter into separate, additional contractual arrangements for the non-exclusive distribution of the journal's published version of the work (e.g., post it to an institutional repository or publish it in a book), with an acknowledgment of its initial publication in this journal.
4. Authors are permitted and encouraged to post their work online (e.g., in institutional repositories or on their website) prior to and during the submission process, as it can lead to productive exchanges, as well as earlier and greater citation of published work.
5. The article and any associated published material is distributed under the Creative Commons Attribution-ShareAlike 4.0 International License