3 Dimensional Dynamic Map on Buildings at University of Darussalam Gontor Based on Augmented Reality
Faisal Reza Pradhana

Universitas Darussalam Gontor

https://orcid.org/0000-0002-2022-4197

Taufiqurrahman Taufiqurrahman

Universitas Darussalam Gontor

Ady Fauzan

Universitas Darussalam Gontor
Abstract views:
216
,
PDF downloads:
171
Keywords:
3D maps, Augmented reality, Android, Mobile Programming
Abstract
Darussalam Gontor University (Unida Gontor) is a campus with a fairly rapid development of infrastructure. The paper-based building prototype design belonging to UNIDA Gontor is considered not able to visually represent the building that has been or will be built. This research aims to provide a prototype design update using more modern and dynamic technology that can be seen from all sides of the building and does not require physical storage, also can be used anytime and anywhere.The Application content is taken through the visual data collection stage in the form of detailed photos of buildings taken through cameras and drones. This media is based on Android which uses marker based augmented reality technology to implement 3-dimensional visualization of campus building objects, which are created through the steps of the waterfall model. The test is carried out in two stages, namely the suitability of the application with various android devices which shows compatibility with devices with a minimum size of 5 inches. The second test was conducted by distributing questionnaires to the staff of the facilities and infrastructure division of Unida Gontor with an average score of 90%, and the lecturers and multimedia student group 89.52%.
Downloads
Download data is not yet available.
References
B. S. P. U. D. Gontor, Dokumen Masterplan Pembangunan Universitas Darussalam Gontor, 2nd ed. Ponorogo: Universitas Darussalam Gontor, 2019.
Y. Suciliyana et al., "AUGMENTED REALITY SEBAGAI MEDIA PENDIDIKAN SCHOOL-AGE," vol. 2, no. 1, pp. 39–53, 2020.
K. N. Sistem et al., "Visualisasi Animasi 3D Sebagai Promosi Produk Desain Interior Pada Perusahaan 8 ° South Kitchen & Home Cabinetry Manufacturer," pp. 501–506, 2017.
A. Relawati and G. M. Zamroni, "Development of Android Based Online Nurse Test Preparation," vol. 8, pp. 111–120, 2020.
D. Muriyatmoko, F. R. Pradhana, and Z. A. Musyafa', "Durus Al-Lughah Gontory: Media Pembelajaran Bahasa Arab untuk Pemula Menggunakan Metode Langsung," J. Teknol. Inf. dan Ilmu Komput., vol. 6, no. 1, p. 77, Jan. 2019, doi: 10.25126/jtiik.2019611259.
A. Fauzan, D. Muriyatmoko, and S. Nahwa Utama, "PENERAPAN TEKNOLOGI AUGMENTED REALITY ELSE ( Elementary School Education Journal )," vol. 4, pp. 63–78, 2020.
D. A. Firmansyah, H. Tolle, and A. Pinandito, "Rancang Bangun Aplikasi Informasi Candi berbasis Teknologi Augmented Reality pada Smartphone Android ( Studi Kasus : Candi Ngetos , Nganjuk )," vol. 2, no. 8, pp. 2651–2658, 2018.
F. W. Christanto, M. F. Affandi, and T. Winarti, "Image Tracking Berbasis Augmented Reality Untuk Relasi Antara Sunnah Nabi dan Manfaat Secara Medis," JUITA J. Inform., vol. 8, no. 1, p. 75, 2020, doi: 10.30595/juita.v8i1.5541.
I. F. Faiztyan, R. R. Isnanto, and E. D. Widianto, "Perancangan dan Pembuatan Aplikasi Visualisasi 3D Interaktif Masjid Agung Jawa Tengah Menggunakan Unity3D," J. Teknol. dan Sist. Komput., vol. 3, no. 2, p. 207, 2015, doi: 10.14710/jtsiskom.3.2.2015.207-212.
A. History, "PENGEMBANGAN MEDIA OBYEK 3 DIMENSI DIGITAL SEL HEWAN DAN TUMBUHAN MEMANFAATKAN," vol. 2, no. 1, pp. 9–15, 2019.
R. Efendi, "Rancang Bangun Aplikasi Augmented Reality Untuk Deteksi Pengenalan Tanaman Obat Berbasis Android," IKRA-ITH Inform., vol. 4, no. 1, pp. 35–45, 2020.
D. Suhenra, M. Ahyar, and M. M. Parenreng, Penerapan Augmented Reality sebagai Media Pengenalan Kampus Politeknik Negeri Ujung Pandang, no. September. 2018.
A. Pramono and M. D. Setiawan, "Pemanfaatan Augmented Reality Sebagai Media Pembelajaran Pengenalan Buah-Buahan," INTENSIF J. Ilm. Penelit. dan Penerapan Teknol. Sist. Inf., vol. 3, no. 1, p. 54, 2019, doi: 10.29407/intensif.v3i1.12573.
D. Abdullah, A. Sani, and A. Hasan, "Pemanfaatan Teknologi Augmented Reality Pada Media Pengenalan Bangunan Bersejarah Rumah Kediaman Bung Karno Bengkulu Berbasis Android," Pseudocode, vol. 6, no. 1, pp. 21–29, 2019, doi: 10.33369/pseudocode.6.1.21-29.
Edryanto, Irawan, and Effiyaldi, "Perancangan Aplikasi Augmented Reality Pengenalan Landmark Asia Tenggara Berbasis Android Pada Sdn 139/Iv Jambi," J. Ilm. Mhs. Tek. Inform., vol. 2, no. 1, pp. 31–42, 2020.
T. A. Ananda, N. Safriadi, and A. S. Sukamto, "Penerapan Augmented Reality Sebagai Planet-Planet Di Tata Surya," J. Sist. dan Teknol. Inf., vol. 1, no. 1, pp. 1–6, 2015.
Y. Bassil, "A Simulation Model for the Waterfall Software Development Life Cycle," vol. 2, no. 5, May 2012.
B. Subakti, "PEMANFAATAN FOTO UDARA UAV UNTUK PEMODELAN BANGUNAN 3D DENGAN METODE OTOMATIS," Spectra, vol. XV, no. 30, pp. 15–30, 2017.
L. Leonardi, Adrian; Hermawan, "Penerapan Augmented Reality Pada Brosur Interior Berbasis Multi Markerless Pada Android," Semin. Nas. Teknol. Inf. dan Komun. 2019, vol. 2019, no. Sentika, pp. 13–14, 2019.
D. Dewantoro, S. Andryana, and A. Gunaryati, "Visualisasi Gedung Sekolah 3D dengan Konsep Virtual Reality Berbasis Android," J. Media Inform. Budidarma, vol. 4, no. 1, p. 42, 2020, doi: 10.30865/mib.v4i1.1866.
C. A. Oktavia, R. F. Setiawan, and A. Christianto, "Perancangan Aplikasi Augmented Reality Untuk Pengenalan Ruangan Menggunakan Marker 3D Objects Tracking," J. Ilm. Teknol. Inf. Asia, vol. 13, no. 1, p. 53, 2019, doi: 10.32815/jitika.v13i1.332.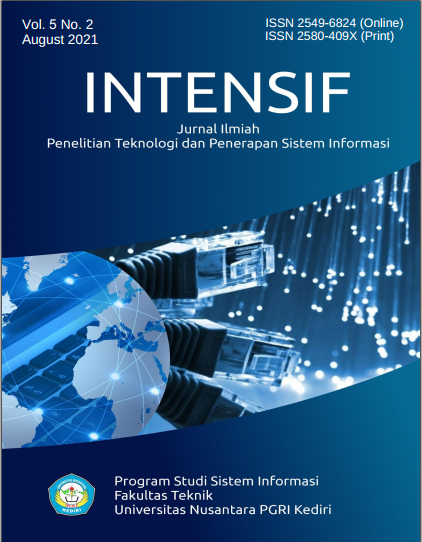 How to Cite
[1]
F. R. Pradhana, T. Taufiqurrahman, and A. Fauzan, "3 Dimensional Dynamic Map on Buildings at University of Darussalam Gontor Based on Augmented Reality ", intensif, vol. 5, no. 2, pp. 193-205, Aug. 2021.
Authors who publish with this journal agree to the following terms:
1. Copyright on any article is retained by the author(s).
2. The author grants the journal, right of first publication with the work simultaneously licensed under a Creative Commons Attribution License that allows others to share the work with an acknowledgment of the work's authorship and initial publication in this journal.
3. Authors are able to enter into separate, additional contractual arrangements for the non-exclusive distribution of the journal's published version of the work (e.g., post it to an institutional repository or publish it in a book), with an acknowledgment of its initial publication in this journal.
4. Authors are permitted and encouraged to post their work online (e.g., in institutional repositories or on their website) prior to and during the submission process, as it can lead to productive exchanges, as well as earlier and greater citation of published work.
5. The article and any associated published material is distributed under the Creative Commons Attribution-ShareAlike 4.0 International License