Monitoring and Notification System Air Quality Against Carbon Monoxide in The Study Room IoT based
Made Ayu Duesa

Universitas Nusantara PGRI Kediri

Kartika Rahayu Tri Prasetyo Sari

Universitas Nusantara PGRI Kediri
Abstract views:
237
,
PDF downloads:
427
Keywords:
Internet Of Things, Gas, Carbon Monoxide, Monitoring, Pollution
Abstract
The increase in human activities has triggered air pollution, especially in school areas. It results from various kinds of gases from exhausts or combustion that harm health and air quality for the community. The source of air pollution from motorized vehicles is one of the most significant contributors to air pollution in the school area. To prevent and control air pollution, a tool is needed to measure the gas levels. In this study, the tool used has a feature of monitoring air quality with the Internet of Things (IoT) platform. An essential part of this device is a sensor based on a microcontroller, where The device will send the data obtained by the MQ135 sensor module to the IoT platform. People can access information about air quality via smartphone devices for air quality information in the study room. This study's average result in detecting air quality is 495, indicating a moderate level of air pollution. With the existence of an air quality monitoring and notification system in this study room, it has the potential for awareness about the importance of healthy air quality for the community, especially students who will become the nation's next-generation students 8 hours learning environment.
Downloads
Download data is not yet available.
References
L. Fitria, R. A. Wulandari, E. Hermawati, and D. Susanna, "Kualitas Udara Dalam Ruang Perpustakaan Universitas X Ditinjau Dari Kualitas Biologi, Fisik, Dan Kimiawi," Lingkungan, Dep. Kesehat. Masyarakat, Fak. Kesehat. Indones. Univ., vol. 12, no. 2, pp. 76–82, 2008.
R. of I. Government, "Peraturan Pemerintah Republik Indonesia No 41 Tahun 1999," pp. 1–2, 1999.
M. Hazsya, N. Nurjazuli, and H. L. Dangiran, "HUBUNGAN KONSENTRASI KARBON MONOKSIDA (CO) DAN FAKTOR-FAKTOR RESIKO DENGAN KONSENTRASI COHb DALAM DARAH PADA MASYARAKAT BERESIKO DI SEPANJANG JALAN SETIABUDI SEMARANG," J. Kesehat. Masy., vol. 6, no. 6, pp. 241–250, 2018.
A. S. Suparman and S. Yazid, "Purwarupa Sistem Pemantauan Kualitas Udara Secara Daring," Informatics Final Year Proj., vol. 1, no. 3, 2014.
S. Jangid and S. Sharma, "An embedded system model for air quality monitoring," in 2016 3rd International Conference on Computing for Sustainable Global Development (INDIACom), 2016, pp. 3003–3008.
Q. Yang, G. Zhou, W. Qin, B. Zhang, and P. Y. Chiang, "Air-kare: A Wi-Fi-based, multi-sensor, real-time indoor air quality monitor," in 2015 IEEE International Wireless Symposium (IWS 2015), 2015, pp. 1–4.
J. M. S. Waworundeng and O. Lengkong, "Sistem Monitoring dan Notifikasi Kualitas Udara dalam Ruangan dengan Platform IoT," Cogito Smart J., vol. 4, no. 1, pp. 94–103, 2018.
H. Anwari, E. S. Pramukantoro, and M. H. Hanafi, "Pengembangan Iot Middleware Berbasis Event-Based dengan Protokol Komunikasi CoAP, MQTT dan Websocket," J. Pengemb. Teknol. Inf. dan Ilmu Komput. e-ISSN, vol. 2548, p. 964X, 2017.
J. Dutta, F. Gazi, S. Roy, and C. Chowdhury, "AirSense: Opportunistic crowd-sensing based air quality monitoring system for smart city," in 2016 IEEE SENSORS, 2016, pp. 1–3.
A. S. R. Sujatmoko, J. Waworundeng, and A. K. Wahyudi, "Rancang Bangun Detektor Asap Rokok Menggunakan SMS Gateway Untuk Asrama Crystal di Universitas Klabat," Proc. Konf. Nas. Sist. dan Inform., 2015.
C. R. Candrasari and J. Mukono, "Hubungan Kualitas Udara dalam Ruang dengan Keluhan Penghuni Lembaga Pemasyarakatan Kelas IIA Kabupaten Sidoarjo," J. Kesehat. Lingkung., vol. 7, no. 1, pp. 21–25, 2013.
F. Puspasari, I. Fahrurrozi, T. P. Satya, G. Setyawan, and M. R. Al Fauzan, "PROTOTIPE SISTEM KENDALI SUHU DAN KELEMBABAN KANDANG AYAM BROILER MELALUI BLYNK SERVER BERBASIS ANDROID," Wahana Fis., vol. 3, no. 2, pp. 143–147.
F. H. Nainggolan, M. H. H. Ichsan, and G. E. Setyawan, "Implementasi Low Power pada Sensor Node dengan Protokol Komunikasi Zigbee," J. Pengemb. Teknol. Inf. dan Ilmu Komput. e-ISSN, vol. 2548, p. 964X, 2020.
H. Supriyono, U. Bimantoro, and K. Harismah, "SISTEM PORTABLE MACHINE TO MACHINE UNTUK PEMANTAUAN KUALITAS UDARA DAN LINGKUNGAN (STUDI KASUS PADA KANDANG AYAM)," Proceeding of The URECOL, pp. 70–83, 2019.
R. Pressman and B. Maxim, Engenharia de Software-8a Edição. McGraw Hill Brasil, 2016.
"ThingSpeak," The MathWorks, Inc., 2018. https://bit.ly/2JKng0Q.
"Technical Data MQ135 - SNS," olimex, 2020. https://bit.ly/2xIeOh3.
"NodeMCU," nodemcu, 2018. https://www.nodemcu.com/index_en.html (accessed Jul. 11, 2020).
R. Amrutkar, S. Vikharankar, and L. Ahire, "Security: Smart Homes Using Internetof Things (IOT)," Int. Eng. Res. J. (IERJ), ISSN, pp. 1621–2395, 2016.
MIT License, "Blynk," MIT License, 2017. http://docs.blynk.cc/%0A.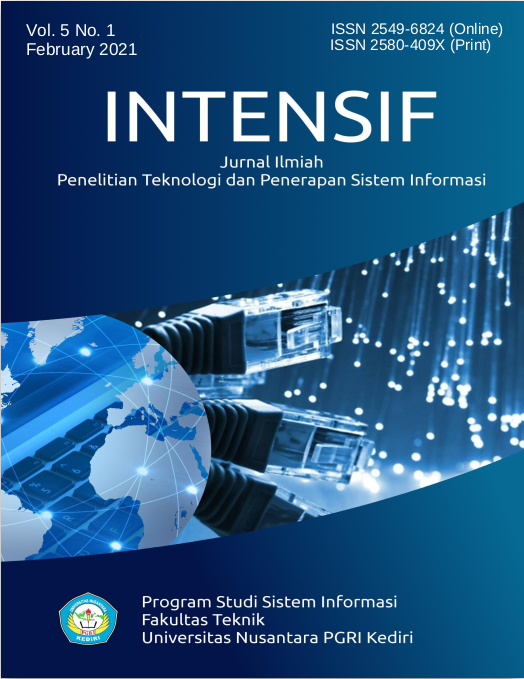 How to Cite
[1]
M. A. Duesa and K. R. T. P. Sari, "Monitoring and Notification System Air Quality Against Carbon Monoxide in The Study Room IoT based", intensif, vol. 5, no. 1, pp. 121-133, Feb. 2021.
Authors who publish with this journal agree to the following terms:
1. Copyright on any article is retained by the author(s).
2. The author grants the journal, right of first publication with the work simultaneously licensed under a Creative Commons Attribution License that allows others to share the work with an acknowledgment of the work's authorship and initial publication in this journal.
3. Authors are able to enter into separate, additional contractual arrangements for the non-exclusive distribution of the journal's published version of the work (e.g., post it to an institutional repository or publish it in a book), with an acknowledgment of its initial publication in this journal.
4. Authors are permitted and encouraged to post their work online (e.g., in institutional repositories or on their website) prior to and during the submission process, as it can lead to productive exchanges, as well as earlier and greater citation of published work.
5. The article and any associated published material is distributed under the Creative Commons Attribution-ShareAlike 4.0 International License