ITSM Strategy Using CSI on ITIL V.3 To Improve IT Services
Khurotul Aeni

Universitas Peradaban

Randi Adzin

Universitas Peradaban
Abstract views:
706
,
PDF downloads:
688
Keywords:
ITIL, SIP, PDCA
Abstract
The SIMBARU (Academic information System) has The obstacles that currently occur in the SIMBARU process is how to utilize an IT-based academic service system that is ready to run/use in the optimal time optimally, providing services with the right target, fast access that can provide satisfaction to users (user), as well as vision of mission and institutional business objectives can be realized. By using PDCA data analysis Method (Plan, Do, Check, and ACT), it is expected to design a SIP document (Service Improvement Plan) to improve the performance of SIMBARU. The design of SIP documents on SIMBARU can be done by using IT Infrastructure Library V. 3 by analyzing the condition of SIMBARU which then produce output in the form of SIP. Results of this research SIP designed in accordance with the knowledge gained from the results of the analysis, can be used as a strategy to improve IT services in college, which resulted in recommendation of improvement and output in the form of SIP. Repair and SIP recommendations are expected to be implemented to improve IT services, so that the IT service i.e. SIMBARU can help the academic staff in conducting academics in college.
Downloads
Download data is not yet available.
References
I. Taufik, "PERANCANGAN IT GOVERNANCE LAYANAN AKADEMIK MENGGUNAKAN FRAMEWORK INFORMATION TECHNOLOGY INFRASTRUCTURE LIBRARY (ITIL) VERSI 3 (STUDI KASUS: UIN SGD BANDUNG)," no. 2, 2011.
Nurfaizah, E. Utami, and M. R. Arief, "Rancangan Information Technology Service Management Menggunakan Information Technology Infrastructure Library (Studi Kasus : STMIK AMIKOM Purwokerto)," vol. 8, no. 2, pp. 18–31, 2015.
H. Mafatihus Solehah and S. Pramono Hadi, "STRATEGI IMPLEMENTASI CONTINUAL SERVICE IMPROVEMENT MENGGUNAKAN FRAMEWORK ITIL V.3," Semin. Nas. Teknol. Inf. dan Komun., 2014.
F. Fransiska, M. Murahartawaty, and A. Karma, "Perancangan Service Operation Pada Layanan Ti Pusair Dengan Menggunakan Framework Itil Versi 3," Sisfo, vol. 05, no. 04, 2015.
K. S. dan Aradea, "RANCANGAN STRATEGI LAYANAN TEKNOLOGI INFORMASI UNTUK INSTITUSI PERGURUAN TINGGI | Surendro | Seminar Nasional Aplikasi Teknologi Informasi (SNATI)," SNATI, 2011.
Aradea, "Integrasi Arsitektur dan Manajemen Layanan TI untuk Pencapaian Fleksibilitas Teknologi Informasi," Semin. Nas. Apl. Teknol. Inf. (SNATI 2011), vol. 2011, no. June 2011, pp. 17–18, 2016.
Ari Wedhasmara, "LANGKAH-LANGKAH PERENCANAAN STRATEGIS SISTEM INFORMASI DENGAN MENGGUNAKAN METODE WARD AND PEPPARD | Wedhasmara | Jurnal Sistem Informasi," JSI, vol. VOL. 1, NO, pp. 14–22, 2009.
Hendra, "Penerapan Best Practice IT Service Management dalam Perbaikan IT Service Desk: Studi Kasus PT. Matahari Putra Prima," ComTech Comput. Math. Eng. Appl., vol. vol 2 no 2, 2011.
Melissa Indah Fianty, "Meningkatkan Kualitas Pelayanan Teknologi Informasi Menggunakan Metode DMAIC pada Divisi IT Helpdesk PT XYZ," Kalbiscientia, vol. vol.4 no.1, pp. 96–102, 2017.
itSMF, An Introductory Overview of ITIL V3. 2013.
Musda, "An Introductory Overview of ITIL V3 A High Level Overview of ITIL," in Itil, 2013.
Y. M. M. Wahyu Setiawan, Sulistiowati, "Perencanaan Information Technology Service Continuity Management Berdasarkan ITIL V-3 Pada PT Telkom Msc Area V Jawa Timur | Setiawan | Jurnal JSIKA," JSIKA, vol. Vol 3 No., 2014.
E. K. U. Fajri Arfan, M. Teguh Kurniawan, "Penilaian dan Perancangan Tata Kelola Manajemen Layanan Teknologi Informasi Domain Service Operation Berdasarkan ISO 20000, ISO 15504 dan ITIL V3 Di Direktorat Sistem Informasi Telkom University," in e-Proceeding of Engineering, 2015, p. 7636.
A. Yus, "Implementasi Continuous Improvement Dalam Organisasi," pp. 1–5.
M. Agus, "Keberhasilan Bisnis salah satunya sangat dipengaruhi oleh kemampuan perusahaan dalam mengelola infrastruktur IT, tidak hanya ketersediaan infrastruktur IT saja yang disiapkan, melainkan bagaimana infrastruktur tersebut dapat digunakan dan dikelola untuk," vol. 2, 2010.
F. N. Hakim and V. G. Utomo, "Perancangan Aplikasi," vol. 4, no. 2, pp. 1–9, 2015.
A. Holil et al., "Berdasarkan ITIL V3 Dan COBIT 5 Pada Rumah Sakit PHC Surabaya," vol. 5, pp. 462–469, 2015.
L. A. K. Wardani, M. Murahartawaty, and L. Ramadani, "Perancangan Tata Kelola Layanan Teknologi Informasi Menggunakan ITIL versi 3 Domain Service Transition Dan Service Operation Di Pemerintah Kota Bandung," J. Inf. Syst. Eng. Bus. Intell., vol. 2, no. 2, p. 81, 2016.
A. Pamurjadi and B. P. P, "Analisis dan Rancangan Manajemen Service Desk di Instansi Pemerintah (Studi Kasus: Badan Litbang Pertanian)," J. IPTEKKOM J. Ilmu Pengetah. Teknol. Inf., vol. 16, no. 1, p. 69, 2014.
ITGI, Board Briefing on IT Governance - 2nd Edition. 2003.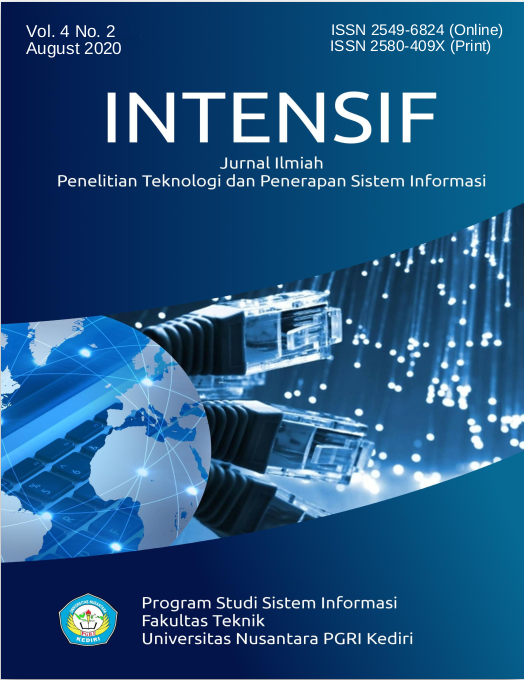 How to Cite
[1]
K. Aeni and R. Adzin, "ITSM Strategy Using CSI on ITIL V.3 To Improve IT Services", intensif, vol. 4, no. 2, pp. 203-214, Aug. 2020.
Authors who publish with this journal agree to the following terms:
1. Copyright on any article is retained by the author(s).
2. The author grants the journal, right of first publication with the work simultaneously licensed under a Creative Commons Attribution License that allows others to share the work with an acknowledgment of the work's authorship and initial publication in this journal.
3. Authors are able to enter into separate, additional contractual arrangements for the non-exclusive distribution of the journal's published version of the work (e.g., post it to an institutional repository or publish it in a book), with an acknowledgment of its initial publication in this journal.
4. Authors are permitted and encouraged to post their work online (e.g., in institutional repositories or on their website) prior to and during the submission process, as it can lead to productive exchanges, as well as earlier and greater citation of published work.
5. The article and any associated published material is distributed under the Creative Commons Attribution-ShareAlike 4.0 International License