THE STRATEGY OF COFFEE CUSTOMER SATISFACTION IMPROVMENT THROUGH ATMOSPHERE STORE, DISCOUNTS AND SERVICE QUALITY
Nurul Imamah

UBHARA Surabaya

Sofiah Nur Iradawaty

Universitas Yos Soedarso
Abstract views:
51
,
pdf downloads:
53
Keywords:
Keyword: Customer Satisfaction, Coffee, Store Atmosphere, Discount, Service Quality
Abstract
Advances in scientific knowledge and technology on a high scale, changing the cultural, social, political and life structures of the world community so quickly, resulting in the emergence of demands for the fulfillment of increasing human needs and can change the circulating trend itself, also able to change lifestyles, perspectives , as well as a person's habits. One of the lightest habit changes is liking coffee drinks, both homemade and enjoying coffee in coffee shops. This study aims to analyze the increase in coffee customer satisfaction strategy through store atmosphere, discount and service quality approach at EbesQu Kofie & Eatery Malang. This research is a quantitative research using simple random sampling method and using multiple linear regression analysis techniques. The results of this study indicate that store atmosphere, service quality and discount simultaneously are strategies that can significantly increase coffee customer satisfaction at EbesQu Kofie & Eatery Malang. Store atmosphere and partial discounts can significantly increase coffee customer satisfaction at EbesQu Kofie & Eatery Malang. Where the quality of service cannot increase coffee customer satisfaction significantly at EbesQu Kofie & Eatery Malang. Meanwhile, the independent variable that has the dominant influence on increasing coffee customer satisfaction at EbesQu Kofie & Eatery Malang is the store atmosphere.
References
DAFTAR PUSTAKA
Abdurrahman, Nana Herdiana dan Achmad Sanusi. 2015. Manajemen Strategi Pemasaran. Bandung: CV. Pustaka Setia.

Aini, Q. N., dan Hidayat, K. 2016. Pengaruh Atmosfer Toko dan Promosi Penjualan terhadap Shopping Emotion dan Pembelian Tidak Terencana (Survei terhadap Konsumen Giant Hypermarket Mall Olympic Garden). Jurnal Administrasi Bisnis, 37(1), Universitas Brawijaya, Malang. Hal: 164-170.

Amir, Mohammad Faisal. 2014. Kreativitas dan Inovasi dalam Bisnis: Menggali Potensi Diri Untuk Berkreasi dan Berinovasi. Jakarta: Mitra Wacana Media.

Fitri, Dessi Cahya. 2017. Pengaruh Price Discount dan Bonus Pack terhadap Impulse Buying di Giant Ekstra (Survey pada Konsumen Giant Ekstra Hyperpoint Pasteur Bandung). Diploma thesis, Universitas Komputer Indonesia, Bandung. Hal: 1-6.

Ghozali, Imam dan Ratmono, Dwi. 2017. Analisis Multivariat dan Ekonometrika dengan Eviews 10. Semarang: Badan Penerbit Universitas Diponegoro.

Herlina, Vivi. 2019. Panduan Praktis Mengolah Data Kuesioner Menggunakan SPSS. Jakarta: PT. Elex Media Komputindo.

Kalimah, Siti dan Nur Fadilah. 2017. Marketing Syariah: Hubungan antara Agama dan Ekonomi. Banyuwangi: LPPM Institut Agama Islam Ibrahimy Genteng Press.

Kotler, Philip and Kevin L.Keller, 2016.Marketing Management, 15th Edition New Jersey: Pearson Pretice Hall, Inc

Lupiyoadi Rambat, 2008, Manajemen Pemasaran Jasa, Salemba Empat Jakarta

Lestari, S. I. P. 2018. Pengaruh Price Discount dan Bonus Pack terhadap Impulse Buying melalui Nilai Hedonik di Carrefour Surakarta. Jurnal Maksipreneur: Manajemen, Koperasi, dan Entrepreneurship, 7(2), STIE Wijaya Mulya Surakarta, Surakarta. Hal: 129-140.

Marcelin Kusuma, E., dan Kardinal, K. 2019. Pengaruh Atmosfer Toko, Promosi, Lokasi, dan Pelayanan terhadap Keputusan Pembelian di Jm Sukarami Palembang, Jurnal, STIE Multi Data Palembang, Palembang. Hal: 1-17.

Permana, A. A., dan Arifin, Z. 2018. Pengaruh Merek dan Kebijakan Harga Terhadap Keputusan Pembelian (Survei pada Pembeli dengan Diskon di Izzul Sport Kota Kediri Jawa Timur). Jurnal Administrasi Bisnis, 57(1), Universitas Brawijaya, Malang. 145-150.

Peter, J. Paul dan Jerry C. Olson. 2014. Perilaku Konsumen dan Strategi Pemasaran, Edisi 9 Buku 2, Penerjemah: Diah Tantri Dwiandani. Jakarta: Salemba Empat.

Priansa, Donni Junni. 2017. Komunikasi Pemasaran Terpadu. Bandung: Pustaka Setia.

Putra, N. I., Pangestuti, E., & Devita, L. D. R. 2018. Pengaruh Diskon dan Pemberian Hadiah terhadap Pembelian Impulsif pada Fashion Retail (Survei Online pada Konsumen Matahari Department Store di Malang Town Square). Jurnal Administrasi Bisnis, 61(4), Universitas Brawijaya, Malang. Hal: 1-9.

Rusydi, Mhd. 2017. Customer Excellence. Yogyakarta: Gosyen Publishing.

Setyo Purnomo Edwin, 2017, Pengaruh Kualitas Produk dan Harga Terhadap Kepuasan Konsumen Best
Autowork, Jurnal Manjemen dan Start-Up Bisnis, Vol. 1, No. 6, hal 755-764

Sopiah dan Etta Mamang Sangadji. 2016. Salesmanship (Kepenjualan). Jakarta: PT. Bumi Aksara.

Sugiyono. 2018. Metode Penelitian: Kuantitatif, Kualitatif, dan R&D. Bandung: Alfabeta

Suhartanto, Dwi; dkk. 2017. Ritel Pengelolaan dan Pemasaran. Bandung:Alfabeta

Tjiptono, Fandy. 2015. Strategi Pemasaran, Edisi Keempat. Yogyakarta: Andi Offset.

Tjiptono, Fandy. 2014, Pemasaran Jasa, Prinsip, Penerapan, Penelitian, Yogyakarta: Andi Offset.

Utami, Christina Whidya. 2017. Manajemen Ritel: Strategi dan Implementasi Operasional Bisnis Ritel Modern di Indonesia, Edisi 3. Jakarta: Salemba Empat.

Utami, O. R., & Rastini, N. M. 2015. Pengaruh variabel demografi, kualitas layanan, atmosfer toko pada Impulse Buying di Hypermart Mal. E-Jurnal Manajemen, 4(5) Universitas Udayana, Bali. Hal: 1229-1237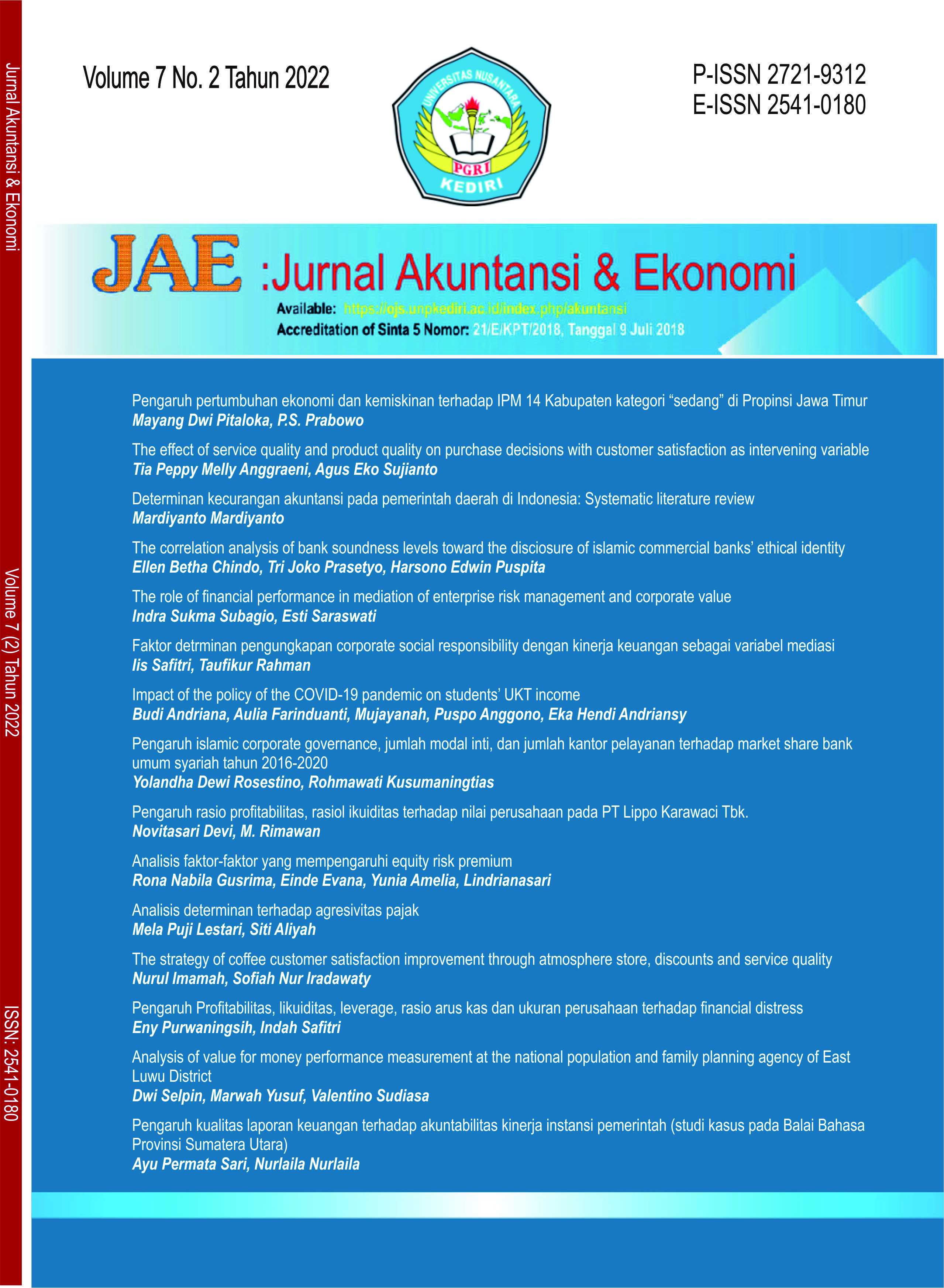 How to Cite
Imamah, N., & Nur Iradawaty, S. (2022). THE STRATEGY OF COFFEE CUSTOMER SATISFACTION IMPROVMENT THROUGH ATMOSPHERE STORE, DISCOUNTS AND SERVICE QUALITY. JAE (JURNAL AKUNTANSI DAN EKONOMI), 7(2), 137-146. https://doi.org/10.29407/jae.v7i2.18151
Section
Volume 7 No 2 Tahun 2022
Copyright (c) 2022 nurul imamah
This work is licensed under a Creative Commons Attribution-ShareAlike 4.0 International License.
Authors who publish with this journal agree to the following terms:
Copyright on any article is retained by the author(s).
The author grants the journal, right of first publication with the work simultaneously licensed under a Creative Commons Attribution License that allows others to share the work with an acknowledgment of the work's authorship and initial publication in this journal.
Authors are able to enter into separate, additional contractual arrangements for the non-exclusive distribution of the journal's published version of the work (e.g., post it to an institutional repository or publish it in a book), with an acknowledgment of its initial publication in this journal.
Authors are permitted and encouraged to post their work online (e.g., in institutional repositories or on their website) prior to and during the submission process, as it can lead to productive exchanges, as well as earlier and greater citation of published work.
The article and any associated published material is distributed under the Creative Commons Attribution-ShareAlike 4.0 International License