Pemberdayaan Advertensi Digital Produk UMKM Berbasis Media Sosial Di Kelurahan Bahagia, Babelan, Bekasi
Reni Nur Eriyani

Universitas Negeri Jakarta

Fathiaty Murtadho

Universitas Negeri Jakarta

Miftahulkhairah Anwar

Universitas Negeri Jakarta

Sintowati Rini Utami

Universitas Negeri Jakarta

Muhammad Saddam Haikal

Universitas Negeri Jakarta

Nurieyya Fieka Azmuna

Universitas Negeri Jakarta

Deafitri Puspa Ayu

Universitas Negeri Jakarta
Abstract views:
81
,
PDF (Bahasa Indonesia) downloads:
0
Keywords:
Digital advertising, UMKM, Social media
Abstract
Internet has considerable potential as a medium of marketing and commerce, particularly in the field of advertising. Unfortunately, advertising through internet, especially social media in Indonesia has not been optimized. Therefore, UMKM activists need training on the role of digital advertising through social media. The aim of this social responsibility is to provide training on digital advertisement through social media. The output of this activity is to introduce and utilize social media as a medium to develop, expand, and optimize digital advertising that will contribute to increasing UMKM trade.
Downloads
Download data is not yet available.
References
Danuri, M. (2019). Development and Transformation of Digital Technology. Infokam, XV(II), 116– 123. https://doi.org/10.53845/infokam.v15i2.178
Martaon, A. T. (2018). UMKM Harus Menguasai Digital Marketing. Medcom.Id. https://www.medcom.id/ekonomi/mikro/JKREjm3k-umkm-harus-menguasai-digital-marketing
Mujiyana, M., Sularto, L., & Mukhyi, M. A. (2012). Pengaruh Penerapan Perikanan di Internet dan Pemasaran Melalui E-MAIL Produk UMKM di Wilayah Depok. Jurnal Teknik Industri, 7 no 3, 161–168. https://doi.org/10.12777/jati.7.3.161-168
Pangarso, A., Fajar Firdaus, F., & K. Moeliono, N. (2016). O L U O Mo R. Pengaruh Fasilitas Kerja Terhadap Kepuaasan Kerja Karyawan Divisi Sumber Daya Manusia Dan Diklat PT. Dirgantara Indonesia, 12, 50–62. https://doi.org/10.26593/jab.v12i1.2347.%25p
SMcom3, T. (2021, September). Ini Alasan Manusia Terlalu Bergantung pada Teknologi. Suaramerdeka. https://www.suaramerdeka.com/teknologi/pr-041206378/ini-alasan-manusia- terlalu-bergantung-pada-teknologi
Subian & Ferdian. (2011). Peranan Internet Dalam Bisnis. Amik Jtc, 7(1), 7–15. https://doi.org/10.53845/infokam.v7i1.38
Tasruddin, R. (2015). Strategi Promosi Periklanan Yang Efektif. Jurnal Al-Khitabah, II(1), 107–116. https://journal.uin-alauddin.ac.id/index.php/Al-Khitabah/article/view/2623
Yuliana, O. (2000). Penggunaan Teknologi Internet Dalam Bisnis. Jurnal Akuntansi Dan Keuangan, 2(1), 36–52. http://puslit2.petra.ac.id/ejournal/index.php/aku/article/view/15666. https://doi.org/10.9744/jak.2.1.pp.%2036-52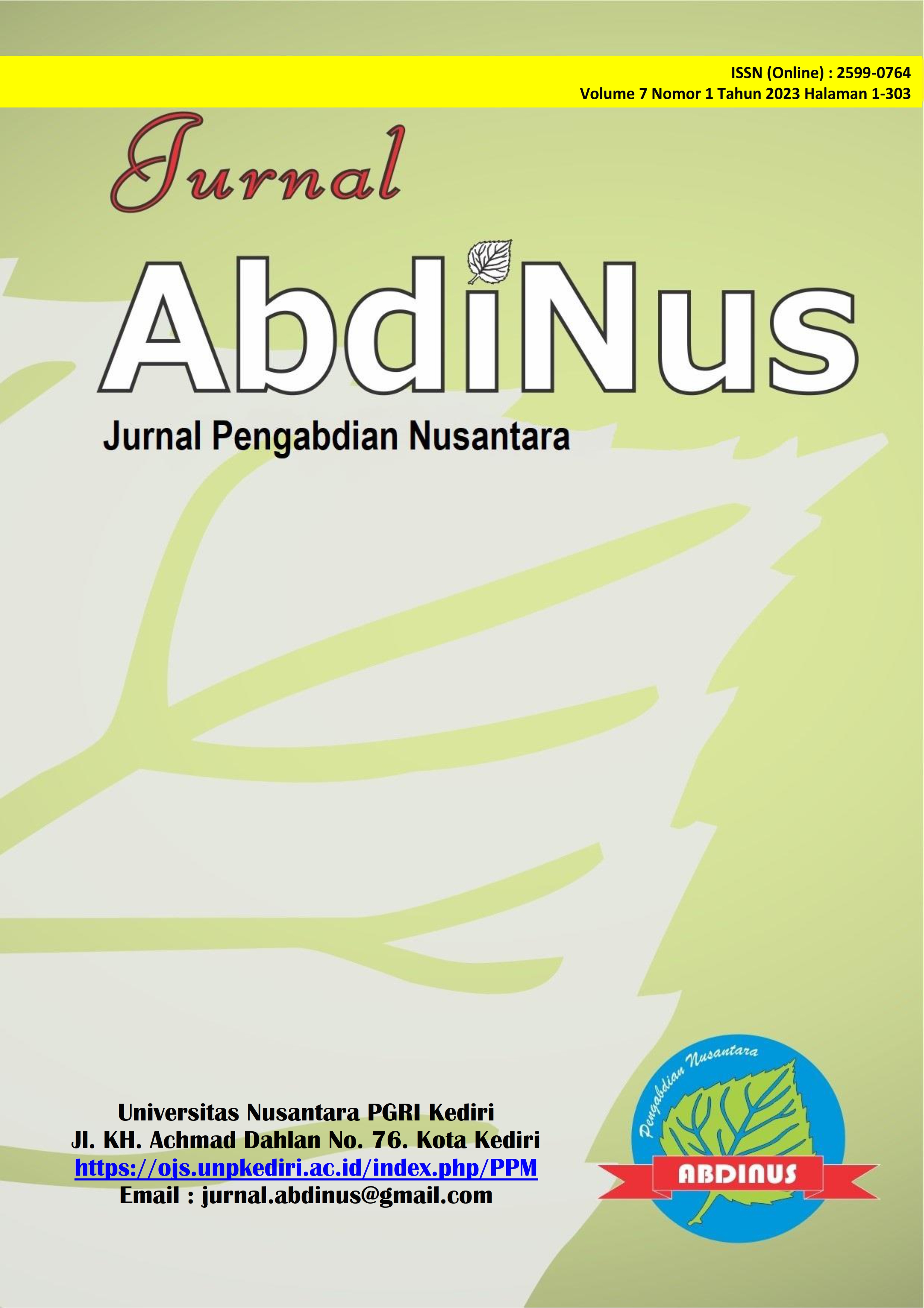 How to Cite
Eriyani, R. N., Murtadho, F., Anwar, M., Utami, S. R., Haikal, M. S., Azmuna, N. F., & Ayu, D. P. (2023). Pemberdayaan Advertensi Digital Produk UMKM Berbasis Media Sosial Di Kelurahan Bahagia, Babelan, Bekasi. Jurnal ABDINUS : Jurnal Pengabdian Nusantara, 7(1), 271-280. https://doi.org/10.29407/ja.v7i1.18435
Copyright (c) 2023 Jurnal ABDINUS : Jurnal Pengabdian Nusantara
This work is licensed under a Creative Commons Attribution 4.0 International License.