Pentingnya Perencanaan Keuangan Yang Cerdas dan Efektif Di Era Pandemi Covid 19
Agoestina Mappadang

Universitas Budi Luhur

Melan Sinaga

Universitas Budi Luhur
Abstract views:
533
,
PDF (Bahasa Indonesia) downloads:
0
Keywords:
Cashflow, Customer, Covid 19 pandemic, Financial management
Abstract
Income received on a fixed or variable basis and expenses incurred must be managed properly and effectively. The principle of good financial management is if the expenditure of funds does not exceed the receipt of funds. Sources of funding received can come from debt or from income or business or investment. How plan finances in the current Covid-19 pandemic era are important, this is because the current pandemic period makes many people experience financial difficulties due to declining sources of income. Recording receipts and expenses or making a budget is a wise action in the midst of this difficult covid pandemic situation. Making a budget will be able to control which items must be prioritized and which must be considered. This problem should be felt by the customers of Auto 2000 BSD City, PT. Astra International, Tbk is the place where community service activities are carried out. Customers or customers do not understand how and how to manage finances well and do not understand the importance of making good financial planning. As a result of this ignorance, it results in ineffective finances and a deficit so that there are needs that cannot be met. The method used in the implementation of this service is to provide counseling in the form of presentations and assistance with budgeting. The results of this socialization activity are the customers of PT. Astra International Tbk is able to understand good financial management and is able to make personal financial planning.
Downloads
Download data is not yet available.
References
Amanita, N. Y. (2017). PENTINGNYA LITERASI KEUANGAN BAGI PENGELOLAAN KEUANGAN PRIBADI. Jurnal Nominal, VI(1), 11–26.
Chen, H., & Volpe, R. (2016). An Analysis of Personal Financial Literacy Among College Students. Zhongguo Jiguang/Chinese Journal of Lasers, 43(8), 107–128. https://doi.org/https://doi.org/10.3788/CJL201643.0811001
Delyana, R. P. (2017). LITERASI KEUANGAN DAN DAMPAKNYA TERHADAP PERILAKU KEUANGAN MASYARAKAT KOTA MEDAN. Jurnal Ilmu Ekonomi Dan Studi Pembangunan.
Fahri, Jalil, A., & K. (2020). Meningkatnya Angka Pengangguran Ditengah Pandemi (COVID-19). Jurnal Ekonomi Syariah, 2(2), 45–60.
John, A. (2016). Pengelolaan Keuangan yang Efektif dan Efisien dalam Meningkatkan Kekuatan Ekonomi bagi Masyarakat Papua dan Papua Barat di Indonesia. JAM: Jurnal Aplikasi Manajemen, 14(4). https://doi.org/http://dx.doi.org/10.18202/jam23026332.14.4.13
Machfuzho. (2020). [PDF] umm.ac.id PENDAMPINGAN PENGELOLAAN KEUANGAN BAGI MASYARAKAT DESA WISATA KAMPUNG BAMBU DESA BANYURESMI PANDEGLANG. Jurnal Pengabdian Dan Peningkatan Mutu Masyarakat, 1(1), 88–94. https://doi.org/DOI: https://doi.org/10.22219/janayu.v1i1.11187
Marocco, J. (2020). Create a Personal Cash Flow Management System That Works For You. Thingking Big Financial.
OECD. (2020). SME Policy Responses. In OECD 2020 (Issue March).
Otoritas Jasa Keuangan. (2017). Strategi Nasional Literasi Keuangan Indonesia (Revisit 2017). In Otoritas Jasa Keuangan.
Putri, N. A., & Diyan. (2019). [PDF] imperiuminstitute.org Pengaruh gaya hidup dan literasi keuangan terhadap pengelolaan keuangan tenaga kerja muda di Jakarta. AKURASI: Jurnal Riset Akuntansi Dan Keuangan, 1(1). https://doi.org/DOI: https://doi.org/10.36407/akurasi.v1i1.61
PwC. (2020). Pandemi Mengubah Perilaku Konsumen. Survei PwC.
Saraswati, A. M., & Arif Widodo. (2021). Perencanaan Keuangan dan Pengelolaan Keuangan Generasi Z di Masa Pandemi Covid 19 melalui Penguatan Literasi Keuangan. Jurnal Warta LPM, 24(2), 309–318.
Sukirman, Retnoningrum, H., & Dhini. (2019). Pengelolaan Keuangan Keluarga dalam Rangka Peningkatan Masyarakat Mandiri dan Berperan dalam Peningkatan Literasi Keuangan Indonesia (Otoritas Jasa Keuangan). Jurnal Abdimas, 23(2), 165–169. https://doi.org/http://dx.doi.org/10.15294/abdimas.v23i2.17951
Van Rooij, M. C. J., Lusardi, A., & Alessie, R. J. (2011). Financial literacy and retirement planning in the Netherlands. Journal of Economic Psychology, 32(4), 593–608. https://doi.org/https://doi.org/10.1016/jjoep.2011.02.004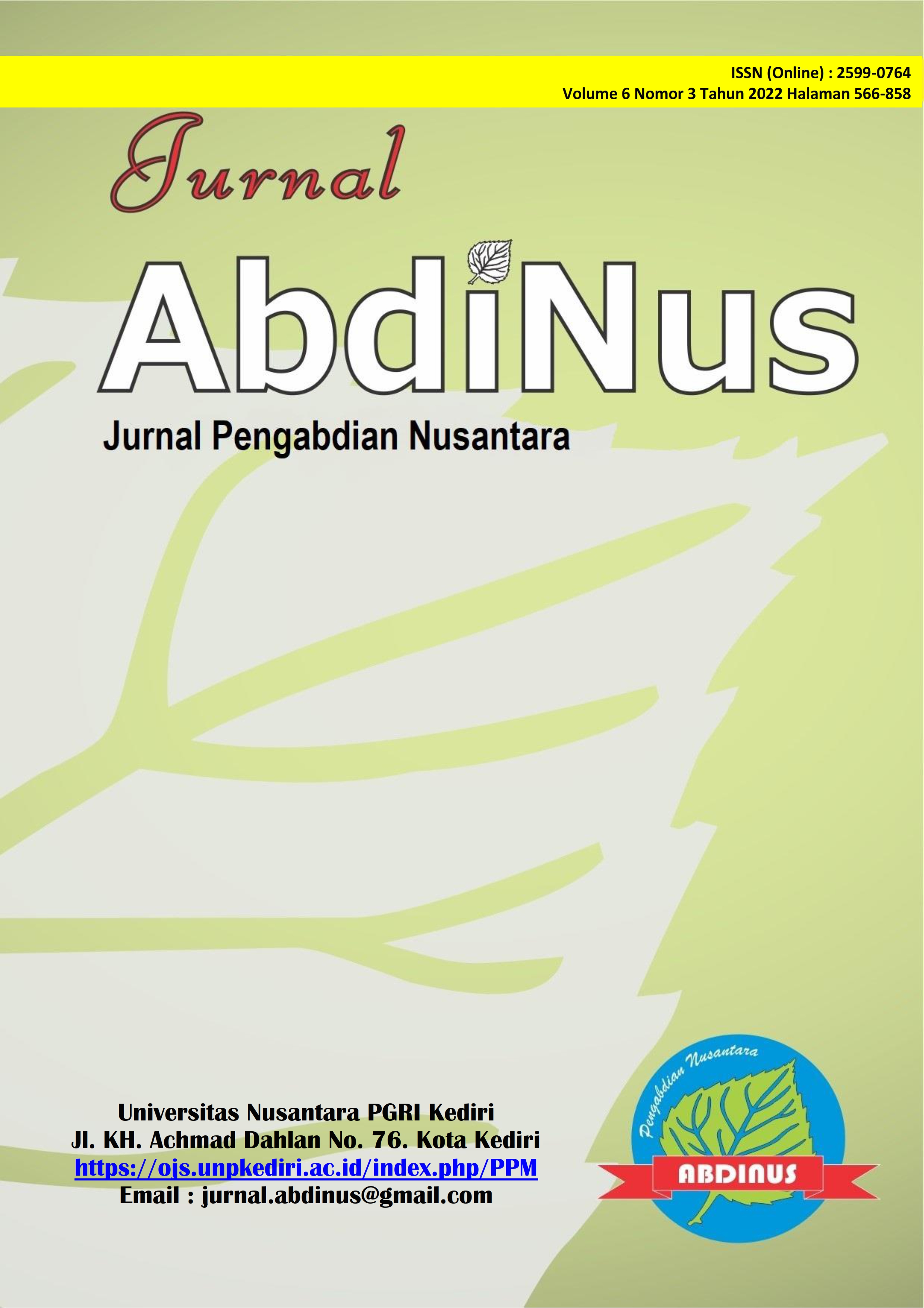 How to Cite
Mappadang, A., & Sinaga, M. (2022). Pentingnya Perencanaan Keuangan Yang Cerdas dan Efektif Di Era Pandemi Covid 19 . Jurnal ABDINUS : Jurnal Pengabdian Nusantara, 6(3), 665-675. https://doi.org/10.29407/ja.v6i3.17728
Copyright (c) 2022 Jurnal ABDINUS : Jurnal Pengabdian Nusantara
This work is licensed under a Creative Commons Attribution 4.0 International License.