Pelatihan Cara Penanaman TOGA untuk Meningkatkan Kemampuan dan Keterampilan Warga Desa Ngenep
Siti Mas'ula

Universitas Negeri Malang

Erif Ahdhianto

Universitas Negeri Malang

M. Anas Thohir

Universitas Negeri Malang

Nevy Iruntyasari

Universitas Negeri Malang
Abstract views:
54
,
PDF (Bahasa Indonesia) downloads:
0
Keywords:
Community Empowerment, TOGA Planting, Citizen Skills
Abstract
Ngenep Village is one of the villages in Karangploso District, Malang Regency which has abundant potential in the fields of plantations and agriculture. Most of the land in this village area is classified as fertile. Seeing this potential, we as implementers of the Malang State University Community Service Activities try to help develop the potential of Ngenep Village through community empowerment activities in the form of training on how to plant Family Medicinal Plants (TOGA). The service activity aims to improve the abilities and skills of the villagers of Ngenep in managing the TOGA garden. The method used in this activity is the method of lecture, demonstration, discussion and question and answer. The implementation of this activity begins with the lecture method, namely the delivery of TOGA material, then participants and presenters conduct discussions and ask questions about the material. After that, it was continued with demonstration activities on how to plant TOGA which was carried out on plantation land. After the implementation of this activity, it is hoped that the residents of Ngenep Village can gain a lot of knowledge about TOGA, so that they can develop a TOGA garden using appropriate management methods.
Downloads
Download data is not yet available.
References
Aslamiah, S., Afitah, I., & Mariaty, M. (2017). Peningkatan Kesehatan Masyarakat melalui Pemberdayaan Wanita dalam Pemanfaatan Lahan Pekarangan dengan Tanaman Obat Keluarga (TOGA). PengabdianMu: Jurnal Ilmiah Pengabdian Kepada Masyarakat, 2(2), 111–117. https://doi.org/10.33084/pengabdianmu.v2i2.63
Atmojo, M., & Darumurti, A. (2021). Pemberdayaan Masyarakat Melalui Tanaman Obat Keluarga (TOGA). Jurnal Abdimas BSI: Jurnal Pengabdian Kepada Masyarakat, 4(1), 100–109. https://doi.org/10.31294/jabdimas.v4i1.8660
Choironi, N. A., Wulandari, M., & Susilowati, S. S. (2019). Pengaruh edukasi terhadap pemanfaatan dan peningkatan produktivitas tanaman obat keluarga (TOGA) sebagai minuman herbal instan di Desa Ketenger Baturraden. Kartika : Jurnal Ilmiah Farmasi, 6(1), 1. https://doi.org/10.26874/kjif.v6i1.115
Febriansah, R. (2017). Pemberdayaan Kelompok Tanaman Obat Keluarga Menuju Keluarga Sehat Di Desa Sumberadi, Mlati, Sleman. BERDIKARI : Jurnal Inovasi Dan Penerapan Ipteks, 5(2), 80–90. https://doi.org/10.18196/bdr.5221
Lidar, S., & Lestari, S. U. (2020). Pembudidayaan Tanaman Obat Keluarga ( Toga ) Pada Kelompok Wanita Tani ( KWT ) Seroja Kelurahan Rumbai Bukit Kecamatan Rumbai Barat Kota Pekanbaru. PROSIDING SEMINAR NASIONAL PENGABDIAN KEPADA MASYARAKAT, 3. http://journal.unilak.ac.id/index.php/SNPKM/article/view/8044/3358
Pamungkas, S. J., Alamsyah, M. R. N., Nikhayatul, A., & Hanik, D. S. U. (2021). SOSIALISASI PENGGUNAAN TANAMAN OBAT KELUARGA (TOGA) UNTUK MEWUJUDKAN MASYARAKAT SEHAT DI KELURAHAN WATES. ABDIPRAJA (Jurnal Pengabdian Kepada Masyarakat), 2(1). https://jurnal.untidar.ac.id/index.php/abdipraja/article/view/3225
Pradikta, H. Y., Sopiyah, S., & Dayani, T. R. (2021). Pemberdayaan Masyarakat dalam Pemanfaatan dan Pembuatan Kebun Tanaman Obat Keluarga pada Komunitas Ibu PKK di Pekon Banjar Agung Udik, Kecamatan Pugung, Kabupaten Tanggamus. Wisanggeni : Jurnal Pengabdian Masyarakat, 1(2). https://doi.org/https://doi.org/10.25217/wisanggeni.v1i1.1335
Riastuti, R. D., Isbandiyah, & Sustianingsih, I. M. (2021). Pelatihan Pemanfaatan Rempah Toga Sebagai Upaya Meningkatkan Sistem Kekebalan Tubuh di Masa Pandemi Covid-19. Bakti Nusantara Linggau: Jurnal Pengabdian Kepada Masyarakat, 1(2), 41–46. https://jurnal.lp3mkil.or.id/index.php/bnl/article/view/78/47
Sari, R. E., A, F. A. S., & Martin, A. R. (2021). MANFAAT BERKEBUN TANAMAN OBAT KELUARGA ( TOGA ) UNTUK KESEHATAN MENTAL & JIWA DI MASA PANDEMI COVID-19. PROSIDING SEMINAR NASIONAL HASIL PENGABDIAN KEPADA MASYARAKAT, 1(1). https://jurnal.ustjogja.ac.id/index.php/ppm-ust/article/view/11275/4472
Soleh, A. (2017). Strategi Pengembangan Potensi Desa. Jurnal Sungkai, 5(1), 35–52. https://doi.org/https://doi.org/10.30606/js.v5i1.1181
Wulandari, N., Viviandhari, D., & Prastiwi, R. (2021). Pelatihan Penanaman Tanaman Obat Keluarga ( TOGA ) di Aisyiyah Cabang Duren Sawit 1 dan TK Aisyiyah 71 Jakarta Timur. Jurnal SOLMA, 10(1s), 146–153. https://doi.org/10.22236/solma.v10i1s.6847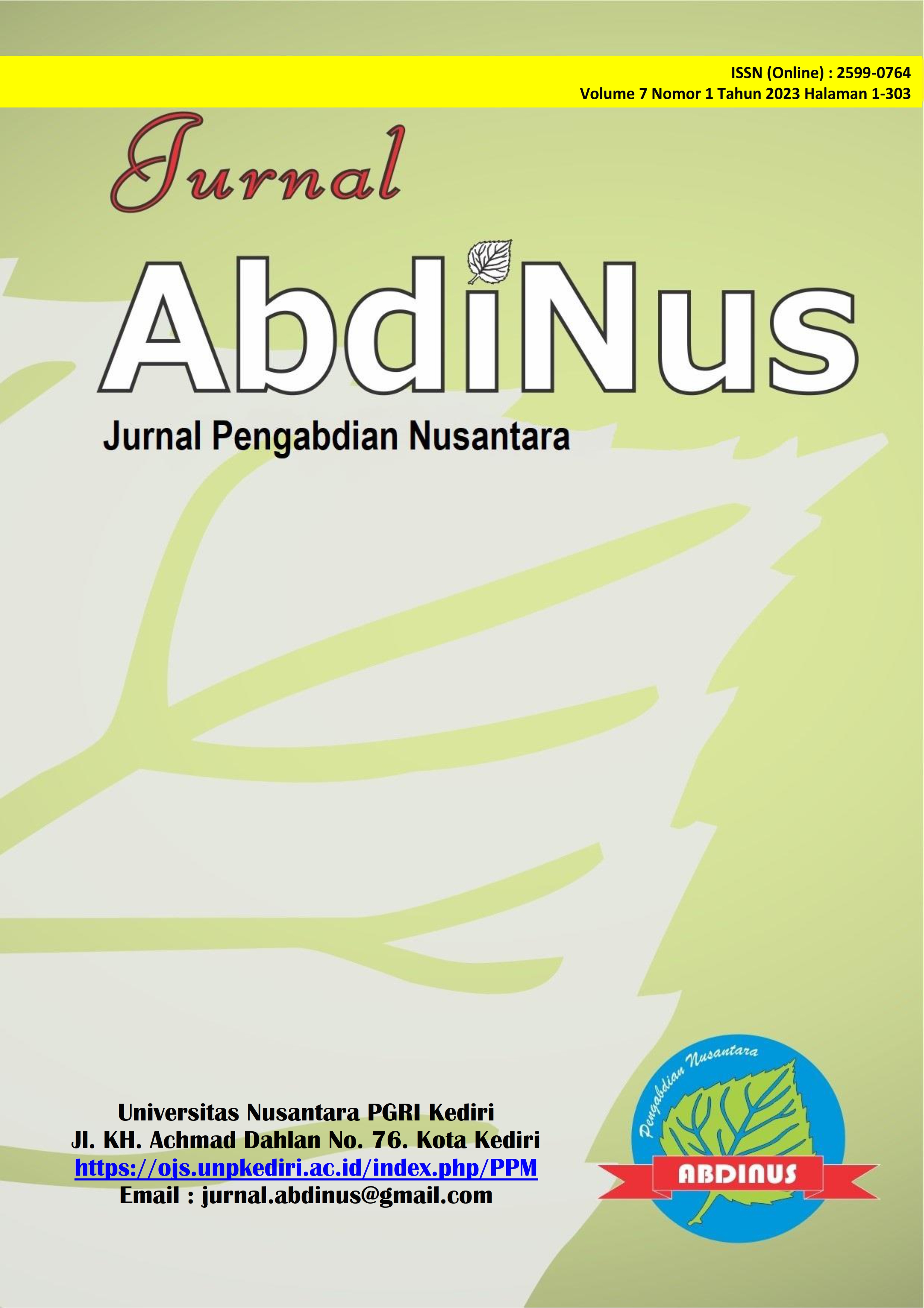 How to Cite
Mas'ula, S., Ahdhianto, E., Thohir, M. A., & Iruntyasari, N. (2023). Pelatihan Cara Penanaman TOGA untuk Meningkatkan Kemampuan dan Keterampilan Warga Desa Ngenep. Jurnal ABDINUS : Jurnal Pengabdian Nusantara, 7(1), 260-270. https://doi.org/10.29407/ja.v7i1.17699
Copyright (c) 2023 Jurnal ABDINUS : Jurnal Pengabdian Nusantara
This work is licensed under a Creative Commons Attribution 4.0 International License.