Penyuluhan dan Pendampingan Ibu Hamil dan Ibu Postpartum untuk Keberlangsungan Menyusui dengan Program WeChat
Regina Vidya Trias Novita

Sekolah Tinggi Ilmu Kesehatan Sint Carolus

Yunita Dwi Isnawati

Sekolah Tinggi Ilmu Kesehatan Sint Carolus

Nursanty Wardoyo Marni

Sekolah Tinggi Ilmu Kesehatan Sint Carolus

Eva Milla Dessy

Sekolah Tinggi Ilmu Kesehatan Sint Carolus

Winwin Wiliastari

Sekolah Tinggi Ilmu Kesehatan Sint Carolus

Sunarti Sunarti

Sekolah Tinggi Ilmu Kesehatan Sint Carolus

Leonal Yudha Permana

Sekolah Tinggi Ilmu Kesehatan Sint Carolus
Abstract views:
124
,
PDF (Bahasa Indonesia) downloads:
0
Keywords:
WeChat Program, Self-efficacy, Knowledge breastfeeding
Abstract
The actually, many mothers experience difficulties and face several problems during the breastfeeding process after discharge. Mothers when control at hospital asked their problems. The aim are to help mothers to solved their problems after discharge with We Chat through giving information about breastfeeding, which is a means of providing nutrition for newborns. And companion mother four weeks. One way to help the problems of mothers in the breastfeeding process is to provide knowledge related to breastfeeding both for pregnant women at the end of their pregnancy with gestational age above 35 weeks and post-natal mothers as preparation and assistance in breastfeeding which is facilitated by health workers. The output target of this activity is to increase the knowledge and behavior of breastfeeding directly and confidently. The results of the PKM are attended by 60 participants, who were willing to assist 28 pregnant and lactating women. There are 12 pregnant women and the rest are breastfeeding. The level of knowledge of respondents is only 30% who know the signs of a baby being satisfied with breastfeeding, taking turns breastfeeding, and the importance of breastfeeding at night. After being given knowledge and assistance, respondents experienced an increase of almost 70%. The average participant has low self-confidence at the beginning, after mentoring it can reach almost 90%. The failure factor occurs because they have used a pacifier to provide nutrition, so direct breastfeeding takes a long time. This WeChat program is carried out for one month in the Tangerang and Cibubur areas. Breastfeeding support through the WeChat program uses whatsup media for tele counseling, namely one by one in the breastfeeding process from the beginning to practicing independently with confidence in breastfeeding.
Downloads
Download data is not yet available.
References
Afzal Aghaee, M., Mosa Farkhani, E., Bahrami Taghanaki, H., Mohajeri, N., Tavakoli, F., & Barid Kazemi, S. (2020). The Factors Affecting Exclusive Breastfeeding in 6 Month-Old Infants: A Population-Based Case-Control Study. Journal of Comprehensive Pediatrics, 11(1).
Awaliyah, S. N., Rachmawati, I. N., & Rahmah, H. (2019). Breastfeeding self-efficacy as a dominant factor affecting maternal breastfeeding satisfaction. BMC nursing, 18(1), 1-7.
Caston, R. (2021). Decreasing Maternal Breastfeeding Dissatisfaction During the Night Shift Related to Lactation Support.
De Roza, J. G., Fong, M. K., Ang, B. L., Sadon, R. B., Koh, E. Y. L., & Teo, S. S. H. (2019). Exclusive breastfeeding, breastfeeding self-efficacy and perception of milk supply among mothers in Singapore: A longitudinal study. Midwifery, 79, 102532.
Kandice, K., Virginia, K., Debra, B., Ristin, Demirci, Mary, A. R., & Lori, U.-P. (2019). ). The use of and experiences with telelactation among rural breastfeeding mothers: Secondary analysis of a randomized controlled trial. Journal of Medical Internet Research, 21(9).
Lau, Y., Htun, P., Lim, P. I., Ho-Lim, S., & Klainin-Yobas, P. (2015). Maternal, infant characteristics, breastfeeding techniques, and initiation: Structural equation modeling approaches. PLoS ONE, 10(11), 1–17. https://doi.org/10.1371/journal.pone.0142861
Lubbe, W., Botha, E., Niela-Vilen, H., & Reimers, P. (2020). Breastfeeding during the COVID-19 pandemic - a literature review for clinical practice. International Breastfeeding Journal, 15(1), 1–9. https://doi.org/10.1186/s13006-020-00319-3
Nickel, N., & Cassar-Uhl, D. (2020, October). Breastfeeding Virtual Oral Session-Latest Topics in Breastfeeding and Lactation. In APHA's 2020 VIRTUAL Annual Meeting and Expo (Oct. 24-28). American Public Health Association.
Novita, R. V. T., Dewi, N. N. S. A., & Samosir, M. T. (2021). Pendidikan Kesehatan dan Pendampingan Tentang Kekerasan Pada Perempuan dan Anak Menggunakan Daring di Rusun Cinta Kasih Kelurahan Cengkareng Timur. Jurnal ABDINUS: Jurnal Pengabdian Nusantara, 5(1), 105-115.
Patole, K., Agarwal, A., & Maurya, A. (2021). Factors Affecting Breastfeeding in Early Postnatal Period in Tertiary Care Centre. MVP Journal of Medical Sciences, 7(2), 201-208.
Piro, S. S., & Ahmed, H. M. (2020). Impacts of antenatal nursing interventions on mothers' breastfeeding self-efficacy: an experimental study. BMC pregnancy and childbirth, 20(1), 1-12.
Tseng, J. F., Chen, S. R., Au, H. K., Chipojola, R., Lee, G. T., Lee, P. H., ... & Kuo, S. Y. (2020). Effectiveness of an integrated breastfeeding education program to improve self-efficacy and exclusive breastfeeding rate: A single-blind, randomised controlled study. International Journal of Nursing Studies, 111, 103770.
WHO & UNICEF. (2019). Global Breastfeeding Scorecard, 2018. Enabling Women To Breastfeed Through Better Policies And Programmes. WHO/Unicef, 3, 3. http://www.who.int/nutrition/publications/infantfeeding/global-bf-scorecard-2018/en/%0Ahttps://www.who.int/nutrition/publications/infantfeeding/global-bf-scorecard-2018.pdf?ua=1
Wu, Q., Huang, Y., Liao, Z., van Velthoven, M. H., Wang, W., & Zhang, Y. (2020). Effectiveness of WeChat for Improving Exclusive Breastfeeding in Huzhu County China: Randomized Controlled Trial. Journal of medical Internet research, 22(12), e23273.
Yu, X. R., Xie, W. P., Liu, J. F., Dai, W. S., Cao, H., & Chen, Q. (2021). Effect of WeChat follow‐up education on breastfeeding efficiency of infants after congenital cardiac surgery and parents' satisfaction: A short‐term follow‐up study. Journal of Paediatrics and Child Health.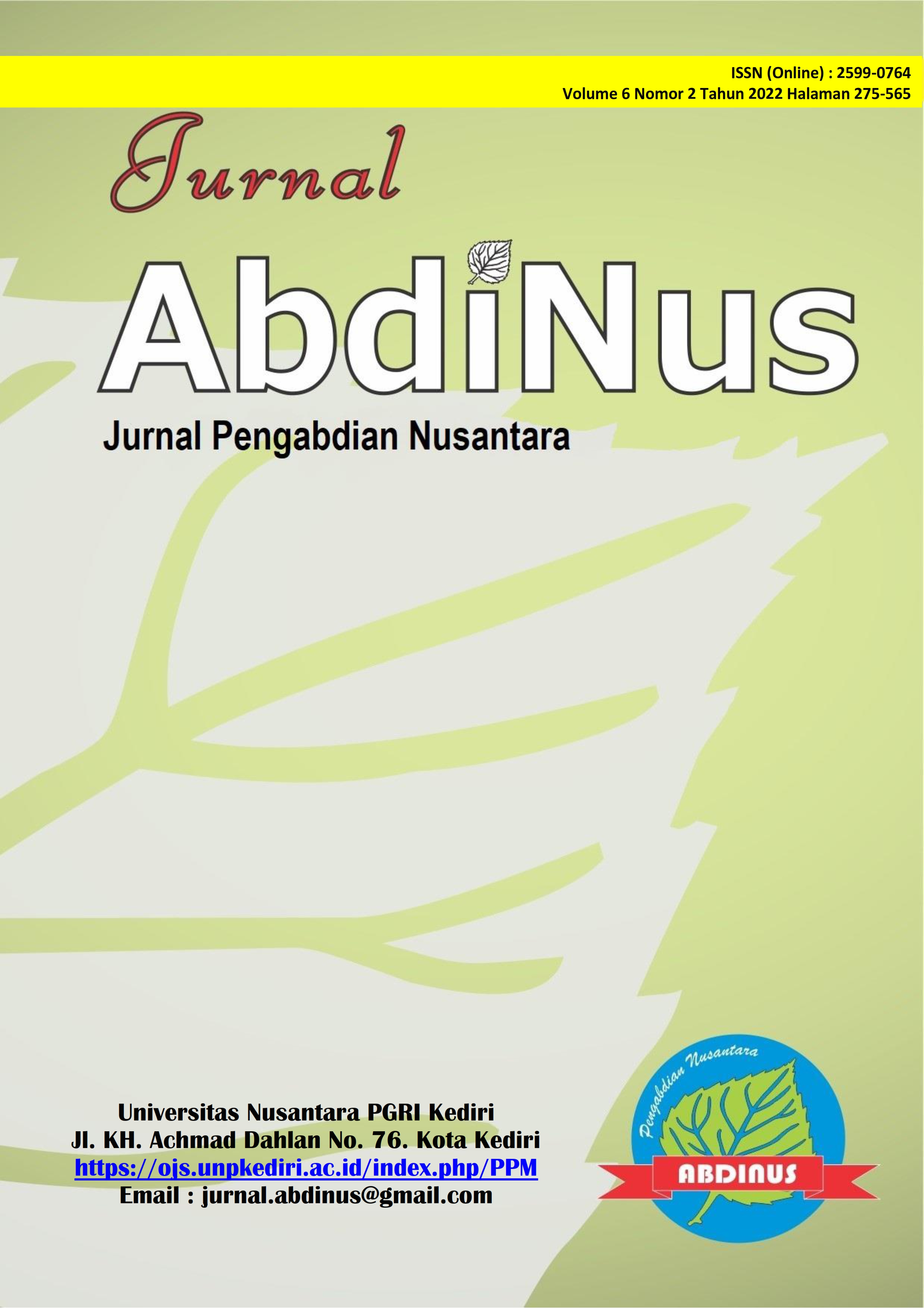 How to Cite
Novita, R. V. T., Isnawati, Y. D., Marni, N. W., Dessy, E. M., Wiliastari, W., Sunarti, S., & Permana, L. Y. (2022). Penyuluhan dan Pendampingan Ibu Hamil dan Ibu Postpartum untuk Keberlangsungan Menyusui dengan Program WeChat. Jurnal ABDINUS : Jurnal Pengabdian Nusantara, 6(2), 497-509. https://doi.org/10.29407/ja.v6i2.17597
Copyright (c) 2022 Jurnal ABDINUS : Jurnal Pengabdian Nusantara
This work is licensed under a Creative Commons Attribution 4.0 International License.