Pendampingan Pembuatan Video Profil untuk Konten Digital Marketing di Sekolah Islam Al Jannah
Soetam Rizky Wicaksono

Universitas Ma Chung

Didit Prasetyo Nugroho

Universitas Ma Chung

Rudy Setiawan

Universitas Ma Chung
Abstract views:
207
,
PDF (Bahasa Indonesia) downloads:
0
Keywords:
Video profile, Digital Marketing, Sekolah Islam Al Jannah
Abstract
The application of digital marketing requires planning in displaying the advantages possessed by the product, like a school with many features and facilities that can not only be displayed in one image. So, they need video media that can display what is owned by the school. This also applies to Al Jannah Islamic School, which is located in Pakis District, Malang Regency. Based on the results of observations, surveys, and brainstorming, the school agreed and supported the service team's activities to carry out the process of making school profile videos for the benefit of digital marketing. This community service activity aims to produce a video profile that can show the competitive advantage so that it can be displayed in various digital marketing channels. The steps taken consisted of: (1) observation and survey, (2) the process of shooting and finishing the video, and (3) brainstorming for publication. While the outputs produced are (1) digital marketing material content in the form of video profiles, (2) changes in the mindset of school managers in determining CA, (3) assistance in publications on various media channels, and (4) assistance for awareness in digital marketing. The conclusions of this activity are: (1) the results and outcomes are by the situation analysis, (2) the targets set at the beginning have been completed efficiently, and (3) the assistance provided by the team can help school managers. 
Downloads
Download data is not yet available.
References
Alipour, M., Aghamohammadi, A., Ahmadi, R., & Hoseini, S. H. (2012). A new educational marketing mix: The 6ps for private school marketing in Iran. Research Journal of Applied Sciences, Engineering and Technology, 4(21), 4314–4319.
Gunelius, S. (2011). 30-Minutes SOCIAL MEDIA Marketing.
Liu, X., Shi, S., Teixeira, T., & Wedel, M. (2018). VIDEO CONTENT MARKETING: THE MAKING OF CLIPS. Journal of Marketing, 1–6.
Luo, L., Wang, Y., & Han, L. (2013). Marketing via social media: A case study. Library Hi Tech, 31(3), 455–466. https://doi.org/10.1108/LHT-12-2012-0141
Oplatka, I., & Hemsley-Brown, J. (2012). The research on school marketing: Current issues and future directions - An updated version. Advances in Educational Administration, 15, 3–35. https://doi.org/10.1108/S1479-3660(2012)0000015003
Rune, L., & Vinberg, H. (2009). Content is King Communication Effects of Viral Video Marketing. Stockholm School of Economics.
Sholawati, L. D., Kumaeroh, N. A., & Syalima, I. (2020). UPAYA MENINGKATKAN NILAI EKONOMI PELAKU UMKM MELALUI DIGITAL MARKETING DI TENGAH PANDEMI COVID-19 DUSUN KARANGANYAR Latah Diana Sholawati1 History Artikel. ABDIPRAJA, 1(1), 8–13.
Wahyufayola, E., Madani, I., Alawi, M. S., Bayu, M., Andono, A., Rozita, A., Putri, A., Laili, S., & Widyantoro, N. (2020). PROGRAM SOSIALISASI STRATEGI PEMASARAN USAHA KECIL DAN MENENGAH "PENTOL KABUL" PADA MASA KRISIS PANDEMI COVID-19. Jurnal Layanan Masyarakat (Journal of Public Services), 4(2), 407. https://doi.org/10.20473/jlm.v4i2.2020.407-414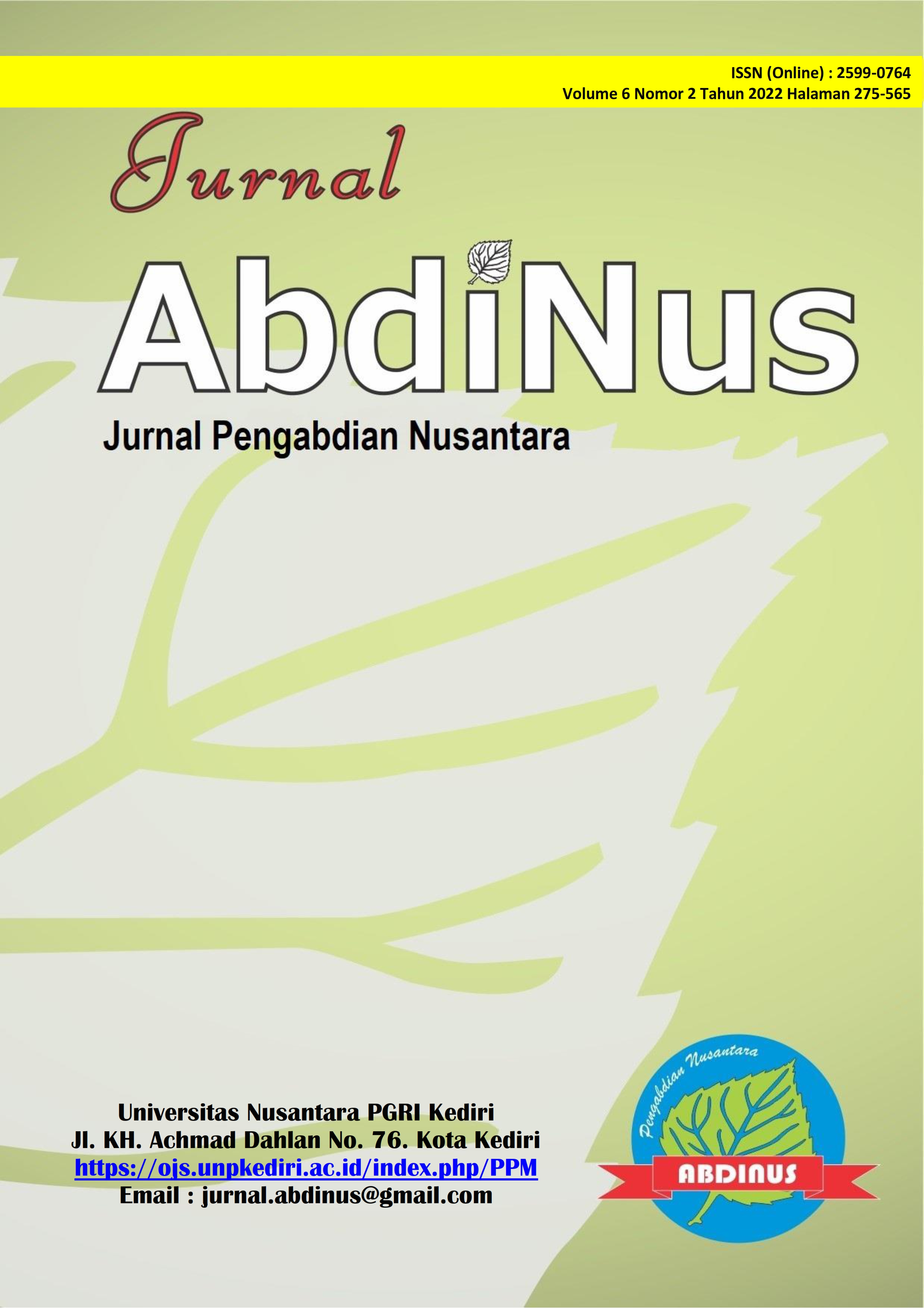 How to Cite
Wicaksono, S. R., Nugroho, D. P., & Setiawan, R. (2022). Pendampingan Pembuatan Video Profil untuk Konten Digital Marketing di Sekolah Islam Al Jannah. Jurnal ABDINUS : Jurnal Pengabdian Nusantara, 6(2), 442-447. https://doi.org/10.29407/ja.v6i2.16503
Copyright (c) 2022 Jurnal ABDINUS : Jurnal Pengabdian Nusantara
This work is licensed under a Creative Commons Attribution 4.0 International License.