Sosialisasi dan Penyuluhan Hukum Pengelolaan Hutan Berbasis Kearifan Lokal Di Kabupaten Aceh Utara
Yulia Yulia

Universitas Malikussaleh

Herinawati Herinawati

Universitas Malikussaleh
Abstract views:
179
,
PDF (Bahasa Indonesia) downloads:
0
Keywords:
Forest pawang, Local wisdom, Legal counseling
Abstract
The forest management based on deep local wisdom has existed in the history of the Aceh community since the reign of Sultan Iskandar Muda. That is by applying the Forest Customary Law through the Forest Pawang Customary Institution. This Customary institution has a very important and strategic role in educating and inviting forest communities to be involved in forest management based on local wisdom. This service activity aims to increase understanding with village apparatus and traditional institutions in forest management based on local wisdom. This service is carried out through socialization and legal counseling in North Aceh District, namely: Sawang, Nisam, Langkahan, Pirak Timu, Paya Bakong and Geuredong Pasee sub-districts, because these districts still have high forest intensity. The results of this activity have provided an understanding for gampong apparatus and customary institutions in forest management and built an intensive communication network between village apparatus, traditional institutions and the district leadership meeting so that they can work together in protecting and conserving the forest. It is recommended to the village apparatus and customary institutions to immediately form the Forest Pawang Customary Institution and Village Qanun regarding forest management.
Downloads
Download data is not yet available.
References
Azrina. (2017). Pelaksanaan Pemberian Izin Usaha Pemanfaatan Hasil Hutan Kayu Pada Hutan Tanaman Industri Di Kabupaten Aceh Utara, JIM Bidanga Hukum Ketata Negaraan Unsyiah, 1(1), 174-184. http://jim.unsyiah.ac.id/kenegaraan/article/view/5924
Chadijah, D. I. (2017). Keberlanjutan Ekologis Hutan dalam Kearifan Lokal Panglima Uteun pada Masyarakat Nagan Raya, Jurnal Analisa Sosiologi, 6(2), 1-17. https://jurnal.uns.ac.id/jas/article/view/18114
Gayo, A. A. (2018). Perlindungan Hukum Hak Atas Tanah Adat (Studi Kasus di Provinsi Aceh khususnya Kabupaten Bener Meriah), Jurnal Penelitian Hukum, De Jure, 18(3), 289 – 304. http://dx.doi.org/10.30641/dejure.2018.V18.289-304
Hermanu, C. R. et al. (2018). Revitalisasi Kearifan Lokal Aceh: Gagasan Islam dan Budaya dalam Menyelesaikan Konflik di Masyarakat, Millati: Journal of Islamic Studies and Humanities, 3, 227-244. http://dx.doi.org/10.18326/mlt.v3i2.227-244
Jalaluddin, I. A. (2017). Peranan Masyarakat Dalam Menjaga Kelestarian Hutan Sebagai Sumber Kehidupan, Jurnal Ekonomi Manajemen dan Akutansi, 3(1), 44-50. http://ojs.serambimekkah.ac.id/index.php/jemsi/article/view/248/0
Kurniawan. (2012). Eksistensi Masyarakat Hukum Adat Dan Lembaga-Lembaga Adat Di Aceh Dalam Penyelenggaraan Keistimewaan Dan Otonomi Khusus Di Aceh, Yustisia, 1(3), 48-66. http://www.jurnal.hukum.uns.ac.id/
Nana, N. (2018). Integritas Kearifan Lokal Budaya Masyarakat Aceh Dalam Tradisi Peusijuk. Deskovi: Art and Design Journal, 1(1), 29-34. https://e-journal.umaha.ac.id/index.php/deskovi/article/view/283
Nurdin. (2019). Provinsi Aceh terdiri dari 23 Kabupaten, http://kebudayaan.kemdikbud.go.id/bpcbaceh/provinsi-aceh-terdiri-dari-23-kabupaten/
Puspita, M. (2017). Kearifan Lokal Dalam Pengelolaan Sumber Daya Pesisir Dan Laut Hukum Adat Laot dan Lembaga Panglima Laot di Nanggroe Aceh Darussalam. Sabda: Jurnal Kajian Kebudayaan, 3(2), 24-40. https://doi.org/10.14710/sabda.3.2.%p
Rahman, K. R. (2016). Kearifan Lokal Masyarakat Lamteuba Droe Kecamatan Seulimeum Kabupaten Aceh Besar Dalam Konservasi Hutan, Variasi, 8(1), 9-14. http://jurnal.umuslim.ac.id/index.php/VRS/article/view/491
Yulia, S. (2020). Peran Lembaga Adat Pawang Hutan dalam Pengelolaan dan Pelestarian Hutan di Kecamatan Sawang Kabupaten Aceh Utara, Prosiding Konferensi Nasional Hak Asasi Manusia, Kebudayaan dan Tujuan Pembangunan Berkelanjutan Indonesia pada Masa Pandemi COVID-19: Tantangan untuk Keilmuan Hukum dan Sosial Volume 3, Penerbit Media Sains, 899-933.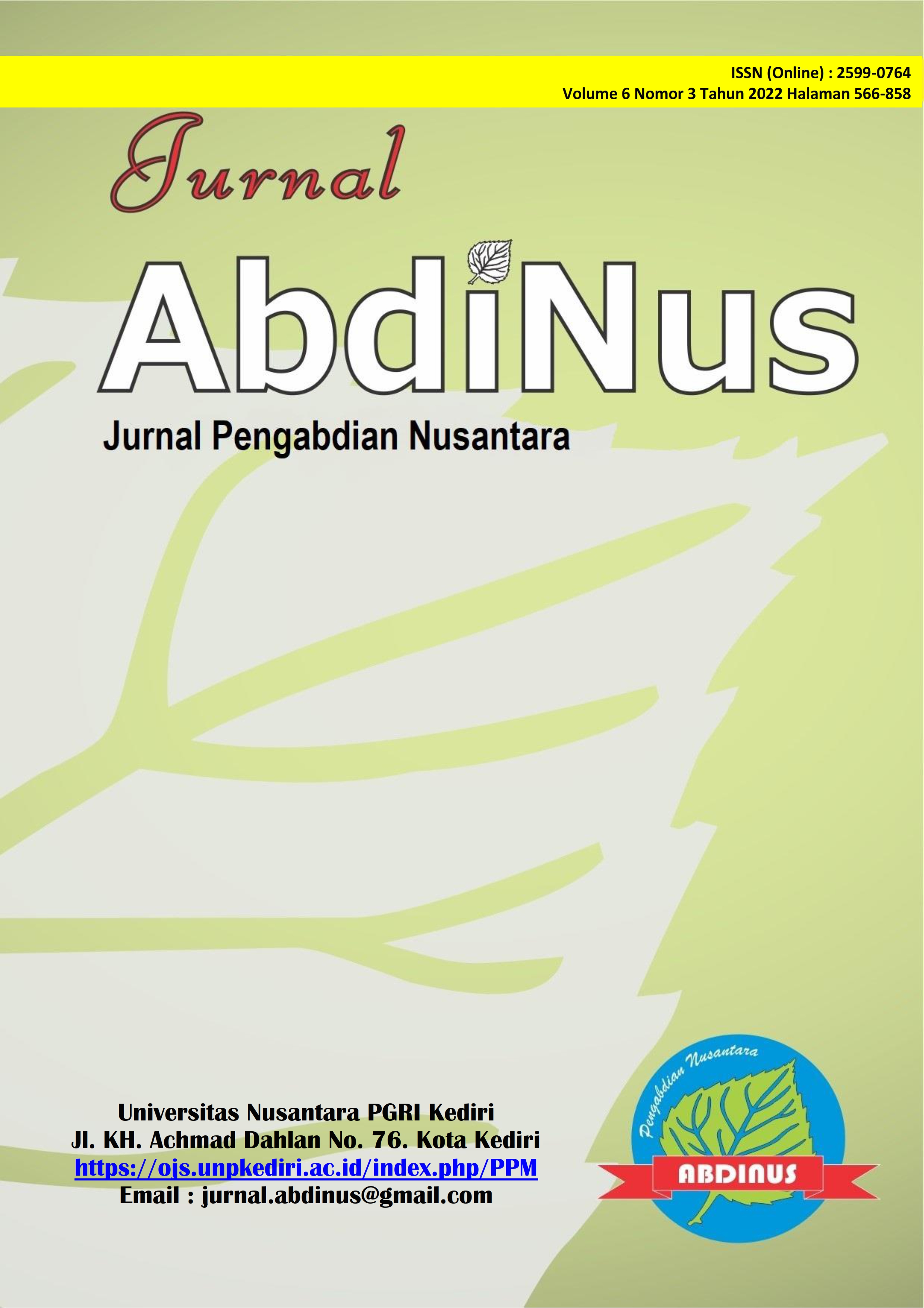 How to Cite
Yulia, Y., & Herinawati, H. (2022). Sosialisasi dan Penyuluhan Hukum Pengelolaan Hutan Berbasis Kearifan Lokal Di Kabupaten Aceh Utara. Jurnal ABDINUS : Jurnal Pengabdian Nusantara, 6(3), 716-724. https://doi.org/10.29407/ja.v6i3.16122
Copyright (c) 2022 Jurnal ABDINUS : Jurnal Pengabdian Nusantara
This work is licensed under a Creative Commons Attribution 4.0 International License.