Pengukuran Status Gizi dan Pengobatan Penyakit Metabolik Warga Kelurahan Angke, Jakarta Barat
Yohana Yohana

Universitas Trisakti

Meiyanti Meiyanti

Universitas Trisakti

Erlani Kartadinata

Universitas Trisakti

Eveline Margo

Universitas Trisakti
Abstract views:
145
,
PDF (Bahasa Indonesia) downloads:
0
Keywords:
obesity, pandemic, diabetes mellitus
Abstract
Pandemic Covid-19 had a serious impact on many aspects of living, which is health. Reducing the rate of transmission of Covid-19, the government issued regulations restricting the movement of people. Other health problems also arise along with increasing body weight, an unbalanced diet, and poor physical activity. Insufficient lifestyle could induce metabolic disease especially diabetes mellitus. In 2018, Riskesdas showed the prevalence of diabetes mellitus in Jakarta increased to 3.4%. One of the risk factors for diabetes mellitus is obesity. Obesity is characterized by increasing body weight as a result of an imbalance in energy consumption and energy expenditure. According to previous services, people who lived in the Angke area had lower income and education than others. This service aims to improve healthy lifestyles and health degrees during a pandemic. The method, which is used for instance examination, measurement of body mass index and giving treatment. The service was held on March 14, 2021, at the Pitakananda Buddhist temple in the Angke area, West Jakarta. Participants and the service team followed the health protocol as prevention transmission Covid-19. The results of the service showed certain participants classify with overweight around 50.9% and obesity over 21.1%. High blood pressure disease was found in about 19.3%. Participants who are investigated are provided with education, drugs, and supplements that could improve health status. The high enthusiasm of the participants encourages us to carry out regular service activities thus healthy eating habits and suitable physical activity could be established, health status could be improved.
Downloads
Download data is not yet available.
References
Ahmad, N., Adam, S. I. M., Nawi, A. M., Hassan, M. R., & Ghazi, H. F. (2016). Abdominal obesity indicators: Waist circumference or waist‑to‑hip ratio in Malaysian adults population. International Journal of Preventive Medicine, 2016(June). https://doi.org/10.4103/2008-7802.183654
Cutting, B., Report, E., & Importance, S. (2020). Effects of COVID-19 Lockdown on Lifestyle Behaviors in Children with Obesity Living in Verona , Italy : A Longitudinal Study. 28(8), 1382–1385. https://doi.org/10.1002/oby.22861
Dki, P., & Tahun, J. (2017). Profil kesehatan.
Dua, S., Bhuker, M., Sharma, P., Dhall, M., & Kapoor, S. (2014). Body mass index relates to blood pressure among adults. North American Journal of Medical Sciences, 6(2), 89–95. https://doi.org/10.4103/1947-2714.127751
Ekonomi, S. (n.d.). s.id/10JBE
Glucose, B., Witjaksono, F., Hasanuddin, U., & Indonesia, U. (2019). Journal of International Dental and Medical Research ISSN 1309-100X http://www.jidmr.com Blood Glucose and Glucagon-Like Peptide 1 Fiastuti Witjaksono and et al. 286–290.
Liman, P. B., Agustina, R., Djuwita, R., Umar, J., Permadhi, I., Hidayat, A., Feskens, E. J. M., & Abdullah, M. (2019). Dietary and Plasma Carboxymethyl Lysine and Tumor Necrosis Factor- α as Mediators of Body Mass Index and Waist Circumference among Women in Indonesia.
Oroh, W. (2018). HUBUNGAN OBESITAS DENGAN KEJADIAN DIABETES MELITUS. 6.
Present, T. H. E. (2018). Pathophysiology and Management. 71(1). https://doi.org/10.1016/j.jacc.2017.11.011
Saragih, B., & Mulawarman, U. (2020). GAMBARAN KEBIASAAN MAKAN MASYARAKAT PADA MASA PANDEMI COVID-19. 19(April).
Yoon, T., Wong, E., & Murata, H. (2017). Japanese dietary habits : Results from a questionnaire survey on 305 health check-up participants. December. https://doi.org/10.29102/clinhp.17003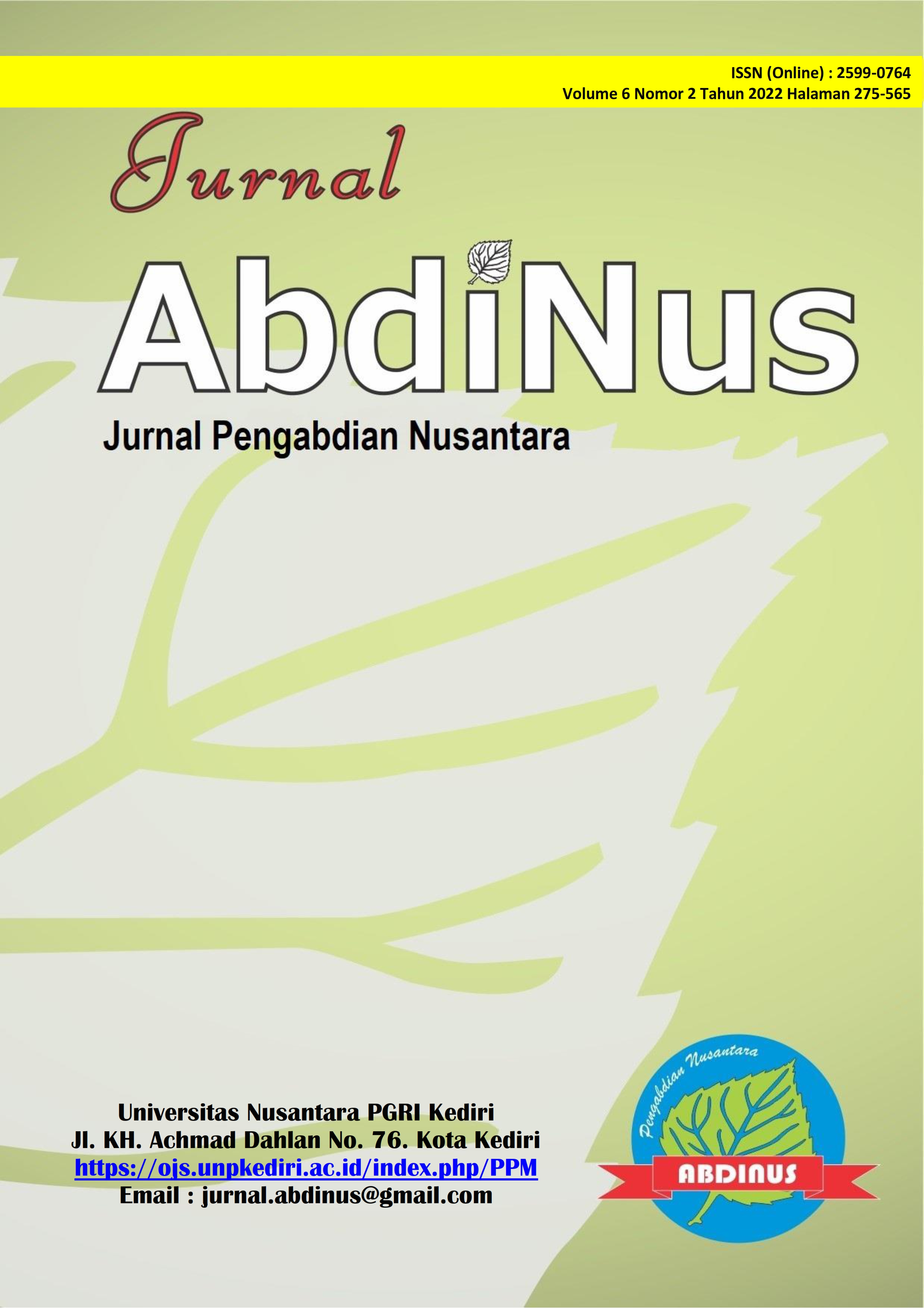 How to Cite
Yohana, Y., Meiyanti, M., Kartadinata, E., & Margo, E. (2022). Pengukuran Status Gizi dan Pengobatan Penyakit Metabolik Warga Kelurahan Angke, Jakarta Barat. Jurnal ABDINUS : Jurnal Pengabdian Nusantara, 6(2), 305-311. https://doi.org/10.29407/ja.v6i2.16080
Copyright (c) 2022 Jurnal ABDINUS : Jurnal Pengabdian Nusantara
This work is licensed under a Creative Commons Attribution 4.0 International License.