Pendampingan Pembelajaran Daerah Terpencil di SD Negeri 1 Tumbang Kuling Kotawaringin Timur Kalimantan Tengah
Hafidha Asni Akmalia

UIN Walisongo Semarang

Dyah Indraswati

Universitas Mataram

Betti Ses Eka Polonia

Politeknik Negeri Ketapang
Abstract views:
140
,
PDF (Bahasa Indonesia) downloads:
0
Keywords:
Remote areas, Education gap, Learning methods
Abstract
School located in a remote areas has a complex educational problems such as limited teachers, inadequate building conditions, difficult road access and even lack of textbooks. This service aims to help SD N 1 Tumbang Kuling Central Borneo in organizing more varied teaching and learning activities using several learning methods. The Community Service Team introduced guessing method, team games tournament, and singing to students to motivate them in learning despite their limitations. The students can follow the given learning process well and feel happy to be able to learn through the existing methods. This kind of service activity can be an inspiration for the community to assist the government in overcoming the problem of education disparities in schools in a remote areas.
Downloads
Download data is not yet available.
References
Arie Wibowo Khurniawan, G. E. 2019. Evaluasi Pisa 2018: Indonesia Perlu Segera Berbenah. Vocational Education Policy, White Paper, 1(21), 1–10.
F. Avvisati, A. Echazarra, P. G. and M. S. 2018. Programme For International Student Assesment (PISA) Result 2018. In Programme for International Student Assessment (PISA) Result from PISA 2018. Retrieved from http://www.oecd.org/pisa/ Data
Irviana, I. 2016. Pengaruh model pembelajaran team games tournament terhadap hasil belajar IPS siswa SD. Journal of EST, 2(1): 56-70.
Nurjannah. 2018. Pengaruh media gambar terhadap motivasi belajar pelajaran Bahasa Indonesia kelas III SDN Pasi Pinang kecamatan Meureubo kabupaten Aceh Barat. Bina Gogik, 5(1): 71-78.
Parmiti, D.P., Sulastri, M., & Pudjawan, I.K. 2016. Program ipteks bagi masyarakat pendidikan di desa terpencil. Jurnal Widya Laksana, 5(2): 100-110.
Putera, M.T.F., & Rhussary, M.L. 2018. Peningkatan mutu pendidikan daerah 3T (terdepan, terpencil, dan tertinggal) di kabupaten Mahakam Hulu. Jurnal Ekonomi dan Manajemen. hlm.144-148.
Raharjo, S. B. 2013. Evaluasi Trend Kualitas Pendidikan Di Indonesia. Jurnal Penelitian Dan Evaluasi Pendidikan, 16(2), 511–532. https://doi.org/10.21831/pep.v16i2.1129
Ridwan & Awaluddin, A.F. 2019. Penerapan metode bernyanyi dalam meningkatkan penguasaan mufradat dalam pembelajaran bahasa Arab di Raudhatul Athfal. Didaktika: Jurnal Kependidikan, 13(1): 56-67.
Suaeb, S., Degeng, I.N.S., & Amirudin, A. 2018. Meningkatkan hasil belajar IPS siswa kelas V melalui penerapan pembelajaran kooperatif model team games tournament (TGT) berbantuan media tebak gambar. Jurnal Pendidikan: Teori, Penelitian, dan Pengembangan, 3(1): 146-154.
Suciati & Ariningsih. 2016. Pengembangan model pendidikan menengah "sekolah kebangsaan" di daerah terpencil, tertinggal, terluar dan perbatasan sebagai implementasi pembelajaran PKn. Jurnal Moral Kemasyarakatan, 1(1): 76-86.
Syafii, A. 2018. Perluasan dan pemerataan akses kependidikan daerah 3T (terdepan, terluar, tertinggal). Dirasat: Jurnal Manajemen dan Pendidikan Islam, 4(2): 153-171.
Tileston, D. W. 2007. Teaching Strategies for Active Learning. California: Corwin Press.
Vito, B., & Krisnani, H. 2015. Kesenjangan Pendidikan Desa Dan Kota. Prosiding Penelitian Dan Pengabdian Kepada Masyarakat, 2(2), 247–251. https://doi.org/10.24198/jppm.v2i2.13533.
Wati, W., & Fatimah, R. 2016. Effect Size Model Pembelajaran Kooperatif Tipe NHT (Numbered Head Together) terhadap Kemampuan Berpikir Kritis Siswa Pada Pembelajaran Fisika. Jurnal Ilmiah Pendidikan Fisika Al-Biruni, 5(2), 213-222.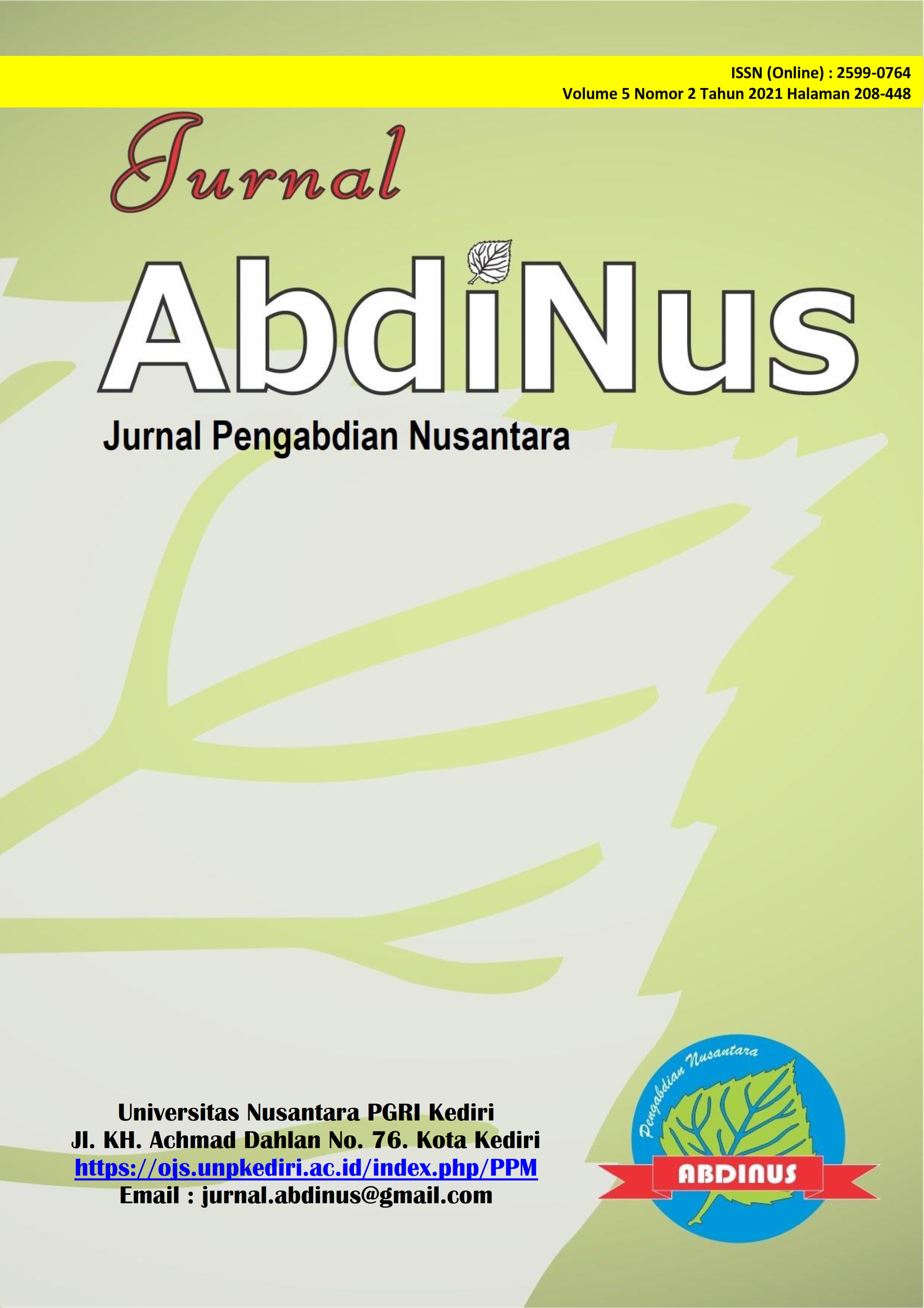 How to Cite
Akmalia, H. A., Indraswati, D., & Polonia, B. S. E. (2021). Pendampingan Pembelajaran Daerah Terpencil di SD Negeri 1 Tumbang Kuling Kotawaringin Timur Kalimantan Tengah. Jurnal ABDINUS : Jurnal Pengabdian Nusantara, 5(2), 243-252. https://doi.org/10.29407/ja.v5i2.15267
Copyright (c) 2021 Jurnal ABDINUS : Jurnal Pengabdian Nusantara
This work is licensed under a Creative Commons Attribution 4.0 International License.