Belajar enzim dari rumah; Penguatan Pembelajaran Berbasis Praktikum Pada Guru Di Sekolah Menengah Atas Kabupaten Tulangbawang
Achmad Arifiyanto

Universitas Lampung

Sumardi Sumardi

Universitas Lampung

Christina Nugroho Ekowati

Universitas Lampung
Abstract views:
798
,
PDF (Bahasa Indonesia) downloads:
0
Keywords:
Learning biology, Enzymes, Practicum teacher.
Abstract
Learning from home in the midst of the Covid-19 pandemic is a challenge in carrying out the learning process. Practical activities often have to be eliminated. In fact, practices are an alternative for student learning to better understand the conceptual material being taught. Enzyme practices program with material constraints, learning media to support Biology practices in Senior High Schools are the reasons for the need for this training. Through this training, the teacher can develop enzyme materials obtained by students from around their homes. Practical materials become more diverse, because they are developed with factors that affect enzyme performance. Educators are more familiar with the kahoot application and teachers are able to use the kahoot application as a practice-based learning evaluation media. It is also hoped that teacher creativity can develop to deal with the learning obstacles they experience.
Downloads
Download data is not yet available.
References
Baeti, S. N. (2015). Pembelajaran Berbasis Praktikum Bervisi Sets Untuk Meningkatkan Keterampilan Laboratorium Dan Penguasaan Kompetensi. Jurnal Inovasi Pendidikan Kimia, 8(1), 1260–1270.
Bahar, H., Setiyaningsih, D., Nurmalia, L., & Astriani, L. (2020). Efektifitas Kahoot Bagi Guru Dalam Pembelajaran Di Sekolah Dasar. KACANEGARA Jurnal Pengabdian Pada Masyarakat, 3(2), 155–162. https://doi.org/10.28989/kacanegara.v3i2.677
Blanco, A., & Blanco, G. (2017). Chapter 1 - Chemical Composition of Living Beings. In Medical Biochemistry (pp. 1–3). Elsevier Inc.
Dwi, E. A., & Farnidah, R. (2018). Lingkungan Sebagai Media Pembelajaran. http://eprints.umsida.ac.id/1258/1/ICT Lingkngn.pdf
Kurniasari, A. dkk. (2020). Pendidikan guru sekolah dasar fakultas keguruan dan ilmu pendidikan universitas muhammadiyah surakarta 2013. Jurnal Review Pendidikan Dasar: Jurnal Kajian Pendidikan Dan Hasil Penelitian, 6(3), 1–8.
Nachrawie, M. (2017). Sumber Belajar Lingkungan Dalam Pembelajaran Ips Di Smpn 1 Kusan Hulu Kabupaten Tanah Bumbu. SOCIUS:Jurnal Pendidikan Dan Pembelajaran Ilmu Pengetahuan Sosial, 66(2), 182–925.
Yusuf, Y., & Ulumul, J. (1992). Bab I pendahuluan A . Latar Belakang Masalah (Issue 4). https://repo.undiksha.ac.id/2201/3/1513031058-BAB 1 PENDAHULUAN.pdf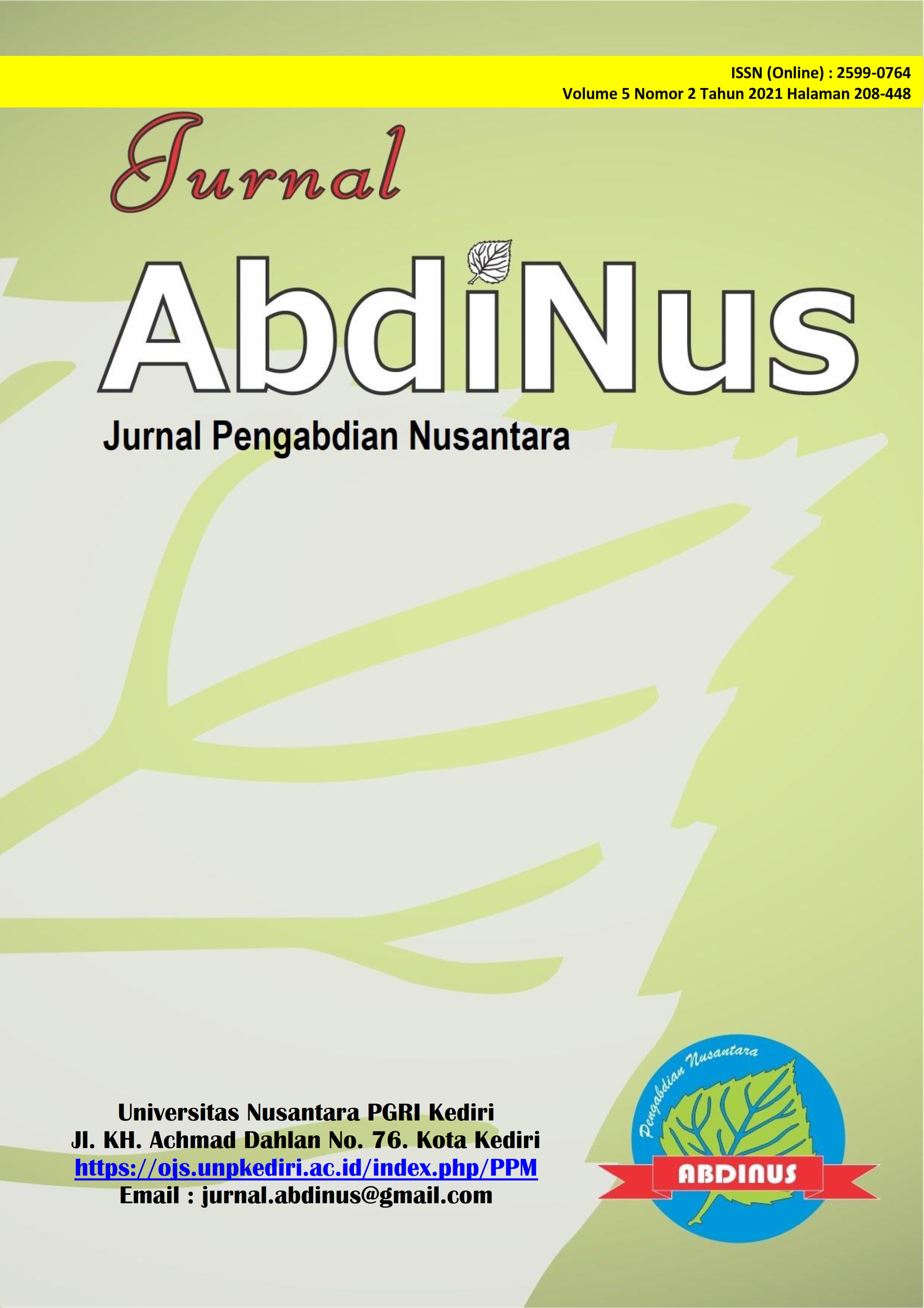 How to Cite
Arifiyanto, A., Sumardi, S., & Ekowati, C. N. (2021). Belajar enzim dari rumah; Penguatan Pembelajaran Berbasis Praktikum Pada Guru Di Sekolah Menengah Atas Kabupaten Tulangbawang. Jurnal ABDINUS : Jurnal Pengabdian Nusantara, 5(2), 264-272. https://doi.org/10.29407/ja.v5i2.15199
Copyright (c) 2021 Jurnal ABDINUS : Jurnal Pengabdian Nusantara
This work is licensed under a Creative Commons Attribution 4.0 International License.