Model Rangkaian Tes Keterampilan Tenis Lapangan pada Pemain Putra Kelompok Usia 12-14 Tahun
Beni Agus Prasetiono

STKIP Pamae Talino

Maharani Fatimah Gandasari

STKIP Pamane Talino
Abstract
Penelitian bertujuan untuk menghasilkan rangkaian tes keterampilan tenis lapangan pada pemain PTR usia 12-14 tahun yang baik. Penelitian pengembangan ini mengikuti langkah-langkah yang digunakan oleh Gall & Borg ll yang dimodifikasi oleh peneliti karena pertimbangan waktu dan biaya. Sampel yang digunakan dalam penelitian ini adalah atlet tenis lapangan kelompok usia 12 sampai 14 tahun di Kabupaten Landak dan merupakan atlet unggulan yang berjumlah 11 atlet. Teknik pengambilan sampel dalam penelitian ini menggunakan dua metode, yaitu teknik sampel acak atau random sampling dan teknik sampel tidak acak atau nonrandom sampling. Pada saat uji coba instrumen menggunakan teknik sampel acak, yaitu dengan stratified random sampling dan penentuan selektor ktiterion menggunakan teknik sampel tidak acak, yaitu dengan sampling judgement. Teknik analisis data menggunakan metode analisis "Wherry Dolittle" dengan bantuan SPSS dan Microsoft Office Exel. Hasil pengembangan dari penelitian ini ialah keterampilan yang harus dikuasai oleh seorang pemain tenis PTR kelompok usia 12 – 14 tahun dengan urutan yang paling besar pengaruhnya terhadap prestasi atlet adalah keterampilan forehand dan backhand volley tenis, keterampilan service ketepatan tenis dan keterampilan groundstroke forehand.
References
Hanief, Y. N., Puspodari, P., & Sugito, S. (2017). Profile of physical condition of Taekwondo Junior Athletes Pusklatkot (Training centre) Kediri city year 2016 to compete in 2017 east java regional Competition. International Journal of Physiology, Nutrition and Physical Education, 2(2), 262–265. Retrieved from http://www.journalofsports.com/archives/2017/vol2/issue2/PartE/2-2-19.

Hewitt, J. E. (1966). Hewitt's Tennis Achievement Test. Research Quarterly. American Association for Health, Physical Education and Recreation, 37(2), 231–240. https://doi.org/10.1080/10671188.1966.10613366.

Hewitt, J. E. (1968). Classification Tests in Tennis. Research Quarterly. American Association for Health, Physical Education and Recreation, 39(3), 552–555. https://doi.org/10.1080/10671188.1968.10616578.

Khusni, I. (2015). Tingkat Keberhasilan Servis Tenis Lapangan dalam Kejuaraan Nasional Tenis Junior New Armada Cup XIX Tahun 2015. Universitas Negeri Yogyakarta.

Kramer, T., Huijgen, B. C. H., Elferink-Gemser, M. T., & Visscher, C. (2017). Prediction of tennis performance in junior elite tennis players. Journal of Sports Science and Medicine, 16(1), 14–21. https://doi.org/10.1016/j.athoracsur.2013.10.039.

Loman, L. (2008). Petunjuk Praktis Bermain Tenis. Bandung: Angkasa.

Maulana, V. S. (2016). Tingkat Keterampilan Groundstroke Forehand Drive Dan Groundstroke Backhand Drive Siswa Sekolah Tenis New Armada Magelang. Universitas Negeri Yogyakarta.

Mavvidis, A., Koronas, K., Riganas, C., & Metaxas, T. (2005). Speed Differences Between Forehand and Backhand In Intermediate-Level Tennis Players. Lakartidningen, 37(2), 159–163.

Seff, F., Marison, R. W., & Setiakarnawijaya, Y. (2017). Tingkat Keberhasilan Groundstroke Forehand dan Backhand Pemain Tim Nasional Tenis Lapangan Indonesia pada Pertandingan Davis Cup antara Indonesia Vs Vietnam Maret 2016 di Solo. Jurnal Ilmiah Sport Coaching and Education, 1(1), 29–43. https://doi.org/10.21009/JSCE.01103.

Sukadiyanto, S. (2005). Prinsip-Prinsip Pola Bermain Tenis Lapangan. JORPRES (Jurnal Olahraga Prestasi), 1(2). Retrieved from https://journal.uny.ac.id/index.php/jorpres/article/view/6872/5905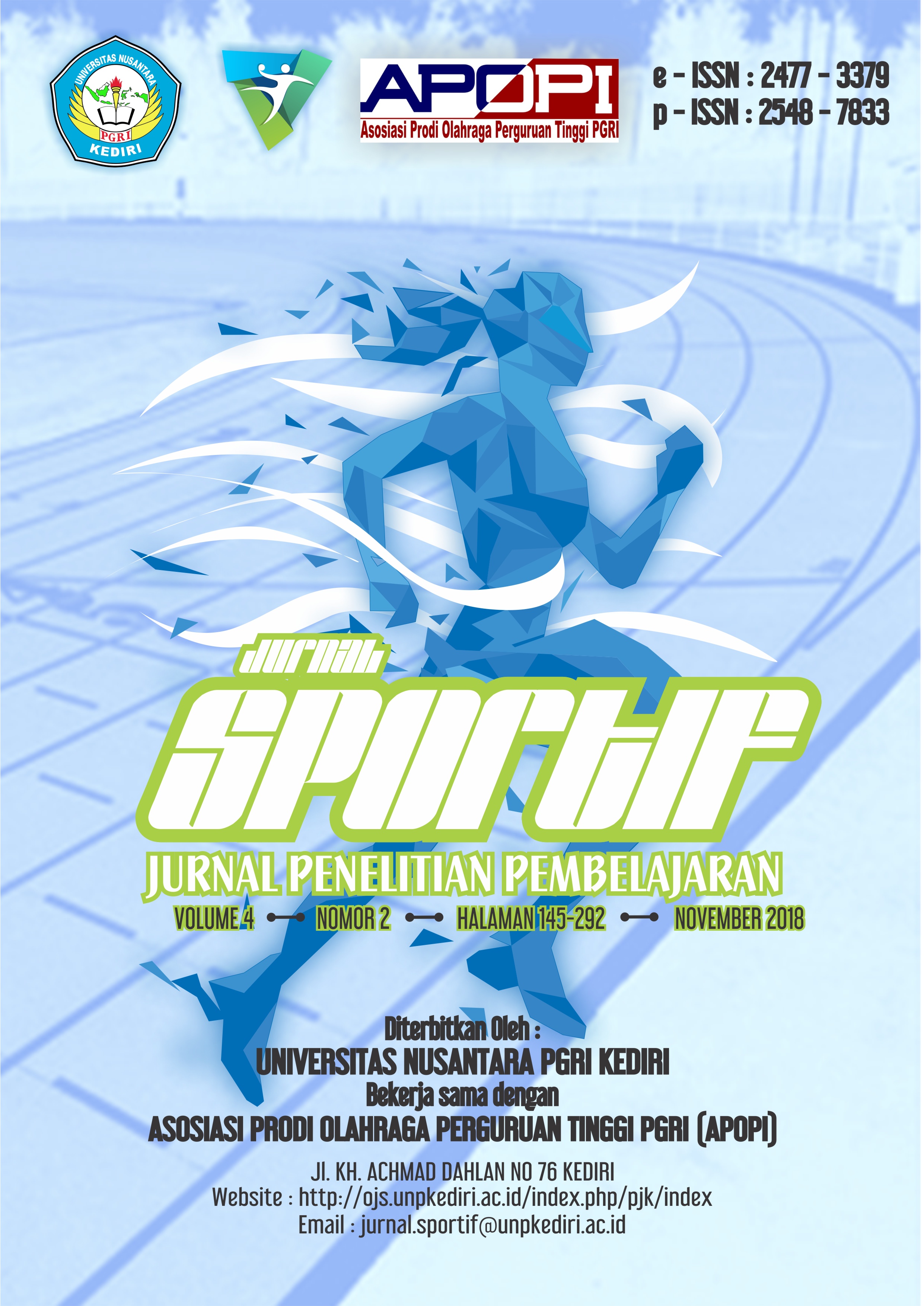 This work is licensed under a Creative Commons Attribution 4.0 International License.
Authors retain copyright and grant the journal right of first publication with the work simultaneously licensed under a Creative Commons Attribution 4.0 International License that allows others to share the work with an acknowledgement of the work's authorship and initial publication in this journal.