Desain dan Analisis Mesin Pakan Ikan Otomatis Basis Arduino Uno Periode Dua Kali Sehari
Shafiq Nurdin

Politeknik UNISMA Malang

Arianti Kusumawardhani

Politeknik Unisma Malang

Yasaka Arma Yudrika

Politeknik Unisma Malang
Abstract views:
66
,
PDF downloads:
63
Keywords:
Arduino Uno, Sistem Otomasi, Pakan Ikan, Delay
Abstract
Sistem otomasi sudah berkembang semakin kompleks dan menjadi kebutuhan dalam kebutuhan sehari-hari. tidak terkecuali dalam bidang industri perikanan. Pemberian pakan yang terlambat dapat mempengaruhi ekosistem kolam, munculnya sifat kanibalisme pada ikan, berat ikan yang tidak normal, dan kerugian secara ekonomi. Perlu dibuatkan sistem pemberi pakan ikan secara otomatis sesuai waktu dan takaran untuk menjaga ekosistem dan kualitas ikan. Mesin pemberi makan ikan otomatis ini menggunakan kontroler Arduino Uno, komponen Real Time Clock (RTC) dan penggerak motor servo. Sistem komunikasi otomasi menggunakan software arduino IDE dalam waktu pemberian pakan, sudut buka-tutup pintu corong, dan delay buka tutup pintu luaran pakan. Proses pengujian dilakukan pada variasi berat pakan yang ditampung, takaran volume keluaran pakan dan waktu yang berbeda. Hasil yang diperoleh, berat pakan yang ada didalam tangki mempengaruhi hasil keluaran untuk waktu yang sama, dimana semakin berat pakan yang ada didalam tangki maka semakin banyak pakan yang di keluarkan. Lama dan pendeknya waktu buka-tutup bisa menentukan besaran keluaran pakan untuk jumlah konsumsi ikan sekali periode waktu makan.
References
Alblitary, F. K. (2017). Rancang Bangun Alat Pemberi Pakan Ikan Otomatis Pada Kolam Ikan Gurami Berbasis Arduino. Institut Sepuluh Nopember Surabaya, 118. http://repository.its.ac.id/48155/
D'Ausilio, A. (2012). Arduino: A low-cost multipurpose lab equipment. Behavior Research Methods, 44(2), 305–313. https://doi.org/10.3758/s13428-011-0163-z
Kusumawardhani, A., Nurdin, S., Suseno, M., & Sari, A. (2017). TEKNOLOGI SMARTPHONE ANDROID DAN APLIKASINYA SEBAGAI PENGENDALI PINTU AIR DAERAH ALIRAN SUNGAI ( DAS ). 1, 89–94.
Laskar, M. R., Bhattacharjee, R., Giri, M. S., & Bhattacharya, P. (2016). Weather Forecasting Using Arduino Based Cube-Sat. Procedia Computer Science, 89, 320–323. https://doi.org/10.1016/j.procs.2016.06.078
Mubarok, S., Wisnu Dwi Wahyudi, D., & Octaviany, D. (2018). Pemanfaatan Modul RTC Berbasis Arduino Mega Sebagai Penentu Variabel Nutrisi Pada Sistem Kontrol Hidroponik. Jurnal Transistor Elektro Dan Informatika (TRANSISTOR EI, 3(1), 5–8.
Nulhakim, L. (2014). Alat Pemberi Makan Ikan Di Akuarium Otomatis Berbasis Mikrokontroler Atmega16. Tugas Akhir. http://eprints.uny.ac.id/30002/1/Lukman Nulhakim 09506131021.pdf
Okolie, P. C., Chukwujike, I. C., Chukwuneke, J. L., & Dara, J. E. (2019). Design and production of a fish feed pelletizing machine. Heliyon, 5(6), e02001. https://doi.org/10.1016/j.heliyon.2019.e02001
Pratisca, S., & Sardi, J. (2020). Alat Pemberi Pakan Ikan Otomatis Berbasis Suhu Air pada Kolam Ikan. JTEIN: Jurnal Teknik Elektro Indonesia, 1(2), 193–200. https://doi.org/10.24036/jtein.v1i2.81
Rahardjo, P. (2021). Sistem Penyiraman Otomatis Menggunakan Rtc ( Real Time Clock ) Berbasis Mikrokontroler Arduino Mega 2560 Pada Tanaman Mangga. 8(1), 1–5.
Shrivastava, K. (2016). A Review on Types of DC Motors and the Necessity of Starter for Its Speed Regulation. International Journal of Advanced Research in Computer and Communication Engineering, 5(4), 4–6. https://doi.org/10.17148/IJARCCE.2016.5416
Silvia, A. F., Haritman, E., & Muladi, Y. (2014). Rancang Bangun Akses Kontrol Pintu Gerbang Berbasis Arduino Dan Android. Electrans, 13(1), 1–10.
Weku, H. S., Poekoel, E. V. C., Robot, R. F., & Eng, M. (2015). Rancang Bangun Alat Pemberi Pakan Ikan Otomatis Berbasis Mikrokontroler. Jurnal Teknik Elektro Dan Komputer, 4(7), 54–64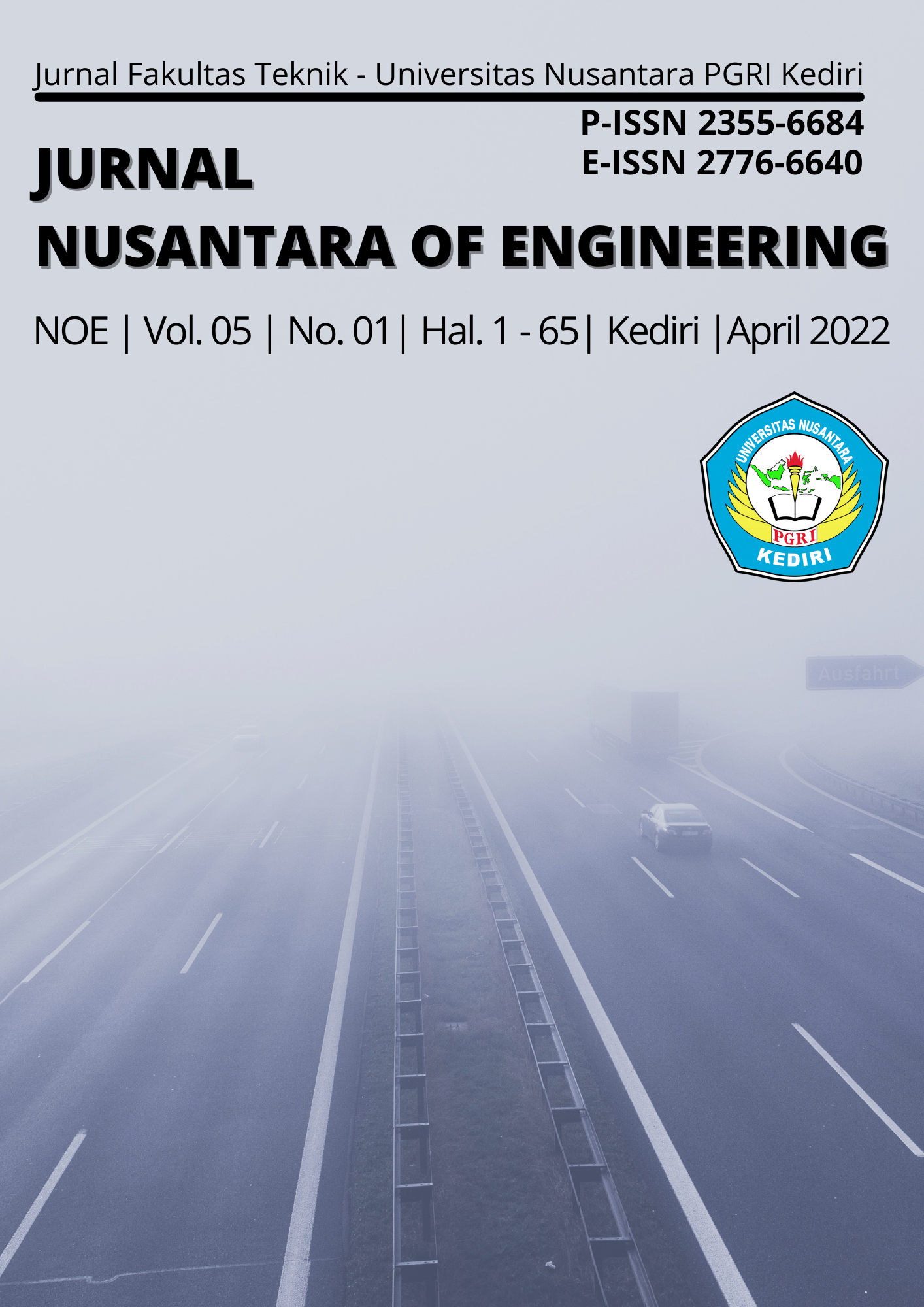 How to Cite
Shafiq Nurdin, Kusumawardhani, A., & Yudrika, Y. A. (2022). Desain dan Analisis Mesin Pakan Ikan Otomatis Basis Arduino Uno Periode Dua Kali Sehari. Nusantara of Engineering, 5(1), 34 - 40. https://doi.org/10.29407/noe.v5i1.17380
Copyright (c) 2022 Shafiq Nurdin, Arianti Kusumawardhani, Yasaka Arma Yudrika
This work is licensed under a Creative Commons Attribution-ShareAlike 4.0 International License.
Authors who publish with this journal agree to the following terms:
Copyright on any article is retained by the author(s).
The author grants the journal, right of first publication with the work simultaneously licensed under a Creative Commons Attribution License that allows others to share the work with an acknowledgment of the work's authorship and initial publication in this journal.
Authors are able to enter into separate, additional contractual arrangements for the non-exclusive distribution of the journal's published version of the work (e.g., post it to an institutional repository or publish it in a book), with an acknowledgment of its initial publication in this journal.
Authors are permitted and encouraged to post their work online (e.g., in institutional repositories or on their website) prior to and during the submission process, as it can lead to productive exchanges, as well as earlier and greater citation of published work.
The article and any associated published material is distributed under the Creative Commons Attribution-ShareAlike 4.0 International License