Dampak Investasi Infrastruktur Terhadap Pertumbuhan Ekonomi Di Pulau Jawa
Risca Dwi Anggini

Universitas Jember

Teguh Hadi Priyono

Universitas Jember

Riniati

Universitas Jember

Moehammad Fathorrazi

Universitas Jember
Abstract views:
22
,
pdf downloads:
27
Keywords:
Pertumbuhan Ekonomi, Investasi Infrastruktur, Regresi Data Panel
Abstract
Economic growth is a sign to achieve development success economy in society. Investment is considered as one of the factors that can increase economic growth. So it must be equipped with supporting investments this is called infrastructure investment. Economic growth and the rate of movement of a country or within the scope of the region cannot be separated from the availability of economic infrastructure, such as electricity, gas, water, transportation, warehouse, telecommunications. This study aims to determine the impact of infrastructure investment on economic growth in Java. This type of research data uses secondary data, namely: panel data consisting of time series data for 2011-2020 and cross section data for 5 provinces in Indonesia. Java Island. Data analysis using multiple regression. The results showed that PMA variables on electricity, gas and water infrastructure have a positive and not significant effect to economic growth. While the PMDN variable in electricity, gas and electricity infrastructure water, PMA variable in transportation, warehouse and telecommunications infrastructure, and variable Domestic Direct Investment in transportation, warehouse and telecommunications infrastructure has a negative and significant effect on economic growth.
References
Anggraini, Y. 2018. Kebijakan Pemerintah Dalam Pembangunan Infrastruktur Di Indonesia. Jakarta: Indocamp.
Apurv, R. dan Uzma, H. S. 2020. The Impact of Infrastructure Investment and Development on Economic Growth on BRICS. Indian Growth and Development Review, 14(1).
Arsyad, L. 2010. Ekonomi Pembangunan Edisi 5. Yogyakarta: Bagian Penerbitan STIM YKPN.
Awandari, P. L. dan I. G. B. Indrajaya. 2016. Pengaruh infrastruktur, investasi, dan pertumbuhan ekonomi terhadap kesejahteraan masyarakat melalui kesempatan kerja. E-Jurnal Ekonomi Pembangunan Universias Udayana, 5(12), 1435-1462.
Basuki. 2021. Metode Penelitian Kuantitatif. Bandung: Media Sains Indonesia.
Fikriah. dan Wulandari, M. 2015. Analisis Pengaruh Investasi Infrastuktur Publik Terhadap Pertumbuhan Ekonomi Di Aceh. Jurnal Ekonomi Dan Kebijakan Publik, 2(1), 14-29.
Firdaus, M. 2020. Aplikasi Ekonometrika Dengan E-Views, Stata, dan R. Bogor: PT Penerbit IPB Press.
Gunawan, C. 2018. Mahir Menguasai SPSS (Mudah Mengolah Data Dengan IBM SPSS Statistic 25). Yogyakarta: CV Budi Utama.
Hardjanto, I. 2011. Teori Pembangunan. Malang: Universitas Brawijaya Press.
Hasyim, I. A. 2016. Ekonomi Makro. Jakarta: Kencana.
Ismanto, H. dan Pebruary, S. 2021. Aplikasi Spss dan Eviews Dalam Analisis Data Penelitian. Yogyakarta: CV Budi Utama.
Kusuma, D. W. 2019. Pengaruh Infrastruktur Ekonomi dan Sosial dalam Pembangunan Daerah. Jurnal Anggaran dan Keuangan Negara Indonesia, 1(2), 114-129.
Liu, K. 2021. How does China's information and communications technology infrastructure investment promote economic growth. Journals Indian Growth and Development Review, 14(2), 270-280.
Muhammad, M. 2017. Perencanaan Pembangunan. Makassar: CV. Dua Bersaudara.
Mulyani, E. 2018. Konsep-Konsep Dasar Dalam Pembangunan Ekonomi Dan Permasalahan Dasar Yang Dihadapi Negara Sedang Berkembang.
Mankiw, G. N. 2006. Makroekonomi. Jakarta: Erlangga.
Nasution, D. A. D., Erlina., dan Muda, I. 2020. Dampak Pandemi Covid-19 Terhadap Perekonomian Indonesia. Jurnal Benefita, 5(2), 212-224.
Pamungkas, T. B. dan Author. 2009. Pengaruh infrastruktur ekonomi, sosial, dan administrasi/institusi terhadap pertumbuhan propinsi-propinsi di Indonesia. Universitas Indonesia.
Rusmusi, I. M. P, dan D. R. Handayani. 2018. Pengaruh investasi infrastruktur jalan, air, dan pendidikan terhadap pertumbuhan ekonomi Jawa Tengah tahun 2011-2015. Jurnal Ekonomi, Bisnis, dan Akuntansi, 20(3), 1-13.
Rahmah, M. 2020. Hukum Investasi. Jakarta Timur: Kencana.
Siagian, dan P. Sondang. 2001. Administrasi Pembangunan; Konsep, Dimensi dan Strateginya. Jakarta: Bumi Aksara.
Stone, D. C. 1974. Professional Education in Public Works: Environmental Engineering and Administration. A Handbook for Establishing University Centers and Programs. ERIC Clearinghouse.
Suryani dan Hendryadi. 2015. Metode riset kuantitatif teori dan aplikasi pada penelitian bidang manajemen dan ekonomi Islam. Jakarta: Prenadamedia Group.
Todaro, P. M., dan Smith. C. S. 2006. Pembangunan Ekonomi Edisi Kesembilan Jilid 1. Jakarta: Erlangga.
Qiang, Y. Lianli, Y., dan Lan, Z. 2010. The Relationship Between ICT Investment and Economic Growth In China. Journal Electronic, 126-131.
Yahya, T. A, dan Syahur, S. 2020. Pengaruh Investasi Infrastruktur Terhadap Pertumbuhan Ekonomi Di Indonesia. Jurnal Ilmiah Mahasiswa, 5(3), 146-156.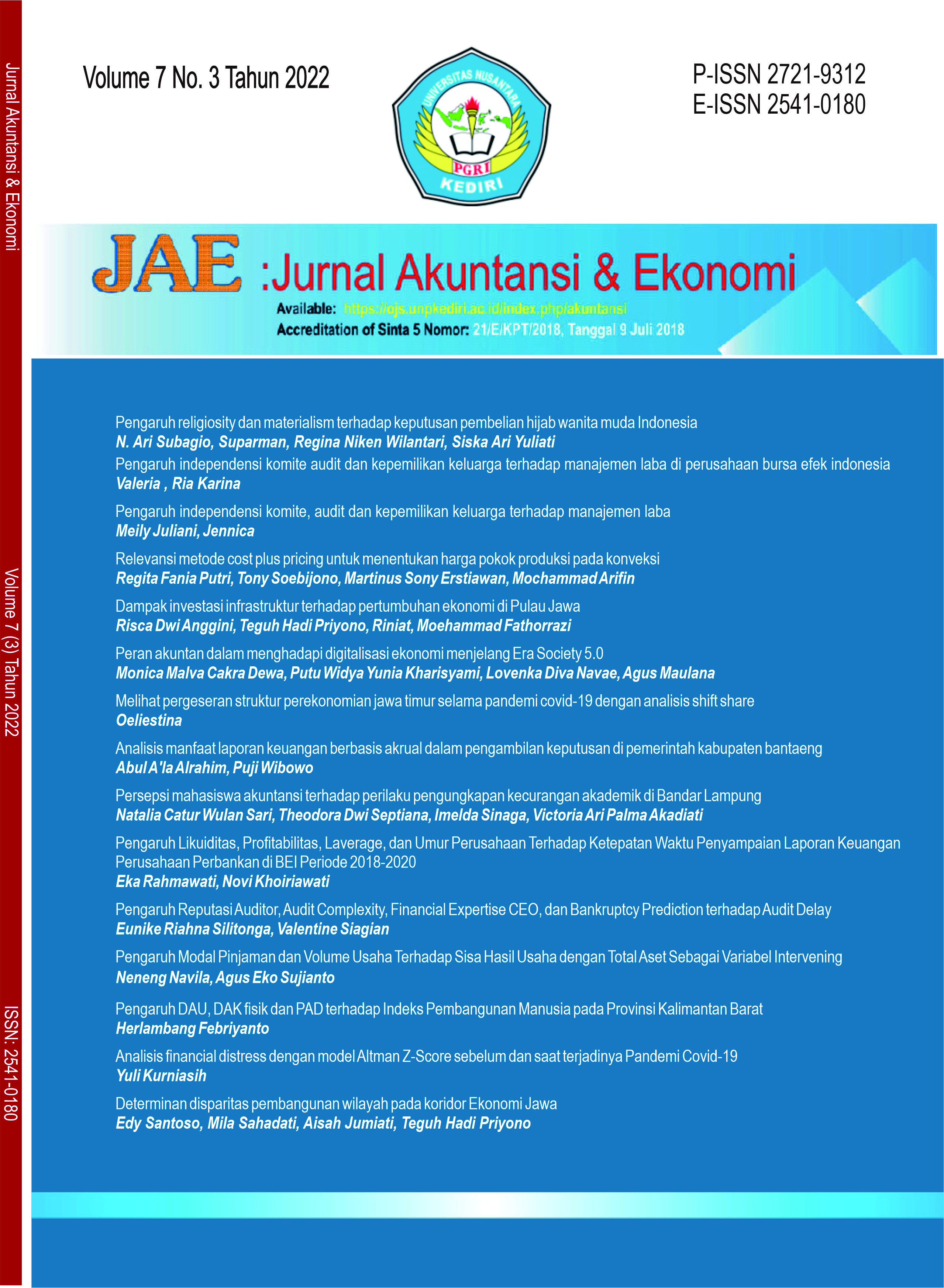 How to Cite
Risca Dwi Anggini, Teguh Hadi Priyono, Riniati, & Fathorrazi, M. (2022). Dampak Investasi Infrastruktur Terhadap Pertumbuhan Ekonomi Di Pulau Jawa. JAE (JURNAL AKUNTANSI DAN EKONOMI), 7(3), 42-55. https://doi.org/10.29407/jae.v7i3.18744
Section
Volume 7 No 3 Tahun 2022
Authors who publish with this journal agree to the following terms:
Copyright on any article is retained by the author(s).
The author grants the journal, right of first publication with the work simultaneously licensed under a Creative Commons Attribution License that allows others to share the work with an acknowledgment of the work's authorship and initial publication in this journal.
Authors are able to enter into separate, additional contractual arrangements for the non-exclusive distribution of the journal's published version of the work (e.g., post it to an institutional repository or publish it in a book), with an acknowledgment of its initial publication in this journal.
Authors are permitted and encouraged to post their work online (e.g., in institutional repositories or on their website) prior to and during the submission process, as it can lead to productive exchanges, as well as earlier and greater citation of published work.
The article and any associated published material is distributed under the Creative Commons Attribution-ShareAlike 4.0 International License