ANALISIS FINANCIAL DISTRESS DENGAN MODEL ALTMAN Z-SCORE SEBELUM DAN SAAT TERJADINYA PANDEMI COVID-19
Yuli Kurniasih

Universitas Tidar
Abstract views:
34
,
pdf downloads:
41
Keywords:
Financial Distress, Banckruptcy, Altman Z-Score, Tourism, Covid-19
Abstract
The purpose of this research is to compare the financial distress of companies in the restaurant, hotel, and tourism sub-sector before and after the Covid-19 pandemic, as well as to predict the future of these industries. Purposive sampling was used to collect the sample data. Secondary data collected through documentation methods was used for this analysis. The data analyzed using the modified Altman Z-Score discriminant ratio method and tested using the Wilcoxon Signed Rank Test. Companies in the restaurants, hotels, and tourism sub sector experienced a higher rate of financial distress during the Covid-19 pandemic than before, according to the available data.
References
Armadani, Fisabil, A. I., & Salsabila, D. T. (2021). Analisis Rasio Kebangkrutan Perusahaan pada Masa Pandemi Covid-19. Jurnal Akuntansi, 13(1), 99–108. https://journal.maranatha.edu/index.php/jam/article/view/3197
BPS. (2021). Ekonomi Indonesia 2020 Turun sebesar 2,07 Persen (c-to-c). https://www.bps.go.id/pressrelease/2021/02/05/1811/ekonomi-indonesia-2020-turun-sebesar-2-07-persen--c-to-c-.html
Gunawan, B., & Nurfithriyani, D. (2019). Prediksi Finansial Distress pada BUMN Dalam Rangka Menilai Kinerja Perusahaan Pemerintah. Jurnal Aplikasi Akuntansi, 4(1), 59–76. http://www.jaa.unram.ac.id/index.php/jaa/article/view/73
Gunawan, E., & Debbianita. (2022). Analisis Financial Distress pada Perusahaan Sub Industri Penerbangan dan Kereta Api yang Terdaftar di Bursa Efek Indonesia Sebelum dan Sesudah Pandemi Covid-19. Jurnal Akuntansi, 14(1), 112–126. http://114.7.153.31/index.php/jam/article/view/4426
Kumajas, L. I. (2022). Financial Distress Perusahaan Transportasi di Indonesia Sebelum dan Saat Pandemi Covid-19. Jurnal Informasi, Perpajakan, Akuntansi, Dan Keuangan Publik, 17(1), 19–38. https://trijurnal.lemlit.trisakti.ac.id/index.php/jipak/article/view/8698
Mas'ud, I., & Srengga, R. M. (2015). Analisis Rasio Keuangan untuk Memprediksi Kondisi Financial Distress Perusahaan Manufaktur yang Terdaftar di Bursa Efek Indonesia. Jurnal Akuntansi Universitas Jember, 10(2), 139–154. https://jurnal.unej.ac.id/index.php/JAUJ/article/view/1255
Pertiwi, D., & Putri, A. G. (2021). Analisis Prediksi Financial Distress dengan Menggunakan Model Altman Z-Score pada Perusahaan Ritel Tahun 2018-2020. 9(2), 132–144. https://jurnal.polines.ac.id/index.php/keunis/article/view/2636
Saputra, A. A., Prasetyo, T. J., & Idris, A. Z. (2022). Analisis Pengaruh Krisis Pandemi Covid-19 terhadap Financial Distress "(Studi Empiris pada Perusahaan Transportasi yang Terdaftar di BEI Periode 2019 Kuartal 1 dan 2020 kuartal 2)." Inovasi Pembangunan-Jurnal Kelitbangan, 10(1), 51–67. https://jurnal.balitbangda.lampungprov.go.id/index.php/jip/article/view/285
Wahyudi, E. (2020). PHRI: Sektor Pariwisata Rugi Rp 85,7 Triliun Akibat Pandemi. https://bisnis.tempo.co/read/1365055/phri-sektor-pariwisata-rugi-rp-857-triliun-akibat-pandemi
Yuliastry, E. C., & Wirakusuma, M. G. (2014). Analiziz Financial Distress dengan Metode Z-Score Altman, Springate, Zmijewski. E-Jurnal Akuntansi Universitas Udayana, 6(3), 379–389. https://ojs.unud.ac.id/index.php/Akuntansi/article/view/8336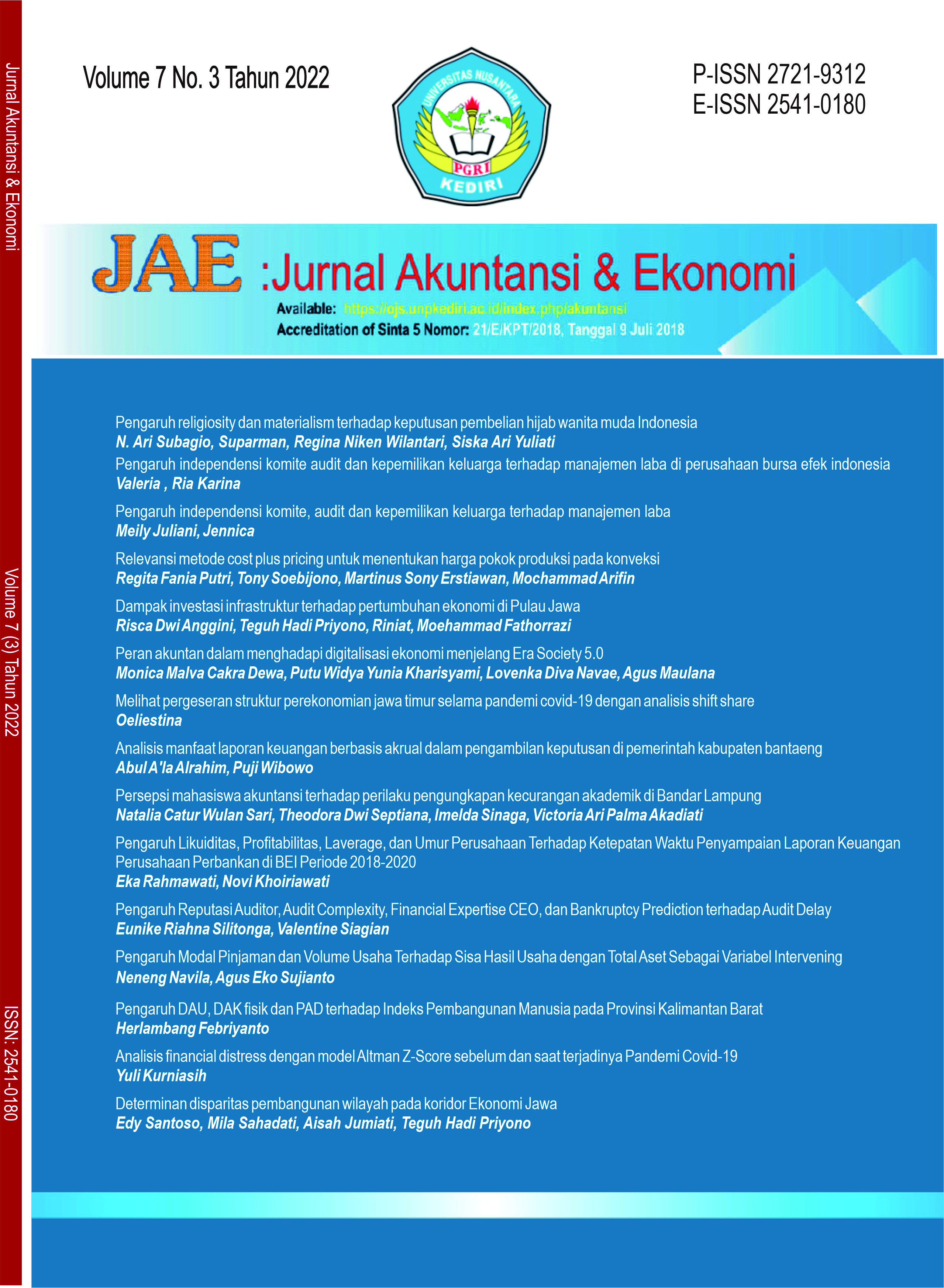 How to Cite
Kurniasih, Y. (2022). ANALISIS FINANCIAL DISTRESS DENGAN MODEL ALTMAN Z-SCORE SEBELUM DAN SAAT TERJADINYA PANDEMI COVID-19. JAE (JURNAL AKUNTANSI DAN EKONOMI), 7(3), 156-162. https://doi.org/10.29407/jae.v7i3.18711
Section
Volume 7 No 3 Tahun 2022
Copyright (c) 2022 Yuli Kurniasih
This work is licensed under a Creative Commons Attribution-ShareAlike 4.0 International License.
Authors who publish with this journal agree to the following terms:
Copyright on any article is retained by the author(s).
The author grants the journal, right of first publication with the work simultaneously licensed under a Creative Commons Attribution License that allows others to share the work with an acknowledgment of the work's authorship and initial publication in this journal.
Authors are able to enter into separate, additional contractual arrangements for the non-exclusive distribution of the journal's published version of the work (e.g., post it to an institutional repository or publish it in a book), with an acknowledgment of its initial publication in this journal.
Authors are permitted and encouraged to post their work online (e.g., in institutional repositories or on their website) prior to and during the submission process, as it can lead to productive exchanges, as well as earlier and greater citation of published work.
The article and any associated published material is distributed under the Creative Commons Attribution-ShareAlike 4.0 International License