DETERMINAN KECURANGAN AKUNTANSI PADA PEMERINTAH DAERAH DI INDONESIA: SYSTEMATIC LITERATURE REVIEW
Mardiyanto Mardiyanto

Universitas Padjdjaran
Abstract views:
706
,
pdf downloads:
820
Keywords:
Accounting Fraud, Internal Control, Information Asymmetry, Systematic Literature Review
Abstract
Accounting fraud in the Government sector identical to corruption behavior is indicated that there are still many occurring at various levels of government in Indonesia, both at the central and regional levels. This study aims to find out the main factors that influence the occurrence of accounting fraud that can be considered in the area of policy formulation to prevent accounting fraud. Research conducted in previous studies using systematic literature review (SLR) research methods that take local government as a research object. The selection of journal articles published during 2018 to 2022 on Garuda journal database on the https://garuda.kemdikbud.go.id/ website using the Preferred Reporting Items for Systematic Review (PRISMA) method was obtained by 22 articles that met the requirements for analysis. The main results of this study found that the most influential factors (determinants) against the occurrence of accounting fraud were Internal Control Systems, information asymmetry, compliance with accounting standars, compensation suitability, individual morality and unethical behavior
References
Adwitya, R., & Fitria Sari, V. (2020). Pengaruh Asimetri Informasi Dan Ketaatan Aturan Akuntansi Terhadap Kecenderungan Kecurangan Akuntansi Di Pemerintahan Kota Payakumbuh. Jurnal Eksplorasi Akuntansi, 2(1), 2526–2536. https://doi.org/10.24036/jea.v2i1.227
Alvianto, M. N. H., Adam, N. P., Sodik, I. A., Sediyono, E., & Widodo, A. P. (2022). Dampak Dan Faktor Kesuksesan Penerapan Enterprise Resource Planning Terhadap Kinerja Organisasi: Sistematic Literature Review. Jurnal Nasional Teknologi Dan Sistem Informasi, 7(3), 172–180. https://doi.org/10.25077/teknosi.v7i3.2021.172-180
Aranta, P. Z. (2013). PENGARUH MORALITAS APARAT DAN ASIMETRI INFORMASI TERHADAP KECENDERUNGAN KECURANGAN AKUNTANSI (Studi Empiris Pemerintah Kota Sawahlunto). Jurnal Akuntansi UNP. https://doi.org/10.1190/segam2013-0137.1
Arens, A. A., Beasley, M. S., & Elder, R. J. (2015). Auditing & Jasa Assurance - Pendekatan Terintegrasi, Edisi ke-15 Jilid 2. Penerbit Erlangga.
Azmi, U. (2022). 6 Kepala Daerah yang Ditangkap KPK Sepanjang 2022: Terbaru Wali Kota Ambon Dijemput Paksa! https://www.suara.com/news/2022/05/13/175946/6-kepala-daerah-yang-ditangkap-kpk-sepanjang-2022-terbaru-wali-kota-ambon-dijemput-paksa?page=all
Azmi, Z., Nisa, O. H., & Suci, R. G. (2021). Faktor yang mempengaruhi kecenderungan kecurangan akuntansi pada rumah sakit Kota Pekan Baru. Bilancia: Jurnal Ilmiah Akuntansi, 5(2), 193–204. http://www.ejournal.pelitaindonesia.ac.id/ojs32/index.php/BILANCIA/index
Badan Pemeriksa Keuangan Republik Indonesia. (2021). Ikhtisar Hasil Pemeriksaan Semester I Tahun 2021 (Vol. 6, Issue c).
Beasley, M. S., Hermanson, D. R., Carcello, J. V., & Neal, T. L. (2010). " Fraudulent Financial Reporting : 1998-2007 — An Analysis of U . S . Public Companies ." Association Sections, Divisions, Boards, Teams. 453, June, 2–6. https://egrove.olemiss.edu/aicpa_assoc/453
Peraturan Pemerintah Republik Indonesia Nomor 60 tahun 2008 tentang Sistem Pengendalian Intern Pemerintah, Pemerintah Republik Indonesia (2008).
Kitchenham, B., & Charters, S. (2007). Guidelines for performing Systematic Literature Reviews in Software Engineering (EBSE 2007-001). In Keele University and Durham University Joint Report. https://doi.org/10.1109/ACCESS.2016.2603219
Kitchenham, B., Pearl Brereton, O., Budgen, D., Turner, M., Bailey, J., & Linkman, S. (2009). Systematic literature reviews in software engineering - A systematic literature review. Information and Software Technology, 51(1), 7–15. https://doi.org/10.1016/j.infsof.2008.09.009
Komisi Pemberatasan Korupsi Republik Indonesia. (2021). Laporan Tahunan KPK 2021 Misi Selamatkan Negeri.
Labolo, M. (2017). Menutup Celah Korupsi Pemerintahan Daerah. Jurnal Ilmu Pemerintahan Widya Praja, 43(2), 93–110. https://doi.org/10.33701/jipwp.v43i2.50
Lumban, J. G., & Purwanti, N. (2014). A to Z Human Capital : Manajemen Sumber Daya Manusia. Grasindo.
Notoatmodjo, S. (2009). Pengembangan Sumber Daya Manusia. PT Rineka Cipta.
Nurjanah, I. A., & Setiawan, M. A. (2021). Pengaruh Pengendalian Internal, Moralitas Individu dan Budaya Organisasi terhadap Kecenderungan Kecurangan Akuntansi Pemerintah Desa. Jurnal Eksplorasi Akuntansi, 3(3), 517–528. https://doi.org/10.24036/jea.v3i3.396
Rahmah, R. N., & Haryoso, P. (2018). Pengaruh Moralitas Individu, Efektifitas Pengendalian Internal, Asimetri Informasi, Ketaatan Aturan Akuntansi, Dan Perilaku Tidak Etis Terhadap Kecenderungan Kecurangan Akuntansi. E-Journal Stie Aub, 5(2), 33–41. https://e-journal.stie-aub.ac.id/index.php/advance/article/view/414
Rosyida, I. A. (2017). Perilaku Etis Dan Tidak Etis Oleh Akuntan Dalam Sebuah Organisasi. Ekonika : Jurnal Ekonomi Universitas Kadiri, 2(1), 23–39. https://doi.org/10.30737/ekonika.v2i1.16
Thoyibatun, S. (2012). Faktor-Faktor Yang Berpengaruh Terhadap Perilaku Tidak Etis Dan Kecenderungan Kecurangan Akuntansi Serta Akibatnya Terhadap Kinerja Organisasi. EKUITAS (Jurnal Ekonomi Dan Keuangan), 16(2), 245. https://doi.org/10.24034/j25485024.y2012.v16.i2.2324
Transparency International. (2021). Corruption Perception Index. https://www.transparency.org/en/cpi/2021/index/idn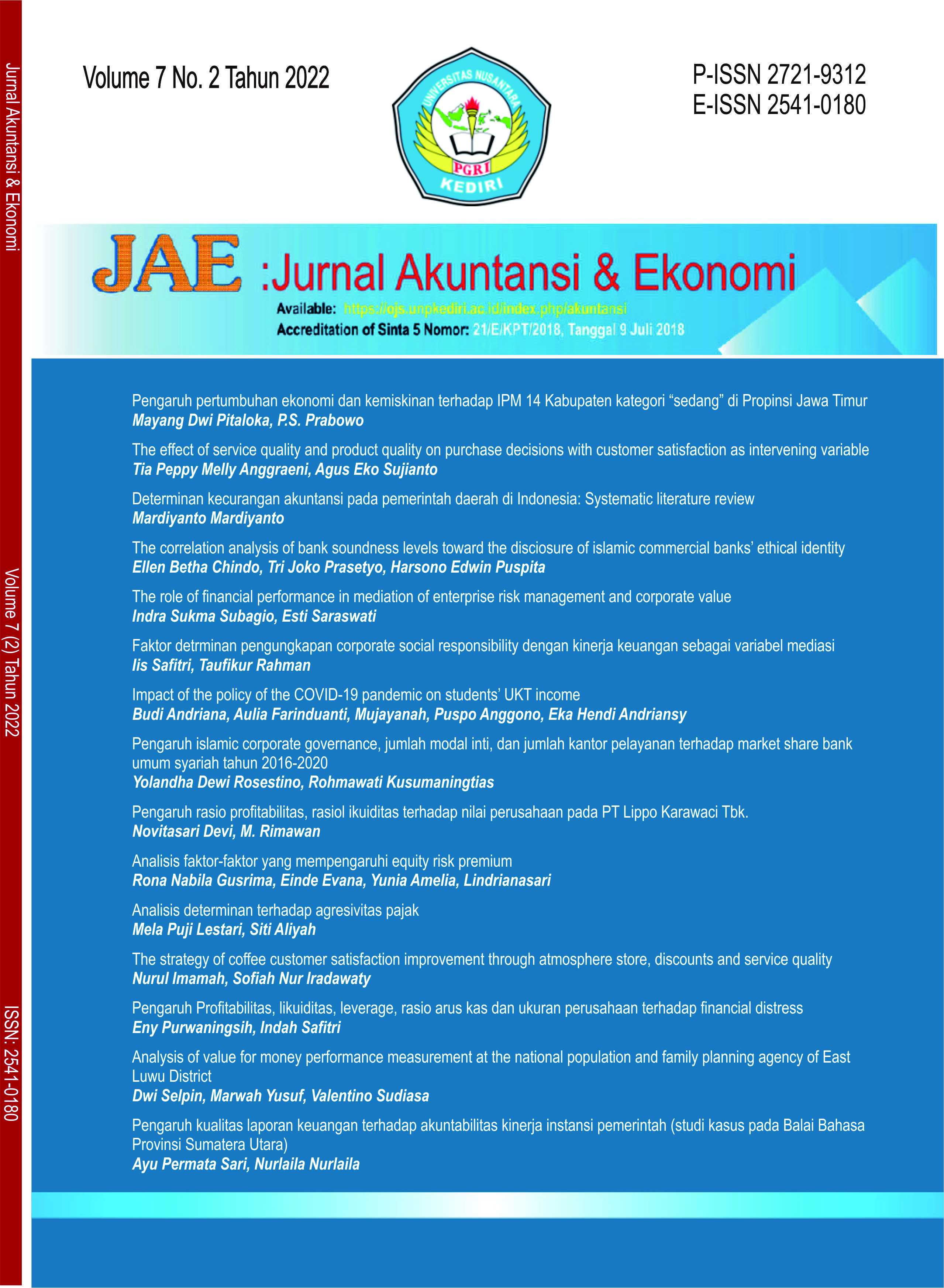 How to Cite
Mardiyanto, M. (2022). DETERMINAN KECURANGAN AKUNTANSI PADA PEMERINTAH DAERAH DI INDONESIA: SYSTEMATIC LITERATURE REVIEW. JAE (JURNAL AKUNTANSI DAN EKONOMI), 7(2), 31-41. https://doi.org/10.29407/jae.v7i2.17945
Section
Volume 7 No 2 Tahun 2022
Copyright (c) 2022 Mardiyanto Mardiyanto
This work is licensed under a Creative Commons Attribution-ShareAlike 4.0 International License.
Authors who publish with this journal agree to the following terms:
Copyright on any article is retained by the author(s).
The author grants the journal, right of first publication with the work simultaneously licensed under a Creative Commons Attribution License that allows others to share the work with an acknowledgment of the work's authorship and initial publication in this journal.
Authors are able to enter into separate, additional contractual arrangements for the non-exclusive distribution of the journal's published version of the work (e.g., post it to an institutional repository or publish it in a book), with an acknowledgment of its initial publication in this journal.
Authors are permitted and encouraged to post their work online (e.g., in institutional repositories or on their website) prior to and during the submission process, as it can lead to productive exchanges, as well as earlier and greater citation of published work.
The article and any associated published material is distributed under the Creative Commons Attribution-ShareAlike 4.0 International License