PENGARUH GOOD PUBLIC GOVERNANCE (GPG) TERHADAP KUALITAS INFORMASI LAPORAN KEUANGAN PEMERINTAHAN DESA DI KABUPATEN KEDIRI
M. Anas

Universitas Nusantara PGRI Kediri

Rr. Forijati

Universitas Nusantara PGRI Kediri

Mochamad Muchson

Universitas Nusantara PGRI Kediri
Abstract views:
497
,
pdf downloads:
549
Keywords:
GPG; accountability; equality; fairness; the quality information of the financial statements
Abstract
The purpose of village development in achieving the welfare of the village community requires a good village governance in carrying out public services. The implementation of quality village government will create an orderly life of government and society and will realize the expected good public governance (GPG). One form of service output that reflects government performance which is also an instrument of government accountability to stakeholders is financial reports. Quality village financial reports are information that can present honestly, truthfully, relevantly, reliably, can be compared, and can be understood by all parties related to the financial statements. The research objective was to test empirically and to analyze the effect of GPG on the quality of information on village government financial reports in Kediri Regency. The research sample was 52 villages in Kediri Regency with respondents who were managers of village financial reporting. The research data were obtained through an instrument in the form of a questionnaire. Hypothesis testing is carried out by multiple linear regression analysis using the SPSS V.23 application. The results of data analysis prove that the accountability and fairness variables and equality variables have a significant effect on the quality information of village financial report, while the variables of democracy, transparency, and legal culture have no significant impact on the quality information of village government financial reports.
References
Anom, I. G. N. A. A. P., Dewi, I. G. A. A. O. and Suardani, N. L. R. (2018) 'Pengaruh Implementasi Good Public Governance', Jurnal Ilmiah Akuntansi & Bisnis Volume 3, No. 2 , Desember 2018, 3(2), pp. 210–225. Available at: http://journal.undilnas.ac.id/index.php/akuntansi/.
Astuti, R. W. (2020) 'Pengaruh Good Public Governance dan Pengendalian Internal Terhadap Kualitas Informasi Laporan di Pemerintahan Kota Ambon', Jurnal Akuntansi, 6(2), pp. 39–51.
Azlina, N. and Amelia, I. (2015) 'Pengaruh Good Governance Dan Pengendalian Intern Terhadap Kinerja Pemerintah Kabupaten Pelalawan', Jurnal Akuntansi Universitas Jember, 12(2), p. 32. doi: 10.19184/jauj.v12i2.1409.
Dwi Susanto, Dian Anggraeni Yusuf, and Y. R. (2014) 'Pengaruh Good Governance Terhadap Kualitas Pemberian Layanan Publik', Jurnal Paradigma, 12(2), pp. 73–91.
Dyah Setyaningrum, R. W. and A. S. (2017) 'Good Public Governance, Curruption and Public Service Quality: Indonesia Eviden', International Journal of Applied Budiness and Economic Research, 15(19), pp. 327–338.
Fadilah, S. (2013) 'The Influence of Good Governance Implementation to Organization Performance : Analysis of Factors Affecting Study on Intitution Amil Zakat Indonesia )', international Journal of Social Sciences, 7(1), pp. 15–33.
Fahmi, M. and Syah, J. (2016) 'Pengaruh Good Public Governance ( Gpg ) Terhadap Kinerja Guru Ekonomi Sma / Ma Negeri Di Kota Salatiga , Kabupaten Semarang , Dan Kota Semarang Dengan Teacher ' S Work Engagement ( Twe ) Sebagai Variabel Intervening', Jurnal Pendidikan Ilmu Sosial, 26(1), pp. 20–27.
Harlinda, H. (2016) 'Analisis Faktor-faktor yang Mempengaruhi Kualitas Informasi Laporan Keuangan Pemerintah Daerah (Studi Empiris pada Pemerintah Kabupaten/Kota di Provinsi Riau)', Sorot, 11(2), p. 127. doi: 10.31258/sorot.11.2.3890.
Hasthoro, H. A. and Sunardi, S. (2016) 'Tata Kelola Publik Dan Kinerja Keuangan Pemerintah Daerah Di Indonesia', Jurnal Ekonomi dan Bisnis, 18(1), p. 53. doi: 10.24914/jeb.v19i1.480.
KASP (2019) Standar Akuntansi Pemerintahan. Indonesia.
Kawedar, W. et al. (2019) 'Good Governance, Sistem Pengendalian Internal, Dan Kinerja Keuangan Organisasi Sektor Publik', Matrik : Jurnal Manajemen, Strategi Bisnis dan Kewirausahaan, 13(2), p. 214. doi: 10.24843/matrik:jmbk.2019.v13.i02.p09.
KNKG (2008) Good Public Governance Indonesia, Good Public Governance Pedoman Umum Indonesia.
Modo, S. M., Saerang, D. P. E. and Poputra, A. T. (2016) 'ANALISIS FAKTOR-FAKTOR YANG MEMPENGARUHI KUALITAS INFORMASI LAPORAN KEUANGAN PEMERINTAH DAERAH (Studi Empiris Pada SKPD Pemerintah Kabupaten Kepulauan Talaud)', Jurnal Riset Akuntansi Dan Auditing 'Goodwill', 7(2), pp. 127–144. doi: 10.35800/jjs.v7i2.13550.
Moedarlis, F. T. (2016) 'Sistem Akuntabilitas Keuangan Desa', pp. 1–17.
Mursidah and Khairina (2018) 'Pengaruh Penerapan Good Corporate Governance Terhadap Kualitas Laporan Keuangan (Studi Pada Perusahaan Asuransi Ajb Bumiputera Kc Lhokseumawe Dan Pt Taspen Kc Lhokseumawe)', Jurnal Akuntansi dan Keuangan, 6(1), pp. 41–48.
Rahmatika, Dien Noviany; Afiah, N. N. (2014) 'The Impact of Internal Audit Function Effectiveness on Quality of Financial Reporting and its Implications on Good Government Governance Research on Local Government Indonesia', Research Journal of Finance Accounting, 5(1), pp. 64–75.
Uar, A. (2016) 'Pengaruh Pelaksanaan Prinsip-Prinsip Good Governance Terhadap Kinerja Pelayanan Publik Pada Badan Pertahanan Nasional (BPN) Kota Ambon', Otoritas : Jurnal Ilmu Pemerintahan, 6(1), pp. 1–11. doi: 10.26618/ojip.v6i1.31.
Upabayu, I. P., Mahaputra, R. and Putra, I. W. (2014) 'Analisis Faktor-Faktor Yang Mempengaruhi Kualitas Informasi Laporan Keuangan Pemerintah Daerah', E - Jurnal Akuntansi Univ ersitas Udayana, 8(2), p. 230244. doi: 10.15294/jda.v7i2.4124.
Zeyn, E. (2011) 'Pengaruh good governance dan standar akuntansi pemerintahan terhadap akuntabilitas keuangan dengan komitmen organisasi sebagai pemoderasi', Jurnal Reviu Akuntansi dan Keuangan, 1(1), p. 21. doi: 10.22219/jrak.v1i1.497.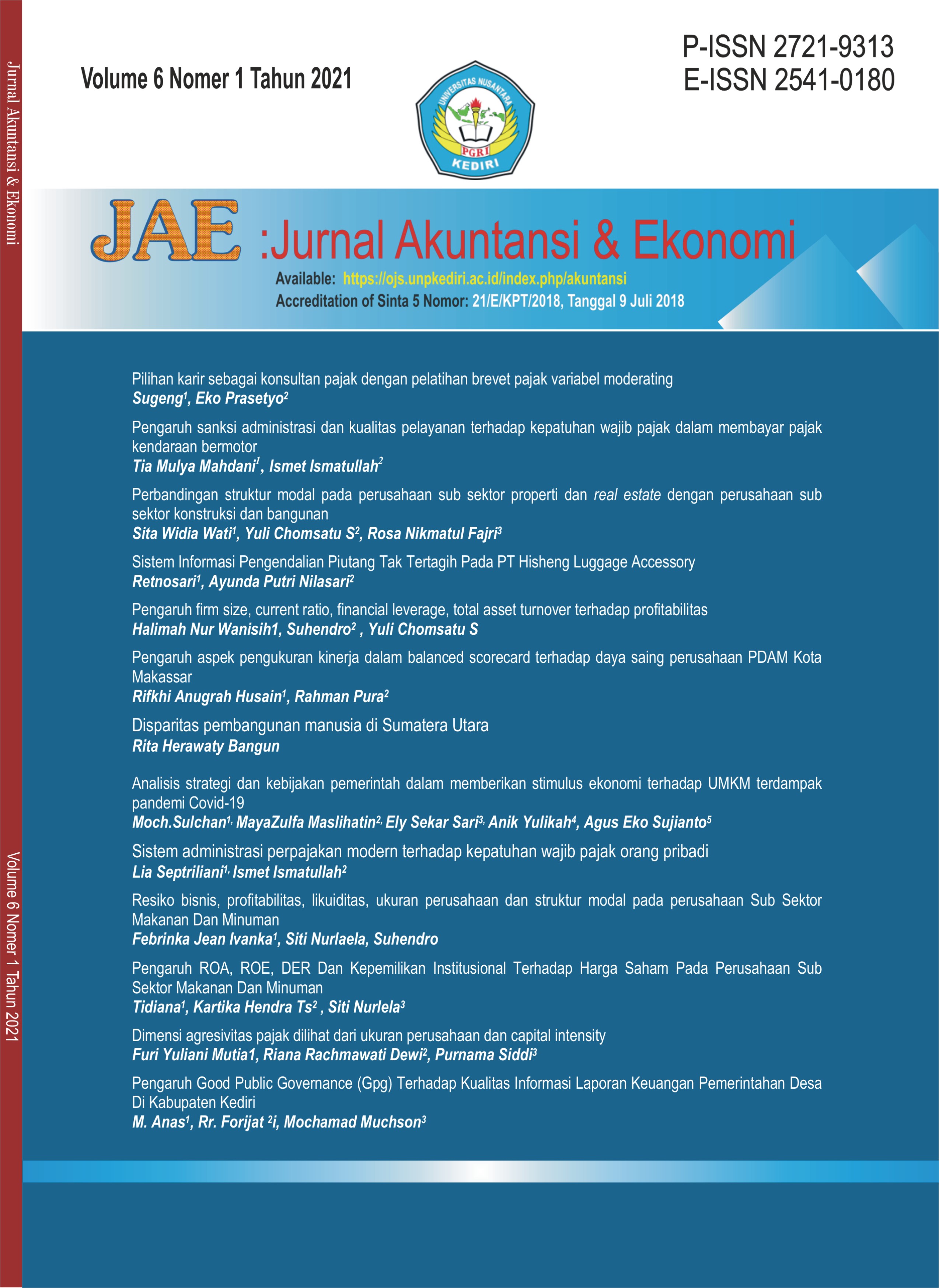 How to Cite
Anas, M., Forijati, R., & Muchson, M. (2021). PENGARUH GOOD PUBLIC GOVERNANCE (GPG) TERHADAP KUALITAS INFORMASI LAPORAN KEUANGAN PEMERINTAHAN DESA DI KABUPATEN KEDIRI. JAE (JURNAL AKUNTANSI DAN EKONOMI), 6(1), 131-142. https://doi.org/10.29407/jae.v6i1.15722
Section
Volume 6 No 1 Tahun 2021
Authors who publish with this journal agree to the following terms:
Copyright on any article is retained by the author(s).
The author grants the journal, right of first publication with the work simultaneously licensed under a Creative Commons Attribution License that allows others to share the work with an acknowledgment of the work's authorship and initial publication in this journal.
Authors are able to enter into separate, additional contractual arrangements for the non-exclusive distribution of the journal's published version of the work (e.g., post it to an institutional repository or publish it in a book), with an acknowledgment of its initial publication in this journal.
Authors are permitted and encouraged to post their work online (e.g., in institutional repositories or on their website) prior to and during the submission process, as it can lead to productive exchanges, as well as earlier and greater citation of published work.
The article and any associated published material is distributed under the Creative Commons Attribution-ShareAlike 4.0 International License